2016
Reading 1JAS 5:1-6
Come now, you rich, weep and wail over your impending miseries.
Your wealth has rotted away, your clothes have become moth-eaten,
your gold and silver have corroded,
and that corrosion will be a testimony against you;
it will devour your flesh like a fire.
You have stored up treasure for the last days.
Behold, the wages you withheld from the workers
who harvested your fields are crying aloud;
and the cries of the harvesters
have reached the ears of the Lord of hosts.
You have lived on earth in luxury and pleasure;
you have fattened your hearts for the day of slaughter.
You have condemned;
you have murdered the righteous one;
he offers you no resistance.
Responsorial PsalmPS 49:14-15AB, 15CD-16, 17-18, 19-20
R. (Matthew 5:3)

Blessed are the poor in spirit; the Kingdom of heaven is theirs!


This is the way of those whose trust is folly,
the end of those contented with their lot:
Like sheep they are herded into the nether world;
death is their shepherd and the upright rule over them.
R.

Blessed are the poor in spirit; the Kingdom of heaven is theirs!


Quickly their form is consumed;
the nether world is their palace.
But God will redeem me
from the power of the nether world by receiving me.
R.

Blessed are the poor in spirit; the Kingdom of heaven is theirs!


Fear not when a man grows rich,
when the wealth of his house becomes great,
For when he dies, he shall take none of it;
his wealth shall not follow him down.
R.

Blessed are the poor in spirit; the Kingdom of heaven is theirs!


Though in his lifetime he counted himself blessed,
"They will praise you for doing well for yourself,"
He shall join the circle of his forebears
who shall never more see light.
R.

Blessed are the poor in spirit; the Kingdom of heaven is theirs!
AlleluiaSEE 1 THES 2:13
R.

Alleluia, alleluia.


Receive the word of God, not as the word of men,
but as it truly is, the word of God.
R.

Alleluia, alleluia.
GospelMK 9:41-50
Jesus said to his disciples:
"Anyone who gives you a cup of water to drink
because you belong to Christ,
amen, I say to you, will surely not lose his reward.

"Whoever causes one of these little ones who believe in me to sin,
it would be better for him if a great millstone
were put around his neck
and he were thrown into the sea.
If your hand causes you to sin, cut it off.
It is better for you to enter into life maimed
than with two hands to go into Gehenna,
into the unquenchable fire.
And if your foot causes you to sin, cut if off.
It is better for you to enter into life crippled
than with two feet to be thrown into Gehenna.
And if your eye causes you to sin, pluck it out.
Better for you to enter into the Kingdom of God with one eye
than with two eyes to be thrown into Gehenna,
where their worm does not die, and the fire is not quenched.

"Everyone will be salted with fire.
Salt is good, but if salt becomes insipid,
with what will you restore its flavor?
Keep salt in yourselves and you will have peace with one another."
FRANCISCAN LAY BROTHER
Feast: May 19
Information:

| | |
| --- | --- |
| Feast Day: | May 19 |
| Born: | 13 November 1668, Viterbo |
| Died: | 19 May 1750, Rome |
| Canonized: | 20 June 1982 by Pope John Paul II |

Friar Minor Capuchin; b. at Viterbo in 1668; d. at Rome, 19 May, 1750. When he was five years old, his pious mother took him to a sanctuary of the Blessed Virgin, a short distance from Viterbo, where she consecrated him to the Mother of God and placed him under her special protection. The child grew beyond his years in virtue and science of the saints; so that the townsfold of Viterbo were wont to call him il Santarello, the little saint. As Crispin one day saw the Capuchin novices walking in procession, God inspired him with the desire to embrace the religious life. He was shortly afterwards received into the Franciscan Order as a simple lay brother. Having been employed for some time as cook in the convent at Viterbo, he was sent to Tolfa, a town not far distant from Civita Becchia, to fulfil the same office. Thence he was sent to Rome and finally to Albano. Here Crispin was visited by the men of the world, by bishops and cardinals, and even by the pope himself, who always took delight in conversing with the humble lay brother. It was Crispin's constant endeavour to imitate the virtues of his patron, St. Felix of Cantalice, whom he had chosen as his model of perfection at the beginning of his religious life. Like St. Felix, he used to call himself the ass or beat of burden of the Capuchins, and, having on one occasion been asked by a stranger why he went bare-headed, Crispin answered jocosely, that "an ass does not wear a hat." Enfeebled by old age and by his numerous austerities, he was sent to Rome by his superiors, there to end his holy life. His body, which even at the present time is still in a remarkable state of preservation, rests under one of the side altars in the church of the Capuchin Fathers in Rome. Blessed Crispin was solemnly beatified by Pope Pius VII in 1806. His feast is celebrated only by the Capuchins.

(Taken from Catholic Encyclopedia)
Pope Francis on Thursday received Letters of Credence from the Ambassadors to the Holy See from Estonia, Malawi, Namibia, the Seychelles, Thailand and Zambia. In remarks prepared for the occasion and delivered Thursday morning in the Clementine Hall of the Apostolic Palace in the Vatican, Pope Francis reflected with Ambassadors Väino Reinart of Estonia, Michael Barth Kamphambe Nkhoma of Malawi, Andreas B. D. Guibeb of Namibia, Thomas Selby Pillay of the Seychelles, Nopadol Gunavibool of Thailand, and Muyeba Shichapwa Chikonde of Zambia, on the concrete reminder of our common humanity that diplomatic service provides, and upon mindfulness of which effective diplomatic activity depends.
Full text of the remarks the Holy Father prepared for the occasion, in their official English translation.
**************************************
I am pleased to receive you on the occasion of the presentation of the Letters by which you are accredited as Extraordinary and Plenipotentiary Ambassadors of your countries to the Holy See: Estonia, Malawi, Namibia, the Seychelles, Thailand and Zambia. I thank you for the greetings you conveyed to me on behalf of your respective Heads of State and, in return, I would ask you to assure them of my prayers and best wishes. I ask God to grant peace and prosperity to all your fellow citizens.
Your presence here today is a poignant reminder that, though our nationalities, cultures and religious beliefs may be different, we are united by our common humanity and a shared mission to care for society and creation. This service has taken on a particular urgency, as so many in our world are suffering conflicts and war, forced migration and displacement, and the uncertainty born of economic hardship. These problems demand not only that we reflect upon them and discuss them, but that we also express concrete signs of solidarity with our brothers and sisters in grave need.
For this service of solidarity to be effective, our efforts must be directed to the pursuit of peace, wherein each individual's natural rights and integral human development are nurtured and guaranteed. This task demands that we work together in an efficient and coordinated way, encouraging the members of our communities to become themselves artisans of peace, promoters of social justice and advocates of true respect for our common home. This is increasingly difficult, for our world appears ever more fragmented and indifferent. Many people isolate themselves from harsh realities. They are afraid of terrorism and of a growing influx of migrants fundamentally changing their culture, economic stability and way of life. These are fears which we understand and cannot dismiss lightly, yet they must be addressed in an intelligent and creative way, so that the rights and needs of all are respected and upheld.
For those suffering the tragedy of violence and forced migration, we must be resolute in making their plight known to the world community, so that as they lack the strength or ability to cry out, their voice may be heard in our own. The path of diplomacy helps us to both amplify and convey this cry by seeking solutions to the many underlying causes of the conflicts of our day. This applies especially in our efforts to remove weapons from those perpetrating violence, and to end the scourge of human trafficking and the drug trade which often support this evil.
While our initiatives on behalf of peace should help people to remain in their homelands, this present hour urges us to assist migrants and those caring for them. We must not allow misunderstanding and fear to weaken our resolve. Rather, we are called to build a culture of dialogue, one which "enables us to view others as valid dialogue partners, to respect the foreigner, the immigrant and people from different cultures as worthy of being listened to" (
Conferral of the Charlemagne Prize
, 6 May 2016). In this way, we will promote an integration which respects the traditions of migrants and preserves the culture of the community receiving them, all the while enriching both. This is essential. If misunderstanding and fear prevail something of ourselves dies, our cultures, history and traditions are weakened, and our own peace is compromised. When on the other hand, we foster dialogue and solidarity, both individually and collectively, it is then that we experience the best of humanity and secure an enduring peace for all, as intended by our Creator.
Dear Ambassadors, before concluding these reflections, I would like to express, through you, my fraternal greeting to the Pastors and faithful of the Catholic communities present in your countries. I encourage them always to be heralds of hope and peace. I think especially of those Christian and minority communities suffering persecution for their beliefs; to them I renew my prayerful support and solidarity. For its part, the Holy See is honoured to be able to strengthen with each of you and with the countries you represent an open and respectful dialogue and a constructive collaboration. From this perspective, as your new mission is officially inaugurated, I express to you my best wishes, assuring you of the constant support of the various offices of the Roman Curia in carrying out your functions. Upon each of you, your families and your colleagues, I invoke abundant divine blessings.
St. Celestine V
POPE
Feast: May 19
Information:

| | |
| --- | --- |
| Feast Day: | May 19 |
| Born: | 1210 at Isneria, Abruzzi, Italy |
| Died: | 19 May 1296 in Ferentino, Italy |
| Canonized: | 1313 |

Humility raised this saint above the world, and preserved his soul free from its poison, both amidst its flatteries and under its frowns. He was born in Apulia about the year 1221. His parents were very virtuous, and charitable to the poor to the uttermost of their abilities. After his father's death, his mother, though she had eleven other sons, seeing his extraordinary inclination to piety, provided him with a literary education. His progress gave his friends great expectations; but he always considered that he had only one affair in this world, and that an affair of infinite importance, the salvation of his soul: that no security can be too great where an eternity is at stake: moreover, that the way to life is strait, the account which we are to give of all our actions and thoughts most rigorous, the judge infinitely just, and the issue either sovereign happiness or sovereign misery. He therefore made the means, by which he might best secure to himself that bliss for which alone he was created, his constant study. An eremitical state is only the vocation of souls, which are already perfect in the exercises of penance and contemplation. Peter had made the practice of both familiar to him from his tender years; and by a long noviceship was qualified for such a state, to which he found himself strongly inclined. Therefore at twenty years of age he left the schools, and retired to a solitary mountain, where he made himself a little cell under ground, but so small that he could scarce stand or lie down in it. Here he lived three years in great austerities, during which he was often assailed by violent temptations; but these he overcame by the help of such practices and austerities as the grace of God suggested to him. Notwithstanding the care he took to sequester himself from the world, he was discovered, and some time after compelled to enter into holy orders. He was ordained priest at Rome; but in 1246 returned into Abruzzo, and lived five years in a cave on mount Morroni, near Sulmona. He received great favors from heaven, the usual recompense of contemplative souls who have crucified their affections to this world: but then they are purchased through severe interior trials; and with such Peter was frequently visited. He was also molested with nocturnal illusions during his sleep, by which he was almost driven to despair, insomuch that he durst not say mass, and once determined to abandon his solitude; but was encouraged by the advice of a religious man, his confessor, who assured him that it was no more than a stratagem of the enemy, by which he could not be hurt if he despised it. For further satisfaction, he determined to go to Rome to consult the pope on that subject, and received great comfort by a vision he was favored with on the road; a certain holy abbot lately deceased appearing to him, who gave him the same counsel, and ordered him to return to his cell and offer every day the holy sacrifice, which he accordingly did. The wood on his mountain being cut down in 1251, he with two companions removed to mount Magella. There, with the boughs of trees and thorns, these three servants of God made themselves a little enclosure and cells, in which they enjoyed more solid pleasure than the great ones of the world can find in their stately palaces and gardens. The devil sometimes endeavored to disturb them; but they triumphed over his assaults. Many others were desirous to put themselves under his direction; but the saint alleged his incapacity to direct others. However, his humility was at length overcome, and he admitted those who seemed the most fervent.

Peter spent always the greatest part of the night in prayer and tears which he did not interrupt, while he was employed in the day in corporal labor or in copying books. His body he always treated as a most dangerous domestic enemy. He never ate flesh; he fasted every day except Sunday. He kept four lents in the year, during three of which, and on all Fridays, he took nothing but bread and water, unless it were a few cabbage leaves in lieu of bread. The bread which he used was so hard, that it could only be chopped in pieces. His austerities were excessive, till he was admonished in a vision not to destroy that body which his duty to God required him to support. If the Holy Ghost sometimes conducted the saints by extraordinary paths, we must learn from their fervor the condemnation of our sloth, who dare undertake nothing for the sake of virtue, and who shrink often under indispensable duties. St. Peter wore a shirt of horse-hair full of knots, and a chain of iron about his waist. He lay on the ground, or on a board, with a stone or log of wood for a pillow. It was his chiefest care always to nourish his soul with heavenly contemplation and prayer; yet he did not refuse to others the comfort of his spiritual succors. He gave advice, except on Wednesdays and Fridays, and during his rents, which he passed in inviolable silence. Finding his solitude too much disturbed, he went with some of his disciples to a cavern which was almost inaccessible on the top of mount Magella. This did but increase the ardor of others to pursue him. Wherefore he returned to mount Morroni, where many lived in scattered cells under his direction, till he assembled them in a monastery; and in 1271 obtained of pope Gregory X. the approbation of his religious order, under the rule of St. Bennet, which he restored to its primitive severity. The saint lived to see thirty-six monasteries, and six hundred monks and nuns; and this institute has been since propagated over all Europe, but is at present much mitigated.
Upon the death of Nicholas IV. the see of Rome continued vacant two years and three months, when the cardinals assembled at Perugia unanimously chose our saint for his successor, out of pure regard for his eminent sanctity. This election, on account of its disinterestedness, met with a general applause, and the saint seemed the only person afflicted on the occasion. He was indeed alarmed beyond measure at the news; and finding all the reasons he could allege for his declining the charge ineffectual, betook himself to flight in company with Robert, one of his monks, but was intercepted. He would gladly have engaged Robert still to attend him, but the good monk excused himself by an answer worthy of a disciple of the saint: "Compel me not," says he, "to throw myself upon your thorns. I am the companion of your flight, not of your exaltation." Peter thereupon dropped his request, and sighing before God, returned to Morroni, where the kings of Hungary and Naples, besides many cardinals and princes, waited for him. Thence he proceeded to the neighboring cathedral of Aquila, to be ordained bishop of Rome, being accompanied by the two kings, and an incredible number of princes and others; yet could not be prevailed upon to travel any other way than riding on an ass: he even thought it a great deal that he did not go on foot, as he desired to do. He was consecrated and crowned at Aquila on the 29th of August, taking the name of Celestine V., from an allusion to the Latin name of heaven, where he always dwelt in his heart: his monks have been distinguished by the name of Celestines ever since. Charles, king of Naples, persuaded him to go with him to his capital, to regulate certain ecclesiastical affairs of that kingdom, and to fill the vacant benefices. The new pope disgusted many of the cardinals by employing strangers in the conducting matters, the care of which had been usually intrusted to them. He was sometimes led by others into mistakes, which gave occasion to complaints, and increased his own scruples for having taken upon him so great a charge, to which he found himself unequal; especially on account of his want of experience in the world, and his not having studied the canon law. He continued his former austerities, and built himself a cell of boards in the midst of his palace, where he lived in solitude amidst the crowds which surrounded him, humble on the pinnacle of honor, and poor in the midst of riches. He shut himself up to spend the Advent in retirement, that he might prepare himself for Christmas, having committed the care of the church to three cardinals. This again was an occasion of fresh scruples, when he reflected that a pastor is bound himself to a personal attendance on the duties of his charge. These fears of conscience, the weight of his dignity, which he felt every day more and more insupportable, and the desire of enjoying himself in solitude, moved him at length to deliberate whether he might not resign his dignity. He consulted cardinal Benedict Cajetan, a person the best skilled in the canon law, and others, who agreed in their advice, that it was in the power of a pope to abdicate. When this became public, many vigorously opposed the motion; but no solicitations or motives could make the holy man alter his resolution. Wherefore, some days after, he held at Naples a consistory of the cardinals, at which the king of Naples and many others were present: before them he read the solemn act of his abdication, then laid aside his pontifical robes and ornaments, put on his religious habit, came down from his throne, and cast himself at the feet of the assembly, begging pardon for his faults, and exhorting the cardinals to repair them in the best manner they were able, by choosing a worthy successor to St. Peter. Thus, having sat in the chair four months, he abdicated the supreme dignity in the church, on the 13th of December, 1294, with greater joy than the most ambitious man could mount the throne of the richest empire in the world. This the cheerfulness of his countenance evidenced, no less than his words. Cardinal Benedict Cajetan, the ablest civilian and canonist of his age, was chosen in his place, and crowned at Rome on the 16th of January following.

Men, as it usually happens on such occasions, were divided in their sentiments with regard to this extraordinary action, of which we see a specimen in the writings of those great men who in that age began to restore at Florence the true taste of polite literature. Dante, who has stained his reputation with many blots in his moral and civil conduct, and his works with many falsities and unjust prepossessions, ascribes this cession of Celestine to pusillanimity. But this base censure is justly chastised by his country man Petrarch, who passed his unjust and glorious banishment at Vaucluse near Avignon, respected by the whole world, till he was courted by his fellow-citizens to honor his native country again with his presence, though he preferred to it a retirement to Papua. This great man, speaking of the abdication of our holy pope, says: "This action I call a sublime and heavenly fortitude, which he only possesses who knows the emptiness of all worldly dignities. The contempt of honors arises from a heroic courage, not from a want of that virtue; as the desire of them shows that a soul raiseth not herself above herself."

St. Celestine immediately stole away privately to his monastery of the Holy Ghost, at Morroni. But several who were offended at some acts of justice and necessary severity in the new pope, raised various reports, as if he had by ambition and fraud supplanted Celestine: others advanced that a pope could not resign his dignity. Boniface, moreover, was alarmed at the multitudes which resorted to Morroni to see Celestine, on account of the great reputation of his sanctity; and fearing he might be made a handle of by designing men, the consequence whereof might be some disturbance in the church, he entreated the king of Naples to send him to Rome. The saint, seeing that he could not be permitted to return to his cell, betook himself to flight, and put to sea, with a view to cross the Adriatic gulf; but was driven back by contrary winds into the harbor of Vieste, where he was secured by the governor, pursuant to an order of the king of Naples, and conducted to pope Boniface at Anagni. Boniface kept him some time in his own palace, often discoursing with him, that he might discover if he had ever consented to those that called his abdication null and invalid. The saint's unfeigned simplicity bearing evidence to the contrary, many advised the pope to set him at liberty, and send him to his monastery. But Boniface, alleging the danger of tumults and of a schism, confined him in the citadel of Fumone, nine miles from Anagni, under a guard of soldiers. The authors of the life of the saint say, that he there suffered many insults and hardships, which yet never drew from his mouth the least word of complaint. On the contrary, he sent word to Boniface, by two cardinals who came to see him, that he was content with his condition, and desired no other. He used to say, with wonderful tranquillity: "I desired nothing in the world but a cell; and a cell they have given me." He sang the divine praises almost without interruption, with two of his monks who were assigned him for his companions. On Whit-Sunday, in 1296, after he had heard mass with extraordinary fervor, he told his guards that he should die before the end of the week. He immediately sickened of a fever, and received extreme unction. Even in that dying condition he would never suffer a little straw to be strewed on the hard boards upon which he always lay, and prayed without interruption. On Saturday, the 19th of May, finishing the last psalm of lauds at those words, Let every spirit praise the Lord, he calmly closed his eyes to this world, and his soul passed to the company of the angels, he being seventy-five years old. During his ten months' imprisonment he never abated any thing of his ordinary austerities. Pope Boniface, with all the cardinals, performed his funeral obsequies at St. Peter's. His body was sumptuously buried at Ferentino; but was afterwards translated to Aquila, and is kept in the church of the Celestines near that city. Many miracles are authentically recorded of him, and he was canonized by Clement V., in 1313. Boniface fell into great calamities. Philip the Fair, Icing of France, who was his declared enemy, sent a body of troops, under the command of William Noggret, to support the conspiracy of Stephen and Chiarra Colonna against him, by whom he was made prisoner at Anagni. After much ill-treatment, he was rescued out of their hands by the Ursini from Rome; but died soon after of grief, in 1303.

A spirit of retirement, or a love of holy solitude and its exercises, and an habitual interior recollection, are essential to piety and a true Christian life. Some, by a particular call of God, dedicate themselves to his service in a state of perfect solitude, in which the first motive may be self-defence of preservation. In the world, snares are laid everywhere for us, and its lusts often endeavor to court and betray us, and the torrent of its example, or the violence of its persecutions, to drive and force us into death. Whoever, therefore, prudently fears that he is not a match for so potent an enemy, may, nay sometimes ought, to retire from the world. This is not to decline the service of God or man, but sin and danger: it is not to prefer ease and security before industry and labor, but before a rash presumption and a fatal overthrow. But entire solitude is a safer state only to those who are animated with such a love and esteem for all its exercises as give an assurance of their constant fervor in them; also who seriously cultivate interior solitude of mind, and will never suffer it to gad abroad after the objects of worldly affairs, vanities, or pleasures: lastly, whose souls are free from envy, emulation, ambition, desire of esteem, and all other busy and turbulent passions, which cannot fail by desires and hankerings to discompose the mind, and muddy the pure stream, and adulterate the relish of a retired life. The soul must be reduced to its native purity and simplicity, before it will be able to taste the blessings of true liberty, of regular devotion, and elevated meditation.

Secondly: An indication that God designs certain persons for retirement, is the discovery of talents fitted for this state rather than for any public station. For there are active and contemplative gifts. Those who are destined by heaven to a retired life, in it become most eminently serviceable to the world, by proving excellent examples of innocence, and the perfect spirit of every Christian virtue, and by their prayers and continual pure homages of praise and thanksgivings to God, from which others may reap far more valuable benefits than from the labors of the learned or the bountiful alms of the rich. Thus the world never loses a member, but enjoys Its service in its proper place, and the most effectual manner, says an ingenious Protestant writer; who adds, that such a one retires not from the world to avoid its service, but its fooleries.

Thirdly: The same author observes, that the main end of retirement ought always to be to dedicate ourselves entirely to God by the exercises of compunction and holy contemplation. This may be easily demonstrated both from reason and religion, and from the examples of so many illustrious saints. Retirement is recommended by particular motives to persons who, after going through the station of a public life, are at liberty to embrace it in order to fit themselves for eternity. Lives of the Saints by Alban Butler##
Dear Brothers and Sisters, good morning!
Today I wish to reflect with you on the parable of the rich man and of poor Lazarus. The lives of these two persons seems to run on parallel lines: their conditions of life are opposite and altogether cut off one from the other. The front door of the rich man's house is always closed to the poor man, who lies outside there, looking for something to eat from the table of the rich man. The rich man wears luxurious garments, whereas Lazarus is covered with sores. Every day the rich man banquets lavishly, while Lazarus is dying of hunger. Only the dogs look after him and come to lick his sores.
This scene reminds us of the harsh reproach of the Son of Man in the Last Judgment: "I was hungry and you gave me no food, I was thirsty and you gave me no drink, I was […] naked and you did not clothe me" (Matthew 25:42-43). Lazarus well represents the silent cry of the poor of all times and the contradiction of a world in which immense riches and resources are in the hands of a few.
Jesus says that one day that rich man will die: the poor and the rich die, they have the same destiny, as do all of us; there are no exceptions to this. And then that man turns to Abraham, begging him with the appellation of "father" (vv. 24.27). He claims, therefore, to be his son, belonging to the People of God. Yet in life he showed no consideration to God; instead, he made himself the center of everything, shut-in in his world of luxury and waste. Excluding Lazarus, he did not take into account either the Lord or His Law. To ignore the poor is to scorn God! We must learn this well: to ignore the poor is to scorn God.
There is a particular point in the parable to be noted: the rich man does not have a name, but only the adjective "rich"; whereas the name of the poor man is repeated five times, and "Lazarus" means "God helps." Lazarus, who lies in front of the door, is a living call to the rich man to remember God, but the rich man does not receive that call. Therefore, he will be condemned, not because of his riches, but for having been incapable of feeling compassion for Lazarus and helping him.
In the second part of the parable, we find again Lazarus and the rich man after their death (vv. 22-31). In the beyond, the situation is reversed: poor Lazarus is carried by the Angles in Heaven to Abraham; the rich man, instead, is plunged among torments. Then the rich man "lifted up his eyes, and saw Abraham far off and Lazarus in his bosom." He seems to see Lazarus for the first time, but his words betray him: "Father Abraham — he says – have mercy upon me, and send Lazarus to dip the end of his finger in water and cool my tongue; for I am in anguish in this flame." Now the rich man recognizes Lazarus and asks him for help, whereas in life he pretended not to see him. How many times many people pretend not to see the poor! The poor do not exist for them. Before, he went so far as to deny him the leftovers from his table, and now he wants him to bring him something to drink! He still believes that he can assert his rights because of his previous social condition. Saying that it is impossible to grant his request, Abraham in person gives the key to the whole story: he explains that goods and evils were distributed to compensate for the earthly injustice, and the door that in life separated the rich man from the poor, has been transformed into "a great chasm." As long as Lazarus was at his house, the rich man had the possibility of salvation, by opening wide the door, helping Lazarus, but now that they are both dead, the situation has become irreparable. God is never summoned directly, but the parable puts one clearly on guard: God's mercy to us is linked to our mercy to our neighbor; when the latter is lacking then the former does not find space in our closed heart, it cannot enter. If I do not open wide the door of my heart to the poor, that door remains closed, also for God. And this is terrible.
At this point, the rich man thinks of his brothers, who risk having the same end, and he asks if Lazarus can return to the world to warn them. But Abraham replies: "They have Moses and the prophets; let them hear them."
We must not wait for prodigious events to be converted, but we must open our heart to the Word of God, which calls us to love God and our neighbor. The Word of God can make an arid heart revive and heal it of its blindness. The rich man knew the Word of God, but he did not let it enter his heart, he did not listen to it, therefore, he was incapable of opening his eyes and having compassion for the poor man. No messenger and no message can substitute the poor we meet on the way, because in them Jesus Himself comes to encounter us: "Truly I say to you, as you did it to one of the least of these my brethren, you did it to me" (Matthew 25:40), says Jesus. Thus, hidden in the reversal of fortunes that the parable describes is the mystery of our salvation, in which Christ joins poverty to mercy.
Dear brothers and sisters, listening to this Gospel, all of us, together with the poor of the earth, can sing with Mary: "He has put down the mighty from their thrones, and exalted those of low degree; He has filled the hungry with good things, and the rich He has sent empty away" (Luke 1:52-53).
[Original text: Italian] [Translation by ZENIT]
I give a cordial welcome to the Italian-speaking pilgrims. I am happy to receive with particular affection the faithful of the diocese of Prato and Tempio-Ampurias, accompanied by their Pastors, Monsignor Agostinelli and Monsignor Sanguinetti, as well as the Mary Most Holy of the Bruna Association with the Archbishop of Matera-Irsina, Monsignor Caiazzo: I hope that your Jubilee pilgrimage will awaken in you the desire to become ever greater witnesses of mercy, to render your communities richer in faith and in missionary spirit. I greet the priests of the Russian Orthodox Church, guests of the Pontifical Council for Christian Unity; the Redemptorist Fathers; the youngsters of the Oncology Section of the Child Jesus Hospital and the devotees of Saint Francis of Paula, Founder of the Order of Minims and Patron of Calabria, of whom this year we remember the sixth centenary of his birth
A particular greeting goes to young people, the sick and newlyweds. Dear young people, especially you Lazio students of the initiative "We Tell the Jubilee," learn from Saint Francis of Paula that humility is strength, not weakness! Dear sick, do not tire of asking in prayer for the Lord's help, especially in difficulties. And you, dear newlyweds, compete as the Saints in esteeming and helping one another.
[Original text: Italian] [Translation by ZENIT]
(Vatican Radio) "Today, the day of Saint John Paul II's birth, I cordially greet all the Polish persons here present." Pope Francis marked the 18 May birthday of St John Paul II at this week'sgeneral audience, greeting in particular a group of Polish nationals, including Polish president Andrzej Duda, with soldiers and others who had taken part in a memorial Mass for the fallen held at the Polish cemetery of Montecasino. The Pope also had words for those gathered in Toruń for the consecration of the shrine of the "Blessed Virgin Mary, Star of the New Evangelization and St John Paul II."
"These important events are for you an invitation to pray for peace, for the Church in Poland, and for the prosperity of your homeland."
Reading 1
JAS 4:13-17
Beloved:
Come now, you who say,
"Today or tomorrow we shall go into such and such a town,
spend a year there doing business, and make a profit"–
you have no idea what your life will be like tomorrow.
You are a puff of smoke that appears briefly and then disappears.
Instead you should say,
"If the Lord wills it, we shall live to do this or that."
But now you are boasting in your arrogance.
All such boasting is evil.
So for one who knows the right thing to do
and does not do it, it is a sin.
Responsorial Psalm
PS 49:2-3, 6-7, 8-10, 11
R. (Matthew 5:3)

Blessed are the poor in spirit; the Kingdom of heaven is theirs!


Hear this, all you peoples;
hearken, all who dwell in the world,
Of lowly birth or high degree,
rich and poor alike.
R.

Blessed are the poor in spirit; the Kingdom of heaven is theirs!


Why should I fear in evil days
when my wicked ensnarers ring me round?
They trust in their wealth;
the abundance of their riches is their boast.
R.

Blessed are the poor in spirit; the Kingdom of heaven is theirs!


Yet in no way can a man redeem himself,
or pay his own ransom to God;
Too high is the price to redeem one's life; he would never have enough
to remain alive always and not see destruction.
R.

Blessed are the poor in spirit; the Kingdom of heaven is theirs!


For he can see that wise men die,
and likewise the senseless and the stupid pass away,
leaving to others their wealth.
R.

Blessed are the poor in spirit; the Kingdom of heaven is theirs!
Alleluia
JN 14:6
R.

Alleluia, alleluia.


I am the way and the truth and the life, says the Lord;
no one comes to the Father except through me.
R.

Alleluia, alleluia.
Gospel
MK 9:38-40
John said to Jesus,
"Teacher, we saw someone driving out demons in your name,
and we tried to prevent him because he does not follow us."
Jesus replied, "Do not prevent him.
There is no one who performs a mighty deed in my name
who can at the same time speak ill of me.
For whoever is not against us is for us."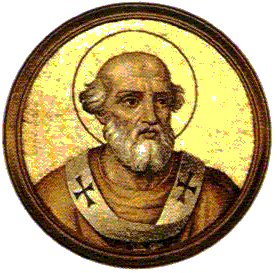 St. John I
POPE
Feast: May 18


Information:

| | |
| --- | --- |
| Feast Day: | May 18 |
| Born: | Populonia, Tuscany, Italy |
| Died: | 18 May 526 in Ravenna, Italy |

Died at Ravenna on 18 or 19 May (according to the most popular calculation), 526. A Tuscan by birth and the son of Constantius, he was, after an interregnum of seven days, elected on 13 August, 523, and occupied the Apostolic see for two years, nine months, and seven days.

We know nothing of the matter of his administration, for his Bullarium contains only the two letters addressed to an Archbishop Zacharias and to the bishops of Italy respectively, and it is very certain that both are apocryphal.

We possess information -- though unfortunately very vague -- only about his journey to Constantinople, a journey which appears to have had results of great importance, and which was the cause of his death. The Emperor Justin, in his zeal for orthodoxy, had issued in 523 a severe decree against the Arians, compelling them, among other things, to surrender to the Catholics the churches which they occupied. Theodoric, King of the Ostrogoths and of Italy, the ardent defender of Arianism, keenly resented these measures directed against his coreligionists in the Orient, and was moreover highly displeased at seeing the progress of a mutual understanding between the Latin and Greek Churches, such as might favour certain secret dealings between the Roman senators and the Byzantine Court, aiming at the re-establishment of the imperial authority in Italy. To bring pressure to bear upon the emperor, and force him to moderate his policy of repression in regard to the heretics, Theodoric sent to him early in 525 an embassy composed of Roman senators, of which he obliged the pope to assume the direction, and imposed on the latter the task of securing a withdrawal of the Edict of 523 and -- if we are to believe "Anonymous Valesianus" -- of even urging the emperor to facilitate the return to Arianism of the Arians who had been converted.
There has been much discussion as to the part played by John I in this affair. The sources which enable us to study the subject are far from explicit and may be reduced to four in number: "AnonymousValesianus", already cited; the "Liber Pontificalis"; Gregory of Tours's "Liber in gloria martyrum"; and the "Liber Pontificalis Ecclesiæ Ravennatis". But it is beyond question that the pope could only counsel Justin to use gentleness and discretion towards the Arians; his position as head of the Church prevented his inviting the emperor to favour heresy. That this analysis of the situation is correct is evident from the reception which the pope was accorded in the East -- a reception which certainly would not have been kindly, had the Roman ambassadors opposed the emperor and this Catholic subjects in their struggle waged against the Arian sect. The inhabitants of Constantinople went out in throngs to meet John. The Emperor Justin on meeting him prostrated himself, and, some time afterwards, he had himself crowned by the pope. All the patriarchs of the East made haste to manifest their communion in the Faith with the supreme pontiff; only Timothy of Alexandria, who had shown himself hostile to the Council of Chalcedon, held aloof. Finally, the pope, exercising his right of precedence over Epiphanius, Patriarch of Constantinople, solemnly officiated at St. Sophia in the Latin Rite on Easter Day, 19 April, 526. Immediately afterwards he made his way back to the West.

If this brilliant reception of John I by the emperor, the clergy, and the faithful of the Orient proves that he had not been wanting in his task as supreme pastor of the Church, the strongly contrasting behaviour of Theodoric towards him on his return is no less evident proof. This monarch, enraged at seeing the national party reviving in Italy, had just stained his hands with the murder of Boethius, the great philosopher, and of Symmachus his father-in-law. He was exasperated against the pope, whose embassy had obtained a success very different from that which he, Theodoric, desired and whom, moreover, he suspected of favouring the defenders of the ancient liberty of Rome. As soon as John, returning from the East, had landed in Italy, Theodoric caused him to be arrested and incarcerated at Ravenna. Worn out by the fatigues of the journey, and subjected to severe privations, John soon died in prison.
His body was transported to Rome and buried in the Basilica of St. Peter. In his epitaph there is no allusion to his historical role. The Latin Church has placed him among its martyrs, and commemorates him on 27 May, the ninth lesson in the Roman Breviary for that date being consecrated to him.

(Taken From Catholic Encyclopedia)
Supreme Court Issues Decision on HHS Mandate Case - LITTLE SISTERS Press Release:
WASHINGTON, D.C.

– Today the U.S. Supreme Court

unanimously protected

the Little Sisters of the Poor from draconian government fines and recognized that the government does not need the Little Sisters to provide services such as the week after pill. The Court also noted the government finally admitted it could indeed meet its goals without involving the Little Sisters.

In its decision, the Supreme Court held that after its unprecedented call for supplemental briefing that the lower courts should again review the cases.

"All we have ever wanted to do is serve the neediest among us as if they were Christ himself," said Sister Loraine Marie Maguire, Mother Provincial for the Little Sisters of the Poor. "We look forward to serving the elderly poor for another 175 years to come."

"This is a game-changer," said Mark Rienzi, senior counsel at The Becket Fund for Religious Liberty. "The Court has accepted the government's concession that it can get drugs to people without using the Little Sisters. The Court has eliminated all of the bad decisions from the lower courts. And the Court has forbidden the government from fining the Little Sisters even though they are refusing to bow to the government's will. It is only a matter of time before the lower courts make this victory permanent."

Less than a week after the Supreme Court heard the case of the Little Sisters of the Poor in March, the Court made an unprecedented move asking both sides to provide additional arguments about whether the government could find ways to distribute contraceptives without the involvement of religious non-profits and their health plans. The religious non-profits responded to the Supreme Court: "Yes."

The government exempts 1 in 3 Americans from the HHS mandate. It also exempts large corporations such as Exxon, Visa and even the government's own military family plan. A total of 100 million Americans are exempt from this regulation.

Paul D. Clement of Bancroft, PLLC presented the oral argument before the U.S. Supreme Court. Noel J. Francisco of Jones Day also presented arguments on behalf of several other ministries. The Little Sisters of the Poor are represented by the Becket Fund for Religious Liberty, Locke Lord LLP, and Professor Kevin Walsh of the University of Richmond Law School.

Press Release Little Sisters of the Poor