SYDNEY ARCHDIOCESE REPORT:
26 Jul 2011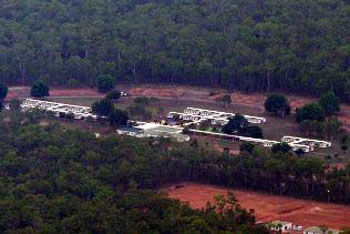 Australia is in breach of its international obligations over the finalised plan to transfer 800 asylum seekers, including unaccompanied minors, says Father Jim Carty, Coordinator for the Marist Asylum Seeker and Refugee Service.
Fr Carty also added Malaysia, which has an extremely poor record on human rights, is not a signatory to the United Nations Convention for Refugees.
Regardless of assurances made by the Prime Minister, Julia Gillard and the Minister for Immigration, Chris Bowen, the United Nations High Commission for Refugees (UNHCR) has not endorsed the deal.
In a statement issued from Geneva yesterday, the UNHCR said while it appreciated that it had been consulted by both countries regarding the arrangement, "the UNHCR's preference has always been an arrangement which would enable all asylum-seekers arriving by boat into Australian territory, to be processed in Australia," adding that this would be "consistent with general practice."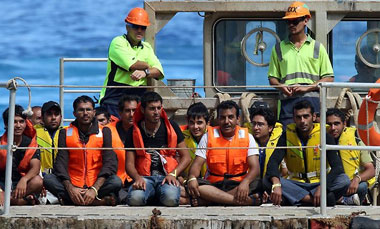 So despite the deal not receiving official approval from UNHCR, the Government insists the deal signed in Kuala Lumpur yesterday would ensure the asylum seekers sent from Australia to Malaysia, would have their human rights respected, with Australia paying Malaysia an estimated $316 million, a large amount of which will cover their healthcare, education for their children and accommodation.
In addition the Minister of Immigration, Chris Bowen says the 800 will have permits enabling them to work, a privilege not enjoyed by the rest of Malaysia's 95,000 refugees and asylum seekers.
Despite this, Fr Carty together with many Australian activists, refugee advocates and human rights lawyers remain sceptical.
"If the Government could not fulfil its promise to have the majority of children out of detention by 30 June this year, what chance has it of making sure that all conditions it has signed on to will be fulfilled once the 800 asylum seekers it sends to Malaysia are under Malaysian law," he asks.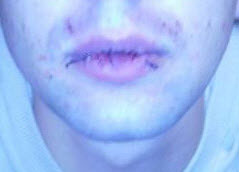 Of just over 1100 children in detention in October last year, when the Government promised to have the majority living in freedom within the community by the end of June 2011, an estimated 400 children remain in detention where behaviourists and psychologists predict they will suffer long term mental and emotional damage.
In Victoria where a group of unaccompanied minors has spent more than a year in detention at what the Government euphemistically calls the "Immigration Transitional Facility" at Broadmeadows, life has become so filled with despair that on Saturday, 23 July, three of the teenagers sewed their lips together, then posted photographs of their self-mutilation on Facebook in a desperate plea for help.
According to Fr Carty, this is another example of the harm caused by the Government's ad hoc asylum seeker policy.
He believes the main reason for the escalation of self harm, hopelessness and despair among detainees at Centres across the country are the increasing long delays, often of a year or more, to process asylum seeker claims for refugee status.
Delays, uncertainty and lack of information are the major causes of recent events such as the protests on Christmas Island, the rooftop standoff in Darwin, the five-day hunger strike at Scherger and the overcrowded isolated facility at Weipa in far North Queensland, which saw one man cut his own throat at the weekend and another slash his arm with a knife, he says.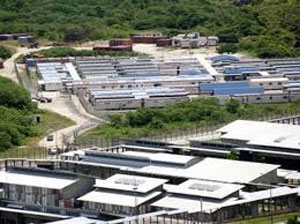 "In some cases, asylum seekers are forced to live in detention even after they have been declared genuine refugees because of even longer delays for ASIO to undertake security checks," he says.
The results of ASIO's security checks are not divulged and according to Fr Carty have put some refugees in a terrible limbo "with no end in sight."
"Although declared refugees, ASIO has refused to give them a security clearance, so they are now held indefinitely in detention, with little chance of another country accepting them for settlement after Australia has labelled them a security risk," he says and cites the case of a mother and father of three children, who have been held at Villawood for more than two and a half years, with little possibility of release.
He also speaks of three Tamils, with whom he had contact when he visited Christmas Island in March 2010 and who despite being found to be genuine refugees and moved into detention on the mainland, have been denied security clearance by ASIO.
Keeping people in detention this way lacks humanity, compassion and is an abuse of human rights, Fr Carty believes and is equally scathing about the Government's latest policy that would see the next 800 men, women and children who arrive by boat on our shores seeking asylum, shipped off to Malaysia in return for Australia promising to resettle 4000 processed refugees sent here by Malaysia.
Signed by Minister of Immigration, Chris Bowen and Malaysian Home Affairs Minister, Dato Seri Hishammunddin Bin Tun Hussein in Kuala Lumpur, but not endorsed by the UNHCR, the agency will nevertheless process the asylum seekers Australia's sends to Malaysia as part of its registration and processing of all refugees in the region.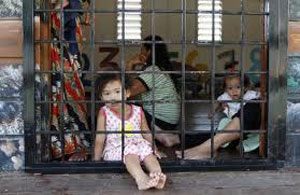 But while UNHCR and the International Organisation for Migration (IOC) will also provide advice and assistance where needed, exactly how those sent to Malaysia will have their human rights protected remains inconclusive.
"The Australian government claims the 800 it sends to Malaysia will have access to health care as well as education and housing. But the health care and education they will be entitled to minimal and refers to the schools and clinics set up by the UNHCR," says Ian Rintoul, spokesperson for the Refugee Action Coalition, pointing out the deal will not give them access to quality health care at Malaysia's largely privately-run hospitals or at the nation's privately-run schools.
Instead, he says, the asylum seekers sent from Australia will be treated virtually the same way as those already in Malaysia, with children attending the poorly resourced UNHCR schools and similarly overburdened UNHCR health clinics.
"There is not a single clause in the agreement that suggest anything will be different for the 800 deportees to Malaysia. Our Government's assurances of dignity and respect for asylum seekers transferred to Malaysia are meaningless," Mr Rintoul says pointing out that there is not a single proposal in the agreement signed yesterday to enforce guarantees these people, some of whom in all likelihood will include unaccompanied minors, will be properly treated.
"There is also nothing in the agreement to confirm UNHCR participation," he says, describing the exchange deal as "nothing less than brutal people trafficking."
"The core purpose of this deal is to outsource our human rights violations to one of South East Asia's most infamous rights abusers," he says.
Fr Carty agrees and instead of an exchange deal would like to see the 800 instead processed in Australia.
"There is no reason we can't process and settle those who are genuine refugees here as well as resettle the 4000 refugees from Malaysia," he says.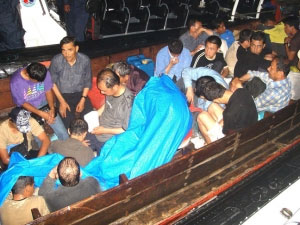 Australia is spending a minimum of $316 million on this latest scheme at a cost of approximately $95,000 per asylum seeker it sends to Malaysia, and has promised to meet the ongoing health, education and accommodation costs not just for the four years the deal is in operation, but for any years after that Australia's asylum seeker deportees are without a country.
"Yet again this is policy on the run," says Fr Carty referring to Immigration Minister Chris Bowen's admission yesterday. After insisting any asylum seeker boat people arriving in Australia from now on would be immediately sent to Malaysia, under questioning revealed that despite the plan's implementation as from midnight on Monday, Australia had yet to take out leases on boarding houses and hostels in Kuala Lumpur as secure "transit facilities" for the deportees.
Mr Bowen has also refused to make exceptions of pregnant women, family groups or unaccompanied minors and insists rather than blanket exceptions, each will be assessed on a case by case basis over a 72 hour period before being flown to Malaysia.
"This is not nearly enough time for checks to prevent the vulnerable such as unaccompanied children or mothers with husbands and other family members already living in Australia," says Fr Carty.
His concerns are echoed by the UNHCR Director of International Protection, Kurt Volker who also believes any individual assessments should be given more time than a mere 72 hours.
In the New York Times this morning, Phil Robertson, deputy director of the Asia division at Human Rights Watch accused the Australian Government of using Malaysia "as a dumping ground for boat people it does not want and in the process, walking away from its commitments to follow the 1951 Refugees Convention."
Fr Carty, along with many others across Australia and in Asia, agree.
SOURCE http://www.sydney.catholic.org.au/news/latest_news/2011/2011726_1775.shtml