Catholic Communications, Sydney Archdiocese,
5 Jun 2013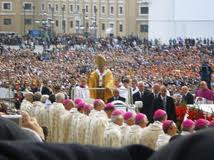 Being a Josephite in today's world is not only about taking formal vows and becoming a Sister of St Joseph. For some men and women who are inspired by Mary MacKillop and felt God's call, their vocation may be to become Covenant Josephites.
In the past few years five women and one married couple have entered into a covenant with the Josephite charism with a further six women currently discerning God's call in communion with the Sisters before making a similar commitment.
Among those who have become Covenant Josephites are a school principal, a naturopath, a staff member in an Australian diocese and a career woman. The married couple who entered into communion with the Sisters to become Covenant Josephites are Peruvian who have long been involved with the St Joseph's Congregation in Peru and the Sisters' mission there.
The average age of the women who have or are embracing the Josephite charism and becoming Covenant Josephites is between 45 to 60. Many of them are also married and have teenage or adult children.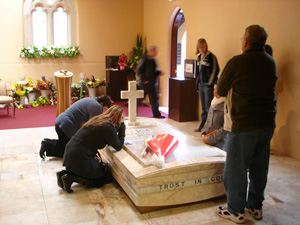 "Most seem to be in mid life and searching for meaning in their lives," says Sister Katrina Brill,rsjJ, Convenor of Congregational Immersion and God's Call to Josephite Life Group.
"Over the past few years we have come to recognise that many people resonate with the spirit and charism of Mary MacKillop and are living a spirituality animated by the charism," she says.
This trend which first began to be seen after the Beatification of Mary MacKillop by Pope John Paul II in 1995 has continued to grow with the Josephite charism being embraced by not only women but men as well.
"The growth of the Josephite movement is very exciting and it was in response to this that the Sisters decided to create two new pathways for the charism," Sr Katrina says.
The two pathways were designed during the Sisters of St Joseph's 25th Chapter Assembly of 2007. Held every five years, the Chapter Assembly involves sisters from across Australia, New Zealand, Peru and Ireland. At the time of the 2007 gathering, Sr Katrina was Congregational Leader and in concert with the entire Congregation of Sisters from across the globe, the new pathways were developed.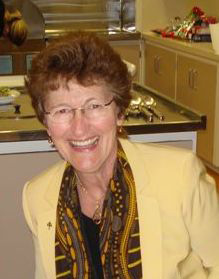 Together with the traditional and time-honoured pathway of discerning God's call and through study and prayer taking vows and becoming a Religious, the Sisters opened the door to allow single men as well as women to discern God's call and to take private vows to become Affiliates of the Josephite Congregation.
Living independently from the Congregation, Josephite Affiliates lead their lives according to The Rule of Life in the spirit of the Josephite charism and after discernment, enter into a memorandum of affiliation with the Sisters.
Currently there are almost 12 Josephite Affiliates in Australia and Ireland who have taken private vows according to The Rule of Life and have joined the Sisters in their mission.
The third pathway developed and open to men and women whether married or single is one that enables them to discern God's call and through prayer and with the communion and support of the Sisters, to become Covenant Josephites.
Assisted through their discernment by the wise counsel and support of a team of three to four Sisters of St Joseph, Covenant Josephites take no vows but instead make a renewable formal Covenant where they pledge to live in the spirit of Mary MacKillop and in prayer and mutual support with the Sisters and the Josephite community.
Over the past five years more and more lay men and women across Australia as well as in New Zealand, Ireland and also Peru have become Covenant Josephites. At least 15 more are currently in the process of discernment.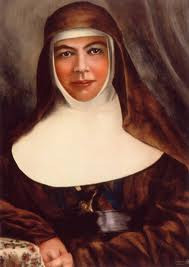 "These days we like to imagine the Josephite Movement as a braided river bed with different streams flowing across the bed to represent the different pathways available for living the spirituality," says Sr Katrina. "Another way of looking at it is to visualise a large circle with the Sisters at the centre and all the others who make up the Josephite caravan clustered around them."
Co-founded by Fr Julian Tenison Woods and Mary MacKillop more than a century ago, the Josephite Congregation continues to break new ground and pioneer new ways of living the Gospel.
From its earliest days, the Sisters of St Joseph of the Sacred Heart were one of first religious congregations to not only obtain the Pope's permission to be independent under their own self-elected superior-general, rather than under the administration of a bishop as was customary, but they also broke new ground by choosing not to live in a convent but instead to be part of the local community and live alongside the poor to whom they ministered.
Now almost 150 years later, the Josephites are once again coming up with new ways for people to discern God's call and to answer St Mary of the Cross Mackillop call to "never see a need without doing something about it."
To find out more about becoming a Covenant Josephite or an Affiliate of the Congregation of the Sisters of St Joseph log on to
http://www.sosj.org.au/news-events/view_article.cfm?id=1188&loadref=7
SHARED FROM ARCHDIOCESE OF SYDNEY
TODAY IS THE FEAST OF THE IMMACULATE HEART OF MARY: Devotion to the Immaculate heart of Mary has existed for centuries. However, St. Jean Eudes (d. 1681) propagated the devotion, and tried to make it public, and to have a feast celebrated in honor of the Heart of Mary, first at Autun in 1648 and afterwards in a number of French dioceses.

In 1799 Pius VI, then in captivity at Florence, granted the Bishop of Palermo the feast of the Most Pure Heart of Mary for some of the churches in his diocese. In 1805 Pius VII made a new concession, thanks to which the feast was soon widely observed. On 21 July 1855, the Congregation of Rites finally approved the Office and Mass of the Most Pure Heart of Mary without, however, imposing them upon the Universal Church. [Excerpted from Catholic Encyclopedia, 1913 edition.]
The feast of the Immaculate Heart of Mary was transferred by Pope Paul VI to the Saturday immediately following the feast of the Sacred Heart of Jesus.
CONSECRATION
I, . . ., a faithless sinner, renew and ratify today in thy Heart, O Immaculate Mother, the vows of my Baptism; I renounce forever Satan, his pomps and works; and I give myself entirely to Jesus Christ, the Incarnate Wisdom, to carry my cross after Him all the days of my life, and to be more faithful to Him than I have ever been before.
Queen of the Most Holy Rosary, in the presence of all the heavenly court, I choose thee this day for my Mother and Mistress. I deliver and consecrate to thee, and to thy Immaculate Heart, as thy child and slave of love, my body and soul, my goods, both interior and exterior, and even the value of all my good actions, past, present and future; leaving to thee the entire and full right of disposing of me, and all that belongs to me, without exception, according to thy good pleasure, for the greater glory of God, in time and in eternity. Amen
Immaculate Heart of Mary, full of love for God and mankind, and of compassion for sinners, I consecrate myself entirely to you. I entrust to you the salvation of my soul. May my heart be ever united with yours, so that I may hate sin, love God and my neighbor, and reach eternal life together with those whom I love.
Mediatrix of All Graces and Mother of Mercy, remember the infinite treasure which your Divine Son has merited by His suffering and which he has confided to you for us, your children. Filled with confidence in your motherly heart, and for the sake of the Sacred Heart of Jesus, obtain for me the favor I ask:
[Mention your request here]
.
Dearest Mother, if what I ask for should not be according to God's will, pray that I may receive that which will be of greater benefit to my soul. May I experience the kindness of your intercession with Jesus during life and at the hour of my death? Amen.

Luke 2: 41 - 51


---

41

Now his parents went to Jerusalem every year at the feast of the Passover.

42

And when he was twelve years old, they went up according to custom;

43

and when the feast was ended, as they were returning, the boy Jesus stayed behind in Jerusalem. His parents did not know it,

44

but supposing him to be in the company they went a day's journey, and they sought him among their kinsfolk and acquaintances;

45

and when they did not find him, they returned to Jerusalem, seeking him.

46

After three days they found him in the temple, sitting among the teachers, listening to them and asking them questions;

47

and all who heard him were amazed at his understanding and his answers.

48

And when they saw him they were astonished; and his mother said to him, "Son, why have you treated us so? Behold, your father and I have been looking for you anxiously."

49

And he said to them, "How is it that you sought me? Did you not know that I must be in my Father's house?"

50

And they did not understand the saying which he spoke to them.

51

And he went down with them and came to Nazareth, and was obedient to them; and his mother kept all these things in her heart.
St. Medard
BISHOP
Feast: June 8


Information:

| | |
| --- | --- |
| Feast Day: | June 8 |
| Born: | 456 at Salency, Picardy, France |
| Died: | 8 June 545 at Noyon, France |
| Major Shrine: | Abbey of Saint-Médard, Soissons, France |
| Patron of: | the weather; invoked against toothache |

ST. MEDARD, one of the most illustrious prelates of the Church of France in the sixth century, was born of a pious and noble family, at Salency, about the year 457. From his childhood he evinced the most tender compassion for the poor. On one occasion he gave his coat to a destitute blind man, and when asked why he had done so, he answered that the misery of a fellow-member in Christ so affected him that he could not help giving him part of his own clothes. Being promoted to the priesthood in the thirty-third year of his age, he became a bright ornament of that sacred order. He preached the word of God with an unction which touched the hearts of the most hardened; and the influence of his example, by which he enforced the precepts which he delivered from the pulpit, seemed irresistible. In 530, Alomer, the thirteenth bishop of that country, dying, St. Medard was unanimously chosen to fill the see, and was consecrated by St. Remigius, who had baptized King Clovis in 496, and was then exceeding old. Our Saint's new dignity did not make him abate anything of his austerities, and, though at that time seventy-two years old, he thought himself obliged to redouble his labors. Though his diocese was very wide, it seemed not to suffice for his zeal, which could not be confined; wherever he saw the opportunity of advancing the honor of God, and of abolishing the remains of idolatry, he overcame all obstacles, and by his zealous labors and miracles the rays of the Gospel dispelled the mists of idolatry throughout the whole extent of his diocese. What rendered this task more difficult and perilous was the savage and fierce disposition of the ancient inhabitants of Flanders, who were the most barbarous of all the nations of the Gauls and Franks. Our Saint, having completed this great work in Flanders, returned to Noyon, where he shortly after fell sick, and soon rested from his labors at an advanced age, in 545. The whole kingdom lamented his death as the loss of their common father and protector. His body was buried in his own cathedral, but the many miracles wrought at his tomb so moved King Clotaire that he translated the precious remains to Soissons.

(Taken from Lives of the Saints, by Alban Butler)
source:
http://www.ewtn.com/saintsHoly/saints/M/stmedard.asp#ixzz1xAeBcFky