2013
2013
(Vatican Radio) Pope Francis has met with members of the Union Superiors General, who have been holding their 82nd General Assembly in the Salesianum in Rome from 27 to 29 November.
During the three-hour meeting, which consisted of questions and answers, the Pope touched on a variety of themes, including: the identity and mission of consecrated life; the situation of vocations; the importance of formation; and the frontiers of the mission of consecrated persons.
Pope Francis announced that 2015 would be a year dedicated to consecrated life, adding: "Thank you for what you do and for your spirit of faith and your service. Thank you for your witness and also for the humiliations through which you have had to pass".
SHARED FROM RADIO VATICANA
St. Andrew the Apostle
APOSTLE
Feast: November 30
Information:

| | |
| --- | --- |
| Feast Day: | November 30 |
| Born: | early 1st Century, Bethsaida |
| Died: | mid-late 1st Century, Patras |
| Major Shrine: | Church of St. Andreas at Patras |
| Patron of: | Scotland, Russia, Sicily, Greece, Romania, Amalfi, Luqa (Malta) and Prussia; Army Rangers, mariners, fishermen, fishmongers, rope-makers, singers and performers |




St Andrew was a native of Bethsaida, a town in Galilee, upon the banks of the lake of Genesareth. He was the son of Jonas, or John, a fisherman of that town, and brother to Simon Peter, but whether elder or younger the Holy Scriptures have not acquainted us. They had afterwards a house at Capharnaum, where Jesus lodged when he preached in that city. It is no small proof of the piety and good inclinations of St. Andrew, that when St. John Baptist began to preach penance in the desert, he was not content with going to hear him as others did, but became his disciple, passed much of his time in hearing his instructions, and studied punctually to practice all his lessons and copy his example; but he often returned home to his fishing trade. He was with his master when St. John Baptist, seeing Jesus pass by the day after he had been baptized by him, said, "Behold the Lamb of God." Andrew, by the ardour and purity of his desires and his fidelity in every religious practice, deserved to be so far enlightened as to comprehend this mysterious saying, and without delay he and another disciple of the Baptist went after Jesus, who drew them secretly by the invisible bands of his grace, and saw them with the eyes of his spirit before he beheld them with his corporal eyes. Turning back as he walked and seeing them follow him, he said, "What seek ye?" They said they desired to know where he dwelt; and he bade them come and see. There remained but two hours of that day, which they spent with him, and, according to several fathers, the whole night following. "O how happy a day, how happy a night did they pass I " cries out St. Austin. "Who will tell us what things they then learned from the mouth of their Saviour!"

Andrew, who loved affectionately his brother Simon, called afterwards Peter, could not rest till he had imparted to him the infinite treasure which he had discovered, and brought him to Christ that he might also know him. Simon was no sooner come to Jesus than the Saviour of the world admitted him as a disciple and gave him the name of Peter. The brothers tarried one day with him to hear his divine doctrine, and the next day returned home again. From this time they became Jesus' disciples, not constantly attending upon him, as they afterwards did, but hearing him frequently, as their business would permit, and returning to their trade and family affairs again. Jesus, in order to prove the truth of his divine doctrine by his works, wrought his first miracle at the marriage at Cana in Galilee, and was pleased that these two brothers should be present at it with his holy mother. Jesus, going up to Jerusalem to celebrate the Passover, stayed some days in Judea, and baptized in the Jordan. Peter and Andrew also baptized by his authority and in his name. Our Saviour being come back into Lower Galilee in autumn, and meeting one day Peter and Andrew fishing in the lake, before the end of the same year, he called them to a constant attendance upon the ministry of the gospel, saying that he would make them fishers of men. Whereupon they immediately left their nets to follow him, and never went from him again. The year following, the Son of God formed the college of his apostles, in which our two brothers are named by the evangelists at the head of the rest. Not long after Jesus went down to Capharnaum and lodged at the house of Peter and Andrew and, at the request of them both, cured Peter's wife's mother of a fever, by taking her by the hand and rebuking the fever, by which it left her When Christ would not send away the multitude of five thousand persons who had followed him into the desert till they were refreshed with some food, St. Philip said two hundred pennyworth of bread would not suffice. But Andrew seemed to express a stronger faith, saying there was a boy who had five barley loaves and two small fishes—which, indeed, were nothing among so many—but Christ could, if he pleased to exert his power, seeing he was greater than Eliseus who, with twenty loaves, fed a hundred men. When Christ was at Bethania, at the house of Lazarus, a little before his Sacred Passion, certain Greeks who came to worship God at the festival, addressed themselves to Philip, begging him to introduce them to Jesus. Philip did not undertake to do it alone; but spoke to St. Andrew, and they both together spoke to their divine master and procured these strangers that happiness. This shows the great credit St. Andrew had with Christ; on which account St. Bede calls him the Introductor to Christ, and says he had this honour because he brought St. Peter to him. Christ having foretold the destruction of the temple, Peter, John, James, and Andrew asked him privately when that should come to pass, that they might forewarn their brethren to escape the danger.

After Christ's resurrection and the descent of the Holy Ghost, St. Andrew preached the gospel in Scythia, as Origen testifies. Sophronius, who wrote soon after St. Jerome and translated his catalogue of illustrious men and some other works into Greek, adds Sogdiana and Colchis. Theodoret tells us that he passed into Greece; St. Gregory Nazianzen mentions particularly Epirus and St. Jerom Achaia. St. Paulinus says this divine fisherman, preaching at Argos, put all the philosophers there to silence. St. Philastrius tells us, that he came out of Pontus into Greece, and that in his time people at Sinope were persuaded that they had his true picture, and the pulpit in which he had preached in that city. The Muscovites have long gloried that St. Andrew carried the gospel into their country as far as the mouth of the Borysthenes, and to the mountains where the city of Kiou now stands, and to the frontiers of Poland. If the ancients mean European Scythia, when they speak of the theatre of his labours, this authority is favourable to the pretensions of the Muscovites. The Greeks understand it of Scythia, beyond Sebastopolis in Colchis, and perhaps also of the European; for they say he planted the faith in Thrace, and particularly at Byzantium, afterwards called Constantinople. But of this we meet with no traces in antiquity. Several Calendars commemorate the feast of the chair of St. Andrew at Patrae, in Achaia It is agreed that he laid down his life there for Christ. St. Paulinus says, that having taken many people in the nets of Christ he confirmed the faith which he had preached by his blood at Patrae. St. Sophronius, St. Gaudentius, and St. Austin assure us that he was crucified; St. Peter Chrysologus says, on a tree; Pseudo-Hippolytus adds, on an olive-tree. In the hymn of Pope Damasus it is barely mentioned that he was crucified. When the apostle saw his cross at a distance, he is said to have cried out, "Hail, precious cross, that hast been consecrated by the body of my Lord, and adorned with his limbs as with rich jewels. I come to thee exulting and glad: receive me with joy into thy arms. O good cross, that hast received beauty from our Lord's limbs; I have ardently loved thee; long have I desired and sought thee: now thou art found by me, and art made ready for my longing soul; receive me into thy arms, taking me from among men, and present me to my master; that he who redeemed me on thee, may receive me by thee." The body of St. Andrew was translated from Patrae to Constantinople in 357, together with those of St. Luke and St. Timothy, and deposited in the Church of the Apostles, which Constantine the Great had built a little before. St. Paulinus and St. Jerome mention miracles wrought on that occasion. The churches of Milan, Nola, Brescia, and some other places, were at the same time enriched with small portions of these relics, as we are informed by St. Ambrose, St. Gaudentius, St. Paulinus, &c.

It is the common opinion that the cross of St. Andrew was in the form of the letter X, styled a cross decussate, composed of two pieces of timber crossing each other obliquely in the middle. That such crosses were sometimes used is certain; yet no clear proofs are produced as to the form of St. Andrew's cross. It is mentioned in the records of the duchy of Burgundy, that the cross of St. Andrew was brought out of Achaia and placed in the nunnery of Weaune, near Marseilles. It was thence removed into the abbey of St. Victor, in Marseilles, before the year 1250, and is still shown there. A part thereof, enclosed in a silver case gilt, was carried to Brussels by Philip the Good, Duke of Burgundy and Brabant, who, in honour of it, instituted the Knights of the Golden Fleece, who for the badge of their Order, wear a figure of this cross, called St. Andrew's cross, or the cross of Burgundy. The Scots honour St. Andrew as principal patron of their country, and their historians tell us that a certain abbot, called Regulus, brought thither from Patrae in 369, or rather from Constantinople some years later, certain relics of this apostle, which he deposited in a church which he built in his honour with a monastery called Abernethy, where now the city of St. Andrews stands. Usher proves that many pilgrims resorted to this church from foreign countries, and that the Scottish monks of that place were the first who were called Culdees. Hungus, King of the Picts, soon after the year 800, in thanksgiving for a great victory which he had gained over the Northumbrians, gave to this church the tenth part of all the land of his dominions. Kenneth II, King of the Scots, having overcome the Picts, and entirely extinguished their kingdom in North Britain, in 845, repaired and richly endowed the Church of St. Regulus, or Rueil, in which the arm of St. Andrew was reverently kept. The Muscovites say he preached the faith among them, and honour him as the principal titular saint of their empire. Peter the Great instituted under his name the first and most noble order of knighthood, or of the blue ribbon; leaving the project of a second Order of St. Alexander Newski, or of the red ribbon, to be carried into execution by his widow. SOURCE

Latin ad-venio, to come to.
Advent is a period beginning with the
Sunday
nearest to the feast of
St. Andrew the Apostle
(30 November) and embracing four Sundays. The first
Sunday
may be as early as 27 November, and then Advent has twenty-eight days, or as late as 3 December, giving the season only twenty-one days.
With Advent the ecclesiastical year begins in the Western churches. During this time the faithful are admonished
to prepare themselves worthily to celebrate the anniversary of the Lord's coming into the world as the incarnate God of love,

thus to make their souls fitting abodes for the Redeemer coming in Holy Communion and through grace, and

thereby to make themselves ready for His final coming as judge, at death and at the end of the world.
Duration and ritual
In the Massthe Gloria in excelsis is not said. The Alleluia, however, is retained. During this time the solemnization of matrimony Benediction) cannot take place; which prohibition binds to the feast of Epiphany inclusively. The celebrant and sacred ministers use violet vestments. An exception is made for the third Sunday (Gaudete Sunday), on which the vestments may be rose-coloured. Flowers and relics of Saints are not to be placed on the altars during the Office and Masses of this time, except on the third Sunday.
Sunday
Monday
Tuesday
Wednesday
Thursday
Friday
Saturday
Historical origin
The preparation for the feast of the Nativity of Our Lord was not held before the feast itself existed, and of this we find no evidence before the end of the fourth century, when, according to Duchesne [Christian Worship (London, 1904), 260], it was celebrated throughout the whole Church, Several synods had made laws about fasting to be observed during this time,.
SHARE - St. Andrew Christmas NOVENA -
Starts November 30, the feast of St. Andrew the Apostle, and concludes on Christmas Eve. It is piously believed to be very
efficacious. Recite 15 times a day until December 24- possibly 5 times before each meal.
Hail and blessed be the hour and moment in which the Son of God was born of the most pure Virgin Mary, at midnight, in Bethlehem, in piercing cold. In that hour, vouchsafe, O my God! to hear my prayer and grant my desires, through the merits of Our Saviour Jesus Christ, and of His Blessed Mother. Amen.
Vatican Radio -
Pope Francis' general prayer intention for December is: "That children who are victims of abandonment or violence may find the love and protection they need".
His mission intention is: "That Christians, enlightened by the Word incarnate, may prepare humanity for the Saviour's coming". SHARED FROM VATICAN INFORMATION SERVICE
Catholic Communications, Sydney Archdiocese,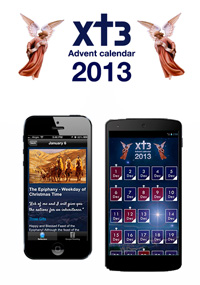 The Archdiocese of Sydney's social networking site xt3.com has launched its latest Advent calendar which is loaded with a variety of resources as well as being available as an app for iPhone, iPad and Andrioid devices.
This is the fifth year xt3.com has released its special Advent online calendar. It features multimedia content and reflections throughout Advent and the countdown to Christmas.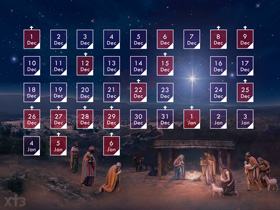 Each day a new door of the calendar can be opened to reveal a daily reflection and bible quote, or video or podcast or an article or interview.
This year there is more content than ever before including a reflection on the journey of the relic of St Francis Xavier, a social justice message from Caritas Australia for Christmas, a talk on Our Lady of Guadalupe by Archdiocese of Sydney Auxiliary Bishop Peter Comensoli, resources to celebrate the birthday of Pope Francis and of course the Christmas Message from the Archbishop of Sydney Cardinal George Pell.
There is also the Christmas story told by three young girls - in their own warm, delightful and often very amusing way.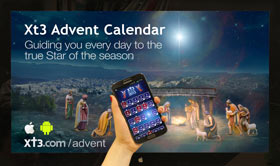 The xt3Advent Calendar has always been popular with many people and parishes, youth groups and students and has provided great resources for schools.
It has also been sourced by people in Europe, The UK, Canada and the USA in particular.
The first door of the digital calendar will open on the first Sunday of Advent, 1 December 2013.
You can follow your Advent journey no matter where you are . Simple search for "xt3 Advent" in your App store or follow the link at www.xt3.com/advent
SHARED FROM ARCHDIOCESE OF SYDNEY
(Vatican Radio) Over 1.600 cities are gearing up to say 'Yes' to life and 'No' to the death penalty, as part of an annual initiative organized by the Rome-based St Egidio community. Begun over a decade ago to raise awareness about the campaign to end capital punishment worldwide, the 'Cities for Life' event now includes marches, meetings and symbolic events in cities right across the globe.

Here in Rome the three day programme featured a meeting at the Italian parliament on Thursday, an international summit of Justice Ministers on Friday and will conclude with a ceremony for the lighting up of the Colosseum on Saturday November 30th.

While the list of countries abolishing, suspending, or commuting death sentences continues to increase, there has also been a number of nations – Gambia, Japan, India, Pakistan and Iraq - that have reintroduced or increased executions over the past year.

Among the goals of the St Egidio initiative is to highlight the Church's care and concern for the dignity of all people in prison, especially those on death row. SHARED FROM RADIO VATICANA
IMMACULATE CONCEPTION - NOVENA PRAYER - PLENARY INDULGENCE
2012
The Immaculate Conception – Celebrating the Blessed Virgin's Mary's conception as freed from all sin -
Plenary indulgence to all who shall assist at these Novenas every day, and who shall afterwards, either on the Feast-day itself, to which each Novena respectively has reference, or on some one day in its Octave, after Confession and Communion, pray to our Lord and to the Blessed Virgin according to the pious intention of the Sovereign Pontiff.
Come, Holy Spirit, fill the hearts of Thy faithful, and kindle in them the fire of Thy love.
V. Send forth Thy Spirit, and they shall be created.
R. And Thou shalt renew the face of the earth.
Let us pray.
O God, who hast taught the hearts of Thy faithful people by the light of the Holy Spirit; grant us in the same Spirit to relish what is right, and evermore to rejoice in his holy comfort. Through Christ our Lord. R. Amen.
PREPARATORY PRAYER FOR EVERY DAY OF THE NOVENA.
Virgin most pure, conceived without sin, all fair and stainless from thy Conception; glorious Mary, full of grace, Mother of my God, Queen of angels and of men, - I humbly venerate thee as Mother of my Saviour, who, though He was God, taught me by His own veneration, reverence, and obedience to thee, the honour and homage which are due to thee. Vouchsafe, I pray thee, to accept this Novena, which I dedicate to thee. Thou art the safe refuge of the penitent sinner; it is very fitting, then, that I should have recourse to thee. Thou art the Mother of compassion; then wilt thou surely be moved with pity for my many miseries. Thou art my best hope after Jesus; thou canst not but accept the loving confidence that I have in thee. Make me worthy to be called thy son, that so I may dare to cry unto thee,
Monstra te esse matrem.
Show thyself a mother.
Nine
Ave Maria's, one Gloria Patri, and the following Prayer.
PRAYER FOR THE FIRST DAY. Nov. 30.
Behold me at thy sacred feet, O Immaculate Virgin. I rejoice with thee, because from all eternity thou wast elected to be the Mother of the Eternal Word, and wast preserved stainless from the taint of original sin. I praise and bless the Most Holy Trinity, who poured out upon thy soul in thy Conception the riches of that privilege. I humbly pray thee to obtain for me grace effectually to overcome the sad effects produced in my soul by original sin; make me wholly victorious over them, that I may never cease to love my God.
After the Litanies, or Hymn as above, say as follows:
V. All fair art thou, O Mary.
R. All fair art thou, O Mary.
V. The original stain is not in thee.
R. The original stain is not in thee.
V. Thou art the glory of Jerusalem.
R. Thou art the joy of Israel.
V. Thou art the honour of our people.
R. Thou art the advocate of sinners.
V. O Mary.
R. O Mary.
V. Virgin most prudent.
R. Mother most clement.
V. Pray for us.
B. Intercede for us to our Lord Jesus Christ.
V. In thy Conception, O Virgin, thou wast immaculate.
R. Pray for us to the Father, whose Son was born of thee.
Let us pray.
O God, who through the Immaculate Conception of a Virgin didst prepare a worthy dwelling-place for Thy Son, we beseech Thee, who by the death of that Son, foreseen by Thee, didst preserve her from every stain of sin, to grant that by her intercession we also may be purified, and so may come to Thee.
O God, the Shepherd and Ruler of all the faithful, graciously look down upon Thy servant N., whom Thou host chosen to be the pastor of Thy Church; and grant him, we beseech Thee, both by word and example, so to direct those over whom Thou hast placed him, that, together with the flock entrusted to his care, he may attain eternal life.
O God, our refuge and strength, who art the author of all holiness, listen to the pious prayers of thy Church, and grant that what we ask in faith we may effectually obtain. Through Christ our Lord. Amen.
The same order is to be observed en all the other days of the Novena, the Prayers for the Day alone being changed.
PRAYER FOR THE SECOND DAY. Dec. 1.
Mary, unsullied Lily of purity, I rejoice with thee, because from the first moment of thy Conception thou wast filled with grace, and hadst given unto thee the perfect use of reason. I thank and I adore the Ever-blessed Trinity, who gave thee these high gifts. Behold me at thy feet overwhelmed with shame to see myself so poor in grace. O thou who wast filled full of heavenly grace, grant me a portion of that same grace, and make me a partaker in the treasures of thy Immaculate Conception.
Litanies, &c., as before.
PRAYER FOR THE THIRD DAY. Dec. 2.
Mary, mystic Rose of purity, I rejoice with thee at the glorious triumph thou didst gain over the serpent by thy Immaculate Conception, in that then wast conceived without original sin. I thank and praise with my whole heart the Ever-blessed Trinity, who granted thee that glorious privilege and I pray thee to obtain for me courage to overcome every snare of the great enemy, and never to stain my soul with mortal sin. Be thou always mine aid, and enable me with thy protection to obtain the victory over all the enemies of man's eternal welfare.
Litanies, &c., as before.
PRAYER FOR THE FOURTH DAY. Dec. 3.
Mary, Immaculate Virgin, Mirror of holy purity, I rejoice exceedingly to see how from thy Immaculate Conception there were infused into thy soul the most sublime and perfect virtues, with all the gifts of the Most Holy Spirit. I thank and praise the Ever-Blessed Trinity, who bestowed upon thee these high privileges, and I beseech thee, gracious Mother, obtain for me grace to practise every Christian virtue, and so to become worthy to receive the gifts and graces of the Holy Ghost.
Litanies, &c., as before.
PRAYER FOR THE FIFTH DAY. Dec. 4.
Mary, bright Moon of purity, I congratulate thee in that the mystery of thy Immaculate Conception was the beginning of salvation to the human race, and was the joy of the whole world. I thank and bless the Ever-blessed Trinity, who did so magnify and glorify thy Person. I entreat thee to obtain for me the grace so to profit by the Death and Passion of thy dear Son, that His Precious Blood may not have been shed upon the cross for me in vain, but that after a holy life I may be saved.
Litanies, &c., as before.
PRAYER FOR THE SIXTH DAY. Dec. 5.
Mary Immaculate, brilliant Star of purity, I rejoice with thee, because thy Immaculate Conception brought exceeding joy to all the angels in Paradise. I thank and bless the Ever-blessed Trinity, who enriched thee with this privilege. Enable me also one day to take part in this heavenly joy, praising and blessing thee in the company of angels world without end. Amen.
Litanies, &c., as before.
PRAYER FOR THE SEVENTH DAY. Dec. 6.
Mary immaculate, rising Morn of purity, I rejoice with thee, and I am filled with admiration at beholding thee confirmed in grace and rendered sinless from the first moment of thy Conception. I thank and praise the Ever-blessed Trinity, who elected thee alone from all mankind for this especial privilege. Holiest Virgin, obtain for me an entire and lasting hatred of sin, as the worst of all evils, that I may rather die than ever again commit a mortal sin.
Litanies, &c., as before.
PRAYER FOR THE EIGHTH DAY. Dec. 7.
Mary, Virgin, Sun without stain, I congratulate thee, and I rejoice with thee, because God gave unto thee in thy Conception a greater and a more abundant grace than He gave to all His angels and His saints together, even when their merits were most exalted. I thank and admire the immense beneficence of the Ever-blessed Trinity, who hath dispensed to thee alone this privilege. O, enable me too to correspond with the grace of God, and never more to receive it in vain; change my heart, and help me to begin in earnest a new life.
Litanies, &c., as before.
PRAYER FOR THE NINTH DAY. Dec. 8.
Immaculate Mary, living Light of holiness, Model of purity, Virgin and Mother, as soon as thou wast conceived thou didst profoundly adore thy God, giving Him thanks, because by means of thee the ancient curse was blotted out, and blessing was again come upon the sinful sons of Adam. Let this blessing kindle in my heart love towards God; and do thou inflame my heart still more and more, that I may ever love Him more constantly, and afterwards eternally enjoy Him in heaven, there to thank and praise Him more and more fervently for all the wondrous privileges conferred on thee, and to rejoice with thee for thy high crown of glory.
Litanies, &c., as before.
CISA REPORT: GULU, November 26, 2013 -Sister Rosemary Nyirumbe, a Ugandan educator who empowers women and girls who survived brutality at the hands of rebels, will be recognized with an honorary doctorate from DePaul University for her dedication to social justice.
As director of St Monica's Girls' Tailoring Center, Sister Nyirumbe led an overhaul of the school's curriculum to respond to the increasing needs of women, girls and their children who have survived kidnapping, rape and mass displacement during decades of civil war in Uganda. She will receive a Doctor of Humane Letters degree during a December 07 ceremony at Tangaza College in Nairobi, Kenya.
"Sister Nyirumbe is helping women and girls weave a new beginning through education. Her vision and advocacy for this vulnerable population resonate deeply with the legacy of St Vincent de Paul, who worked on behalf of the poor and marginalized," said the Rev Dennis H Holtschneider, C.M., DePaul's president.
The ceremony is part of commencement activities for an undergraduate degree program offered by DePaul's School for New Learning in partnership with Tangaza College. Nineteen students will graduate with degrees in leadership and management from the program, which was established in 2006 with a grant from the Conrad H. Hilton Foundation.
Students in the program include laypeople and religious men and women who are chosen by their communities because of their leadership potential.
Founded in 1898 in Chicago, Ill., DePaul is the largest Catholic university in the United States. Tangaza College is also a Catholic institution and prepares graduates for ministerial and social work.
Under Sister Nyirumbe's leadership, St Monica's has adapted to the practical and trauma-induced needs of a population suffering in a civil war. Women and girls at St Monica's receive psychological support and literacy training, as well as vocational skills like sewing and planting crops. Sister Nyirumbe developed a program to help students earn money by creating purses from soda pop tabs, which is the subject of "Sewing Hope," a book and documentary film currently in production. Since 2002, annual enrollment at St Monica's has surged from 31 to more than 300, and most leave the school with permanent jobs.
Traveling the world to advocate on behalf of the school, Sister Nyirumbe also brings bring attention to the ongoing violence caused by rebel groups in Uganda. In 2007, she was named a CNN Hero. Former U.S. President Bill Clinton and his daughter Chelsea praised her mission and determination earlier this year during a visit to Uganda.
The School for New Learning at DePaul University provides a distinctive approach to learning for adults, with customized programs that build upon abilities and experiences add knowledge and develop skills to help achieve personal and professional goals. A fundamental idea behind the school is learning from experience.