2014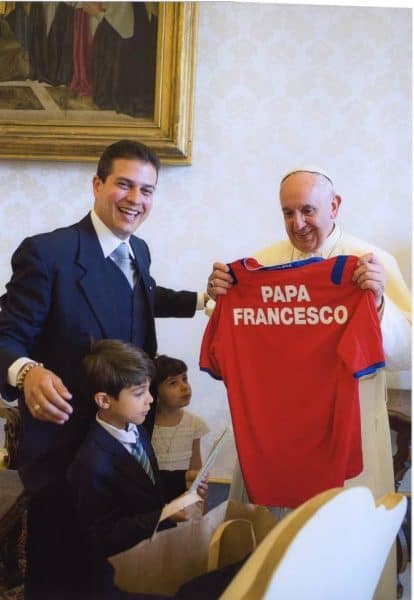 Catholic Communications, Sydney Archdiocese report:
3 Jul 2014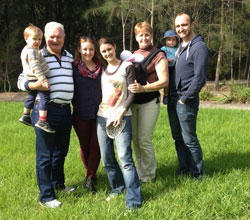 When Sydney mother of three, Christine Robertson of Eastwood was awarded an OAM for her services to children, particularly as a foster carer, in this year's Queen's Birthday Honours she admits she was hesitant about accepting the honour.
"I was mortified and wondered how could I think of accepting an award for doing something I'd do even if I had to pay for it. To me the most ordinary thing a human person can do is look after a baby and to love and nurture them. To receive an award for doing what is so normal and which also brings me so much joy seems bizarre," she says.
For the past 21 years, Christine and her family have given emergency, short, medium and long term out-of-home-care to children and babies. To date, the Eastwood-based family has cared for 68 babies and children with the length of stay varying from 12 hours to 12 months, and in one long term case for a period of 12 years and 9 months.
Some of the children have been siblings, others have been twins or triplets.
"So far we've helped care for 34 boys and 34 girls including the two sets of twins and one set of triplets," she says.
While Christine's OAM singled her out as a foster carer, she is quick to point out that providing out of home care is very much a family affair with husbands, biological children, extended family and friends all playing important and significant roles.
As one of CatholicCare 70 to 80 trained and registered foster families across the city, Christine's husband Mike, their son and daughters and network of friends are all involved in helping give the babies and children the Robertson's care for a feeling of love, safety and warmth.
"Mike is a very patient and generous kind of man and has always been involved in every aspect of the care and lives of the children and babies while they are with us," she says, although she admits that her husband of 32 years was somewhat taken aback at the time they became engaged when Christine confided that she wanted to help less fortunate kids in need, and bring them home and take care of them.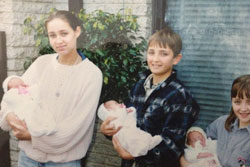 "Growing up in a family with very little money and in an area where most people were struggling, I was still a child when I remember worrying about the children in one family. There were nine of them and they always wore clothes that didn't fit, had no shoes and looked like they needed a wash. I remember wanting Mum to take them in. That's when I decided when I grew up I'd help care for children like that," she says, then bursts out laughing as she remembers 24-year-old Mike's surprised face and his suggestion that they maybe "we should discuss this after we're married and had our own children."
But Mike was never averse to the idea when Claire, Tom and Emily, the couple's three children, were 8, 6 and 4 years. They sat down with them and discussed becoming a foster family.
After seeing a CatholicCare ad for foster care families, Christine, Mike and the children embarked on a series of interviews with CatholicCare.
"We had four very detailed interviews with CatholicCare of about three hours each. Our kids thought the interviews were wonderful and had eyes like saucers because they were suddenly hearing all these things they didn't know about Mike and me such as former boyfriends and girlfriends and a really detailed history," she says.
About to begin full training, Christine and Mike received an urgent phone call asking if it was possible for them to foster two brothers needing respite care one weekend a month.
"We said yes instantly and were hugely excited and it went from there," says Christine.
From the start and throughout their childhood and teenage years, Christine and Mike's children were very much involved in helping out with care and support of the youngsters and babies who needed a weekend, a couple of weeks or even several years of care.
The three pitched in, shared their toys, invented games for the toddlers and youngsters and helped with cuddles and feeds when needed.
Although the children are all now adults, with eldest Claire having two small sons of her own, the three of them still talk about the triplets they cared for as youngsters, and regard these few weeks as one of their most special memories.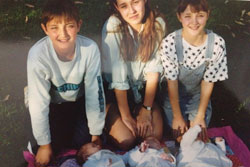 "We had the triplets for two weeks. My kids thought it was wonderful. Each of them had their own baby to bottle feed and cuddle," Christine says and adds that foster care and the babies and children they have cared for has not only brought great joy to her family but has enabled her to get to know her own children better.
"I think the whole experience growing up has also made them more generous, more tolerant and more socially aware," she says.
Today Emily works for the Benevolent Society, Tom is involved with IT and based in Singapore and Claire is the devoted mother of Reuben, 1 and Samuel who turns 3 this month.
"Claire is a far better mother than I ever was," Christine insists proudly.
When Claire was pregnant with Reuben, her parents gave up fostering for several months so they could pitch in and help out with the juggling act their daughter would need prior to and after the birth as mother to an active two year old and a newborn son.
"But after three months Mike asked if I thought we could negotiate an early release. He missed having a baby in the house at home," Christine says.
These days, Mike and Christine concentrate on providing emergency and short term care for newborns and babies. Their children might be adults, but stored in the garage and ready for the next arrival are strollers, bassinets, three cots, single and double clothes for boys as well as girls in every size imaginable and for every season.
Some of the babies they care for have special needs. These may include physical disabilities or may be a newborn delivered to a drug-addicted or over-medicated mother. Children of addicts are born addicted to whatever drug their mother was on, and Christine, Mike and their family help calm the fretful infants as they undergo painful withdrawals.
Some babies simply need respite or care while their mother is temporarily unable to care for them due to illness or some other emergency.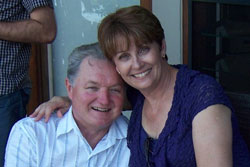 "Whatever the reason, Mike and I and the rest of our family are very aware that after a few days or weeks with one person, for a baby to suddenly find themselves in a whole new environment with a new family and household can be a very distressing, confusing and emotionally-charged time," Christine says.
For the Robertson family when the baby arrives, what takes precedence above all else, is to make the tiny infant or toddler feel safe, fed and loved.
"Attachment is essential. The central purpose for us is to establish a bond and lets the baby know the world is a safe place. Once a baby has that bond, they can move on to any other relationship. The primary bond a baby establishes is all important and if this does not happen until after they are 12 months old, life will be more difficult for them and for the relationships they form in later life," she says.
Christine insists that it doesn't matter that you may not be the most perfect parents in the world as long as you bond with the baby, meet his or her needs and let them know and understand that in these first weeks and months of their lives, life is predictable, safe and filled with love.
Sometimes despite the very best efforts, things may not work out quite as planned.
"You try your best but sadly some children do not recover from whatever happened in their first months and years of life," she says.
But Christine insists the joys of fostering far outweigh any down time or disappointments when a child may have been so damaged they are unable to respond.
"My family and I have gotten way more out of giving babies and children out-of-home-care than anything we have given them," she says firmly. "As a human being I adore spending my day on the floor laughing with a baby and for me, it really is as simple as that."