VATICAN.VA REPORT: APPOINTMENT OF Buchach Eparchy of the Ukrainian
The Holy Father Benedict XVI gave his consent canonical election made ​​by the Synod of Bishops of the Ukrainian Greek Catholic Church of Father Dmytro Rev.do (Bohdan) Hryhorak, OSBM, Bishop of the Eparchy of Buchach to the Ukrainians, now Chief Apostolic " to nutum Sanctae Sedis"of the same Eparchy. (IMAGE SOURCE: RADIO VATICANA)
Rev.do P. Dmytro (Bohdan) Hryhorak, OSBM
The Rev.do P. Dmytro (Bohdan) Hryhorak, OSBM, was born on January 1, 1956 in Ivano-Frankivsk (Ukraine).
He attended the Institute of Oil and Gas in Ivano-Frankivsk obtaining the degree of mechanical engineer (1973-1978), working as such in the factories of Ivano-Frankivsk.
In 1989 he entered the Order of St. Basil the Great and February 2, 1997 he made his perpetual vows. He continued his studies in philosophy and was ordained priest on October 25, 1992.
He later completed courses in theology at the Theological Institute of Catechetical-Ivano-Frankivsk (1993-1995).He obtained the degree of Magister in ecclesiology at the Catholic University of Lublin (Poland).
He has held various positions including: assistant parish prison chaplain of Ivano-Frankivsk, Lutsk and Volodymyr-pastor of Volyn'sky (1998).
On 28 July 2007 he was appointed Apostolic Administrator " ad nutum Sanctae Sedis "Eparchy of Buchach. In addition to Ukraine, speaks Russian and Polish, also knows Italian, English, German, Slavic and ancient greek.
[01123-01.01]
APPOINTMENT OF THE CALL FOR SPECIAL CENTENARY CELEBRATION OF THE DEDICATION OF THE CATHEDRAL OF THE IMMACULATE CONCEPTION IN MOSCOW (RUSSIAN FEDERATION) (September 25, 2011)
The Holy Father has appointed His Eminence. Cardinal Jozef Tomko, prefect emeritus of the Congregation for the Evangelization of Peoples, as his special envoy to the celebrations for the centenary of the dedication of the Cathedral of the Immaculate Conception in Moscow (Russian Federation), in program September 25, 2011.
On Friday, July 22 a bombing and shooting took place in Norway. In Oslo a bomb went off killing at least 7 people and injuring many others. Later on, a shooting rampage took place on an island just outside of Oslo killing 85 people. This camp was a political camp for youth aged 16-22. The terrorist dressed as a police officer and lured many of the youths to a spot and started to kill them. The main suspect, who has been arrested by police, is a 32-year old male named,

Anders Behring Breivik (pictured below). According to Radio Vaticana,

Archbishop Paul Tscherrig, the Apostolic Nuncio said it was a "great catastrophe", and emphasized Norway is a peaceful country, which is very democratic and free, and this violence is a gigantic blow to the entire population. He said the Catholic Church is praying for the victims, and will remember the dead during the Sunday Mass.
"In times like this the Norwegian people and government need the solidarity of international society and the prayers of the worldwide church," he said. "Now we know the reality of so many others in the world where violence pierces the lives of the innocent."
Rev. Dr Olav Fykse Tveit, a Norwegian Lutheran pastor and General Secretary of the World Council of Churches (WCC) asks
for prayers, saying "we pray that Norway might be able to stand together as an open, peace-loving country also in the future." "Let us all stay together for a world of justice and peace, without hate and revenge, but with the values of democracy, caring for the dignity and the human rights of every person," he said. "We are all created in the image of God."
(image source: notanothernewenglandsportsblog)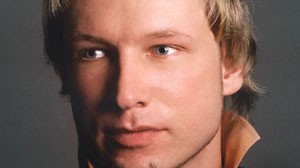 July 21, 2011
USCCB Meets With President, Congressional Leaders to Urge Protection for the Poor in Debt Agreement
WASHINGTON—Religious leaders, including representatives of the United States Conference of Catholic Bishops (USCCB), met with President Barack Obama July 20 to urge the President and congressional leaders to protect programs for hungry and poor people in decisions surrounding the deficit and debt.
The delegation to the White House included Bishop Ricardo Ramirez of La Cruces, New Mexico, member of the USCCB Committee on Domestic Justice and Human Development; Galen Carey of the National Association of Evangelicals; David Beckmann, president of Bread for the World; Jim Wallis, chief executive of Sojourners; as well as representatives of the Salvation Army, the Alliance to End Hunger, the National Council of Churches of Christ USA and others.
"As the Catholic Bishops' Conference, we come here not to advance a particular plan, but a fundamental moral principle: put the needs of the poor first in allocating scarce resources," said Bishop Ramirez. "As religious leaders, our concern is not which party wins the current political battles, but we know, if we don't speak up, who is likely to lose: the families trying to feed their kids, the jobless looking for work, the children who need health care, the hungry and sick and hopeless around the world."
Leaders who met with the President are signatories to the Circle of Protection, a non-partisan movement that insists that poor and vulnerable people should be protected, not targeted in efforts to reduce long term deficits.
Representatives of USCCB and other religious leaders also met with Rep. Paul Ryan, House budget chairman, on July 8 as well as the staff of House Speaker John Boehner.
The Circle of Protection statement has been endorsed by more than 60 heads of Christian denominations and religious organizations, as well as 45 heads of development agencies and other faiths, as part of the Circle of Protection movement. The movement was launched in response to the disproportionate budget cuts proposed to programs for hungry and poor people.
"As Christian leaders, we are committed to fiscal responsibility and shared sacrifice. We are also committed to resist budget cuts that undermine the lives, dignity, and rights of poor and vulnerable people," the leaders wrote in a statement. "Therefore, we join with others to form a circle of protection around programs that meet the essential needs of hungry and poor people at home and abroad."
UCAN REPORT: The ordaining bishop advises 'seeking holiness' in their priestly service
Perla Choudhury, Quezon City
Philippines
July 22, 2011
Bishop Socrates Villegas and other members of the congregation pose with the newly ordained priests
The Order of Carmelites ordained two priests this week at the parish church of the Order of Discalced Carmelite(OCD), the first such ordination of the Carmelites held in the church of their reformist counterparts.
The OCD was founded in the 1500s by Saints Terese of Avila and John of the Cross.
"It is our first [ordination] in the parish church," said Father Christian Buenafe, the father provincial of the Carmelite Order in the Philippines, adding that the two orders maintain close ties of collaboration in their respective missions.
The two priests, Edgar Cayanan, 48, and Fernando Lopez, 38, had previously worked as bank employees prior to their entry into the Church.
"They found us after working for 10 to 15 years," said Father Buenafe.
Bishop Socrates Villegas of Lingayen-Dagupan presided at the ordination ceremony.
The prelate told the newly ordained priests "to seek holiness within the people, within their community and within God."
The Order of Carmelites has maintained a presence in the Philippines for 53 years, with 42 solemn professed, including 41 ordained priests and one brother, as well as five simple professed priests.
http://www.ucanews.com/2011/07/22/carmelites-ordain-two-reformist-priests/
Fides Service REPORT - Forty soldiers were arrested in connection with the July 19 attack against the residence of the President of the Republic of Guinea, Alpha Condé (see Fides 20/07/2011), while the reasons of this serious episode remain in the dark. "The most logical explanation is that it was a failed coup carried out by some sectors of the military army closer to Sékouba Konate, concerned about the arrest of several top officials linked to them", says a source of the local Church to Fides, who for security reasons does not want to be mentioned. General Konate was the strong man of Guinea during the transition period. "This in spite of the attempt to minimize the event by the Head of State. The interpretations of the event, however, are not unique. Speaking with many people in Conakry one realizes that there are still many unclear points. If the most reliable interpretation is that of a failed coup d'etat by some generals, the next step is to ask what are the interests that pushed them to act " wonders the source of Fides.
" Could there be links to drug dealing interests?" we ask our interlocutor. "We know that for years Guinea is a junction, along with Guinea-Bissau (although to a lesser extent than the latter Country) of Colombian drug dealing in West Africa. The leader of the military coup of December 2008, Daddis Camara, had undertaken a strong action against drug dealing with non contemptible results. Camara was then victim of an attack that forced him to abandon power. It can be assumed then that both Camara and the present President are victims of military factions linked to Colombian drug dealing? It is a possible hypothesis, but there is no evidence to confirm it ", says our source.
In the background there are also strong foreign investment that are flowing into the country. "An important French group has invested in the port of Conakry, considered safer than those in Côte d'Ivoire. The President is re-examining several mining concessions and in the forest area numerous multinationals have been set up, so much so that what was a depressed area has become an area where it is easier to find work", confirms the source of Fides.
"A positive element in this story is that Guinean democracy has stood the test, both because the international community immediately condemned the attack on the President, and because the same Guinean opposition has not blown on the flames and has sided in defense of the institutions " concludes the source of Fides.
Sydney Archdiocese report
19 Jul 2011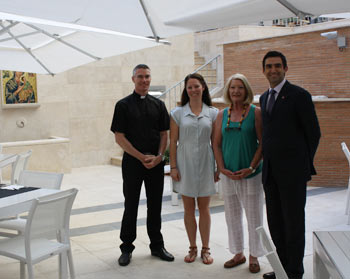 The Australian pilgrim centre in Rome, Domus Australia, is open for business and has received its first guests.
Mother and daughter, Kristy and Suzanne Marie Stewart from Adelaide, Australia travelling to Italy were welcomed in Rome by the Domus General Manager, Gabriel Griffa and Rector, Fr Anthony Denton.
"Everything looks so beautiful and brand new - it is very comfortable and something of which Australia can be very proud," Mrs Stewart said.
Mother and daughter enjoyed a "good, hearty, Aussie breakfast" in the courtyard on the first morning before heading off to explore the Eternal City - with all the advice and recommendations of Fr Denton.
They were planning to return for Mass with Fr Denton in the magnificently restored Chapel of St Peter Chanel. This will be one very special feature of Domus, daily Mass in English.
Located at Via Cernaia, not far from Termini, the main railway station, Domus is a former student house of the Marist Fathers.
In December 2008, a group of Australian dioceses, led by the Archdiocese of Sydney and Cardinal George Pell, bought the building to establish a new pilgrim house for visitors to Rome.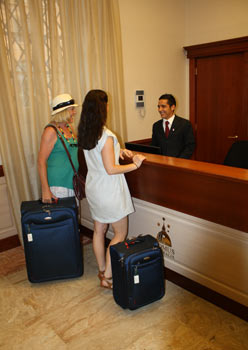 Cardinal Pell has often said a key aim in establishing the centre is to help tourists become pilgrims and is keen to welcome all Australian Catholics to Rome.
It also provides the opportunity to strengthen the link between the Catholic Church in Rome and the Catholic Church in Australia.
The creation of Domus Australia has also been welcomed by Pope Benedict XVI.
The complex comprises four main blocks surrounding a central internal courtyard. It is a quiet and peaceful refuge from the busy tourist sites but not that long ago it wasn't so quiet.
The site has undergone massive restoration and renovation works Hard to imagine what is seen now was once covered in scaffolding, trucks, bulldozers and dirt.
During this work sections of a wall and flooring dating back to the 1st century was uncovered. This is now preserved and on display for visitors.
Domus can accommodate around 80 people in the 32 rooms which have their own ensuite bathroom, mini-bar, air-conditioning, heating, television and in fact all the extras you would expect in a hotel.
There is also a lounge room and bar, dining area and a rooftop terrace for an Aussie barbeque and beer.
A conference area will accommodate around 150 people and of course there are special facilities for people with disabilities.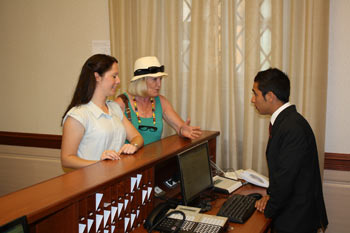 Cardinal Pell has been guiding the renovations and restoration from day one as well as the delicate restoration of the artworks.
Other artworks of leading Catholic Australian figures will be hung around Domus with Sydney artist Paul Newton commissioned to complete 32 paintings.
Some of his works including a new Our Lady of the Southern Cross and also a portrait of St Mary of the Cross MacKillop have already been shipped to Rome.
So from the first guests? It ticks all the boxes, according to the mother and daughter.
For further information www.domusaustralia.org
St. Bridget of Sweden
WIFE AND FOUNDRESS
Feast: July 23



Information:

| | |
| --- | --- |
| Feast Day: | July 23 |
| Born: | 1303 at Finsta Castle, Uppsala, Sweden |
| Died: | 23 July 1373 at Rome, Italy |
| Canonized: | 7 October 1391 by Pope Boniface IX |
| Major Shrine: | Vadstena |
| Patron of: | Europe, Sweden, Widows |

The most celebrated saint of the Northern kingdoms, born about 1303; died 23 July, 1373.



She was the daughter of Birger Persson, governor and provincial judge (Lagman) of Uppland, and of Ingeborg Bengtsdotter. Her father was one of the wealthiest landholders of the country, and, like her mother, distinguished by deep piety. St. Ingrid, whose death had occurred about twenty years before Bridget's birth, was a near relative of the family. Birger's daughter received a careful religious training, and from her seventh year showed signs of extraordinary religious impressions and illuminations. To her education, and particularly to the influence of an aunt who took the place of Bridget's mother after the latter's death (c. 1315), she owed that unswerving strength of will which later distinguished her.



In 1316, at the age of thirteen, she was united in marriage to Ulf Gudmarsson, who was then eighteen. She acquired great influence over her noble and pious husband, and the happy marriage was blessed with eight children, among them St. Catherine of Sweden. The saintly life and the great charity of Bridget soon made her name known far and wide. She was acquainted with several learned and pious theologians, among them Nicolaus Hermanni, later Bishop of Linköping, Matthias, canon of Linköping, her confessor, Peter, Prior of Alvastrâ, and Peter Magister, her confessor after Matthias. She was later at the court of King Magnus Eriksson, over whom she gradually acquired great influence. Early in the forties (1341-43) in company with her husband she made a pilgrimage to Santiago de Compostella. On the return journey her husband was stricken with an attack of illness, but recovered sufficiently to finish the journey. Shortly afterwards, however, he died (1344) in the Cistercian monastery of Alvastrâ in East Gothland.



Bridget now devoted herself entirely to practices of religion and asceticism, and to religious undertakings. The visions which she believed herself to have had from her early childhood now became more frequent and definite. She believed that Christ Himself appeared to her, and she wrote down the revelations she then received, which were in great repute during the Middle Ages. They were translated into Latin by Matthias Magister and Prior Peter.



St. Bridget now founded a new religious congregation, the Brigittines, or Order of St. Saviour, whose chief monastery, at Vadstena, was richly endowed by King Magnus and his queen (1346). To obtain confirmation for her institute, and at the same time to seek a larger sphere of activity for her mission, which was the moral uplifting of the period, she journeyed to Rome in 1349, and remained there until her death, except while absent on pilgrimages, among them one to the Holy Land in 1373. In August, 1370, Pope Urban V confirmed the Rule of her congregation. Bridget made earnest representations to Pope Urban, urging the removal of the Holy See from Avignon back to Rome. She accomplished the greatest good in Rome, however, by her pious and charitable life, and her earnest admonitions to others to adopt a better life, following out the excellent precedents she had set in her native land. The year following her death her remains were conveyed to the monastery at Vadstena. She was canonized, 7 October, 1391, by Boniface IX.


SOURCE: http://www.ewtn.com/saintsHoly/saints/B/stbridgetofsweden.asp#ixzz1Sw774HYj
Matthew 13: 24 - 30

---

24

Another parable he put before them, saying, "The kingdom of heaven may be compared to a man who sowed good seed in his field;

25

but while men were sleeping, his enemy came and sowed weeds among the wheat, and went away.

26

So when the plants came up and bore grain, then the weeds appeared also.

27

And the servants of the householder came and said to him, `Sir, did you not sow good seed in your field? How then has it weeds?'

28

He said to them, `An enemy has done this.' The servants said to him, `Then do you want us to go and gather them?'

29

But he said, `No; lest in gathering the weeds you root up the wheat along with them.

30

Let both grow together until the harvest; and at harvest time I will tell the reapers, Gather the weeds first and bind them in bundles to be burned, but gather the wheat into my barn.'"