VATICAN : POPE : NEW BOOK RELEASED ON JESUS INFANCY
(RADIO VATICANA IMAGE)
THIRD BOOK IN JOSEPH RATZINGER'S TRILOGY: "THE INFANCY NARRATIVES"
Vatican City, 20 November 2012 (VIS) - "L'infanzia di Gesu" ("The Infancy Narratives"), the third volume of Benedict XVI's trilogy dedicated to Jesus of Nazareth, will be available in Italian bookshops tomorrow, 21 November. The book, published in Italy by Rizzoli and the Vatican Publishing House, will be released simultaneously in several languages (Italian, German, Croatian, French, English, Polish, Portuguese and Spanish) and in fifty countries; the worldwide print run of the first edition will be more than a million copies. In the coming months, the book will be translated into twenty languages for publication in seventy-two countries.
This morning, in the Vatican's Sala Pio X, the book was presented to the press. The speakers were Cardinal Gianfranco Ravasi, president of the Pontifical Council for Culture; Maria Clara Bingemer, professor of theology at the Pontifical Catholic University of Rio de Janeiro; Fr. Giuseppe Costa, director of the Vatican Publishing House; Paolo Mieli, president of Rizzoli (RCS) Publications, and Fr. Federico Lombardi S.J., director of the Holy See Press Office.
The book, defined by its author as a "small antechamber" to the trilogy on Jesus of Nazareth, is 176 pages long and comprises four chapters, an Epilogue and a brief Foreword. A summary of the book is given below:
"The first chapter is dedicated to the genealogies of the Saviour in the Gospels of Matthew and Luke, which are very different, although both have the same theological and symbolic meaning: the placing of Jesus in history and his true origin as a new beginning of world history.
"The theme of chapter two is the annunciation of the birth of John the Baptist and that of Jesus. Rereading the dialogue between Mary and the Archangel Gabriel in the Gospel of Luke, Joseph Ratzinger explains that, through a woman, God 'seeks to enter the world anew'. In order to liberate man from sin, he writes, quoting Bernard of Clairvaux, God needs 'free obedience' to his will. 'In creating freedom, he made himself in a certain sense dependent upon man. His power is tied to the unenforceable yes of a human being'. Thus, only thanks to Mary's assent can the history of salvation begin.
"Chapter three is centred on the event in Bethlehem and the historical context of the birth of Jesus, the Roman Empire under Augustus, which extends from East to West and whose universal dimension allows for the entry into the world of 'a universal Saviour'; 'it is indeed the fullness of time'. The single elements of the story of the birth are dense with meaning: the poverty in which 'he who is truly the first-born of all that is' chooses to reveal himself, and therefore 'the cosmic glory' that envelopes the manger; God's special love for the poor, which manifests itself in the annunciation to the shepherds; and the words of the Gloria, whose translation is controversial.
"The fourth chapter is dedicated to the three Magi, who saw the star of the 'King of the Jews' and who had come to adore the child, and to the flight into Egypt. Here the figures of the 'magoi', reconstructed through a rich range of historical, linguistic and scientific information, are outlined as a fascinating emblem of the inner unrest and search for truth of the human spirit.
"Finally, the Epilogue, with the story - according to the Gospel of Luke - of the last episode in the childhood of Jesus, the last account we have of him before the beginning of his public ministry with his baptism in the Jordan. It is the episode of the three days during the Passover pilgrimage to the Temple in Jerusalem, in which twelve-year-old Jesus leaves Mary and Joseph and stays in the Temple to discuss with the rabbis. Jesus, who was growing 'in wisdom and in stature, and in favour with God and man', manifests himself in his nature as true God and, at the same time, true man, who 'thought and learned in human fashion'".
AUDIENCES
Vatican City, 20 November 2012 (VIS) - The Holy Father today received in audience staff of the publishers of the book "L'infanzia di Gesu" bu Joseph Ratzinger - -Benedict XVI.
OTHER PONTIFICAL ACTS
Vatican City, 20 November 2012 (VIS) - The Holy Father appointed:
- Msgr. Gonzalo Alonso Calzada Guerrero, rector of the major seminary of Celaya, Mexico as auxiliary bishop of Antequera (area 33,648, population 1,477,000, Catholics 1,180,000, priests 183, permanent deacons 24, religious 258), Mexico. The bishop-elect was born in San Luis de la Paz, Mexico in 1964 and ordained a priest in 1989. He studied Holy Scripture at the Pontifical Biblical Institute in Rome and has served in numerous pastoral roles.
- Bishop Marian Chovanec, auxiliary of Nitra, Slovakia as bishop of Banska Bystrica (area 6,750, population 614,800, Catholics 400,500, priests 172, permanent deacons 2, religious 406), Slovakia.
Cardinal Officially Opens Notre Dame's New Schools of Law & Business
Catholic Communications, Sydney Archdiocese,
21 Nov 2012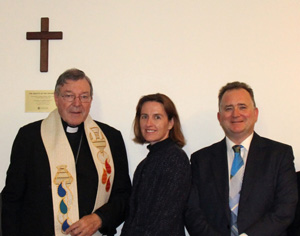 The Archbishop of Sydney, Cardinal George Pell officially has opened and blessed the University of Notre Dame Australia's newest building on its Sydney campus which will house the university's Schools of Law and Business.
The special ceremony last week was attended by Chancellor of the University, Mr Terence Tobin QC; Vice Chancellor, Professor Celia Hammond; Governors of the University; NSW Attorney General and Minister for Justice, Greg Smith and members of Australia's federal and state judiciary and distinguished business leaders from across the city.
The university's Dean of Law, Professor Gerard Ryan and Dean of Business, Associate Professor Geoff Morris participated in a brief liturgy which was followed by the official opening and a blessing of the building by Cardinal Pell. His Eminence also blessed each classroom and office in the newly completed building.
After paying tribute to the support given by Cardinal Pell whom Professor Hammond said had been unwavering in his support and encouragement and was instrumental in establishing the University's Sydney campus, the Vice Chancellor announced the University's intention to establish a state-of-the-art moot courtroom on the ground floor of the building to be named after renowned Australian barrister and former politician, Thomas Hughes AO QC who with his wife, Joanna were guests of honour at the event.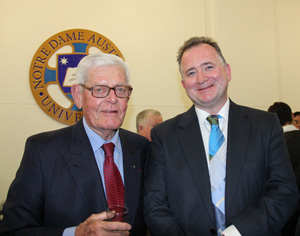 "Earlier this year, Notre Dame awarded an honorary Doctorate of Laws to Mr Thomas Eyre Forrest Hughes and we are delighted he has agreed to allow us the privilege of calling our new moot court after him," Professor Hammond said and added that the moot would be fitted out with the most up-to-date electronic equipment so that students can learn the ancient tradition and art of advocacy, coupled with the skills in operating a modern electronic class room.
A respected and much-admired Queen's Counsel, Mr Hughes will celebrate his 89th birthday next week on Monday, 26 November although shows no signs of slowing down. Educated at St Aloysius College, Riverview, he studied law at the University of Sydney, was called to the Bar in 1949 and became a QC in 1962.
In addition to his own illustrious career he is also well-known as the brother of the late internationally acclaimed art critic, Robert Hughes, the father of Sydney lawyer and former lord mayor Lucy Turnbull and father-in-law of businessman turned politician, Malcolm Turnbull.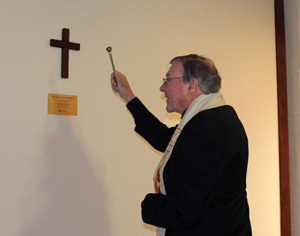 Designed by architects TKD, the sympathetically restored and renovated building on Shepherd Street, Chippendale that will house the Moot Courtroom along with UNDA's Sydney Schools of Law and Business, dates back to 1908. Starting life as a ball-bearing factory, the building has had a myriad of tenants and as many uses over the years. These have ranged from clothing manufacture to goods warehousing to offices for a variety of different businesses.
Although the Chippendale building has been completely modernised, its exterior and many key elements of its interior have been sensitively restored to retain the character of the original building with its rough sawn timber columns, face brick masonry walls and high ceilings. The extensive use of light framed and glazed partitions allows the original structure to remain visible while ensuring privacy as well as sound proofing.
At the ceremony last week, the Chancellor of UNDA, Mr Tobin said the mass celebrated by Cardinal Pell was an acknowledgement of the University's approach to education "which looks to God for the beginning of wisdom."
"In tonight's brief liturgy we capture our indebtedness to God and the Gospels and recognise that the work of men involves something more than merely the material. It involves a higher reality in which justice and equity are the expression of God's presence," he said.
SHARED FROM ARCHDIOCESE OF SYDNEY
TUESDAY, NOVEMBER 20, 2012
Revelation 3: 1 - 6, 14 - 22


---

1

"And to the angel of the church in Sardis write: `The words of him who has the seven spirits of God and the seven stars. "`I know your works; you have the name of being alive, and you are dead.

2

Awake, and strengthen what remains and is on the point of death, for I have not found your works perfect in the sight of my God.

3

Remember then what you received and heard; keep that, and repent. If you will not awake, I will come like a thief, and you will not know at what hour I will come upon you.

4

Yet you have still a few names in Sardis, people who have not soiled their garments; and they shall walk with me in white, for they are worthy.

5

He who conquers shall be clad thus in white garments, and I will not blot his name out of the book of life; I will confess his name before my Father and before his angels.

6

He who has an ear, let him hear what the Spirit says to the churches.'

14

"And to the angel of the church in La-odice'a write: `The words of the Amen, the faithful and true witness, the beginning of God's creation.

15

"`I know your works: you are neither cold nor hot. Would that you were cold or hot!

16

So, because you are lukewarm, and neither cold nor hot, I will spew you out of my mouth.

17

For you say, I am rich, I have prospered, and I need nothing; not knowing that you are wretched, pitiable, poor, blind, and naked.

18

Therefore I counsel you to buy from me gold refined by fire, that you may be rich, and white garments to clothe you and to keep the shame of your nakedness from being seen, and salve to anoint your eyes, that you may see.

19

Those whom I love, I reprove and chasten; so be zealous and repent.

20

Behold, I stand at the door and knock; if any one hears my voice and opens the door, I will come in to him and eat with him, and he with me.

21

He who conquers, I will grant him to sit with me on my throne, as I myself conquered and sat down with my Father on his throne.

22

He who has an ear, let him hear what the Spirit says to the churches.'" -




Psalms 15: 2 - 5


---

2

He who walks blamelessly, and does what is right, and speaks truth from his heart;

3

who does not slander with his tongue, and does no evil to his friend, nor takes up a reproach against his neighbor;

4

in whose eyes a reprobate is despised, but who honors those who fear the LORD; who swears to his own hurt and does not change;

5

who does not put out his money at interest, and does not take a bribe against the innocent. He who does these things shall never be moved. ------------------------------------------------------------------------




Luke 19: 1 - 10


---

1

He entered Jericho and was passing through.

2

And there was a man named Zacchae'us; he was a chief tax collector, and rich.

3

And he sought to see who Jesus was, but could not, on account of the crowd, because he was small of stature.

4

So he ran on ahead and climbed up into a sycamore tree to see him, for he was to pass that way.

5

And when Jesus came to the place, he looked up and said to him, "Zacchae'us, make haste and come down; for I must stay at your house today."

6

So he made haste and came down, and received him joyfully.

7

And when they saw it they all murmured, "He has gone in to be the guest of a man who is a sinner."

8

And Zacchae'us stood and said to the Lord, "Behold, Lord, the half of my goods I give to the poor; and if I have defrauded any one of anything, I restore it fourfold."

9

And Jesus said to him, "Today salvation has come to this house, since he also is a son of Abraham.

10

For the Son of man came to seek and to save the lost."
St. Edmund the Martyr
KING AND MARTYR
Feast: November 20
Information:
Feast Day:
November 20
Born:
841 probably at Nuremburg, Germany
Died:
Hoxne, Suffolk, England 20 November 870
Patron of:
against plague, kings, torture victims, wolves
Though from the time of King Egbert, in 802, the Kings of the West-Saxons were monarchs of all England, yet several kings reigned in certain parts after that time, in some measure subordinate to them. One Offa was King of the East-Angles, who, being desirous to end his days in penance and devotion to Rome, resigned his crown to St. Edmund, at that time only fifteen years of age, but a most virtuous prince, and descended from the old English-Saxon kings of this isle. The saint was placed on the throne of his ancestors, as Lydgate, Abbo, and others express themselves, and was crowned by Humbert, Bishop of Elman, on Christmas Day, in 855, at Burum, a royal villa on the Stour, now called Bures, or Buers. Though very young, he was by his piety, goodness, humility, and all other virtues, the model of good princes. He was a declared enemy of flatterers and informers, and would see with his own eyes and hear with his own ears, to avoid being surprised into a wrong judgment, or imposed upon by the passions or ill designs of others. The peace and happiness of his people were his whole concern, which he endeavoured to establish by an impartial administration of justice and religious regulations in his dominions. He was the father of his subjects, particularly of the poor, the protector of widows and orphans, and the support of the weak. Religion and piety were the most distinguishing part of his character. Monks and devout persons used to know the psalter without book, that they might recite the psalms at work, in travelling, and on every other occasion. To get it by heart St. Edmund lived in retirement a whole year in his royal tower at Hunstanton (which he had built for a country solitude), which place is now a village in Norfolk. The book which the saint used for that purpose was religiously kept at St. Edmundsbury till the dissolution of abbeys.
The holy king had reigned fifteen years when the Danes infested his dominions. Hinguar and Hubba, two brothers, the most barbarous of all the Danish plunderers landing in England, wintered among the East-Angles; then, having made a truce with that nation, they in summer sailed to the north, and landing at the mouth of the Tweed, plundered with fire and sword Northumberland, and afterwards Mercia, directing their march through Lincolnshire, Northamptonshire, and Cambridgeshire. Out of a lust of rage and cruelty, and the most implacable aversion to the Christian name, they everywhere destroyed the churches and monasteries; and, as it were in barbarous sport, massacred all priests and religious persons whom they met with. In the great monastery of Coldingham, beyond Berwick, the nuns, fearing not death but insults which might be offered to their chastity, at the instigation of St. Ebba, the holy abbess, cut off their noses and upper lips, that appearing to the barbarians frightful spectacles of horror, they might preserve their virtue from danger; the infidels accordingly were disconcerted at such a sight, and spared their virtue, but put them all to the sword. In their march, amongst other monasteries, those of Bardney, Crowland, Peterborough, Ely, and Huntingdon were levelled with the ground, and the religious inhabitants murdered. In the Cathedral of Peterborough is shown a monument (removed thither from a place without the building) called Monks'-Stone, on which are the effigies of an abbot and several monks. It stood over the pit in which fourscore monks of this house were interred, whom Hinguar and Hubba massacred in 870. The barbarians, reeking with blood, poured down upon St. Edmund's dominions, burning Thetford, the first town they met with, and laying waste all before them. The people, relying upon the faith of treaties, thought themselves secure, and were unprepared. However, the good king raised what forces he could, met the infidels, or at least a part of their army near Thetford, and discomfited them. But seeing them soon after reinforced with fresh numbers, against which his small body was not able to make any stand, and being unwilling to sacrifice the lives of his soldiers in vain, and grieving for the eternal loss of the souls of his enemies, who would be slain in a fruitless engagement, he disbanded his troops and retired himself towards his castle of Framlingham, in Suffolk. The barbarian had sent him proposals which were inconsistent both with religion and with the justice which he owed to his people. These the saint rejected, being resolved rather to die a victim of his faith and duty to God, than to do anything against his conscience and religion. In his flight he was over taken and surrounded by infidels at Oxon, upon the Waveney: he concealed himself for some short time, but, being discovered, was bound with heavy chains and conducted to the general's tent. Terms were again offered him equally prejudicial to religion and to his people, which the holy Icing refused to confirm, declaring that religion was dearer to him than his life, which he would never purchase by offending God. Hinguar, exasperated at this answer, in his barbarous rage caused him to be cruelly beaten with cudgels, then to be tied to a tree and torn a long time together with whips. All this he bore with invincible meekness and patience, never ceasing to call upon the name of Jesus. The infidels were the more exasperated, and as he stood bound to the tree, they made him a mark wantonly to shoot at, till his body was covered with arrows like a porcupine. Hinguar at length, in order to put an end to the butchery, commanded his head to be struck off. Thus the saint finished his martyrdom on the 20th of November, in 870, the fifteenth of his reign, and twenty-ninth of his age; the circumstances of which St. Dunstan learned from one who was armour-bearer to the saint and an eye-witness. The place was then called Henglesdun, now Hoxon, or Hoxne; a priory of monks was afterwards built there which bore the name of the martyr.
The saint's head was carried by the infidels into a wood and thrown into a brake of bushes; but miraculously found by a pillar of light and deposited with the body at Hoxdon. These sacred remains were very soon after conveyed to Bedricsworth, or Kingston, since called St. Edmundsbury, because this place was St. Edmund's own town and private patrimony; not on account of his burial, for in the English-Saxon language signified a court or palace. A church of timber was erected over the place where he was interred, which was thus built according to the fashion of those times. Trunks of large trees were sawn lengthways in the middle and reared up with one end fixed in the ground, with the bark or rough side outermost. These trunks being made of an equal height and set up close to one another, and the interstices filled up with mud or mortar, formed the four walls, upon which was raised a thatched roof. Nor can we be surprised at the homeliness of this structure, since the same was the fabric of the royal rich abbey of Glastonbury, the work of the most munificent and powerful West-Saxon kings, till in latter ages it was built in a stately manner of stone. The precious remains of St. Edmund were honoured with many miracles. In 920, for fear of the barbarians under Turkil the Dane, in the reign of King Ethelred, they were conveyed to London by Alfun, bishop of that city, and the monk Egelwin, or Ailwin, the keeper of this sacred treasure, who never abandoned it. After remaining three years in the Church of St. Gregory, in London, it was translated again with honour to St. Edmundsbury in 923. The great church of timberwork stood till King Knute, or Canutus, to make reparation for the injuries his father Swein, or Sweno, had done to this place and to the relics of the martyr, built and founded there, in 1020, a new most magnificent church and abbey in honour of this holy martyr. The unparalleled piety, humility, meekness, and other virtues of St. Edmund are admirably set forth by our historians. This incomparable prince and holy martyr was considered by succeeding English kings as their special patron, and as an accomplished model of all royal virtues. The feast of St. Edmund is reckoned among the holidays of precept in this kingdom by the national council of Oxford in 1222; but is omitted in the constitutions of Archbishop Simon Islep, who retrenched certain holidays in 1362.