2013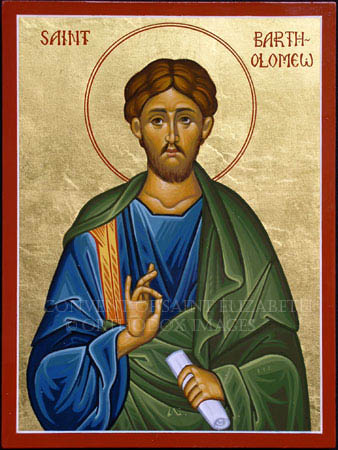 Catholic Communications, Sydney Archdiocese,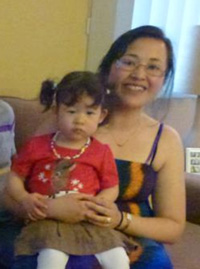 For Kingsgrove couple, Peter and Celestina Shori this Sunday's annual Mass for Pregnant Mothers at St Mary's Cathedral is not only a chance for them to give thanks for the gift of children but an opportunity to be reunited with the Auxiliary Bishop for the Archdiocese of Sydney, Bishop Terry Brady.
Bishop Terry Brady who will celebrate this very special Mass with fellow Auxiliary Bishop Peter Comensoli has known the couple for many years dating back to the days when he was parish priest at their local church, Our Lady of Fatima, Kingsgrove.
"I have to keep remembering not to call him Father Terry," Celestina says with a smile recalling hers and husband Peter's long time association with Bishop Terry and with the Church.
"Father Terry as we knew him then, married us at Our Lady of Fatima Church on 25 September almost nine years ago. As a member of the Parish I'd known him some time but Peter and Bishop Terry went back even further to the days when Peter was a pupil at the local parish primary school and an altar server. Later he became an acolyte and the parish's Altar Servers Coordinator," she recalls.
Although Celestina's younger sister Maryanne was an altar server during the time Peter was co-ordinator the couple didn't meet until some years later when they were students at university and volunteering in their spare time for St Vincent de Paul Society.
"We were both doing clothing drives for Vinnies and doing night food van patrols giving hot meals and drinks to the homeless as well as putting on barbecues and holding car washes to raise funds for our local as well as the nearby Lewisham branch," she says.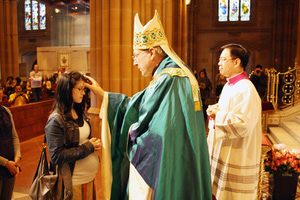 When the pair met, Celestina was a registered nurse having recently graduated from the University of Sydney while Peter was in the midst of an engineering degree at the University of NSW and for the next four years the pair was inseparable. Then in 2004 the couple married.
"By then I'd studied midwifery and was working night shifts as well as day shifts, helping women deliver and care for their babies and Peter had begun his career as an engineer," she says.
Starting a family was a priority for both Celestina and Peter. They loved children and always imagined they would have a big family. But it would be a long wait until their daughter Jacinta finally arrived on 10 February 2011.
"We were ecstatic when we discovered I was pregnant. We had wanted a baby for so long and then suddenly there she was," Celestina says of their joy in their two year old vibrant, personality-plus and chatterbox of a daughter.
Now seven and a half months pregnant with the couple's second child due in October, Celestina is ensuring Jacinta is involved and as excited as her parents about the birth of a younger sister or brother.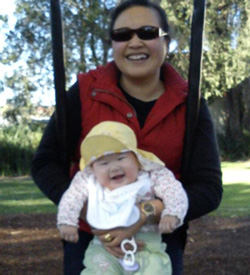 "We take her along to all the visits to our obstetrician so she can see the ultrasound pictures and each night she kisses my tummy and says 'goodnight baby,'and we have given her a baby doll to play with and care for," she says.
Although Celestina is a trained midwife, these days she works as a Diabetes Educator at St George Hospital.
"With children the night shift is too much but I wanted to continue looking after pregnant women so becoming a diabetes educator was ideal. This way I do day shifts working with women who have impaired glucose tolerance or type 1 or type 2 diabetes who wish to conceive or are already pregnant. Plus I work with those who develop gestational diabetes which can be quite common during pregnancy. This way I can still using my midwifery skills to care for them," the 36-year-old mother explains.
For Celestina and her husband Peter the Mass for Pregnant Mothers this Sunday will be a chance to say thank you for the precious gift of Jacinta and the baby who will arrive in two months time.
"We both feel so blessed to have two children especially when Jacinta arrived after such a period of waiting, hoping and praying. Now to have a second baby and one that has come so soon after Jacinta and is such a wonderful surprise, we feel doubly blessed," she says.
For the couple Sunday will not only be an opportunity to celebrate the precious gift of children with more than 60-70 other pregnant mothers, their husbands and families, but to catch up and show off their beloved daughter to Bishop Terry.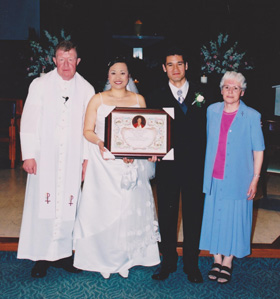 "Jacinta goes to Mass with us in Kingsgrove each week and she will be coming with us to the Cathedral on Sunday. The only problem will be to keep her occupied so we are taking along lots of crayons and drawing paper and story books with pictures. She's so on the ball and gets bored pretty quickly. But the beauty of the Cathedral I am sure will hold her interest, I'm just hoping she keeps her fingers away from the candles!" Celestina says and with a broad smile adds that both she and Peter will be keeping a close eye on their determined and ever-curious young daughter.
2013 marks the sixth year the Mass for Pregnant Mothers has been held at St Mary's Cathedral. An initiative of the Archbishop of Sydney, Cardinal George Pell and organised by the Archdiocese of Sydney's Life Marriage and Family Centre, the Mass has become a beloved and very special tradition.
"I read about the Mass in our Church bulletin and immediately wanted to be a part of this," Celestina says.
The Mass for Pregnant Mothers will be held at 10.30 am at St Mary's Cathedral on Sunday, 25 August and will be celebrated by Bishop Terry Brady and Bishop Peter Comensoli, Auxiliary Bishops of Sydney. After the Mass morning tea will be held for the pregnant mothers and their families in St Mary's Cathedral Chapter Hall.
SHARED FROM ARCHDIOCESE OF SYDNEY
Feast of Saint Bartholomew, Apostle
Lectionary: 629
Reading 1 RV 21:9B-14
The angel spoke to me, saying,
"Come here.
I will show you the bride, the wife of the Lamb."
He took me in spirit to a great, high mountain
and showed me the holy city Jerusalem
coming down out of heaven from God.
It gleamed with the splendor of God.
Its radiance was like that of a precious stone,
like jasper, clear as crystal.
It had a massive, high wall,
with twelve gates where twelve angels were stationed
and on which names were inscribed,
the names of the twelve tribes of the children of Israel.
There were three gates facing east,
three north, three south, and three west.
The wall of the city had twelve courses of stones as its foundation,
on which were inscribed the twelve names
of the twelve Apostles of the Lamb.
Responsorial Psalm PS 145:10-11, 12-13, 17-18
R. (12)
Your friends make known, O Lord, the glorious splendor of your Kingdom.
Let all your works give you thanks, O LORD,
and let your faithful ones bless you.
Let them discourse of the glory of your Kingdom
and speak of your might.
R.
Your friends make known, O Lord, the glorious splendor of your Kingdom.
Making known to men your might
and the glorious splendor of your Kingdom.
Your Kingdom is a Kingdom for all ages,
and your dominion endures through all generations.
R.
Your friends make known, O Lord, the glorious splendor of your Kingdom.
The LORD is just in all his ways
and holy in all his works.
The LORD is near to all who call upon him,
to all who call upon him in truth.
R.
Your friends make known, O Lord, the glorious splendor of your Kingdom.
Gospel JN 1:45-51
Philip found Nathanael and told him,
"We have found the one about whom Moses wrote in the law,
and also the prophets, Jesus son of Joseph, from Nazareth."
But Nathanael said to him,
"Can anything good come from Nazareth?"
Philip said to him, "Come and see."
Jesus saw Nathanael coming toward him and said of him,
"Here is a true child of Israel.
There is no duplicity in him."
Nathanael said to him, "How do you know me?"
Jesus answered and said to him,
"Before Philip called you, I saw you under the fig tree."
Nathanael answered him,
"Rabbi, you are the Son of God; you are the King of Israel."
Jesus answered and said to him,
"Do you believe
because I told you that I saw you under the fig tree?
You will see greater things than this."
And he said to him, "Amen, amen, I say to you,
you will see heaven opened and the angels of God
ascending and descending on the Son of Man."

Information:

| | |
| --- | --- |
| | |
| | 1st century AD, Iudaea Province (Palaestina) |
| | |
| | Bartholomew-on-the-Tiber Church, Rome, the Canterbury Cathedral, cathedral in Frankfurt, and the San Bartolomeo Cathedral in Lipari |
| | Armenia; bookbinders; butchers; cobblers; Florentine cheese merchants; Florentine salt merchants; leather workers; nervous diseases; neurological diseases; plasterers; shoemakers; tanners; trappers; twitching; whiteners |

One of the Twelve Apostles, mentioned sixth in the three Gospel lists (Matthew 10:3; Mark 3:18; Luke 6:14), and seventh in the list of Acts (1:13).

The name (Bartholomaios) means "son of Talmai" (or Tholmai) which was an ancient Hebrew name, borne, e.g. by the King of Gessur whose daughter was a wife of David (2 Samuel 3:3). It shows, at least, that Bartholomew was of Hebrew descent; it may have been his genuine proper name or simply added to distinguish him as the son of Talmai. Outside the instances referred to, no other mention of the name occurs in the New Testament.

Nothing further is known of him for certain. Many scholars, however, identify him with Nathaniel (John 1:45-51; 21:2). The reasons for this are that Bartholomew is not the proper name of the Apostle; that the name never occurs in the Fourth Gospel, while Nathaniel is not mentioned in the synoptics; that Bartholomew's name is coupled with Philip's in the lists of Matthew and Luke, and found next to it in Mark, which agrees well with the fact shown by St. John that Philip was an old friend of Nathaniel's and brought him to Jesus; that the call of Nathaniel, mentioned with the call of several Apostles, seems to mark him for the apostolate, especially since the rather full and beautiful narrative leads one to expect some important development; that Nathaniel was of Galilee where Jesus found most, if not all, of the Twelve; finally, that on the occasion of the appearance of the risen Savior on the shore of the Sea of Tiberias, Nathaniel is found present, together with several Apostles who are named and two unnamed Disciples who were, almost certainly, likewise Apostles (the word "apostle" not occurring in the Fourth Gospel and "disciple" of Jesus ordinarily meaning Apostle) and so, presumably, was one of the Twelve. This chain of circumstantial evidence is ingenious and pretty strong; the weak link is that, after all, Nathaniel may have been another personage in whom, for some reason, the author of the Fourth Gospel may have been particularly interested, as he was in Nicodemus, who is likewise not named in the synoptics.

No mention of St. Bartholomew occurs in ecclesiastical literature before Eusebius, who mentions that Pantaenus, the master of Origen, while evangelizing India, was told that the Apostle had preached there before him and had given to his converts the Gospel of St. Matthew written in Hebrew, which was still treasured by the Church. "India" was a name covering a very wide area, including even Arabia Felix. Other traditions represent St. Bartholomew as preaching in Mesopotamia, Persia, Egypt, Armenia, Lycaonia, Phrygia, and on the shores of the Black Sea; one legend, it is interesting to note, identifies him with Nathaniel.

The manner of his death, said to have occurred at Albanopolis in Armenia, is equally uncertain; according to some, he was beheaded, according to others, flayed alive and crucified, head downward, by order of Astyages, for having converted his brother, Polymius, King of Armenia. On account of this latter legend, he is often represented in art (e.g. in Michelangelo's Last Judgment) as flayed and holding in his hand his own skin. His relics are thought by some to be preserved in the church of St. Bartholomew-in-the-Island, at Rome. His feast is celebrated on 24 August. An apocryphal gospel of Bartholomew existed in the early ages.