2015
NOVENA TO ST HEDWIG, PROTECTOR OF THE POOR AND THOSE IN DEBT – FEAST DAY: OCTOBER 16th (A novena – a prayer recited every day for nine days – may be made any time of the year.)
O St Hedwig, in this world you rejected the honours of the Court, its pomp, luxury and pleasures, and went to be with the poor to help them in the destitution and misery of life. There in Heaven, cast a kind look on us poor mortals, and obtain for us the grace (mention your request) and that of living in the peace and friendship of God. Amen.
V. Pray for us, St Hedwig!
R. So that we may be worthy of the promises of Christ. Let us pray: O God, You taught Blessed Hedwig to prefer, with all her heart, the humble road of Your Cross to the pomp of the world. Through her merits and example, grant that we may learn to reject the ephemeral delights of the world, and, embracing Your Cross, may we overcome the adversities to come. You who live and reign, One God, forever and ever. Our Father, Hail Mary, Glory Be "…if riches increase, set not your heart upon them." (Ps 62:10b)
Reading 1ROM 4:1-8
Brothers and sisters:
What can we say that Abraham found,
our ancestor according to the flesh?
Indeed, if Abraham was justified on the basis of his works,
he has reason to boast;
but this was not so in the sight of God.
For what does the Scripture say?
Abraham believed God, and it was credited to him as righteousness.
A worker's wage is credited not as a gift, but as something due.
But when one does not work,
yet believes in the one who justifies the ungodly,
his faith is credited as righteousness.
So also David declares the blessedness of the person
to whom God credits righteousness apart from works:
Blessed are they whose iniquities are forgiven
and whose sins are covered.
Blessed is the man whose sin the Lord does not record.
Responsorial PsalmPS 32:1B-2, 5, 11
R. (see 7)

I turn to you, Lord, in time of trouble, and you fill me with the joy of salvation.
Blessed is he whose fault is taken away,
whose sin is covered.
Blessed the man to whom the LORD imputes not guilt,
in whose spirit there is no guile.
R.

I turn to you, Lord, in time of trouble, and you fill me with the joy of salvation.
Then I acknowledged my sin to you,
my guilt I covered not.
I said, "I confess my faults to the LORD,"
and you took away the guilt of my sin.
R.

I turn to you, Lord, in time of trouble, and you fill me with the joy of salvation.
Be glad in the LORD and rejoice, you just;
exult, all you upright of heart.
R.

I turn to you, Lord, in time of trouble, and you fill me with the joy of salvation.
AlleluiaPS 33:22
R.

Alleluia, alleluia.
May your kindness, O LORD, be upon us;
who have put our hope in you.
R.

Alleluia, alleluia.
GospelLK 12:1-7
At that time:
So many people were crowding together
that they were trampling one another underfoot.
Jesus began to speak, first to his disciples,
"Beware of the leaven–that is, the hypocrisy–of the Pharisees.
"There is nothing concealed that will not be revealed,
nor secret that will not be known.
Therefore whatever you have said in the darkness
will be heard in the light,
and what you have whispered behind closed doors
will be proclaimed on the housetops.
I tell you, my friends,
do not be afraid of those who kill the body
but after that can do no more.
I shall show you whom to fear.
Be afraid of the one who after killing
has the power to cast into Gehenna;
yes, I tell you, be afraid of that one.
Are not five sparrows sold for two small coins?
Yet not one of them has escaped the notice of God.
Even the hairs of your head have all been counted.
Do not be afraid.
You are worth more than many sparrows."
16-10-2015

-
Year XXII - Num. 181

Summary
- Step up the battle against hunger and malnutrition
- Pope Francis visits the "Dono di Misericordia" dormitory
- Contributions to the Synod from the representatives of other Christian denominations
Step up the battle against hunger and malnutrition
Vatican City,

16 October 2015

(VIS) – On the occasion of the seventieth anniversary of the foundation of the United Nations Food and Agriculture Organisation (FAO), the Holy Father sent a message to the director general Jose Graziano da Silva.
Noting that a great number of our brothers and sisters still suffer from hunger and malnutrition in spite of the great efforts made to combat these problems, he condemns the underlying causes: an uneven distribution of resources and the lack of agricultural development. "We live in an age in which the unfettered pursuit of profit, the concentration of particular interests and the effects of unjust policies render less effective the actions taken by States or impede effective cooperation within the international community". He adds that much remains to be done in this area.
The theme chosen for this year's World Food Day – "Social protection and agriculture, breaking the cycle of poverty", is an issue that affects two thirds of the world population, who lack even basic social protection. "This fact is made even more alarming by the fact that the majority of these people live in the most disadvantaged parts of countries where … the only means of survival is linked to scarce agricultural production, and small-scale fishing and animal husbandry. Indeed, the lack of social protection weighs most heavily on local farmers … and fishermen, forced to live in precarious conditions, as the fruit of their work depends largely on environmental conditions that are often outside their control, and they lack resources for facing poor harvests or for procuring the necessary technical tools. Paradoxically, even when production is abundant, they encounter serious difficulties linked to the transportation, sale and conservation of the fruits of their labour".
Faced with this situations, "we cannot be satisfied with a generic appeal for cooperation or to the common good. Perhaps we must ask: is it still possible to conceive of a society in which the resources reside in the hands of the few, and the least privileged must make do with the leftovers? The answer cannot be limited to good intentions, but must consist rather in 'social peace, the stability and security provided by a certain order which cannot be achieved without particular concern for distributive justice; whenever this is violated, violence always ensues", the Pope writes.
The most disadvantaged, due to the lack of social protection, "suffer the negative consequences of a persistent economic crisis or phenomena linked to corruption and poor governance, as well as climate changes", and "ask for our support, to be able to look to the future with a minimum of hope". However, "social protection cannot be limited to an increase in income, or be reduced to investment in means of subsistence for an improvement of agricultural production or the promotion of equitable economic development. It must be made concrete in that 'social love' that is the key to genuine development. … Social protection can foster in the most disadvantaged a capacity for resilience, to face and overcome difficulties". For instance, he added, it is able to "support the family, whose members learn from the beginning what it means to share, to help each other, and to protect each other. Guaranteeing family life means promoting the economic growth of women, thus consolidating their role in society, as well as favouring care for the elderly and enabling the young to continue their scholastic and professional preparation".
"The Church does not have the mission of directly dealing with such problems from a technical point of view. However, the human aspects of these situations cannot leave her indifferent". He concludes, "May all people, in accordance with their own possibilities, give the best of themselves in a spirit of genuine service to others. In this effort, the work of the FAO will be fundamental if it has the necessary means for ensuring social protection in the framework of sustainable development and the support of those who live and work in agriculture, animal husbandry, fishing and forestry".
Pope Francis visits the "Dono di Misericordia" dormitory
Vatican City,

16 October 2015

(VIS) – Shortly after

7 p.m.

yesterday, following the Synod meeting, the Holy Father visited the new dormitory for the homeless located in premises provided by the Society of Jesus, inaugurated on 7 October and managed by religious sisters of Charity and a number of volunteers who will manage the new structure, under the auspices of the Office of the Apostolic Almoner,
The Pope was welcomed upon arrival by the Apostolic Almoner Archbishop Konrad Krajewski, superior general of the Jesuits Fr. Adolfo Nicolas Pachon. He toured the dormitory and services, and spoke at length with the current guests.
Contributions to the Synod from the representatives of other Christian denominations
Vatican City,

16 October 2015

(VIS) – This morning, during the twelfth general congregation of the Assembly of the Synod of Bishops, the Synod Fathers heard interventions by the fraternal delegates representing other Christian denominations.
Rev. Dr. Walter Altmann, of the World Council of Churches Central Committee, said that the WCC has been speaking since its 2013 Assembly in Korea of a "'pilgrimage of justice and peace', underlining that we are together on a faith journey and are deeply committed to justice and peace as signs of God's reign to come. This commitment to express the values of God's reign as justice and peace is very significant for all those who live together in different types of family life. That is the first and innermost circle of our life together as we seek to bring fairness and reconciliation. From my own continent of Latin America, and from my experience as Moderator of the WCC, I know how many women and men, and not the least children, need that the church be a fellowship of inclusion and healing, recognising our differences in the bond of love. The openness required for change, and for new commitment to God's call today, should be a mark of our pilgrimage as a common journey of the churches".
The Metropolitan Bishoy of Damiette of the Coptic Orthodox Church spoke about the pastoral mission of his Church towards persons with homosexual tendencies: that is, to "explain in a tender, tolerant and convincing way that homosexuality is a great sin forbidden by God according to the Holy Scriptures. … Consequently, the Church's main pastoral mission is to encourage such people to repentance guiding them to lead a pure life. … If a married party is homosexual – forcing the other party into intercourses against the natural use – the church should not force the innocent party to continue in a sexual marital relation with him/her, because this damages the innocent party physically, physiologically and socially".
Our Church allows divorce in cases of adultery and in cases of what we call 'legal adultery'; which is anything that is counted as adultery like: homosexuality, intercourse against natural use, urging or compelling an innocent party into forbidden relations for materialistic gain or sexual exchange".
Metropolitan Iosif of the Patriarchate of All Romania described the family as "the primary cell of the Church. … All family characteristics derive from its Eucharistic structure, based essentially on forgiveness nurtured by humility, which favours the growth of mutual love and transforms both the person and Christian life in the short and the long term. The divine greatness of marriage resides in the fact that in marriage we find a living representation of the union of the Word with human nature".
The Rev. Dr. A. Roy Medley of the Baptist World Alliance remarked that "There is no perfect family and no perfect marriage. In our broken world, families are not only a source of great blessing, they can also be a source of great harm. … This is the pastoral reality: families have their blessings and their dysfunctions. Amidst such experiences people yearn for mercy". Therefore, he affirmed, Hence, in Baptist hymnology the theme of Jesus as friend is important. "Hymns … express for us the presence of God in the midst of our imperfections and struggles. They remind us of the one who in his vocation of suffering servant enters our woundedness. This is the one who invites sinners to sit at his table; the one who is 'gentle and humble in heart, in whom we find rest for our souls'; the one to whom we pray in all confidence, 'Lord, have mercy'".
Archbishop Yostinos Boulos Safar of Zahle and Bekaa commented on the principle, in the Syriac Orthodox Church of Antioch, of economy. "This principle finds in the sacrament of the Eucharist a medicine for wounded souls, as well as a help for those who wish to recover their relationship with the Lord". He noted that this sacrament, "which is salvific in effect", should not be withheld as "part of the norms of punishment, other than in certain exceptional cases. The Eucharist is not a prize or compensation, but the means by which the Lord Jesus cures our weaknesses and attracts us towards Him".
Metropolitan Stephanos of Tallin and all Estonia, observed that "today marriage and family have changed direction. In a number of countries, new legislation is being enacted regarding this issue. These mutations in the family are a challenge to us. … The law confirms, without doubt, a new social situation but for the Church, the sacrament of marriage, it is hoped, is not revealed as a mere institution but first and foremost, it is hoped, as a mystery of life. Marriage makes sense only in relation to faith in Christ, in the Gospel, in the certainty that the actions of Christ continue in the Gospel, that is, in the Sacraments. Our first task is therefore to evangelise". Perhaps, he added, it would be useful to help the "young and not so young, often uncertain, sometimes psychologically unwell, to adopt a different outlook, to free themselves from too symbiotic a relationship, to become truly responsible for each other, in the hope, at times, of already being able to experience the resurrection in the glory of the body".
The fraternal delegate Tim Macquiban, director of the Methodist Ecumenical Office of Rome, remarked that "Sometimes in this Synod we seem to have concentrated on one form of family, of parents and children, as defined through sacramental marriage and its vocation. For some this fails to take account on the different ways many people experience different forms of family in our various contexts and cultures. … Those who are single, with or without children, or in civil partnerships or co-habiting relationships, and even those within marriages conducted in church and childless can easily feel excluded. The Church is challenged to accept that it can … add to these difficulties with such a stress on 'the Gospel of the Family'".
Bishop emeritus Ndanganeni Petrus Phaswana of the Evangelical Lutheran Church in Southern Africa comments that "Frequently, politics, religion and culture are instrumentalised and used to divide people and nations. This has led to growing alienation and disunity. In the midst of this isolation, it is our task as Churches to proclaim and witness that God does not call us to isolation, but, rather, to life in communion with Christ and with one another". He also spoke about the great commitment on the part of both Catholics and Lutherans in promoting Christian unity through theological dialogue, noting that "we should therefore remain sensitive to how our theological discussions support individual Christians in the challenges and sorrows facing them in their everyday lives".
The Right Rev. Timothy Thornton of the Anglican Communion commented that the first part of the Instrumentum Laboris "is too focused on the negative aspects of family life", adding that "there is much joy in families and family life and much to celebrate". He emphasised that "All families change. … Change is a key part of Christian faith. Every day we are called to be converted to Christ, to turn away from sin and turn to God. Every day we open ourselves to the possibility of transformation. That is why all Christians are full of joy and hope every day".
The fraternal delegate of the Disciples of Christ, Dr. Robert K. Welsh, focused on three brief reflections. "First, how do we understand marriage and family life today? What can we do to respond to the growing number of divorces and the impact on the children in those families? These are urgent issues before all Christians, and all societies, that represent major theological, practical, and pastoral challenges". Secondly, with regard to "mixed marriages", he observed that in the Instrumentum Laboris, "mixed marriages are only named in the context of presenting problems; for example, at the pastoral level of religious education of children and in the relation to liturgical life. My hope is that this Synod might also identify 'mixed marriages' in a more positive and hopeful context as 'great opportunities' for witnessing to God's gift of oneness in Christ and God's love for all persons, especially for those marriages between persons baptised as Christians". Finally, he focused on the challenge of facing the difficulties that interreligious or interdenominational families experience every day. "My regret continues to be that, when I attend Mass with my grandson, I am not allowed to partake of the Eucharist. It is personal, and it is painful".
(Vatican Radio) Friday 16 Oct. Two fraternal delegates were guests at the daily press briefing for the Synod on the Family on Friday. Bishop Tim Thornton of the Anglican Communion is representing the Archbishop of Canterbury, and Patriarch Stephanos of Estonia is representing the Ecumenical Patriarch of Constantinople.
Click below to hear the report:
Bishop Thornton, speaking on the importance of forming good families today said "How can we encourage every individual to be a disciple of Jesus Christ? That's what the focus for me has to be. We try and get every individual to understand what it means to be a disciple then they shape their family life, whatever that is, in what I think would be the right way and the goal."
Thornton said that he thought one of the big issues the Synod delegates faced was the tension between local and universal. Some issues might be dealt with much better on the local level, there is therefore a tension between how much subsidiarity and how much of a universal framework is needed.
Patriarch Stephanos said that the Synod was a positive experience. He said that extraordinary work had been done and that many problems have been laid out. "The problems you face are not the different to the ones that we have, we are all searching," he said. In his remarks he said that there were "no easy answers" and yet the Church must engage with difficult questions.
Responding to a question about the "penitential path" for the divorced and remarried and their admission to the Eucharist in the Orthodox Church, the Patriarch explained that there is only one Orthodox Church but that there are different expressions of the Church. He said that he noticed that the "human dimension of the sacraments" was being better understood at the Synod. "The Fathers are slowly coming to understand what we call 'the economy of salvation.' This means that for each there is a place and position in the economy of grace and hence the importance of mercy," he said.
Cardinal Walter Kasper had proposed that the Church look towards the Eastern Orthodox Church to find a way of dealing with issues around the ban on admission to the Eucharist for the divorced and remarried.
Thornton said that the Anglican Communion still holds to the traditional understanding of marriage. He said that there was no neat line between the doctrinal and the pastoral and both need to be seen in a broader theological context. He also said that it was unfortunate that Instrumentum Laboris did not contain more of the historical context of marriage because marriage was not always in the domain of the Church; it came much later when married people came to the Church for a blessing.
It was reported at the briefing that the discussions in the assembly were much more emotional in the last two sessions of the Synod. The personal nature of the interventions arose from the fact that many of them were about actual pastoral cases. Some bishops read letters in the assembly that were written to them by people in their pastoral care who were hurting.
A number of topics were presented in the interventions. These include: procreation and contraception (the theology of Humane Vitae was spoken about); the changes made by Pope Francis to the annulment process; violence, incest and sexual abuse within families and the "martyrdom of silence"; the care of the elderly and their value in society; the formation of parents because they shape future generations, and how large corporations and economic issues put pressure on parents to work long hours which disrupt family life.
The Synod delegates had also heard in interventions that there were possibly three ways forward: to do nothing, to move towards the 'penitential way' outlined by Cardinal Walter Kasper or, stand firm and reaffirm the Church's current position.
The Patriarch said that sometimes he was disappointed on how the media was reporting on the Synod. He said there was the tendency to look for scandal and not report the positive things that were being said. He said that divergent views were not scandalous but showed that the bishops really took their pastoral responsibility seriously and wanted to respond as best they could to God's people.
Bishop Thornton added that he would have liked to see some more of the important issues - like migration and poverty - being spoken about. He said that questions around divorce and remarriage seemed to be the focus.
Fr. Lombardi said that he had heard the word "accompaniment" many times at the Synod, "The Church needs to accompany individuals, couples and families." He said that it was important, delegates stated, that families must be formed to accompany one another because, in doing so, they become "missionaries" for other families. He added that delegates had spoken of the importance of sexual intimacy related to the Eucharist. In the Eucharist Jesus says "This is my body given for you," this is what married couples do for each other.
There will be no press briefing on the Synod until Monday afternoon. The delegates returned to work in their small groups on Friday afternoon and will continue to work in groups until Tuesday.
PRAYER OF CONSECRATION TO THE SACRED HEART
St. Margaret Mary Alacoque
"O Sacred Heart of my Lord and Savior Jesus Christ, to Thee I consecrate and offer up my person and my life, my actions, trials and sufferings, that my entire being may henceforth only be employed in loving, honoring and glorifying Thee. This is my irrevocable will, to belong entirely to Thee, and to do all for Thy love, renouncing with my whole heart all that can displease Thee. "I take Thee, O Sacred Heart, for the sole object of my love, the protection of my life, the pledge of my salvation, the remedy of my frailty and inconstancy, the reparation for all the defects of my life, and my secure refuge at the hour of my death. . . I fear all from my own weakness and malice, but placing my entire confidence in Thee, O Heart of Love, I hope for all from Thine infinite goodness. Annihilate in me all that can displease or resist Thee. Imprint Thy pure love so deeply in my heart that I may never forget Thee or be separated from Thee. I beseech Thee, through Thine infinite goodness, grant that my name be engraved on Thy Heart for in this I place all my happiness and all my glory, to live and to die as one of Thy devoted servants. Amen.
PROMISES OF THE HEART OF JESUS FOR NINE FIRST FRIDAYS
To Those that Live the Devotion to His Sacred Heart By SCTJM The First Friday Devotion to the Sacred Heart of Jesus is based on a promise made by Our Lord Jesus Christ during an Apparition to St. Margaret Mary. This promise was implicitly approved by the Church in the 1920 canonization of St. Margaret Mary. The promise reads: "I promise you in the excessive Mercy of My Heart that My all-powerful Love will grant to all those who communicate on the First Friday in nine consecutive months the Grace of Final Penitence; they shall not die in My disgrace nor without receiving the Sacraments; My Divine Heart shall be their safe refuge in this last moment."
Purpose of the Devotion: Reparation to the Heart of Jesus
In order to receive these graces we should:
1-Recieve without interruption Holy Communion for nine consecutive first Fridays.
2-Have the intention of honoring the Sacred Heart of Jesus persevering in our faith until the end.
3-Offer each Holy Communion as an act of expiation for the offenses committed against this Holy Sacrament.
4-Pray: "O Lord, who in the Heart of Your Son, wounded by our sins, has deposited infinite treasures of grace - we pray, that upon receiving the homage of our love, we have offered you a sufficient reparation.
Through our Lord Jesus Christ. Amen. Heart of Jesus, I trust in You."
Promises of the Sacred Heart of Jesus
1. I will give them all the graces necessary for their state of life.
2. I will give peace in their families.
3. I will console them in all their troubles.
4. I will be their refuge in life and especially in death.
5. I will abundantly bless all their undertakings.
6. Sinners shall find in my Heart the source and infinite ocean of mercy.
7. Tepid souls shall become fervent.
8. Fervent souls shall rise speedily to great perfection.
9. I will bless those places wherein the image of My Sacred Heart shall be exposed and venerated.
10. I will give to priests the power to touch the most hardened hearts.
11. Persons who propagate this devotion shall have their names eternally written in my Heart.
12. In the excess of the mercy of my Heart, I promise you that my all powerful love will grant to all those who will receive Communion on the First Fridays, for nine consecutive months, the grace of final repentance: they will not die in my displeasure, nor without receiving the sacraments; and my Heart will be their secure refuge in that last hour.
Bavaria; Berlin, Germany; brides; duchesses; death of children; difficult marriages; Görlitz, Germany, diocese of; Silesia; victims of jealousy; widows
The father of this saint was Bertold III of Andechs, Marquis of Meran, Count of Tirol, and Prince (or Duke) of Carinthia and Istria, as he is styled in the Chronicle of Andechs and in the life of St. Elizabeth of Hungary. Her mother was Agnes, daughter of the Count of Rotletchs. St. Hedwiges, by a distinguishing effect of the divine mercy in her favour, was from her cradle formed to virtue by the example and lessons of her devout mother and of those that were placed about her. In her infancy she discovered no marks of levity, and all her inclinations were turned to piety and devotion. She was placed very young in the monastery of Lutzingen, in Franconia, and only taken thence when twelve years old to marry Henry, Duke of Silesia, descended of the Dukes of Glogau, in that country; to which match she only consented out of compliance with the will of her parents. In this state, by the fidelity with which she acquitted herself of all her respective duties towards God, her husband, her children, and her family, she was truly the courageous woman described by the wise men, who is to be sought from the utmost boundaries of the earth; making it her study in all things only to please God, and to sanctify her own soul and her household, she directed all her views and actions to this great end. With her husband's free consent she always passed holydays, fast-days, and all seasons of devotion in continence. She bore her husband three sons, Henry, Conrad, and Boleslas; and three daughters, Agnes, Sophia, and Gertrude. After the birth of her sixth child, she engaged her husband to agree to a mutual vow of perpetual continence, which they made in presence of the bishop of the place; from which time they never met but in public places. Her husband faithfully kept this vow for thirty years that he lived afterwards; during which time he never wore any gold, silver, or purple, and never shaved his beard; from which circumstance he was surnamed Henry the Bearded.
Whether in prosperity or adversity, her whole comfort was in God and in the exercises of religion. The duke, at her persuasion and upon her yielding into his hands her whole dower for this purpose, founded the great monastery of Cistercian nuns at Trebnitz, three miles from Breslau, the capital of Silesia; upon which he settled the town of Trebnitz and other estates, endowing it for the maintenance of one thousand persons, of which, in the first foundation, one hundred were nuns; the rest were young ladies of reduced families, who were to be here educated in piety and afterwards provided with competent portions to marry advantageously in the world; or, if they were inclined to a monastic state, they were at liberty to profess it in this or in any other nunnery. This building was begun in 1203, and was carried on fifteen years without interruption, during which time all malefactors in Silesia, instead of other punishments, were condemned to work at it, and the severity of their servitude was proportioned to their crimes. The monastery was finished and the church dedicated in 1219. The duchess practiced in her palace greater austerities than those of the most rigid monks, fasted and watched in prayer, and wherever she travelled had always thirteen poor persons with her, whom she maintained, in honour of Christ and his apostles, waiting upon them herself upon her knees at table, where they were served with good meat before she took her own coarse refection. She often washed the feet and kissed the ulcers of lepers, and having an extreme desire to hear that amiable sentence from Christ at the last day, "I was in prison and you visited me," &c., she exhausted her revenues in relieving the necessitous. The simplicity which she observed in her dress whilst she lived with her husband showed that, if respect to him and his court obliged her to wear decent apparel, she was yet an enemy to vain or gaudy ornaments, which amuse a great part of her sex, and much more to all decorations and artifices of dress with which many ladies study to set themselves off to advantage; a certain mark of vanity, or a pleasure they take in themselves, and a dangerous desire of pleasing others. This passion, which banishes from the breast where it reigns the spirit of Christ and his gospel, cherishes the root of many vices, and without design spreads snares to entangle and destroy unwary souls, cannot find place in one whose conduct is regulated by, and whose heart is penetrated with, the spirit of Christian modesty.
St. Hedwiges, after her separation from her husband, carried her love of humility and penance much further in this respect, and wore only clothes of plain grey stuff. Her desire of advancing in perfection put her upon leaving the palace with her husband's consent, and fixing altogether at Trebnitz, near the monastery, often retiring for some days into that austere house, where she lay in the dormitory, and complied with all the penitential exercises of the community. She wore the same cloak and tunic summer and winter; and underneath a rough hair shift, with sleeves of white serge, that it might not be discovered. She fasted every day except Sundays and great festivals, on which she allowed herself two small refections. For forty years she never ate any flesh, though subject to frequent violent illnesses; except that once, under a grievous distemper in Poland, she took a little, in obedience to the precept of the pope's legate. On Wednesdays and Fridays her refection was only bread and water. With going to churches barefoot, sometimes over ice and snow, her feet were often blistered and left the ground stained with traces of her
blood; but she carried shoes under her arms, to put on if she met anyone. Her maids that attended her to church, though well clad, were not able to bear the cold, which she never seemed to feel. She had a good bed in her chamber, but never made use of it, taking her rest on the bare ground; she watched great part of the night in prayer and tears, and never returned to rest after matins. After compline she prolonged her prayers in the church till very late: and from matins till break of day. At her work, or other employments, she never ceased to sigh to God in her heart as a stranger banished from him on earth, and returned often in the day to the church, where she usually retired into a secret corner, that her tears might not be perceived. The Princess Anne, her daughter-in-law, who usually knelt next to her, admired the abundance of tears she saw her frequently shed at her devotions, the interior joy and delights with which she was often overwhelmed during her communications with heaven, and the sublime raptures with which she was sometimes favoured. The same was testified by Herbold, her confessor, and by several servant maids. At her prayers she frequently kissed the ground, watering it with her tears, and in private often prayed a long time together prostrate on the floor. She continued in prayer during all the time it thundered, remembering the terrors of the last day. Her tears and devotion were extraordinary when she approached the holy communion. She always heard mass either kneeling or prostrate with a devotion which astonished all that saw her; nor could she be satisfied without hearing every morning all the masses that were said in the church where she was.
That devotion is false or imperfect which is not founded in humility and the subjection of the passions. St. Hedwiges always sincerely looked upon herself as the last and most ungrateful to God of all creatures, and she was often seen to kiss the ground where some virtuous person had knelt in the church. No provocation was observed to make her ever show the least sign of emotion or anger. Whilst she lived in the world, the manner in which she reprimanded servants for faults showed how perfectly she was mistress of herself, and how unalterable the peace of her mind was. This also appeared in the heroic constancy with which she bore afflictions. Upon receiving the news of her husband being wounded in battle and taken prisoner by the Duke of Kirne, she said, without the least disturbance of mind, that she hoped to see him in a short time at liberty and in good health. The conqueror rejected all terms that could be offered for his freedom; which obliged Henry, our saint's eldest son, to raise a powerful army to attempt his father's rescue by force of arms. Hedwiges, whose tender soul could never hear of the effusion of Christian blood without doing all in her power to prevent it, went in person to Conrad, and the very sight of her disarmed him of all his rage, so that she easily obtained what she demanded. The example of our saint had so powerful an influence over her husband that he not only allowed her an entire liberty as to her manner of living and exercises of piety, but began at length in some degree to copy her virtues; observed the modesty and recollection of a monk in the midst of a court; and became the father of his people and the support of the poor and weak. All his thoughts were directed to administering justice to his subjects, and making piety and religion flourish in his dominions. He died happily in 1238, upon which melancholy occasion all the nuns at Trebnitz expressed their sense of so great a loss by many tears and other marks of grief. From that time she put on the religious habit at Trebnitz, and lived in obedience to her daughter Gertrude, who, having made her religious profession in that house when it was first founded, had been before that time chosen abbess. Nevertheless, St. Hedwiges never made any monastic vows, that she might continue to succour the necessitous by her bountiful charities.
One instance will suffice to show with what humility and meekness she conversed with her religious sisters. Out of a spirit of sincere poverty and humility, she never wore any other than some old threadbare castaway habit. One of the nuns happened once to say to her, "Why do you wear these tattered rags? They ought rather to be given to the poor." The saint meekly answered, "If this habit gives any offence, I am ready to correct my fault." And she instantly laid it aside and got another, though she would not have a new one. Three years after the death of her husband, she sustained a grievous trial in the loss of her eldest, most virtuous, and most beloved son Henry, surnamed the Pious, who had succeeded his father in the duchies both of Greater and Lesser Poland and of Silesia. The Tartars, with a numberless army, poured out of Asia by the north, proposing nothing less to themselves than to swallow up all Europe. Having plundered all the country that lay in their way through Russia and Bulgaria, they arrived at Cracow, in Poland. Finding that city abandoned by its inhabitants, who carried off their treasures, they burnt it to the ground, so that nothing was left standing except the Church of St. Andrew, without the walls. Continuing their march into Silesia, they laid siege to the citadel of Breslau, which was protected by the prayers of St. Ceslas, or Cieslas, prior of the Dominicans there, and the barbarians, terrified by a globe of fire which fell from the heavens upon their camp, retired towards Legnitz. Duke Henry assembled his forces at Legnitz, sad, every soldier having been at confession, he caused mass to be said, at which he and all his army received the holy communion. From this sacred action he courageously led his little army to fall upon the enemy, having with him Miceslas, Duke of Oppolen in Higher Silesia, Boleslas, Marquis of Monravia, and other princes. He gave wonderful proofs both of his courage and conduct in this memorable battle, and for some time drove the barbarians before him; but at last, his horse being killed under him, he was himself slain not far from Legnitz, in 1241. His corpse was carried to the Princess Anne, his wife, and by her sent to Breslau, to be interred in the convent of Franciscans which he had begun to found there, and which she finished after his death. The grandchildren of our saint were preserved from the swords of these infidels, being shut up in the impregnable castle of Legnitz. St. Hedwiges herself had retired, with her nuns and her daughter-in-law, Anne, to the fortress of Chrosne. Upon the news of this disaster she comforted her daughter the abbess, and her daughter-in-law the princess, who seemed almost dead with grief. Without letting fall a single tear, or discovering the least trouble of mind, she said, "God hath disposed of my son as it hath pleased him. We ought to have no other will than his." Then, lifting up her eyes to heaven, she prayed as follows: "I thank you, my God, for having given me such a son, who always loved and honoured me, and never gave me the least occasion of displeasure. To see him alive was my great joy; yet I feel a still greater pleasure in seeing him, by such a death, deserve to be for ever united to you in the kingdom of your glory. Oh, my God, with my whole heart I commend to you his dear soul." The example of this saint's lively faith and hope most powerfully and sweetly dispelled the grief of those that were in affliction, and her whole conduct was the strongest exhortation to every virtue. This gave an irresistible force to the holy advice she sometimes gave others. Being a true and faithful lover of the cross, she was wont to exhort all with whom she conversed to arm themselves against the prosperity of the world with still more diligence than against its adversities, the former being fraught with more snares and greater dangers. Nothing seemed to surpass the lessons on humility which she gave to her daughter-in-law Anne, which were the dictates of her own feeling and experimental sentiments of that virtue. Her humility was honoured by God with the gift of miracles. A nun of Trebnitz who was blind recovered her sight by the blessing of the saint with the sign of the cross. In her last sickness she insisted on receiving extreme unction before any others could be persuaded that she was in danger. The passion of Christ, which she had always made a principal part of her most tender devotion, was the chief entertainment by which she prepared herself for her last passage. God was pleased to put a happy end to her labours by calling her to himself on the 15th of October 1243. Her mortal remains were deposited at Trebnitz. She was canonized in 1266 by Clement IV, and her relics were enshrined the year following. Pope Innocent XI appointed the 17th of this month for the celebration of her office.
(Vatican Radio) We need to pray so as not to be infected by the "virus" of hypocrisy, a self-righteous attitude that seduces with lies that lurk in the shadows. Pope Francis was referring to the words of Jesus in the Gospel, during his homily on Friday at Mass at the Casa Santa Marta.
Listen to Lydia O'Kane's report
Hypocrisy does not have a colour, rather it plays with halftones. It creeps in and seduces "chiaroscuro", with "the charm of the lie." The Pope was referring to the scene portrayed by the scripture reading of the day from the Gospel of Luke - Jesus and the disciples are in the midst of a crowd who are trampling on eachother- highlighting the outspoken warning of Christ to his disciples: "Beware of the yeast of the Pharisees" . "It is a very small thing" yeast, observed Pope Francis, but Jesus talks about it as if to say "virus". As "a doctor" who says "to his collaborators" to pay attention to the risks of an "epidemic":
"This yeast is a virus that will cause you to get sick and die. Beware! This yeast brings darkness. Beware! But there is one that is greater than this: it is the Father who is in heaven. 'Are not five sparrows sold for two pennies? Yet not one of them is forgotten before God. Even the hairs of your head are all numbered '. And then, in the final exhortation: 'Do not be afraid! You are worth more than many sparrows'. In front of all these fears that leave us this way and that way, and that gives us the virus, the yeast of pharisaical hypocrisy, Jesus tells us: 'There is a Father. There is a Father who loves you. There is a Father who cares for you '. "
And there's only one way to avoid infection, says Pope Francis. It is the way indicated by Jesus: pray. It is the only solution, he concluded, to avoid falling into that '' self-righteous attitude that is neither light nor darkness, "but is" in the middle "of a journey that" will never reach the light of God ":
"Let us pray. Please a lot. 'Lord, protect your Church, which is all of us: guard your people, that gathered and were trampling each other, each other. Protect your people, because you love the light, the light that comes from the Father, from your Father, who sent you to save us. Protect your people so they do not become hypocrites, they don't fall into a lukewarm kind of life. Look after your people because they have the joy of knowing that there is a Father who loves us so much. "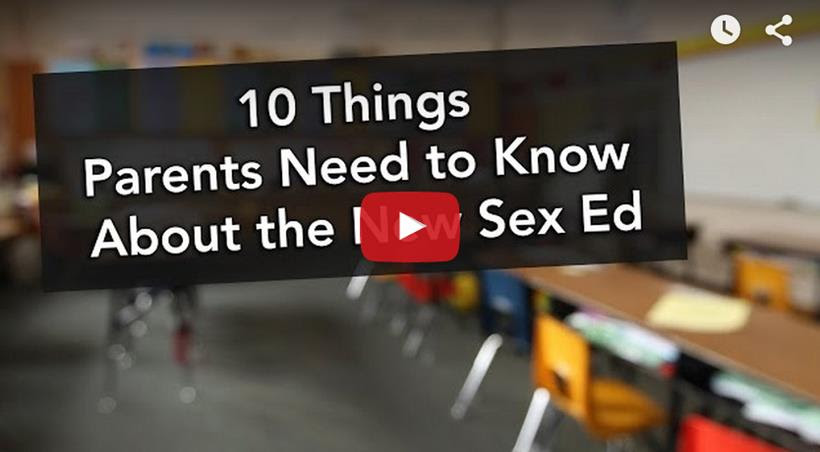 In 2010, Ontario unveiled a new sex ed curriculum for children in grades one through eight.

When parents saw what was in it, there was such an uproar that the government immediately




withdrew it.

They said they'd re-examine it, and they promised to consult with parents.

But it's not clear they did. And now it's back.

From the technical names of genitalia at age six to gender identity at age eight,

to anal and oral sex at age twelve, to a "personal plan" for sex at age thirteen –

many parents say it's too much, too soon.

So what do parents need to know about the new sex ed?

Press Release from I

nstitute of Marriage and Family Canada
2015
St. Margaret Mary Alacoque

MYSTIC AND LEADER OF DEVOTION TO THE SACRED HEART
Feast: October 17
Information:
Feast Day:
October 17
Born:
22 July 1647, L'Hautecour, Burgundy, France
Died:
17 October 1690, Paray-le-Monial, Burgundy, France
Canonized:
13 May 1920, Rome by Benedict XV
Patron of:
those suffering with polio, devotees of the Sacred Heart, loss of parents

Religious of the Visitation Order. Apostle of the Devotion to the Sacred Heart of Jesus, born at Lhautecour, France, 22 July, 1647; died at Paray-le-Monial, 17 October, 1690.
Her parents, Claude Alacoque and Philiberte Lamyn, were distinguished less for temporal possessions than for their virtue, which gave them an honourable position. From early childhood Margaret showed intense love for the Blessed Sacrament, and preferred silence and prayer to childish amusements. After her first communion at the age of nine, she practised in secret severe corporal mortifications, until paralysis confined her to bed for four years. At the end of this period, having made a vow to the Blessed Virgin to consecrate herself to religious life, she was instantly restored to perfect health. The death of her father and the injustice of a relative plunged the family in poverty and humiliation, after which more than ever Margaret found consolation in the Blessed Sacrament, and Christ made her sensible of His presence and protection. He usually appeared to her as the Crucified or the Ecce Homo, and this did not surprise her, as she thought others had the same Divine assistance. When Margaret was seventeen, the family property was recovered, and her mother besought her to establish herself in the world. Her filial tenderness made her believe that the vow of childhood was not binding, and that she could serve God at home by penance and charity to the poor. Then, still bleeding from her self-imposed austerities, she began to take part in the pleasures of the world. One night upon her return from a ball, she had a vision of Christ as He was during the scourging, reproaching her for infidelity after He had given her so many proofs of His love. During her entire life Margaret mourned over two faults committed at this time—the wearing of some superfluous ornaments and a mask at the carnival to please her brothers. (SOURCE:http://www.ewtn.com/saintsHoly/saints/M/stmargaretmaryalacoque.asp



St. Marguerite d'Youville

FOUNDRESS OF THE SISTERS OF CHARITY

Feast: October 16 (Canada)

15 October 1701, Varennes, Quebec

23 December 1771, Montreal, Canada

9 December 1990, by Pope John Paul II

Chapel of St. Marie Marguerite d'Youville, near Montreal

Against death of children, difficult marriages, in-law problems, loss of parents, opposition of Church authorities, people ridiculed for piety, victims of adultery, victims of unfaithfulness, widows




MARGUERITE d'YOUVILLE,

Marie-Marguerite Dufrost de Lajemmerais was born in Varennes, Quebec, on October 15, 1701. Her father had come from Brittany, France in 1687. Her mother was the daughter of a military officer from Carignan, Quebec, who had been governor of the settlement at Trois-Rivières. Marguerite's mother's brother was the explorer Pierre de la Vérendrye. The eldest of six children, Marguerite was only seven years old when her father died. There were hard times for the family because her mother had to wait six years before she began receiving the officers' widows' pension. Thanks to the help of her great-grandfather, Pierre Boucher, Marguerite was able to study at the Ursuline boarding school for girls in Quebec City for two years. At 12, she returned to her family to help teach her brothers and sisters. On August 12, 1722, she married François d'Youville. A fur and alcohol trader, he was unreliable and rather selfish. He died in 1730, leaving Marguerite, who was pregnant for the sixth time, with two living children and a lot of debt. In 1737, she rented a house in Montreal where she gave hospitality to women in need. She and three companions made private religious vows. Because they broke social barriers by taking in the needy, the women were scorned, slandered and persecuted. Marguerite was accused of trafficking in alcohol with the First Nations people as her husband had done, with, it was said, the collaboration of the Sulpicians. She was accused of drunkenness and even prostitution. In 1747, Marguerite was put in charge of the administration of the Charon Brothers Hospital. When her term was up in 1750, she wrote to France for help and offered to pay the hospital's debts. The King, Louis XV, confirmed her as director of the hospital on June 3, 1753, and authorized her to form a religious community which was approved by the Most Rev. Henri-Marie de Pontbriand, Bishop of Quebec, in 1755. To meet the financial needs of the hospital, Marguerite used her administrative talents and started up various activities such as needlework, dressmaking and tailoring, and the manufacture of military flags, clothing for Native people, hosts and candles. She also ran a tavern, sold tobacco, lime, building materials, and sand. The hospital welcomed a wide variety of people, including the poor, epileptics, lepers, battered women, and sick priests. During the wars leading up to the Conquest of 1760, her door was open to prisoners, the sick and the wounded of both sides. Beginning in 1754, Mother d'Youville also took in abandoned children. In 1765, the General Hospital burned down. It took four years, but she got it rebuilt. On December 9 and 13, 1771, she had attacks of paralysis and she died on December 23. She was canonized on December 9, 1990 by Pope (now Saint) John Paul II. Her Spirituality With the Ursulines, Marguerite grew in the practice of the apostolic prayer of Marie of the Incarnation who had founded the girls' school in Quebec City a century earlier. Marguerite wrote: "It is by the Heart of my Jesus, my Way, my Truth, and my Life, that I approach you, O eternal Father." She was intelligent and she had good judgment and a well-developed sense of responsibility. She was convinced that the "the cross was the sign of love by which the Father of Mercy brought his elect into conformity with his Son." She was strong and hard-working and she was a teacher who "knew how to be respected and how to be loved." When she was 27, her heart broken by the scandalous life of her husband, she was struck by the revelation of God's personal love for her. Her spiritual life became one of trust in, and abandon to, divine Providence. After his death, she had to provide for her family while his estate was settled. At the same time, she visited the poor, the prisoners and the sick, and begged for funds to provide a proper burial for criminals who had died. In 1737, still looking after her children, she formed with three companions an association of "young women, secular in habits, but religious in their hearts" who consecrated themselves "in perpetuity to the service of the poor." In the memoir that she wrote in 1752, she said, "Providence and our hard work are the resources we count on to carry on the work." She took in "found" children in order "to preserve them body and soul, to offer them a Christian education and help them prepare to earn an honest living." After a fire, which destroyed her building in 1765, she and her Sisters prayed the Te Deum and said, "The Lord gave us everything, the Lord has taken everything away, may his Name be praised forever." At the end of her life, she said, "We have always been on the verge of losing everything, but we have always had what we needed." The Rule of the Institute recommends "seeing Christ in the person of the poor who have the honour of being incorporated in Him." Poverty, humility and submission did not erase awareness of understanding the humaneness. Marguerite asked each of her Sisters "to make known her needs, without hiding her infirmities, and not to undertake anything that would damage her health." Within the community, she wanted "perfect union, with one heart and one soul, always considerate and supportive of each other in our weakness, knowing that we need a greater love to bear our own." To obtain that, the Sisters should "draw from the Divine Paternity the feelings of love, tender solicitude, and compassion that will sustain them in helping the poor, the sick and the orphan." Marguerite d'Youville's spirituality can be summed up in three words: "Father, Providence, Poor". Her love was universal and adapted itself so well to every kind of distress, that it was common for people to say, "Go to the Grey Nuns. They will never refuse to help you."

Pope John XXIII beatified Marguerite on May 3, 1959 and called her "Mother of Universal Charity." She was canonized by Pope John Paul II, December 9, 1990.
An Argentine Cathedral by the annual Encounter group with thousands of feminists from Argentina and South America (the Independent estimates 25,000 in 2012). Their aim is to provide a "pluralist space to debate issues specific to women and the feminist movement." At the Cathedral of San Juan Bautista, as many as 1500 rosary-praying Catholic men made a human shield to peacefully protect it (700 or more people of both sexes were inside, praying with their bishop). The women, many topless, spray-painted the men's crotches and eyes, painting swastikas on their chests and foreheads and Hitler moustaches on their faces. They performed obscene sexual acts in front of them and pushed their breasts into the men's faces, shouting "get your rosaries out of our ovaries,"According to the InfoCatolica website, some of the women chanted a song with the lyrics: "To the Roman Catholic Apostolic Church, who wants to get between our sheets, we say that we want to be whores, travesties and lesbians. Legal abortion in every hospital." None of the men retaliated against these abuses. The police who were present told the media that they were unable to intervene since "they are women." unsuccessfully trying to get into the building, the women burned a life-sized effigy of Pope Francis. "If the pope were a woman, abortion would be legal," they shouted. The parish priest Fr. Rómulo Campora said that "the burning of the image of Pope Francis is an offense, not just to the Church but to every Argentinean because the pope is Argentinean." Praising the men who defended the church, Campora said: "San Juan loves its God, loves its faith, loves its family." He explained "if they don't respect life, we can't expect them to respect the buildings." While the site of the protest was the front of the cathedral, InfoBae reports that "the whole city awoke to graffiti in favor of abortion." The cathedrals of Bariloche, Paraná and Posadas have also been attacked by this group in the past.
Edited from Frontpage Magazine - Image Google