2015

Cathedral Mass & Procession to Mark Day of the Unborn Child
Catholic Communications, Sydney Archdiocese,
19 Mar 2015
For the first time ever an Archbishop of Sydney will lead the Day of the Unborn Child's rosary procession through the streets of Sydney on Sunday, 22 March.
In previous years Auxiliary Bishops for the Archdiocese, the Most Rev Julian Porteous, who is now Archbishop of Hobart, and Bishop Terry Brady have led the procession. But this year Sydney's Archbishop, the Most Rev Anthony Fisher OP who was installed last November, will celebrate Mass for the Unborn Child at St Mary's Cathedral and then lead the procession through the CBD.
"On average each year depending on the weather between 2500 to 3000 join the procession. But this year with Archbishop Anthony leading the procession, even though rain is forecast, we think the numbers will be at a record level and may even exceed 4000," says Paul Hanrahan, Executive Director of Family Life International which helps organise the Mass for the Unborn Child and the rosary procession each year in collaboration with the Archdiocese of Sydney's Life Marriage and Family Centre.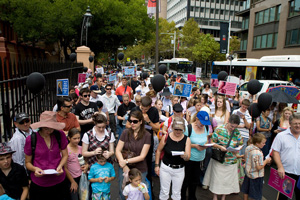 A leader and author in the field of bioethics, Archbishop Anthony was the founding Director of the John Paul II Institute for Marriage and Family.
"He has been a strong advocate for God's precious gift of life and was a member of various Pro-Life groups campaigning against abortion when he was still a still a law student at the University of Sydney and before he entered the legal profession or began to discern his vocation as a priest," Paul says.
Each year in Australian more than 100,000 unborn children are aborted, losing their chance at life.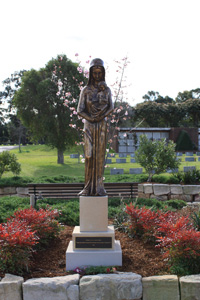 "As many as 2000 babies are aborted every week. These are shocking statistics but this number doesn't include the number of chemical abortions women are having using drugs such as RU486 or some other abortifacient to trigger a miscarriage," he says admitting that no one has any idea of just how many babies may be lost this way through drug-induced abortions.
Each year the Day of the Unborn Child is celebrated on the nearest Sunday to the Feast of the Annunciation on 25 March. One of the most important Feasts in the Catholic liturgical calendar, the Feast of the Annunciation commemorates the day the Holy Virgin was visited by the Angel Gabriel and told that she would conceive and become the mother of Jesus Christ, son of God.
Paul says the Feast of the Annunciation is the ideal time to remember and pray for the unborn child, particularly as we are now entering the final weeks of Lent.
Since the start of Lent, Paul and members of Family Life International as well as all those who believe in the sanctity of life have gathered to pray each day on the corner opposite Sydney's oldest and best known Preterm abortion clinic in Surry Hills as part of the annual 40 Days for Life prayer vigil.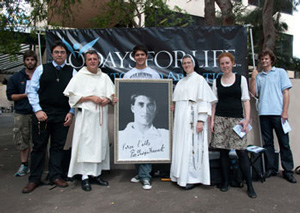 "The tragic reality of abortion continues on a daily basis and claims the lives of tens of thousands of unborn children and causes untold suffering and pain to mothers, fathers, abortion workers, families and society at large," Paul says. "Each human life is uniquely initiated by God and every baby is precious from the moment he or she is conceived."
Following Sunday's Mass for the Unborn Child which will be celebrated at St Mary's Cathedral at 10.30 am by Archbishop Anthony, the Archbishop will lead the praying of the Angelus after which he will walk in front of the procession down through the CBD and then back up to Macquarie Street to the NSW Parliament where different speakers will celebrate the sanctity of each and every human life, and the pray for the Unborn Child.
The procession will then return to the Cathedral for Benediction.
Saturday, March 21, 2015
(Vatican Radio) Pope Francis has spoken out against the 'stink of a corrupt society' that leaves young people pray to exploitation in the workplace, marginalizes immigrants and corrodes hope in society.
Continuing his whirlwind trip to Pompeii and Naples, Pope Francis on Saturday morning arrived in Scampia, an impoverished neighourhood close to Naples where he received a rapturous welcome from the community there in John Paul II Square. It is an area, which Cardinal Cresenzio Sepe described in his address to the Pope during this visit, as a suburb of Naples, which despite its many problems is rich in resources, especially the Parishes that are committed to spreading the Gospel.
The Holy Father heard from three representatives who included Corazon, an immigrant from the Philippines. She told the Pope she was speaking on behalf of those from his community that are immigrant those who are homeless and he asked Pope Francis to be an authentic voice them.
The Pope also heard from Michele, who spoke to him about the despair of those who can't find work. He told the Holy Father there are less and less people in his community who have a job before adding that, "we need to believe in the sacredness of work."
Speaking on behalf of the Prosecutors of Naples, Antonio Bonajuto, President of the Court of Appeal of Naples addressed the Pope describing the effects of corruption in society there saying, "it invalidates public ethics and generates juvenile delinquency, despair and death."
He then appealed to Pope Francis saying, "Indicate to us, Your Holiness, a path of hope to sustain the commitment of all those who pursue law and justice…
To these three speakers the Pope offered words of hope and encouragement.
Click here for our video report:
Below a Vatican Radio translation of Pope Francis' responses:
A heritage of hope in the face of evil
"I wanted to start my visit to Naples from here from this periphery. I greet you all and thank you for your warm welcome! We can really see that Neapolitans are not cold people"
"You belong to a people with a long, complex and dramatic history. Life in Naples has never been easy, but it has never been sad! This is your greatest asset. Daily life in this city, with its difficulties and its hardships and sometimes its trials, produces a culture of life that always helps people to pick themselves up again after every fall, and to ensure that evil never has the last word. This is a beautiful challenge: no, never let evil have the last word. It is this hope, as you well know, this great heritage, this 'raising of the soul', which is so precious, but also exposed to assaults and theft. We all know, those who voluntarily take the path of evil steal a piece of hope, earn a little something but steal hope from themselves, from others, from society. The path of evil is one that always steals hope and also robs honest and hardworking people, as well as the good reputation of this city, it
We are all immigrants
Responding to the words of a Filipino immigrant, the Pope said: "I would like to speak to the sister who spoke on behalf of immigrants and the homeless. She asked for a word to ensure that migrants are children of God and citizens. But must we arrive at this point? Are migrants second-class humans? We have to feel that our migrant brothers and sisters are citizens, are like us, God's children, they are migrants like us, because we are all migrants bound for another country, no? And maybe we will all get there? And nobody will be lost on the way! We are all immigrants, all children of God, children of God who has put us all on a journey, everyone. You cannot say: 'But migrants are like this ... We are not. .. '. No! We are all immigrants, we are all on a journey, everyone. And this word is not written in a book, that we are all migrants; it is written in our flesh, eh? In our flesh, in our way of life, and it assures us that in Jesus that we are all children of God, loved children, wanted children, saved children. Think of that! We are all immigrants on the journey of life. None of us have a fixed abode in this land! We all have to leave. And all we have to leave to find God! One before and the other after, or as that old man said, that crafty old man: 'Yes, yes, all! You go on ahead, I will go last! '. All of us, all, we all have to leave".
The battle against black market labor
Responding to the words of an unemployed man, the Pope said: "Then there were the words of the worker. And I also thank him, because of course I wanted to touch this point, which is a negative sign of our times. Especially the lack of jobs for young people. But you think young people aged 25 years and under, more than 40 percent have no work! But this is serious! What does a young unemployed person do? What is the future? What path can they choose in life? And this is a responsibility not only of the city, not only of the country, but the world! Why? Because there is an economic system that is denying people and now it is the young people's turn to be discarded, that is without jobs. And this is serious! Why? - 'But father, there are the works of charity, there are voluntary services, there is Caritas, there is this center, there's that club, which feeds ... '. But the problem is not eating, the most serious problem is that it does not give them the chance to bring the bread home, to earn it! And when you do not earn your daily bread, you lose your dignity! And this lack of work steals dignity. We have to struggle with this, we have to defend our dignity as citizens, men, women, youth. And this is the drama of our time. We must not remain silent. And also part-time work. What do I mean by this? The exploitation of people in the workplace! A few weeks ago, a girl who needed work found a job in a tourist agency and these were the conditions: 11 hours of work, 600 Euros per month with no contribution for her pension. 'Oh, but it's just 11 hours! If you do not like it, look at the queue of people who are waiting for the job! '. This is called slavery, this is called exploitation, this is not human, this is not Christian. And if the person who does this says he is Christian, he is a liar, it is not true, he is not Christian. Even the exploitation of black market labor, where you make people work without a contract, with nothing, and you pay them what you want, this is exploitation of people. Without contributions for their pension or healthcare: 'Ah, I do not care'. I understand you well, brother, I understand you well and thank you for saying what you said. We must resume the fight for our dignity, which is the struggle to seek, to find, to rediscover opportunities to bring home the bread! This is our battle".
The stink of corruption
Finally responding to the words of an Appeals Court prosecutor, the Pope said: "He used a beautiful expression 'path of hope' and remembered a saying of St. John Bosco: 'good Christians and honest citizens', aimed at children and young people. The path of hope for the children, those who are here and everyone is first and foremost that of education, but a real education, the path to educate for a future, and this prevents and helps people to move forward. But he said a word in passing that I would like to take up, a word that is used a lot today, the judge said 'corruption', 'corruption'. But, tell me, if we close the door to immigrants, if we take away people's work and their dignity, what do you call this? It's called corruption! It's called corruption and we all have the opportunity to be corrupt, none of us can say, I'll never be corrupt. No! It is a temptation, it is slipping, there, there, there, into an easy business, into delinquency, into criminality, into the exploitation of people. How much corruption there is in the world. It is a word that if we study it a bit', is bad, no? Because corruption is a dirty thing! If we find a dead animal and is corrupted, , it's ugly. But it also 'stinks', corruption 'stinks'! A corrupt society stinks! A Christian who allows corruption to enter is not Christian, they stink! I Got It? My presence is meant to be an impetus to a journey of hope, rebirth and recovery that is already underway. I know the generous and effective commitment of the Church, present with its community and its services at the very heart of the reality of Scampia; as well as the continued mobilization of voluntary groups, whose help is never lacking. I also encourage the presence and active involvement of the city government, because a community cannot progress without their support, especially in times of crisis and in the presence of difficult and sometimes extreme social situations. 'Good politics' is a service to people, which is exercised primarily at a local level, where the weight of failures, delays, real omission is more direct and hurts more. Good politics is one of the highest expressions of charity, service, and love. Do good politics, but among you all: politics concerns everyone! Good politics depends on you all".
(Emer McCarthy)