2015

24 Hours For The Lord - Pope Francis Encourages Global Participation
Catholic Communications, Sydney Archdiocese,
3 Feb 2015
For the second year the Holy Father has welcomed the 24 Hours For The Lord initiative to be celebrated during this year's Lent.
This year the special time for prayer and confessions will take place on Friday, 13 March and Saturday, 14 March.
The Pontifical Council for the Promotion of the New Evangelisation has said the theme this year that will guide the reflection is God rich in mercy (Ephesians 2:4)
Churches around the world, including the Archdiocese of Sydney, have been asked where possible to dedicate a full 24 hours to the Sacrament of Reconciliation ensuring the initiative coincides with Eucharistic Adoration.
Prior to the initiative last year Pope Francis had often repeated that going to Confession is not like a torture chamber.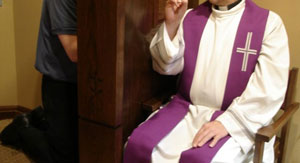 He said at an audience - "you turn red once, you're absolved of your sins, and you move on".
The Pontifical Council of the New Evangelisation wanted to reinforce that statement and when the first 24 Hours For The Lord was introduced it was received with great enthusiasm with many people taking advantage of churches being open around-the-clock for Reconciliation and Adoration.
Once again in Rome Pope Francis will preside at a penitential celebration- "a celebration of forgiveness" - in St Peter's Basilica in order to place the Sacrament of Reconciliation at the centre of the Church's mission of the new evangelisation.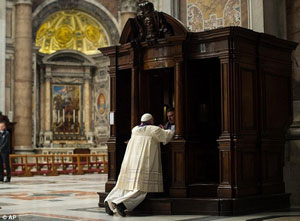 This year Lent begins on Ash Wednesday, 18 February and goes through to Thursday, 2 April.
24 Hours For The Lord on March 13-14 falls in the fourth week.
Parishes throughout the Archdiocese will have further news closer to the date.
Below is a video announcing the first 24 Hours For The Lord 2014
Shared from Archdiocese of Sydney