2014
Interfaith Prayer Service for Victims of Violence
Catholic Communications, Sydney Archdiocese,
19 Dec 2014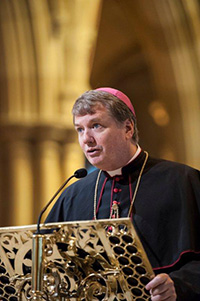 Leaders of many different faiths came together today to remember, reflect and pray for the victims who died in the Martin Place siege, their families and all the hostages taken during the ordeal.
They also remembered victims of violence and terror in many other parts of the world.
Side by side in St Mary's Cathedral Muslims sat with Buddhists, Jews, Hindus, Sikhs and Christians.
It was a powerful testimony to peace and harmony and the rejection of violent events like the siege in Martin Place this week which claimed the lives of two hostages, Katrina Dawson and Tori Johnson, and the horrific killings of nearly 150 students and staff at a school in Pakistan by terrorists.
Archbishop Anthony Fisher welcomed the various faith leaders, their followers, and around 300 other people of all faiths and even no faith to the Service.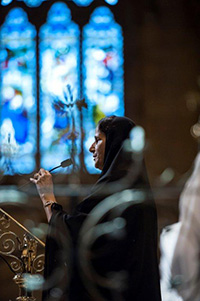 Five leaders initially offered reflections - Brian White, the Chairperson of the Buddhist Council of NSW; Jeremy Spinak, President of the NSW Jewish Board of Deputies; Prof Nihal Singh Agar, of the Hindu Council of Australia; and Dr Basim Alansari, representing the Office of Ayatollah Al-Ansari/Shia Islam.
The Grand Muft of Australia, Dr Ibraham Abu Mohammad then addressed the gathering.
"On behalf of Australia's Muslims I stand before you first and foremost in trust and heartfelt sorrow for the families of the two victims and the recovery of their families," he said.
The Grand Mufti said he prayed for the healing of their wounds and his and the Muslim community's thoughts and prayers go out to the 17 hostages who endured such a horrendous ordeal.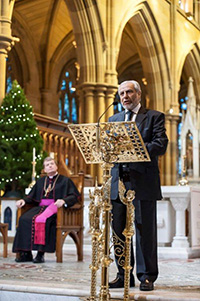 "I want to convey in public as well as in private gatherings that Australian society is one big family and will always remain a beacon of liberty, security and an oasis of multi-culturalism," the Grand Mufti said, adding that Australia would continue to stand united against crimes committed against innocent civilians.
"The tragic events of this week increase our unity and I am confident that as Australians we will rise above our wounds and exercise life as normal, and not allow anyone toi separate the bonds of love and harmony; and that we will always stand tall together."
Archbishop Fisher said;" So all of us reflecting together today know the importance of peace. It is at the heart of our faiths. We pray today for eternal peace with God for those who have died. For Katrina Dawson and Tori Johnson. And after a time of disturbance in our city we want to give common witness to our belief that genuine religion promotes peace, not division. We join together in repudiating hatred and violence. We salute and pray for each other the Peace of God which is beyond all understanding.And we affirm in common: God, the Holy, the Divine, the All Powerful, the All Merciful, wants peace.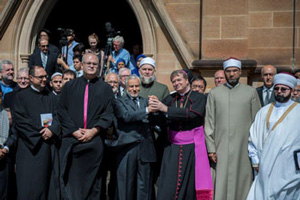 "Christians believe the Prince of Peace came as a babe born in a manger at Christmas time. It is my prayer that His peace may shine on our heart-broken city this Christmas. May God's peace be with you all and with all Sydneysiders."
During the Service there was a period of silence for reflection and everyone was invited to pray according to their own traditions.
Then representatives from different faiths were invited to light a candle as the Cathedral bell tolled.
The Service concluded with the Australian National Anthem and a prayer for peace from Archbishop Anthony.
All the religious leaders were aware of the strong message their presence together sent to the community in a week when violence and death had so deeply touched the people of Sydney.ok
St. Peter Canisius
DOCTOR OF THE CHURCH
Feast: December 21


Information:

| | |
| --- | --- |
| Feast Day: | December 21 |
| Born: | May 8, 1521, Nijmegen in the Duchy of Guelders, Netherlands |
| Died: | December 21, 1597 |
| Canonized: | May 21, 1925, Rome by Pope Pius XI |
| Patron of: | Catholic press, Germany |

This doctor of the church is often called the second Apostle of Germany. Both Holland and Germany claim him as their son, for Nijmegen, where he was born, May 8th, 1521, though a Dutch town today, was at that time in the ecclesiastical province of Cologne and had the rights of a German city. His father, a Catholic and nine times burgomaster of Nijmegen, sent him at the age of fifteen to the University of Cologne, where he met the saintly young priest, Nicolaus van Esch. It was he who drew Canisius into the orbit of the loyal Catholic party in Cologne, which had been formed in opposition to the archbishop, Hermann von Wied, who had secretly gone over to the Lutherans. Canisius was chosen by the group to approach the emperor, and the deposition of the archbishop which followed averted a calamity from the Catholic Rhineland. Shortly afterwards Peter Canisius met Bd. Peter Faber, one of the first companions of St Ignatius, and made the under his direction. During this retreat he found the answer to the question he had put to himself: how best could he serve God and assist the stricken Catholic church in Germany?

He was inspired to join the Society of Jesus, and, after his ordination in 1546, soon became known by his editions of works of St Cyril of Alexandria and of St Leo the Great. In 1547 he attended the council of Trent as procurator for the bishop of Augsburg, where he became still further imbued with the spirit of the Catholic Counter-Reformation. His obedience was tested when he was sent by St Ignatius to teach rhetoric in the comparative obscurity of the new Jesuit college at Messina, but this interlude in his public work for the church was but a brief one.

Recalled to Rome in 1549 to make his final profession, he was entrusted with what was to become his life's work: the mission to Germany. At the request of the duke of Bavaria, Canisius was chosen with two other Jesuits to profess theology in the University of Ingolstadt. Soon he was appointed rector of the University, and then, through the intervention of King Ferdinand of the Romans, he was sent to do the same kind of work in the University of Vienna. His success was such that the king tried to have him appointed to the archbishopric. Though he refused this dignity, he was compelled to administer the diocese for the space of a year.

It was at this period, 1555, that he issued his famous , one of his greatest services to the church. With its clear and popular exposition of Catholic doctrine it met the need of the day, and was to counter the devastating effect of Luther's . In its enlarged form it went into more than four hundred editions by the end of the seventeenth century and was translated into fifteen languages.

From Vienna Canisius passed on to Bohemia, where the condition of the church was desperate. In the face of determined opposition he established a college at Prague which was to develop into a university. Named Provincial of southern Germany in 1556, he established colleges for boys in six cities, and set himself to the task of providing Germany with a supply of well-trained priests. This he did by his work for the establishment of seminaries, and by sending regular reinforcements of young men to be trained in Rome.

On his many journeys in Germany St Peter Canisius never ceased from preaching the word of God. He often encountered apathy or hostility at first, but as his zeal and learning were so manifest great crowds soon thronged the churches to listen. For seven years he was official preacher in the cathedral of Augsburg, and is regarded m a special way as the apostle of that city. Whenever he came across a country church deprived of its pastor he would halt there to preach and to administer the sacraments. It seemed impossible to exhaust him: 'If you have too much to do, with God's help you will find time to do it all,' he said, when someone accused him of overworking himself.

Another form of his apostolate was letter writing, and the printed volumes of his correspondence cover more than eight thousand pages. Like St Bernard of Clairvaux he used this means of comforting, rebuking and counselling all ranks of society. As the needs of the church or the individual required, he wrote to pope and emperor, to bishops and princes, to ordinary priests and laymen. Where letters would not suffice he brought to bear his great powers of personal influence. Thus at the conference between Catholics and Protestants held at Worms in 1556, it was due to his influence that the Catholics were able to present a united front and resist Protestant invitations to compromise on points of principle. In Poland in 1558 he checked an incipient threat to the traditional faith of the country; and in the same year, he earned the thanks of Pope Pius IV for his diplomatic skill in healing a breach between the pope and the emperor. This gift of dealing with men led to his being entrusted in 1561 with the promulgation in Germany of the decrees of the council of Trent.

Shortly afterwards he was called on to answer the of Magdeburg. This work, 'the first and worst of all Protestant church histories', was a large-scale attack on the Catholic church, and its enormous distortions of history would have required more than one man to produce an adequate answer. Yet Peter Canisius showed the way by his two works, , and .

From 1580 until his death in 1597 he labored and suffered much in Switzerland. His last six years were spent in patient endurance and long hours of prayer in the college of Fribourg, now that broken health had made further active work impossible. Soon after his death, December 21st, 1597, his tomb began to be venerated, and numerous miracles were attributed to his intercession, He had the unique honor of being canonized and declared a doctor of the church on the same day, June 21st, 1925.
Actress-and-director Angelina Jolie said in the past (2000), "There doesn't need to be a God for me." But recently Angelina she had a change of heart while directing the film 'Unbroken,' a story about the life of WWII hero, Olympic athlete, and devout Christian Louis Zamperini. Angelina spent time with Louis discussing his faith in Jesus Christ. Angelina needed the sun to shine shoot the very last scene of the movie, but the rain would not stop. Louis Zamperini's daughter, Cynthia said, "She [Angelina] was not a person of faith and had never prayed before, but she found herself at the very last scene of the movie ... they needed sunlight to shoot this very important scene and there had been a storm that had been going for a while. Angelina said, 'I don't know what I'm going to do so I'll do what Louie would do.' She got on her knees and she prayed for a miracle … everybody saw it … It stopped raining. The sun came out, a rainbow came out, she said, 'let's get this take' and they shot the take. When she said 'cut,' it started to rain again." . When Angelina heard that Louis Zamperini was on his death bed she rushed to the hospital. Sadly, she did not make it before the hero passed. But when she saw Louis' family she "pointed above saying 'I know he's with us, I know he's there with God.'" Based on the incredible true story. Unbroken arrives in theaters on Christmas Day, 2014. Description Academy Award® winner Angelina Jolie directs and produces Unbroken, an epic drama that follows the incredible life of Olympian and war hero Louis "Louie" Zamperini (Jack O'Connell) who, along with two other crewmen, survived in a raft for 47 days after a near-fatal plane crash in WWII—only to be caught by the Japanese Navy and sent to a prisoner-of-war camp. Adapted from Laura Hillenbrand's ("Seabiscuit: An American Legend") enormously popular book, Unbroken brings to the big screen Zamperini's unbelievable and inspiring true story about the resilient power of the human spirit. Starring alongside O'Connell are Domhnall Gleeson and Finn Wittrock as Phil and Mac—the airmen with whom Zamperini endured perilous weeks adrift in the open Pacific—Garrett Hedlund and John Magaro as fellow POWs who find an unexpected camaraderie during their internment, Alex Russell as Zamperini's brother, Pete, and in his English-language feature debut, Japanese actor Miyavi as the brutal camp guard known only to the men as "The Bird." The film is produced by Jolie, as well as Matthew Baer (City by the Sea), Erwin Stoff (The Day the Earth Stood Still) and Clayton Townsend (This Is 40). Leading the accomplished behind-the-scenes crew is 11-time Oscar®-nominated cinematographer Roger Deakins (Skyfall). Academy Award® winners Joel and Ethan Coen (No Country for Old Men) rewrote the screenplay from earlier drafts by William Nicholson (Les Misérables) and Richard LaGravenese (HBO's Behind the Candelabra). Unbroken arrives in theaters on Christmas Day, 2014.