2014
Parish Mourns Sudden Death of Beloved Priest
Catholic Communications, Sydney Archdiocese Release
17 Jun 2014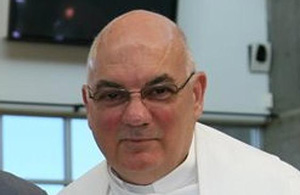 Father David Hume, Parish Priest of St John XXIII Parish at Glenwood-Stanhope Gardens in Sydney's outer west died suddenly at the weekend.
"His passing has left a huge void in our community. Everyone is stunned and grieving," Sue Andruskin, Pastoral Associate and Sacramental Co-Ordinator for the Parish told Catholic Communications this morning.
Although it is still not known what caused his death, since Sunday when parishioners first heard the news, the St John XXIII Catholic Church has been filled to overflowing each night as individuals and families throughout the community have arrived to pray for his soul at the Novena prayers.
"Fr Dave Hume was a man of many talents and no brief words could possibly summarise the loving impact and influence he had among his parishioners here and our extended community," Sue says. "His huge heart made time for everyone and now we all feel that we have not only lost a beloved pastor but a treasured friend."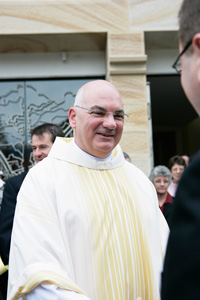 Able to see the good in all, Fr Dave gave hope to the despairing, struggling and in need, she says.
Deeply compassionate, generous, loving, hardworking, innovative, wise, humble, humorous, down to earth, ecumenical are just some of the words Sue uses to describe Fr Hume. She recalls how he always finished his Masses by saying "Live Jesus in Our Hearts."
"Jesus certainly lived in Fr Dave's heart," she says.
Born in Sydney in 1957 to Patrick and Sheila Hume, the fifth of seven children, Fr Dave grew up in Lewisham and attended St Thomas' Primary School and Christian Brothers' High School.

At 19, he joined the Christian Brothers and spent the following 20 years with the Brothers. He taught at many schools including St Patrick's Primary, Goulburn; St Thomas' Boys' School, Lewisham; St Patrick's College, Strathfield; St Patrick's College, Goulburn; Edmund Rice College, Wollongong; and St Dominic's College, Penrith.
In late 1995, now aged 49 he left the Christian Brothers and as a lay teacher joined the staff of Holy Cross College, Ryde and later Oakhill College, Castle Hill.
Four years later, in early 2000 he yet again answered God's call and entered the priestly formation program for the Diocese of Parramatta. The following year, joined the Seminary of the Good Shepherd at Homebush.
Fr Dave was ordained a priest on 11 June, 2005 and appointed Assistant Priest at St Patrick's Parish, Parramatta.
In November 2007, he became Assistant Priest at St Andrew's Parish, Marayong and two years later in October 2009 was appointed Administrator of St Paul the Apostle Parish at Winston Hills.
On 1 May, 2010 just over four years ago, he became Parish Priest of John XXIII Parish at Glenwood-Stanhope Gardens.
From January 2012 he took on added duties to his parish minister after being appointed Dean of the Hawkesbury Deanery in the Diocese of Parramatta.
Retired Dominican priest, Fr Stephen Hume is one of Fr Dave's brothers and is believed to be devastated by the death of his younger sibling.
The Mass of Christian Burial for Fr Dave Hume will be held on Monday 23 June at 11 am at St John XXIII Church, Perfection Ave., Stanhope Gardens.
Among the many expected to attend the funeral Mass will be the Rev David Wrightson of the Quaker's Hill Uniting Church together with a large contingent from his parish.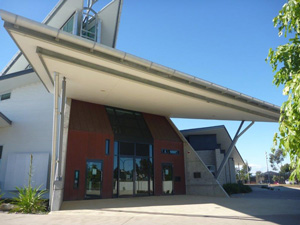 "When the Uniting Church at Quaker's Hill burned down in August last year, Fr Dave offered Rev Wrightson the use of our parish's Holy Cross Primary School Hall for services each Sunday until their new church could be built," says Sue.
The bond between members of the two different denominations grew and at Easter this year, in a moving and heartfelt display of ecumenism, members of the Quaker's Hill Uniting Church joined parishioners from St John's XXIII's and took part in the Good Friday enactment of the Stations of the Cross.
"Fr Dave suggested his parish take one half of the Stations and members of the Uniting Church take the other half," Sue says, adding that the day will long be remembered as a true celebration of Christian fellowship and love.
Shared From Archdiocese of Sydney