2014
(Vatican Radio) Pope Francis said Mass on Tuesday morning in the chapel of the Vatican's Casa Santa Marta guesthouse. In his remarks following the readings of the day, the Holy Father focused on the need for Christians to be really committed to discipleship, and prepared to take risks for the cause of the Gospel.

Concentrating on the passage proclaimed at the Gospel reading of the day, in which Jesus heals a paralyzed man at the pool of Bethesda on a Sabbath day, Pope Francis addressed both the spiritual malaise of the sick man, whom he healed, and of the Pharisees, who began to persecute and plot against Him because he healed the man on the Sabbath:

"I think of many Christians, of many Catholics: yes, they are Catholics, but without enthusiasm, even embittered. 'Yes, life is what it is, but the Church – I go to Mass every Sunday, but better not get mixed up in things – I have faith for my health, I do not feel the need to give it to another...'. Each in his own house, the quiet life: but, you do something and then they criticize you: 'No, leave it alone [It. è meglio così], don't chance it.' This is the disease of sloth, the acedia of Christians. This attitude that is crippling the apostolic zeal, which makes Christian people stand still and at ease, but not in the good sense of the word: they do not bother to go out to proclaim the Gospel! They are anesthetized."

Anesthesia, Pope Francis went on to say, "is a negative experience." It is that "not meddling" that becomes "spiritual sloth," which, he said, is a very sad thing, indeed. "These Christians are sad," said Pope Francis, "they are people without light – real downers [It. persone negative], and this is a disease of us Christians." We go to Mass every Sunday, though we say, "Please do not disturb." These Christians "without apostolic zeal," he warned, "are not useful, they do not do the Church well. And how many Christians are like this?" he asked, "selfish, out for themselves." This, he said, is "the sin of sloth, which is a sin against apostolic zeal, against the desire to give the news of Jesus to others, that newness, which was given to me for free." The Holy Father went on to say that in the day's Gospel passage, there is also another sin when we see that Jesus is criticized because he healed the sick on the Sabbath: the sin of formalism. "Christians," he said, "who do not leave space for the grace of God – and the Christian life, the life of these people, consists in having all the paperwork, all the certificates, in order.":

"Christian hypocrites, like these, only interested in their formalities. It was a Sabbath? No, you cannot do miracles on the Sabbath, the grace of God cannot work on Sabbath days. They close the door to the grace of God. We have so many in the Church, we have many! It is another sin. The first, those who have the sin of sloth, are not able to go forward with their apostolic zeal, because they have decided to stand firm in themselves, in their sorrows, their resentments, in all of that. Such as these are not capable of bringing salvation because they close the door to salvation."
"Only the formalities" matter to them, he said. "It is not possible: this is the phrase they have most often to hand." We meet these people, too, explained the Holy Father, "We ourselves have often been taken by this acedia, or have been many times like the Pharisees: hypocrites." Pope Francis went on to explain that, because temptations to these sins will inevitably come, "We must learn to defend ourselves." Faced with these temptations, before, "that field hospital there, which was a symbol of the Church," in front of "a lot of hurting people," Jesus approaches them and asks only one thing: "Do you want to be healed?" Then, "He gives the [paralytic man]. Grace accomplishes everything." And then, when he meets the paralytic again, he tells him, "Sin no more.":

"The two Christian words: do you want to be healed? Sin no more. First He heals [the paralytic], then [He says], 'sin no more.' – words spoken with tenderness, with love – and this is the Christian way, the way of apostolic zeal: to get close to many people who are injured and in this field hospital, often people whose wounds were inflicted by men and women of the Church. It is a word of a brother and of a sister: do you want to be healed? Then, when He goes on, 'Ah, do not sin any more, it is not good for you.' Much better: Jesus' two words are more beautiful than the attitude of sloth or the attitude of hypocrisy."


Text from Vatican Radio website
Monday, March 31, 2014
Terri Schiavo died Thursday, March 31, 2005 around 10 a.m. EST. This was due to a court order to withhold food and water. Schiavo died heading into her 14th day without nourishment. Wednesday night's decision came hours after a federal appeals court declined to hold another hearing on the issue. Her parents fought for her life but were turned down by the courts. Her family now helps those with similar issues...
http://www.facebook.com/lifeandhopenetwork
(Vatican Radio) Pope Francis on Monday met with members of the 27th General Chapter of the Salesians of Don Bosco. The theme of the chapter is "Witnesses to the Radical Approach of the Gospel."

In his address, the Holy Father said the Holy Spirit would assist the religious institute to understand the expectations and challenges of our time, especially those of the young people whose formation is the basis of the congregation's main apostolate.

Pope Francis told the Salesians the evangelization of young people is closely connected with education, and he encouraged them in their efforts to respond to the current educational crisis, while always remembering the "Preventive System" of St. John Bosco, which is based on kindness and friendship with pupils.

He also spoke of the life of exclusion many young people face.

"Think of the vast reality of unemployment, with all of the negative consequences," said Pope Francis. "Think of the addictions, which sadly are manifold, but stem from a common root of an absence of true love. Reaching marginalized youth requires courage, maturity and much prayer."

He urged the Salesians to use "careful discernment" when sending people to the peripheries inhabited by these excluded youth.

The Holy Father also encouraged the community life of the Salesians, which he said supports their entire apostolate.

"The humanizing power of the Gospel is demonstrated by the fraternity lived in community, comprised of welcome, respect, mutual help , understanding , kindness , forgiveness and joy," said the Pope. "The familial spirit bequeathed by Don Bosco is a great help in this respect, encouraging perseverance and building an attraction to the consecrated life."

During their General Chapter, the Salesians elected Don Angel Fernandez Artime as the 10th Rector Major, commonly referred to as the successor of Saint John Bosco.


Text from Vatican Radio website
Catholic Communications, Sydney Archdiocese,
28 Mar 2014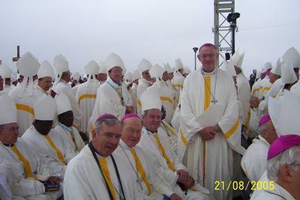 With great sadness the diocese of Townsville announced Bishop Michael Putney AM DD died peacefully in the early hours of Friday 28 March, aged 67 years old.
Hailed as "an ecumenical giant" Bishop Putney's work in Christian dialogue and ecumenical relations will be felt in Australia and internationally for many years to come. As tributes started pouring in on social media via the Diocese of Townsville's Facebook page, the National Council of Churches in Australia, for which Bishop Putney served as chairman posted:
"Bishop Michael was an ecumenical giant who contributed so much to his own church, the Australian churches and the wider ecumenical family. He inspired us to imagine what a healthy reconciled Church could be. May he rest in God's peace."
Sister Giovanni Farquer, Director of the Archdiocese of Sydney's Commission for Ecumenism and Interreligious Relations, recognised the faith and commitment of Bishop Putney so evident in his ministry.
"He was a true ecumenist and an amazing chair of our committee" she said.
"He made us all feel that our work was making a significant contribution. Prayer was at the centre of every meeting he chaired and he was a man of great faith. He provided great leadership and vision reaching out to people of all faiths, not just Catholics."
A native of Queensland, Michael Putney was born in Gladstone in 1946 and educated in Townsville and Brisbane. After seminary studies in Pius XII Seminary in Banyo, he was ordained a priest in 1969. He was ordained a bishop on 27 July 1995 and was announced as the 5th Bishop of Townsville in January 2001 and installed in March that year.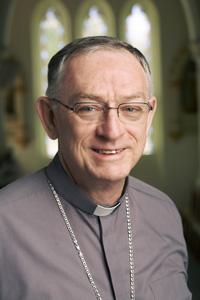 Bishop Putney was diagnosed with terminal cancer in December 2012. Prior to his diagnosis he was a member of the Permanent Committee of the Australian Catholic Bishops Conference and Chair of Bishops' Commission for Mission and Faith Formation; Catholic Co-Chairman of International Methodist / Roman Catholic Dialogue; Member of the Pontifical Council for Promoting Christian Unity and Chairman of the National Council of Churches. In 2013 Bishop Putney was made a Member of the Order of Australia in the Queen's Birthday Honours list.
According to the Vicar General of Townsville Diocese, Fr Michael Lowcock, Bishop Putney was admitted to the Mater Hospital on Friday 21 March for a procedure relating to cancers in his stomach, he remained in hospital until he passed away peacefully in the early hours of the morning.
Bishop Putney's health had deteriorated in recent weeks but defying doctor's orders to slow down he still kept many appointments including welcoming the Apostolic Nuncio in Australia, Archbishop Paul Gallagher to his annual dinner with 170 guests and also publishing his book entitled "My Ecumenical Journey" which was launched by Anglican Archbishop of Brisbane Phillip Aspinall.
Bishop Putney was grateful for the many prayers received during the past 15 months and believed it was these prayers which enabled him to continue his work until the very end.
Just last week in an interview with a local Townsville publication, an ailing Bishop Putney said he was at peace knowing his life was in the hands of God.
"I am very accepting of what happens to me and I am not in any way afraid.
"People's prayers are like the air I breathe and I am being carried along by the grace of God, so I have nothing to worry about'' he said.
As an auxiliary bishop of Brisbane and Vicar for Youth, Bishop Putney was a great supporter of young people says Malcolm Hart, Senior Youth Ministry Projects Officer for the Bishops Commission for Pastoral Life.
"He revitalised the Church and particularly youth ministry through local initiatives, support and ongoing involvement in World Youth Days. Bishop Michael Putney will be sorely missed by his diocese and the Church in Australia."
Malcolm also acknowledges the contribution Bishop Putney made to evangelisation. "He was central to the Hearts on Fire conference in 1999, one of Australia's first national conferences on evangelisation" he says. "He explored evangelisation in an Australian context like no one before."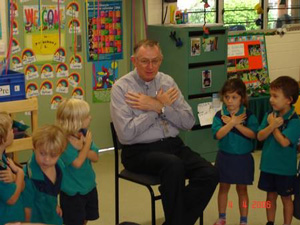 Shayne Bennett, Moderator of the Emmanuel Community is grateful for the long association their lay community has had with Bishop Putney. In the early days of the Community's establishment a young Fr Michael Putney was appointed by the then Archbishop of Brisbane, Francis Rush as his liaison priest to the fledgling community. Years later, Shayne and Bishop Michael remained friends.
"Bishop Michael was a scholar, a wise mentor, a man who was passionate in his love for Jesus Christ and His Church" says Shayne Bennett.
"I saw the love he had for his Diocese blossom into something very beautiful. He loved Townsville and was joyful in laying down his life for the people whom God had entrusted to his care. He lived this commitment of love to the very end. May he rest in peace."

Throughout the day, the Facebook messages have continued to flood in. One member of the diocese wrote, "Bishop Michael was an inspiration to many and no one can deny what a truly beautiful person he was. He will be missed, and remembered by all those he touched. RIP"

Funeral arrangements are currently being finalised by the diocese and many parishes in the Townsville diocese will be holding special masses this week.
SHARED FROM ARCHDIOCESE OF SYDNEY
(Vatican Radio) Where are you on your spiritual journey? Are you wandering aimlessly like a tourist? Have you stopped or lost your way? Or are you heading straight for your destination? Those questions were at the heart of Pope Francis' reflections during his homily at Mass in the Casa Santa Marta on Monday morning.
Reflecting on the day's readings from Isaiah and St John's Gospel Pope Francis distinguished between three different types of Christians and how they live their spiritual lives. Before God asks anything of us, the Pope said, He always promises us a new life of joy, so the essence of our Christian life is always to journey in hope and trust towards those promises.

But there are many Christians whose hope is weak and while they believe and follow the commandments, they have come to a standstill in their spiritual lives. Pope Francis said God cannot use them as a leaven among his people because they have stopped and they're no longer moving forward.

Secondly, he said there are those among us who have taken the wrong turning and lost our way. Of course, the Pope continued, we all sometimes take the wrong road, but the real problem arises if we don't turn back when we realize that we've made a mistake.

The model of a true believer who follows the promises of faith, Pope Francis said, is the royal official from today's Gospel reading, who asks Jesus to heal his son and does not doubt for a second when the Master tells him the child has been cured. But unlike that man, the Pope said, there are many Christians who deceive themselves and wander aimlessly without moving forward.

These people, Pope Francis said are perhaps the most dangerous group because they wander through life like existential tourists without a goal and without taking God's promises seriously. But the Lord asks us not to stop, not to lose our way and not to wander through life. He asks us to journey on towards his promises like the official who believed what Jesus told him.

Despite our human condition as sinners who take the wrong turning, the Pope concluded, the Lord always gives us grace to turn back. Lent, he said, is a good time to consider whether we are journeying forward or whether we have come to a standstill. If we have chosen the wrong road, we should go to Confession and return to the right way. If we are a theological tourist wandering aimlessly through life, we must ask the Lord for grace to head off again on the journey towards the promises of our faith.


Text from Vatican Radio website