2013
Vatican Radio) Pope Francis on Friday paid tribute to Nelson Mandela expressing his hope that the late President's example will inspire generations of South Africans to put justice and common good at the forefront of their political aspirations.
The Pope's words came in a telegramme of condolences that he sent to the South African President, Jacob Zuma.
Please find below the full text of the telegramme:
It was with sadness that I learned of the death of former President Nelson Mandela, and I send prayerful condolences to all the Mandela family, to the members of the Government and to all the people of South Africa. In commending the soul of the deceased to the infinite mercy of Almighty God, I ask the Lord to console and strengthen all who mourn his loss. Paying tribute to the steadfast commitment shown by Nelson Mandela in promoting the human dignity of all the nation's citizens and in forging a new South Africa built on the firm foundations of non-violence, reconciliation and truth, I pray that the late President's example will inspire generations of South Africans to put justice and the common good at the forefront of their political aspirations. With these sentiments, I invoke upon all the people of South Africa divine gifts of peace and prosperity.
FRANCISCUS PP.
SHARED FROM RADIO VATICANA
ARCHDIOCESE OF SYDNEY RELEASE:
Catholic Communications, Sydney Archdiocese,
Nelson Mandela was without any doubt one of the greatest men of the 20th Century, according to the Archbishop of Sydney, Cardinal George Pell.
The former anti-apartheid leader and South African president died (Dec. 5) today in his home. He was 95.
"He will long be remembered not simply because he led his people to freedom after decades of servitude under the 'apartheid' regime, but because the victory was peaceful and because he forgave those who had imprisoned him for 27 years," His Eminence said.
"Nelson Mandela will be greatly missed. May he now rest in peace."
This morning at 8.45.am AEDT, South African President Jacob Zuma confirmed the news that Nelson Mandela had died.
"Fellow South Africans, our beloved Nelson Rohila Mandela, the founding president of our democratic nation has departed. Our nation has lost its greatest son," an emotional President Zuma said in a live television address.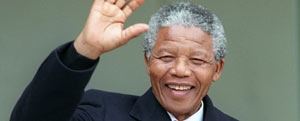 After a six month battle with a persistent lung infection, Nelson Mandela died at his home in Johannesburg surrounded by family.
The former much-loved leader had a long history of lung problems after contracting tuberculosis during his 27 years behind bars on South Africa's Robben Island and later in Pollsmoor prison, Cape Town before being transferred to Victor Verster prison from where he was finally released in 1990.
Finally a free man, the Nobel Peace Prize winner led the African National Congress in negotiations with South Africa's white minority rulers which culminated in the first multi-racial elections of 1994.
Cardinal Pell was present at these historic elections and vividly remembers the long queues of black Africans waiting patiently for hours to vote for the first time in their lives.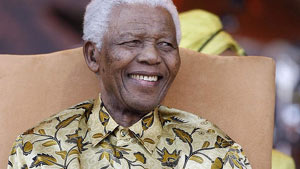 As head of Caritas Australia at the time, His Eminence was part of the delegation of observers sent from Australia at the invitation of the South African Justice and Peace Council.
"One voter I was asked to help in Cape Town where I was appointed as an observer was an old man who was illiterate. When I asked him what party he wanted to support, he replied simply: Mandela," Cardinal Pell says.
During this time in South Africa, His Eminence met with Catholic priests who had visited Mandela during his years in prison and who had described him as a wonderful and remarkable human being.
In 1995, a year after his election as South Africa's first black president, Mandela established a Truth and Reconciliation Commission to hear the crimes and violations of human rights under the apartheid regime, and the following year he inaugurated the new democratic constitution.
"The simple fact of his existence and his example acted as a deterrent to those who were tempted to oppress minorities," Cardinal Pell says.
Today tributes to Nelson Mandela and the inspiration of his life have dominated newscasts and the media worldwide.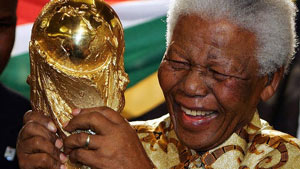 "Nelson Mandela was truly a great man," Australian PM Tony Abbott said this morning. "He was one of the great figures of Africa, arguably one of the great figures of the last century and the father of the modern South Africa."
Although the Australian PM and the former South African president never met, Mr Abbott said he had read Mandela's book, "A Walk to Freedom" which revealed someone who suffered but rather than being embittered had been ennobled through that suffering.
Former Australian PM, Malcolm Fraser who met Mandela during the turbulent years when South Africa was fighting to free itself from the bonds of "apartheid," an era when blacks had no say in their future and were not permitted to vote, says of all the people he has met, Nelson Mandela was by far the greatest.
"I do not know anyone who could stand near to him. In the pages of history, there would be few who would stand as an equal. Respect, concern, compassion a belief in the best of our natures as human beings was central to the way Mandela approached every problem. He was central to the process of change in South Africa. He unified the disparate groups within South Africa. Even the tribal leaders, such as Chief Buthelezi of the Zulus, followed Mandela."
Among the many world leaders who have also paid tribute to South Africa's charismatic former leader was US President Barak Obama. Calling Mandela "a man who took history in his hands and bent the arc of the moral universe towards justice" President Obama said his own historic journey to the White House as America's first black president had been inspired by Mandela.
"Like so many around the globe, I cannot fully imagine my own life without the example set by Nelson Mandela. And so long as I live, I will do what I can to learn from him."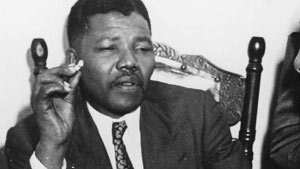 On hearing the news, British PM David Cameron said "a great light has gone out" while UN Secretary General, Ban Ki-Moon called Mandela "a giant for justice."
Born on July 18, 1918 in the village of Mvezo, Nelson Mandela was the first in his family to attend school. Hardworking and a good student he attended a Wesleyan boarding school. Moving to Johannesburg, he joined a liberal Jewish law firm and at night, studied for a Bachelor of Arts degree by correspondence.
By 1942 he had his BA and had enrolled at Wiwatersand University and began his studies for a law degree. The only black student on campus, Mandela suffered many slights, indignities and blatant humiliations. But he insists there was also generosity and many of the whites whom he befriended during this time would later play important roles in the nation's struggle for freedom.
While still in his early 20s, Mandela joined the then outlawed African National Congress and began marching in protests against the racism and cruelty of South Africa's Afrikaner government.
By 1952 he had become one of the four deputy presidents of the movement and was being courted by the Communist party. The Communists saw the ANC's struggle as one of class, unlike Mandela who believed the battle was one of race. Mandela's strong Christian faith also put him at odds with the Communists who do not believe in religion.
But his link to the Communists was nevertheless used by the Afrikaner Government to arrest Mandela and 21 others at the height of what became known as the "defiance campaign." Under South Africa's Suppression of Communist Act, a court sentenced Mandela and the others to nine months hard labour.
Determined to bring freedom and rights to black South Africans, Mandela's activism increased and by 1961 he was commander-in-chief of Umkhonto we Sizwe (Spear of the Nation), the armed wing of the banned ANC and the following year underwent military training in Algeria and Ethiopia.
Arrested in 1962, Mandela's long incarceration began. An initial five year sentence became a life sentence after new sabotage charges were brought. At his trial, he used the court to deliver a speech that became the manifesto and inspiration for South Africa's anti-apartheid movement.
"During my lifetime I have dedicated myself to his struggle of the African people. I have fought against white domination and I have fought against black domination. I have cherished the ideal of a democratic and free society. It is an ideal for which I am prepared to die."
Released 27 years later on 11 February 1990, Mandela embarked on negotiations with the newly-elected Afrikaans President de Klerk to end South Africa's long and ugly era of racist white minority rule.
Under Apartheid, which is Afrikaans for apartness, blacks were separated from whites whether on public transport, at schools, on beaches, in shops, in housing or public swimming pools and toilets.
The negotiations resulted in South Africa's first multi-racial elections. For this extraordinary and far reaching achievement, Nelson Mandela and President de Klerk were awarded the Nobel Peace Prize.
Elected President of the new South Africa, Mandela said his intention was to establish a "rainbow nation at peace with itself and the world."
"We should thank God for him and the then President de Klerk who created a free South Africa," Cardinal Pell said.
SHARED FROM RADIO VATICANA