2013
*POPE FRANCIS "ALWAYS LOOK TO THE LORD" AND LATEST FROM VATICAN
*MILLIONS OF PROTESTERS IN EGYPT CAUSE ARMED FORCES TO ANNOUNCE NEW ELECTION
*JOURNEY TO THE PRIESTHOOD OF DANIEL MCCAUGHAN OF AUSTRALIA
*"DO CATHOLICS REALLY USE CONDOMS" LECTURE BY FR. BABENDREIER - CHASTITY IS POSSIBLE
*FREE CATHOLIC MOVIES - FAUSTINA - WITH DOROTA SEGDA - SAINT OF DIVINE MERCY
*TODAY'S MASS ONLINE : WED. JULY 3, 2013 - ST. THOMAS APOSTLE
*TODAY'S SAINT: JULY 3: ST. THOMAS THE APOSTLE
Vatican Radio REPORT: Christians are called to be courageous in their weakness. We must recognize that we are weak and that, at times, we have to flee from sin without nostalgia, without looking back. We must not let temptation or fear keep us from God. Instead we must learn that 'he who fights and runs away, lives to fight another day!' This was the lesson at the heart of Pope Francis' homily at morning Mass on Tuesday.
Acting with hesitancy, always looking back, being afraid to turn to the Lord, the grace of the Holy Spirit. Pope Francis took his cue from the daily readings to dwell on four "possible attitudes in conflict situations, in difficult situations." The first attitude is that of the "slowness" of Lot. He decided to leave the city before it was destroyed, but he does so slowly. The angel tells him to run away, but he carries within an '"inability to detach himself from evil and sin." The Pope noted that we want to go out, we are determined, "but there is something that pulls us back," and so Lot begins to negotiate even with the angel.
"It's so hard to cut ties with a sinful situation. It is hard! Even in a temptation, it's hard! But the voice of God tells us this word: 'Escape! You cannot fight there, because the fire, the sulfur will kill you. Escape!' St. Therese of the Child Jesus taught us that sometimes, in some temptations, the only solution is to escape and not be ashamed to escape; to recognize that we are weak and we have to escape. And our popular wisdom, in its simplicity, says as much, somewhat ironically: 'he who fights and runs away, lives to fight another day.' Escaping to go forward along the path of Jesus."
The Pope continued that the angel then says "do not look back," to escape and keep your eyes faced forward. Here, he said, is some advice on how to overcome our nostalgia of sin. Think of the People of God in the desert, he stressed: "They had everything, promises, everything." And yet "they were nostalgic for the onions of Egypt" and this "longing made them forget that they ate those onions on the table of slavery." There was the "longing to go back, to return." And the advice of the angel, the Pope observed, "is wise: Do not look back! Move ahead!" We must not do as Lot's wife, we must "leave behind all nostalgia, because there is also the temptation of curiosity."
"Faced with sin, we must escape without any nostalgia. Curiosity does not help, it hurts! 'But, in this sinful world, what can we do? What is this sin like? I would like to know . . . ' No, do not! This curiosity will hurt you! Run away and do not look back! We are weak, all of us, and we must defend ourselves. The third situation is on the boat: it is fear. When there is great upheaval at sea, the boat was covered with the waves. 'Save us, Lord, we are lost!' they say. Fear! Even that is a temptation of the devil: to be afraid to move forward on the path of the Lord."
There is a temptation that says it is "better to stay here," where I'm safe. "But this – warned the Pope - is the slavery of Egypt." "I fear moving forward - the Pope said - I'm afraid of where the Lord will bring me." Fear, however, "is not a good counselor." Jesus, he added, "so many times, said: 'Do not be afraid.' Fear does not help us." The fourth attitude "is the grace of the Holy Spirit." When Jesus calms the agitated sea, the disciples on the boat are filled with awe. "Faced with sin, nostalgia, fear," he said, we must always turn to the Lord.
"Looking to the Lord, contemplating the Lord. This gifts us the beautiful wonder of a new encounter with the Lord. 'Lord, I am being tempted: I want to stay in this situation of sin, Lord, I am curious to know about these things, Lord, I'm afraid.' And they looked to the Lord: 'Save us, Lord, we are lost!' And wonder at a new encounter with Jesus followed. We must not be naive nor lukewarm Christians, but brave, courageous. We are weak, but we must be courageous in our weakness. And often our courage must be expressed in escaping without looking back, so as not to fall into the trap of wicked nostalgia. Do not be afraid and always look to the Lord! ".
Mass was concelebrated by Cardinal Manuel Monteiro de Castro and Archbishop Beniamino Stella, and was attended by a group of priests and employees of the Tribunal of the Apostolic Penitentiary, and a group from the Pontifical Ecclesiastical Academy.
SHARED FROM RADIO VATICANA
AUDIENCES
Vatican City,

3 July 2013

(VIS) - Today, the Holy Father received in audience Archbishop Jean-Louis Brugues O.P., archivist and librarian of the Holy Roman Church.
OTHER PONTIFICAL ACTS
Vatican City,

3 July 2013

(VIS) – Today, the Holy Father:
- appointed Archbishop Tarcisius Gervazio Ziyaye as archbishop of Lilongwe (area 24,025, population 5,064,000, Catholics 1,550,000, priests 84, religious 195), Malawi. Archbishop Ziyaye was previously archbishop of Blantyre, Malawi. He succeeds Archbishop Remi Joseph Gustave Sainte-Marie, M. Afr., whose resignation from the pastoral care of the same archdiocese the Holy Father accepted, upon having reached the age limit.
- appointed Bishop Victor Henry Thakur as archbishop of Raipur (area 60,819, population 15,986,000, Catholics 69,453, priests 146, religious 580), India. Archbishop Thakur was previously bishop of Bettiah, India. He succeeds Archbishop Joseph Augustine Charanakunnel, whose resignation from the pastoral care of the same archdiocese the Holy Father accepted, upon having reached the age limit.
- appointed Fr. Jose Maria Chaves dos Reis, of the clergy of Cameta, Brazil, as bishop of Abaetetuba (area 28,256, population 490,000, Catholics 351,000, priests 32, religious 40), Brazil. The bishop-elect was born in Oeiras do Para, Brazil in 1962 and was ordained a priest in 1996. Currently vicar general and rector of the"Bom Pastor" major seminary in Cameta, he also previously served in the same diocese in the roles of rector of the "Padre Josimo" minor seminary, vicar of the "San Joao Batista" cathedral, and parish priest in the Cathedral of Cameta.
- appointed Msgr Joseph Arshad as bishop of Faisalabad (area 35,300, population 36,207,000, Catholics 155,000, priests 42, permanent deacons 4, religious 129), Pakistan. The bishop-elect was born in Lahore, Pakistan in 1964 and was ordained a priest in 1991. Currently nunciature counsellor to the apostolic nunciature in Bosnia-Herzegovina, he has held roles in the diplomatic service of the apostolic nunciatures of Malta, Sri Lanka, Bangladesh, Madagascar.
- appointed Msgr Joao Gilberto de Moura, of the clergy of Ituiutaba, Brazil, as bishop of Jardim (area 69,972, population 397,000, Catholics 277,000, priests 15, permanent deacons 3, religious 23), Brazil. The bishop-elect was born in Ituiutaba, Brazil in 1963 and was ordained to the priesthood in 1995. He was named prelate of honour by his Holiness in 2008. Currently parish priest in the cathedral "Cristo Rei", judicial vicar of the Ecclesiastic Tribunal of Ituiutaba, and procurator, economist and vicar general of the diocese of Ituiutaba, he has served in a number of pastoral roles in the same diocese.
- appointed Cardinal John Onaiyekan, archbishop of Abuja, Nigeria as apostolic administrator ad nutum Sanctae Sedis of the diocese of Ahiara, Nigeria.
ASIA NEWS REPORT


After suspending the constitution imposed by the Muslim Brotherhood, General Al-Sisi sets Egypt on a course for new elections. When the announcement is made, celebrations break out in Tahrir Square. The grand sheikh of Al Azhar, Coptic Patriarch Tawadros and opposition leader Mohamed El Baradei endorse the move. Meanwhile, Mohamed Morsi's fate is unknown.





Cairo (AsiaNews) - In a televised address, the Commander of the Egyptian Armed Forces General Abdul Fattah al-Sisi suspended the Egyptian constitution and laid out plans for fresh presidential and parliamentary elections. In making his statement, General al-Sisi was flanked by the top chiefs of the Armed Forces and the main Muslim and Coptic Christian religious leaders.
Al-Sisi, who had met representatives of the country's main religions as well as top opposition leaders earlier in the afternoon, said that until the new elections were held, the head of the Constitutional Court would act as interim president.
This effectively signals the ouster of Mohamed Morsi as president of Egypt. He had been elected under the banner of the Muslim Brotherhood-backed party last year. It is still unclear though where he is at present. Some unconfirmed reports say that he is under house arrest, banned from leaving the country.
In his announcement, General Al-Sisi criticised Morsi's statements. Despite the pressure of millions of protesters who have occupied Egypt's streets for four days, the ousted president refused to resign yesterday.
One of the accusations levelled at him was that of favouring the Muslim Brotherhood and an Islamist reorientation of Egyptian society, marginalising the opposition and other religious and social groups.
The commander of the Armed Forces stressed that it was time for Egypt to build a nation in which everyone can contribute irrespective of their religion or group belongs.
Al-Sisi called for a government of technocrats and experts from various social, cultural and religious groups to rewrite the constitution so that it would better reflect Egypt's pluralism.
At the end of his speech, jubilation broke out in an overflowing Tahrir Square, as people shouted their joy, applauded, set off fireworks, and turned on laser beams.
Immediately after the General al-Sisi's televised speed, Al Azhar Grand Sheikh Ahmed al-Tayeb spoke, followed by Coptic Patriarch Tawadros and Mohamed El Baradei, the latter representing the anti-Morsi opposition (National Salvation Front). All three stressed the need for national unity and reconciliation.

Shortly after al-Sisi's address, Morsi issued a statement accusing the army of carrying out a coup d'état.
SHARED FROM ASIA NEWS IT
Catholic Communications, Sydney Archdiocese,
3 Jul 2013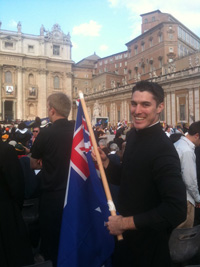 On the eve of his priestly ordination by the Archbishop of Sydney, Cardinal George Pell at St Mary's Cathedral this Saturday, Deacon Daniel McCaughan says his over-riding emotion mixed with anticipation and some nervousness is still "a sense of deep calm and profound peace."
"There is also the wonderful knowledge and complete assurance that I am doing what God wants me to do and that this is absolutely the right step," he says.
On 6 July, Deacon Daniel together Deacon Dominic Pham Hong An Nguyen and Deacon Nicholas Rynne will be ordained into the priesthood by His Eminence and the following day, Sunday, 7 July each will celebrate a Thanksgiving Mass at their home parish in Sydney.
"I will be celebrating the 10.30 am Mass at St Peter's Catholic Church in Surry Hills which is where my family goes to Mass and where I was once an altar server," Deacon Daniel says.

The Sunday Mass at St Peter's will not only be the first time the newly ordained priest will celebrate Mass but in honour of this very special and momentous occasion, the St Peter's church choir is undertaking a new Mass setting which will be launched during the Mass.The choir is also currently rehearsing Stanford's Beati Quorum Via, Thomas Tallis' If Ye Love Me and the return of Cantique de Jean Racine by Gabriel Faure for the Sunday Mass.
Growing up in nearby Kensington 28-year-old Daniel who is the eldest of 11 brothers and sisters shares his family's passion for music. The first of his siblings to participate in the Sydney Conservatorium of Music's program for children, he is not only an accomplished flautist but after entering the Seminary of the Good Shepherd, developed an interest in singing.
A member of the Homebush seminary's renowned Schola, his voice not only won him notice during his years in Sydney but also in Rome where earlier this year he was asked to sing the liturgy at the installation of Pope Francis.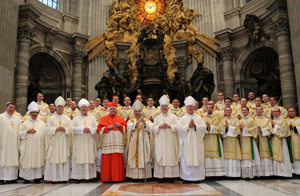 "The Pontifical American College in Rome where I lived is well known for training seminarians to sing and chant in Latin, and each year sends a short list to the Vatican's Liturgy Office of deacons who can sing. My name was on this year's short list and I was asked to sing the Gospel in Latin at the installation mass for the Holy Father. But at the last minute it was decided this would be sung in Greek and instead I was asked to carry the Fisherman's Ring and to sing the other Deacon parts of the Mass," Deacon Daniel explains.
He admits he had no idea he would be carrying the Fisherman's ring as part of the ceremony until the night before. He says he still finds it difficult to absorb the great honour he was given when he watches footage of himself on that historic day when Pope Francis because the head of the world's 1.2 billion Catholics.
"That certainly was the highlight of my time in Rome," he says describing his role as a "magnificent gift."
"Daniel has been particularly blessed by God," says his father, Dr James McCaughan, Honorary Senior Lecturer with the Department of Physics at the Unversity of Sydney and recalls how while still just a toddler, his son had been embraced and blessed by Blessed John Paul II during the pontiff's visit to Australia in 1986.
"Then in 2000 when Daniel was 15, we went to Rome as a family and on 20 May - a day none of us will ever forget - we met His Holiness, Blessed Pope John II in his private library outside the private chapel of the Vatican. There were too many of us to go inside the chapel but somehow we managed to be part of the 20 or so to meet and talk with the Holy Father," Dr McCaughan says. "The Pontiff looked at our 10 children - our youngest was not yet born - and asked who was the eldest. That's when Daniel stepped forward and John Paul II gave him his wonderful look, blessed him and reached out to put his hand on Daniel's cheek."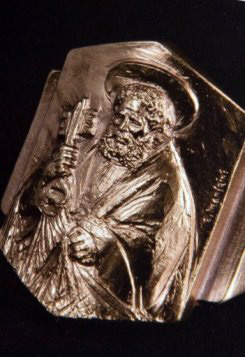 More recently in December last year, just two months after his ordination as a Deacon, the young Australian was again blessed when he was chosen from 33 fellow deacons to be one of the four deacon assistants selected to serve Pope Benedict XVI at Mass over the coming year.
This saw Deacon Daniel assisting at the New Year's Eve Mass at St Peter's Basilica and again on Ash Wednesday, which was the last Mass celebrated by Benedict before his retirement.

Now as he approaches his ordination to the priesthood on Saturday, Deacon Daniel looks back over the seven years of study and discernment first at the Seminary of the Good Shepherd in Sydney and later at Rome's Pontifical North American College and the Pontifical University of the Holy Cross.
"The seminary is no cakewalk," he insists and points out that every seminarian goes through periods of doubt and darkness. "There are times when we don't see our vocation as clearly as we did when we entered the seminary. But by walking trustingly with our Lord during these dark and difficult times, eventually there is light at the end of the tunnel and you emerge with a faith that is deeper and even stronger."
Deacon Daniel began thinking about a priestly vocation as a 12-year-old during the years he was an altar server at St Peter's Church in Surry Hills and believes that from then on becoming a priest it was always at the back of his mind.
During his final year at Redfield College, Dural he says he felt God's call even more strongly, but this was put aside once more when he began his studies for a BA in political science and history with a minor in journalism at the University of Tasmania in Hobart.
"At Uni I did all the usual student things, hung out with my mates, went out with girls and had a great time. But every time I thought about the future, and one day marrying and starting a family, I felt restless and uneasy. I couldn't understand why I should feel like that way. I'd always been super attracted to the idea of marriage and family, and had been inspired by my own parents' who are a wonderful model of what a Christian marriage should be. But in 2005 I realised at last that while marriage and having a family is a wonderful vocation and blessing, they were not for me."
Deacon Daniel was in his third year when he says it finally hit him that God's call could be ignored no longer.
"I was walking across the campus wondering what I would do post-uni, and what path I would take, when I realised I had no option. The path God had chosen for me was the priesthood," he says.
Laughing he recalls how he threw up his hands and said: "Okay God, you win!"
Less than two months after graduating with a BA, Deacon Daniel entered the Seminary of the Good Shepherd, Homebush and embarked on his studies for the priesthood.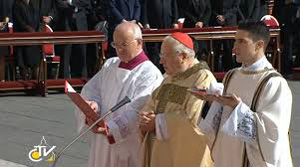 "I arrived back in Sydney from Rome last Sunday, so there has been all the excitement of being back with my brothers and sisters, parents and large extended family as well as my friends. There's also been a bit of stress with so much organising and things to do. But the transcendent emotion dominating everything is this wonderful and very deep sense of calm and peace."

Deacon Daniel says he has only felt this profound peace and calm once before in his life and this was in October last year on the eve of his ordination as a Deacon.
Once he is ordained by Cardinal Pell, Deacon Daniel will become a priest of the Archdiocese of Sydney but his stay in the city of his birth will be brief.
"On 15 January I am helping lead a group for outreach missions in Lima and then on to World Youth Day in Rio," he says. This will be followed by a few weeks at home with his what he calls "my fantastic boisterous loving family" before he returns to Rome in September to complete his fifth and final year of studies for his Licentiate in Moral Theology.
All are invited to the Ordination Mass at St Mary's Cathedral on Saturday, 6 July at 10am. Obviously it will be a very special day for Daniel but also one his father will never forget - he celebrates his birthday the same day.
SHARED FROM ARCHDIOCESE OF SYDNEY
CISA NEWS REPORT
MOMBASA, July 02, 2012 (CISA)-100 people, including a number of university students, attended lecture on "Do Good Catholics Really Use Condoms?" at the Hall beside Holy Ghost Cathedral in Mombasa. The lecture was organized by the Archdiocese of Mombasa.
Fr Joe Babendreier, columnist in The Sunday Times and The Seed, ex Manhattan salesman, engineer and Strathmore School chaplain mesmerized his audience with tales of the parties he did attend in New York.
The bottom line is that chastity is possible.
There were representatives present from almost all of the parishes of Mombasa.
The audience fired questions to Fr Joe about how to handle customers in a Chemist shop who ask for contraceptives and also asked why people attack the Catholic Church on these issues. He replied by saying that the Church stands for truth and some people want to attack the truth.
The lecture was in response to the recent push from the so called "Catholic for a Choice" group in relation to use of condoms.
Fr Joe pointed out that the basic moral issue at stake was that premarital and extramarital sex are always evil, that no one can engage in such acts and consider himself "good", "not a Catholic, not a Protestant, not a Muslim, not a Hindu and not even an atheist."
Mr Dalmas Omondi, a lawyer, is "in favour of having more of these kind of lectures that inform us on topical issues and help us to know the teaching of the Church clearly, so as to witness to it in the Year of Faith".
IN HONOR OF THE YEAR OF FAITH- JCE WORLD NEWS IS SHARING
Faustina (2004)
Dorota Segda

(Actor)

, Danuta Szaflarska

(Actor)

, Jerzy Lukaszewicz

(Director)
Polish with English subtitles.

Sister Maria Faustina (born Helena Kowalska in Glogowiec, Poland on August 25, 1905) was canonized on April 30, 2000 by Pope John Paul II.
Saint Faustina died in 1938 after a long and painful battle with tuberculosis. A record of her life is her diary covering four years of her life. She was also granted permission by the Church to commission a painting which is now known the world over as the "Divine Mercy."
Feast of Saint Thomas, Apostle
Lectionary: 593
Reading 1
EPH 2:19-22
Brothers and sisters:
You are no longer strangers and sojourners,
but you are fellow citizens with the holy ones
and members of the household of God,
built upon the foundation of the Apostles and prophets,
with Christ Jesus himself as the capstone.
Through him the whole structure is held together
and grows into a temple sacred in the Lord;
in him you also are being built together
into a dwelling place of God in the Spirit.
Responsorial Psalm PS 117:1BC, 2
R. (Mark 16:15)

Go out to all the world and tell the Good News.


Praise the LORD, all you nations;
glorify him, all you peoples!
R.

Go out to all the world and tell the Good News.


For steadfast is his kindness for us,
and the fidelity of the LORD endures forever.
R.

Go out to all the world and tell the Good News.
Gospel JN 20:24-29
Thomas, called Didymus, one of the Twelve,
was not with them when Jesus came.
So the other disciples said to him, "We have seen the Lord."
But Thomas said to them,
"Unless I see the mark of the nails in his hands
and put my finger into the nailmarks
and put my hand into his side, I will not believe."
Now a week later his disciples were again inside
and Thomas was with them.
Jesus came, although the doors were locked,
and stood in their midst and said, "Peace be with you."
Then he said to Thomas, "Put your finger here and see my hands,
and bring your hand and put it into my side,
and do not be unbelieving, but believe."
Thomas answered and said to him, "My Lord and my God!"
Jesus said to him, "Have you come to believe because you have seen me?
Blessed are those who have not seen and have believed."


Information:

| | |
| --- | --- |
| Feast Day: | July 3 |
| Died: | 72 in India |
| Patron of: | against doubt, architects, blind people, builders, East Indies, geometricians, India, masons, Pakistan, Sri Lanka, surveyors, theologians |

Little is recorded of St.Thomas the Apostle, nevertheless thanks to the fourth Gospel his personality is clearer to us than that of some others of the Twelve. His name occurs in all the lists of the Synoptists (Matthew 10:3; Mark 3:18; Luke 6, cf. Acts 1:13), but in St.John he plays a distinctive part. First, when Jesus announced His intention of returning to Judea to visit Lazarus, "Thomas" who is called Didymus [the twin], said to his fellow disciples: "Let us also go, that we may die with him" (John 11:16). Again it was St. Thomas who during the discourse before the Last Supper raised an objection:" Thomas saith to him : Lord, we know not whither thou goest; and how can we know the way?" (John 14:5). But more especially St. Thomas is remembered for his incredulity when the other Apostles announced Christ's Resurrection to him: " Except I shall see in his hands the print of the nails, and put my finger into the place of the nails, and put my hand into his side, I will not believe" (John 20:25); but eight days later he made his act of faith, drawing down the rebuke of Jesus: "Because thou hast seen me, Thomas, thou hast believed; blessed are they that have not seen, and have believed" (John 20:29).

This exhausts all our certain knowledge regarding the Apostle but his name is the starting point of a considerable apocryphal literature, and there are also certain historical data which suggest that some of this apocryphal material may contains germs of truth. The principal document concerning him is the "Acta Thomae", preserved to us with some variations both in Greek and in Syriac, and bearing unmistakeable signs of its Gnostic origin. It may indeed be the work of Bardesanes himself. The story in many of its particulars is utterly extravagant, but it is the early date, being assigned by Harnack (Chronologie, ii, 172) to the beginning of the third century, before A. D. 220. If the place of its origin is really Edessa, as Harnack and others for sound reasons supposed (ibid., p. 176), this would lend considerable probability to the statement, explicitly made in "Acta" (Bonnet, cap. 170, p.286), that the relics of Apostle Thomas, which we know to have been venerated at Edessa, had really come from the East. The extravagance of the legend may be judged from the fact that in more than one place (cap. 31, p. 148) it represents Thomas (Judas Thomas, as he is called here and elsewhere in Syriac tradition) as the twin brother of Jesus. The Thomas in Syriac is equivalant to XXXXX in Greek, and means twin. Rendel Harris who exaggerates very much the cult of the Dioscuri, wishes to regards this as a transformation of a pagan worship of Edessa but the point is at best problematical. The story itself runs briefly as follows: At the division of the Apostles, India fell to the lot of Thomas, but he declared his inability to go, whereupon his Master Jesus appeared in a supernatural way to Abban, the envoy of Gundafor, an Indian king, and sold Thomas to him to be his slave and serve Gundafor as a carpender. Then Abban and Thomas sailed away until they came to Andrapolis, where they landed and attended the marriage feast of the ruler's daughter. Strange occurences followed and Christ under the appearence of Thomas exhorted the bride to remain a Virgin. Coming to India Thomas undertook to build a palace for Gundafor, but spend the money entrusted to him on the poor. Gundafor imprisoned him; but the Apostle escaped miraculously and Gundafor was converted. Going about the country to preach, Thomas met with strange adventures from dragons and wild asses. Then he came to the city of King Misdai (Syriac Mazdai), where he converted Tertia the wife of Misdai and Vazan his son. After this he was condemed to death, led out of city to a hill, and pierced through with spears by four soldiers. He was buried in the tomb of the ancient kings but his remains were afterwards removed to the West.

Now it is certainly a remarkable fact that about the year A.D. 46 a king was reigning over that part of Asia south of Himalayas now represented by Afghanistan, Baluchistan, the Punjab, and Sind, who bore the name Gondophernes or Guduphara. This we know both from the discovery of coins, some of the Parthian type with Greek legends, others of the Indian types with the legends in an Indian dialect in Kharoshthi characters. Despite sundry minor variations the identity of the name with the Gundafor of the "Acta Thomae" is unmistakable and is hardly disputed. Further we have the evidence of the Takht-i-Bahi inscription, which is dated and which the best specialists accept as establishing the King Gunduphara probably began to reign about A.D. 20 and was still reigning in 46. Again there are excellent reasons for believing that Misdai or Mazdai may well be transformation of a Hindu name made on the Iranian soil. In this case it will probably represent a certain King Vasudeva of Mathura, a successor of Kanishka. No doubt it can be urged that the Gnostic romancer who wrote the "Acta Thomae" may have adopted a few historical Indian names to lend verisimilitude to his fabrication, but as Mr. Fleet urges in his severely critical paper "the names put forward here in connection with St.Thomas are distinctly not such as have lived in Indian story and tradition" (Joul. of R. Asiatic Soc.,1905, p.235).

On the other hand, though the tradition that St. Thomas preached in "India" was widely spread in both East and West and is to be found in such writers as Ephraem Syrus, Ambrose, Paulinus, Jerome, and, later Gregory of Tours and others, still it is difficult to discover any adequate support for the long-accepted belief that St. Thomas pushed his missionary journeys as far south as Mylapore, not far from Madras, and there suffered martyrdom. In that region is still to be found a granite bas-relief cross with a Pahlavi (ancient Persian) inscription dating from the seventh century, and the tradition that it was here that St. Thomas laid down his life is locally very strong. Certain it is also that on the Malabar or west coast of southern India a body of Christians still exists using a form of Syriac for its liturgical language. Whether this Church dates from the time of St. Thomas the Apostle (there was a Syro-Chaldean bishop John "from India and Persia" who assisted at the Council of Nicea in 325) or whether the Gospel was first preached there in 345 owing to the Persian persecution under Shapur (or Sapor), or whether the Syrian missionaries who accompanied a certain Thomas Cana penetrated to the Malabar coast about the year 745 seems difficult to determine. We know only that in the sixth century Cosmas Indicopleustes speaks of the existence of Christians at Male (?Malabar) under a bishop who had been consecrated in Persia. King Alfred the Great is stated in the "Anglo-Saxon Chronicle" to have sent an expedition to establish relations with these Christians of the Far East. On the other hand the reputed relics of St. Thomas were certainly at Edessa in the fourth century, and there they remained until they were translated to Chios in 1258 and towards to Ortona. The improbable suggestion that St. Thomas preached in America (American Eccles. Rev., 1899, pp.1-18) is based upon a misunderstanding of the text of the Acts of Apostles (i, 8; cf. Berchet "Fonte italiane per la storia della scoperta del Nuovo Mondo", II, 236, and I, 44).

Besides the "Acta Thomae" of which a different and notably shorter redaction exists in Ethiopic and Latin, we have an abbreviated form of a so-called "Gospel of Thomas" originally Gnostic, as we know it now merely a fantastical history of the childhood of Jesus, without any notably heretical colouring. There is also a "Revelatio Thomae", condemned as apocryphal in the Degree of Pope Gelasius, which has recently been recovered from various sources in a fragmentary condition


source: http://www.ewtn.com/saintsHoly/saints/T/stthomas.asp#ixzz1R4TkmFUX