PAPAL INDULGENCES FOR WORLD YOUTH DAY
Vatican City, 9 July 2013 (VIS) – According to a decree made public today and signed by Cardinal Manuel Monteiro de Castro and Bishop Krzysztof Nykiel, respectively penitentiary major and regent of the Apostolic Penitentiary, Pope Francis will grant Indulgence to the faithful participating in celebrations for 28th World Youth Day, to be held in Rio de Janeiro, Brazil from

22 to 29 July

on the theme "Go and make disciples of all nations".
The young people and the faithful who are adequately prepared will obtain the Plenary Indulgence, once a day and under the usual conditions (sacramental Confession, Eucharistic communion and prayer in accordance with the intentions of the Holy Father), applicable also to the souls of deceased faithful.
The faithful who on account of a legitimate impediment cannot attend the aforementioned celebrations may obtain Plenary Indulgence under the usual spiritual, sacramental and prayer conditions, in a spirit of filial submission to the Roman Pontiff, by participation in the sacred functions on the days indicated, following the same rites and spiritual exercises as they occur via television or radio or, with due devotion, via the new means of social communication.
Partial Indulgence will be conceded to all the faithful who, in any place and between the indicated days, with a contrite heart raise devout prayers to God, concluding with the official prayer of the World Youth Day and invoking the Blessed Virgin Mary, Queen of Brazil, with the title "Nossa Senhora da Conceicao Aparecida" as well as other patrons and intercessors of the same meeting, that they may encourage the young to reinforce their faith and lead a holy life.
POPE FRANCIS: BE FEARLESS, HUMBLE AND JOYFUL WITNESSES TO THE GOSPEL
Vatican City, 9 July 2013 (VIS) – On the afternoon of Saturday 6 July in the Vatican's Paul VI Hall the Pope met with seminarians, novices and young people discerning their vocations in celebration of the Year of Faith. In a lively environment with profound testimonies and music, the young people awaited the arrival of the Holy Father, who was received with enthusiastic applause. "Now you applaud, and you celebrate, as this is the time of your 'honeymoon'", said the Pope, "but when the honeymoon ends, what happens next? I heard a seminarian, a good seminarian, who said he wanted to serve Christ, but for just ten years, after which he would think about starting a new life... This is dangerous! Listen carefully: all of us, even the oldest among us, we too find ourselves under pressure from this culture of the provisional; and this is dangerous, because we no longer commit our lives once and for all. I'll be married for as long as I'm in love, I'll become a nun for a little while, and then we'll see; I'll become a seminarian to become a priest but I'm not sure how it will turn out. This is not what Jesus wants! … Nowadays, making a definitive choice is very difficult. It was easier in my day, because culturally a definitive choice was preferred, be it for matrimonial life, or consecrated life, or the priestly life. But in the present day a definitive choice is not easy. We are all victims of this culture of the provisional".
"I would like you to think about this", the Holy Father continued: "How can be we free of this culture of the provisional? We need to learn how to close the door of our innermost being, from the inside. … but when we always leave a key outside, just in case – that is not enough. We need to learn to close the door from the inside! And if I am not sure, I think, I will take my time, and when I feel sure – in Jesus, you understand, because without Jesus no-one is sure! - when I feel sure, I'll close the door. Do you understand this? What is the culture of the provisional?"
The Holy Father commented that wherever there are consecrated persons, seminarians, religious and young people, there is joy. "But where does this joy come from? … And

on Saturday

night, shall I return to going out dancing with my old friends?... Does joy come from the things I own .. from having the most extreme experiences?". The Pope advised that if is necessary to buy something - a telephone, a scooter or a car, for instance – one should shun ostentatiousness in favour of humbler options, and consider how many children still die of hunger.
"True joy is not found in material things", he continued. "It is born of the encounter and relations with others, from feeling accepted, understood and loved; from accepting, understanding and loving; and not for the sake of a fleeting interest. … Joy is born of the gratification of encountering others, of hearing oneself say 'You are important to me', and not necessarily in words. This is beautiful, and this is what God helps us to understand".
"True joy is contagious, and sustains us. However, when you find a seminarian or a novice who is too serious, too sad, something isn't right! They do not share in the joy of the Lord. … Sadness is not holiness! St. Teresa said, "A sad nun is a bad nun" … Please, no more sour-faced nuns or priests!" .
Pope Francis repeated that "the root of sadness in pastoral life lies precisely in that lack of paternal or maternal feeling that comes from a poor experience of consecration, which should instead lead to fruitfulness. It is impossible to conceive of a priest or nun who is not fruitful: this is not Catholic! This joy is the beauty of consecration".
"To be joyful witnesses to the Gospel you need to be authentic and coherent", he went on. "And this is another word I wish to emphasise to you -authenticity. Jesus fought against hypocrites, against those who, to put it clearly, are two-faced. … This is a responsibility for all adults, all formators. And to those formators present here today, I urge you to give an example of coherence to the young. Do we want coherent young people? Then we must be coherent ourselves! On the contrary, the Lord recounts what the Pharisees said to the people of God: 'Do what they say, but not what they do!' Coherence and authenticity!"
The Holy Father urged the young people to be transparent in confession and to tell the truth without fear, as this transparency makes us humble. "Tell the truth without hiding anything,without unclear words, as you are speaking to Jesus through your confessor, and Jesus knows the truth. Only He always forgives!"
The Pope emphasised that, a vocation is based on four pillars: spiritual life, intellectual life, apostolic life and community life". Here the Holy Father stressed the dangers of gossip, a problem born of community life. "Gossip conceals envy, jealousy, ambition". He commented that "not speaking ill of others is a good route to holiness!" and reiterated the importance of cultivating friendships to avoid both isolation or profligacy in relationships, as "a priest or other consecrated person can never be an island, but rather must always be willing to encounter others".
Pope Francis concluded by emphasising the need for a missionary Church, not a passive Church, and urged the young people present not to fall prey to the temptation to participate in the "sport of complaining". Instead, he encouraged them to "be positive, cultivate a spiritual life and, at the same time, go forth, be capable of meeting people, especially the most scorned and disadvantaged. Do not be afraid of swimming against the current. Be contemplative and missionary. Keep the Virgin Mary with you always, and please, pray the Rosary, do not forget! Keep Our Lady with you in your homes, just as the Apostle John did. May she accompany and protect you always. And pray for me too, because I too need your prayers; I too am a poor sinner, although we continue to press forward".
Finally, all those present proceeded from the Vatican Gardens to St. Peter's Basilica.
AUDIENCES
Vatican City, 9 July 2013 (VIS) – Today, the Holy Father received in audience:
- Cardinal Peter Kodwo Appiah Turkson, president of the Pontifical Council for Justice and Peace.
- Cardinal Marc Ouellet, P.S.S., prefect of the Congregation for Bishops.
OTHER PONTIFICAL ACTS
Vatican City, 9 July 2013 (VIS) – Today, the Holy Father:
- gave his assent to the canonical election by the Synod of Bishops of the Greek-Melkite Church of Archimandrite Eduard Daher B.C. of the clergy of St. Elie in Zahle, as archbishop of Tripoli of Lebanon of the Greek Melkites.
- appointed Bishop Marcelo Daniel Colombo as bishop of La Rioja (area 92,100, population 350,000, Catholics 320,000, priests 43, permanent deacons 1, religious 35), Argentina. Bishop Colombo, previously bishop of Oran, was born in Buenos Aires, Argentina in 1961, was ordained to the priesthood in 1988, and received episcopal ordination in 2008. He succeeds Bishop Roberto Rodriguez, whose resignation from the pastoral care of the same diocese the Holy Father accepted, upon having reached the age limit.
- appointed Fr. Juan Jose Chaparro Stivanello, C.M.F., as bishop of San Carlos de Bariloche (area 77,076, population 174,300, Catholics 123,100, priests 26, permanent deacons 2, religious 53), Argentina. The bishop-elect was born in Colonia Freitas, Argentina in 1953 and was ordained a priest in 1980. He holds a licentiate in dogmatic theology from the Gregorian Pontifical University and has served as provincial superior of the Province of Argentina-Uruguay, provincial coordinator of evangelization in Montevideo, Uruguay. He was appointed consultor of the province of San Jose del Sur in 2011 and superior of the community of Lambare, Paraguay, in 2013.
A Horrible Train accident in Lac-Megantic, Quebec, Canada left many dead on Saturday July, 6, 2013. A train derailed and exploded at the center of town. 15 are confirmed dead. Police are conducting a criminal investigation. An empty 72-car train carrying crude oil rolled by itself down a hill into town.
It is believed that the brakes of the train malfunctioned while it was parked in Nantes, the nearby town. Over 30 people are still missing and are thought to be burned beyond recognition by the explosion.
The train traveled for 18 minutes for about 11 Km then jumped the tracks at 101 Kilometers per hour.
Five of the oil cars exploded. About 30 buildings were destroyed including a popular bar called the Musi-Cafe. (Photos released by Quebec Provincial Police)
Catholic Communications, Sydney Archdiocese RELEASE
9 Jul 2013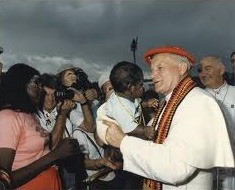 As non-Indigenous and Indigenous Australians join together for NAIDOC to celebrate the culture, history and achievements of the nation's Indigenous people, the National Aboriginal and Torres Strait Islander Council (NATSICC) has announced the establishment of a National Consultation into the unique contribution and special gifts Australia's first people bring to the Church.
"The consultation is aimed at discovering what can be done by Indigenous Catholics to bring to life the immortal words of Blessed John Paul II in Alice Springs in 1986,"explains Craig Arthur, National Administrator for NATSICC.
In his landmark speech to the people of Alice Springs, the late Holy Father said "the Church herself in Australia will not be fully the Church that Jesus wants her to be until you have made your contribution to her life and until that contribution has been joyfully received by others."
"As the peak Indigenous advisory body to the ACBC, we are proud to launch this two year consultation which will be made in collaboration with Aboriginal and Islander Catholic Ministries, councils and communities, Australia's bishops and the National Liturgical Council," he says.
The announcement of a National Consultation into Indigenous Inculturation of the Catholic Church of Australia was made on the eve of National Aboriginal and Torres Strait Islander Sunday which was celebrated on 7 July. Coincidently the announcement came on the same day as the joyous news from the Vatican that Blessed John Paul II would be canonised before the end of the year.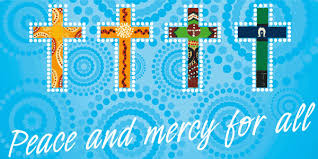 JP11 is much loved across the world and his visit to Alice Springs 27 years ago continues to resonate strongly with Australia's Indigenous people.
Craig Arthur says the National Consultation will focus on three key areas and will cover Liturgy, symbols and the involvement of the laity.
"As stated by the Second Vatican Council, Liturgy is the centre of Christian life for the Church and the outstanding means whereby the faithful may express in their lives and manifest to others the mystery of Christ," Thelma Parker, Chair of NATSICC says.
Each year a special Liturgy is created by NATSICC to mark Aboriginal and Torres Strait Islander Sunday and is sent to parishes and Aboriginal Catholic Ministries across the country.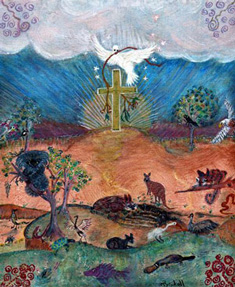 "Aboriginal and Torres Strait Islanders are deeply spiritual and through the consultation, NATSICC hopes to make whole our contribution to the life of the Church in Australia," Ms Parker says.
She points out that while cultural systems, life experiences and the history of Australia's Indigenous peoples are diverse and can vary dramatically from community to community, the National Consultation will respect and embrace these differences.
"This is about what we can do instead of what we can't," she says.
Bishop Christopher Saunders, Chair of the Australian Catholic Social Justice Council (ACSJC) welcomes the launch of this National Consultation which will foster greater understanding and create stronger bonds between Indigenous and Non Indigenous Australians.
"To establish an authentic unity among peoples, a just relationship must be forged with humility and driven by prayerful love. Any gulf between cultures that gives rise to exclusions, suffering, despair and injustice cannot be tolerated," he insists.
The National Consultation will result in a final report and series of recommendations which will be presented to the NATSICC National Assembly to be held in Darwin in 2015.
Many leading Indigenous Catholics are taking part in this week's NAIDOC celebrations. The annual NAIDOC Ball and Awards Ceremony, the culmination of the week of Indigenous culture, history and achievements, will be held in Perth this year on Friday, 12 July.
SHARED FROM ARCHDIOCESE OF SYDNEY
Tuesday of the Fourteenth Week in Ordinary Time
Lectionary: 384
Reading 1 GN 32:23-33
In the course of the night, Jacob arose, took his two wives,
with the two maidservants and his eleven children,
and crossed the ford of the Jabbok.
After he had taken them across the stream
and had brought over all his possessions,
Jacob was left there alone.
Then some man wrestled with him until the break of dawn.
When the man saw that he could not prevail over him,
he struck Jacob's hip at its socket,
so that the hip socket was wrenched as they wrestled.
The man then said, "Let me go, for it is daybreak."
But Jacob said, "I will not let you go until you bless me."
The man asked, "What is your name?"
He answered, "Jacob."
Then the man said,
"You shall no longer be spoken of as Jacob, but as Israel,
because you have contended with divine and human beings
and have prevailed."
Jacob then asked him, "Do tell me your name, please."
He answered, "Why should you want to know my name?"
With that, he bade him farewell.
Jacob named the place Peniel,
"Because I have seen God face to face," he said,
"yet my life has been spared."

At sunrise, as he left Penuel,
Jacob limped along because of his hip.
That is why, to this day, the children of Israel do not eat
the sciatic muscle that is on the hip socket,
inasmuch as Jacob's hip socket was struck at the sciatic muscle.
Responsorial Psalm PS 17:1B, 2-3, 6-7AB, 8B AND 15
R. (15a)

In justice, I shall behold your face, O Lord.


Hear, O LORD, a just suit;
attend to my outcry;
hearken to my prayer from lips without deceit.
R.

In justice, I shall behold your face, O Lord.


From you let my judgment come;
your eyes behold what is right.
Though you test my heart, searching it in the night,
though you try me with fire, you shall find no malice in me.
R.

In justice, I shall behold your face, O Lord.


I call upon you, for you will answer me, O God;
incline your ear to me; hear my word.
Show your wondrous mercies,
O savior of those who flee from their foes.
R.

In justice, I shall behold your face, O Lord.


Hide me in the shadow of your wings.
I in justice shall behold your face;
on waking, I shall be content in your presence.
R.

In justice, I shall behold your face, O Lord.
Gospel MT 9:32-38
A demoniac who could not speak was brought to Jesus,
and when the demon was driven out the mute man spoke.
The crowds were amazed and said,
"Nothing like this has ever been seen in Israel."
But the Pharisees said,
"He drives out demons by the prince of demons."

Jesus went around to all the towns and villages,
teaching in their synagogues,
proclaiming the Gospel of the Kingdom,
and curing every disease and illness.
At the sight of the crowds, his heart was moved with pity for them
because they were troubled and abandoned,
like sheep without a shepherd.
Then he said to his disciples,
"The harvest is abundant but the laborers are few;
so ask the master of the harvest
to send out laborers for his harvest."
CAPUCHIN MYSTIC
Feast: July 9
Information:

| | |
| --- | --- |
| Feast Day: | July 9 |
| Born: | 1660, Mercatello in the Duchy of Urbino |
| Died: | 9 July 1727, Città di Castello |
| Canonized: | 1839 by Pope Gregory XVI |
| Major Shrine: | Monastery of St. Veronica Giuliani, Città di Castello |

Born at Mercatello in the Duchy of Urbino, Italy, 1660; died at Citt' di Castello, 9 July, 1727. Her parents, Francesco Giuliana and Benedetta Mancini, were both of gentle birth. In baptism she was named Ursula, and showed marvelous signs of sanctity. When but eighteen months old she uttered her first words to upbraid a shopman who was serving a false measure of oil, saying distinctly: "Do justice, God sees you." At the age of three years she began to be favoured with Divine communications, and to show great compassion for the poor. She would set apart a portion of her food for them, and even part with her clothes when she met a poor child scantily clad. These traits and a great love for the Cross developed as she grew older. When others did not readily join in her religious practices she was inclined to be dictatorial. In her sixteenth year this imperfection of character was brought home to her in a vision in which she saw her own heart as a heart of steel. In her writings she confesses that she took a certain pleasure in the more stately circumstances which her family adopted when her father was appointed superintendent of finance at Piacenza. But this did not in any way affect her early-formed resolution to dedicate herself to religion, although her father urged her to marry and procured for her several suitors as soon as she became of marriageable age. Owing to her father's opposition to her desire to enter a convent, Veronica fell ill and only recovered when he gave his consent.

In 1677 she was received into the convent of the Capuchin Poor Clares in Citt' di Castello, taking the name of Veronica in memory of the Passion. At the conclusion of the ceremony of her reception the bishop said to the abbess: "I commend this new daughter to your special care, for she will one day be a great saint." She became absolutely submissive to the will of her directors, though her novitiate was marked by extraordinary interior trials and temptations to return to the world. At her profession in 1678 she conceived a great desire to suffer in union with our Saviour crucified for the conversion of sinners. About this time she had a vision of Christ bearing His cross and henceforth suffered an acute physical pain in her heart. After her death the figure of the cross was found impressed upon her heart. In 1693 she entered upon a new phase in her spiritual life, when she had a vision of the chalice symbolizing the Divine Passion which was to be re-enacted in her own soul. At first she shrank from accepting it and only be great effort eventually submitted. She then began to endure intense spiritual suffering. In 1694 she received the impression of the Crown of Thorns, the wounds being visible and the pain permanent. By order of the bishop she submitted to medical treatment, but obtained no relief. Yet, although she lived in this supernaturally mystical life, she was a practical woman of affairs. For thirty-four years she was novice-mistress, and guided the novices with great prudence. It is noticeable that she would not allow them to read mystical books. In 1716 she was elected abbess and whilst holding that office enlarged the convent and had a good system of water-pipes laid down, the convent hitherto having been without a proper water supply. She was canonized by Gregory XVI in 1839. She is usually represented crowned with thorns and embracing the Cross.


SOURCE: http://www.ewtn.com/saintsHoly/saints/V/stveronicagiuliani.asp#ixzz1RbmSZIZn