UCAN REPORT
Bodily remains unearthed in seminary
Ryan Dagur, Jakarta
Indonesia
2013-02-06 16:40:00
A man claiming to be responsible for the death of three people, whose remains were recently unearthed in the compound of a seminary in East Nusa Tenggara, has turned himself in to police.
A Sikka district police official and head of the criminal investigation unit said Tuesday that Herman Jumat Masan was in their custody and had confessed to being involved in the death of Yosefin Keredok Payong and her two children. Both children were fathered by him.
"He is now being held in the district's police station for further legal action. We have strong evidence linking him to the loss of three lives," the official said.
Yosefin, whose identity was confirmed through DNA testing, was reported missing in 2002. She was a nun with the Congregation of the Missionary Sisters Servants of the Holy Spirit at the time of her disappearance.
Her remains and those of her two children were discovered last week in the compound of a school operated by the St Peter Major Seminary in Sikka district. They have since been turned over to family members.
The district police official said Masan arrived on Monday from East Kalimantan, where the former diocesan priest – he left the priesthood in 2008 – was employed.
In a report on Wednesday, the Flores Pos – a publication operated by the Society of the Divine Word – quoted Masan as saying Yosefin had an affair with him while he was a priest and gave birth to their first child in 1999.
"The boy was born alive. Yosefin and I could not bear the social stigma of this birth. I covered his mouth. Eventually he died and I buried him in front of the house in Lela," Masan told Flores Pos, referring to a facility operated by St Peter Major Seminary.
"The second birth took place around March 2002. The mother could not deliver safely because the placenta could not come out. So both mother and baby died," Masan told Flores Pos.
He said he had asked Yosefin to go to hospital but that she had refused.
"I dug their graves myself while other community members were attending an event," he said.
"From the deepest part of my heart, I deliver my apologies to the victims' family and all related parties for the case I am now facing. I'm ready to take responsibility."
According to Flores Pos, Masan at the time of the deaths was serving as a priest in Larantuka diocese and also held the post of associate at the seminary's school.
Related reports
SHARED FROM UCAN NEWS
SHARED FROM UCAN NEWS
Catholic Communications, Sydney Archdiocese,
7 Feb 2013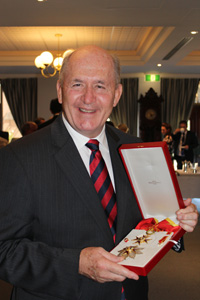 General Peter Cosgrove has received many awards for his outstanding service as an army officer, as Australia's Chief of the Australian Defence Force as well as his work as Leader of the Cyclone Larry Taskforce in 2006. But for the Chancellor of the Australian Catholic University (ACU), the Papal Knighthood conferred on him today by the Archbishop of Sydney, Cardinal George Pell is a very special honour that he says is both "humbling and unexpected."
General Cosgrove along with Charles Curran AC, a Sydney-based business man, philanthropist, former stockbroker and founder of St Vincent's Hospital's Curran Foundation at St Vincent's Campus were conferred with the Knighthood of the Grand Cross of the Order of St Gregory the Great by Cardinal Pell this afternoon.
Patrick Bugden, long time member of the Sydney Archdiocesan Finance Committee and inaugural Chairman of Archdiocesan Investment Committee and selfless dedicated member of the Catholic and wider Sydney community was also honoured and created a Knight Commander of the Order of St Gregory the Great.
The ceremony was held at Cathedral House and attended by the three men, their immediate families and close friends.
On hearing he would be honoured at today's ceremony, General Cosgrove admits that initially he was completely taken aback and surprised.
"But later on reflection I felt greatly honoured and my family are enormously proud," he says.
General Cosgrove who was named Australian of the Year in 2001 was created a Knight of the Sovereign Military Hospitaller Order of St John of Jerusalem and Malta the following year.
"It was an honour to receive this military award. But now I am retired from the military, to receive this very high honour is a tremendous and added joy," he says.
For General Cosgrove being created a Knight Grand Cross of the Order of St Gregory the Great was not only a great honour, but was given added significance from his understanding of the different awards the Church confers on the laity, and the great honour he has been given.
General Cosgrove who has always been proud to be known as a committed and dedicated Catholic, and who during his years with the Military was always conscious of the religious welfare of those under his command, believes the Papal honour conferred on him today should be seen in context not only of his role as Chancellor of ACU but of the University itself.
Professor Greg Craven, Vice Chancellor of ACU and who was also present at the ceremony, described the General's Papal Knighthood today as a "wonderful tribute to a wonderful Catholic and reflects its lustre on the Church as well as on the University."
Charles Curran equally modest about being singled out for the honour insisting it was not only "unexpected but undeserved."
However anyone who knows or has worked alongside this remarkable man, including members of the Board of St Vincent's Public Hospital and the Board of the Garvan Institute of Research where he was chair of both boards over many years, today's Papal award is well-deserved.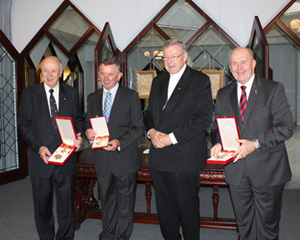 "Late last year, at the opening of the Kinghorn Cancer Centre in Darlinghurst, the Prime Minister Julia Gillard described the St Vincent's Campus as 'per square metre, perhaps the greatest concentration of medical care and research excellence in the nation'. All of us present that day took great pride in these words, but no-doubt none more so than Charles Curran. Simply put, the Campus would not be what it is today without his vision, stewardship and generosity,"says Paul Robertson AM, Chairman St Vincent's Health Australia.
"This award represents a proud day for the Curran Family and indeed the St Vincent's community as a whole."
For more than three decades Mr Curran has made extraordinarily generous contributions to the Catholic Church, the broader Australian community and St Vincent's Public Hospital and St Vincent's Campus in particular.
An endowment from his parents, Paul and Elizabeth Curran resulted in him creating the Curran Foundation in their name in 1984 to ensure a perpetual source of funding for St Vincent's Hospital and Campus and to foster advances and excellence in patient care, teaching and research.
To date the Curran Foundation has made 500 grants worth a total of more than $17 million to St Vincent's Campus for equipment, education and research. In addition the Foundation currently has $15 million in endowments.
Mr Curran remains Chairman of Trustees of the Foundation and is a former Chair not only of St Vincent's Hospital but the Garvan Institute of Medical Research. It was during his time as Chair of St Vincent's Hospital, that Mr Curran not only established the Curran Foundation but was instrumental in helping set up the groundbreaking and all-important National Heart/Lung Transplant Centre.
In addition to his work in health and his long contribution to the Archdiocese of Sydney as a long time member with Patrick Bugden of Sydney's Archdiocesan Finance Committee, Mr Curran has been Chair of the Australian Ireland Fund, the Sydney Health Service, the National Gallery of Australia Foundation and Deputy Chair of the Council of the National Gallery of Australia.
He also a former Chair of the Medical Benefits Fund of Australia, a former Vice Chair of the Australian Stock Exchange and of many other public bodies including roles as Ambassador of the Indigenous Education Foundation, Vice President of the Royal Institute for Deaf and Blind Children and a former Director of the Young Endeavour Scheme.
In 1987 Mr Curran was created an Officer of the Order of Australia (AO) and was elevated to Companion of the Order of Australia (AC) in June 2006.
Mr Bugden's achievements and selfless contribution to the Catholic community and the wider world of Sydney are also impressive and include many years giving wise accounting, financial and investment advice to the Dioceses of Parramatta and Broken Bay as well as the Sydney Archdiocese. He has worked with with Catholic Mission, Catholic Health Australia and as Director of Brown Nurses and Brown Nurses Nominees and with the Little Company of Mary where he was involved with audits and financial issues at Lewisham Hospital which was founded by the Sisters in 1887 and closed its doors more than 100 years later when the land and building was purchased by the St Vincent de Paul Society.
Mr Bugden has also had a close association with Catholic education and for nine years was Director of St Vincent's College Potts Point and St Vincent's College Foundation. For the past 30-plus years he has also been an active and dedicated member of his home parish of St Thomas More at Brighton-le-Sands where he is also Chairman of the Finance Committee.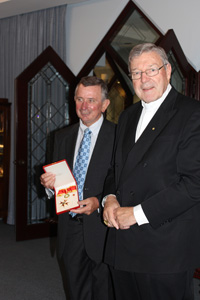 Watched by family and close friends, today's ceremony at Cathedral House was also a reunion for two of the Papal Award recipients, Charles Curran and Patrick Bugden.
"We both served on the Archdiocese Finance Committee over many years first under Cardinal James Freeman then under Cardinal Clancy and later under Cardinal Pell," Sydney's newest Knight Commander of the Order of St Gregory the Great explains.
Today also meant a much looked forward to reunion for the Bugden family with daughter Elizabeth flying in from her home in Hong Kong to be at the ceremony where she joined sisters Angela and Alison and their mother, Margaret Bugden to see her father receive this important honour.
Two sisters from the Little Company of Mary, current provincial Sister Bernadette Fitzgerald and former provincinal, Sr Jennifer Barrow who worked with Patrick Bugden over his many years on the board and as treasurer for Catholic Health Australia were also there to see him receive the award.
General Cosgrove's wife, Lynne and one of his three sons, David, also attended the ceremony. "My other son, Stephen was working and unable to come and our third son lives in Brisbane where he and his wife Lily have just given us our first grandchild, five month old Max," he says adding that his sons have all sent their congratulations and are extremely proud.
Charles Curran was also surrounded by family at the ceremony. His wife Eva was there along with four of his five children. Daughters Claudia Stahl and Sanchia Brahimi attended along with sons Charles and Bernard while third son, Joseph who works on the family property in country NSW sent his congratulations.
SHARED FROM ARCHDIOCESE OF SYDNEY

Mark 6:

1 - 6





---

1

He went away from there and came to his own country; and his disciples followed him.

2

And on the sabbath he began to teach in the synagogue; and many who heard him were astonished, saying, "Where did this man get all this? What is the wisdom given to him? What mighty works are wrought by his hands!

3

Is not this the carpenter, the son of Mary and brother of James and Joses and Judas and Simon, and are not his sisters here with us?" And they took offense at him.

4

And Jesus said to them, "A prophet is not without honor, except in his own country, and among his own kin, and in his own house."

5

And he could do no mighty work there, except that he laid his hands upon a few sick people and healed them.

6

And he marveled because of their unbelief. And he went about among the villages teaching.
---
St. Paul Miki & Companions
MARTYR OF JAPAN WITH TWENTY-FIVE COMPANIONS
Feast: February 6
Information:

| | |
| --- | --- |
| Feast Day: | February 4 |
| Born: | 1562, Tsunokuni, Japan |
| Died: | 5 February 1597, Nagasaki, Japana |
| Canonized: | 8 June 1862 by Pope Pius IX |

In 1592 the persecution was renewed, and several Japanese converts received the crown of martyrdom. The emperor Tagcosama, one of the proudest and most vicious of men, was worked up into rage and jealousy by a suspicion suggested by certain European merchants desirous of the monopoly of this trade, that the view of the missionaries in preaching the Christian faith was to facilitate the conquest of their country by the Portuguese or Spaniards.

Three Jesuits and six Franciscans were crucified on a hill near Nangasaqui in 1597. The latter were partly Spaniards and partly Indians, and had at their head F. Peter Baptist, commissary of his order, a native of Avila, in Spain. As to the Jesuits, one was Paul Miki, a noble Japanese, and an eminent preacher, at that time thirty-three years old. The other two, John Gotto and James Kisai, were admitted into the Society in prison a little before they suffered. Several Japanese converts suffered with them. The martyrs were twenty-six in number, and among them were three boys who used to serve the friars at mass; two of them were fifteen years of age, and the third only twelve, yet each showed great joy and constancy in their sufferings. Of these martyrs, twenty-four had been brought to Meaco, where only a part of their left ears was cut off, by a mitigation of the sentence, which had commanded the amputation of their noses and both ears. They were conducted through many towns and public places, their cheeks stained with blood, for a terror to others. When the twenty-six soldiers of Christ were arrived at the place of execution near Nangasaqui, they were allowed to make their confession to two Jesuits of the convent in that town, and being fastened to crosses by cords and chains about their arm. and legs, and an iron collar about their necks, were raised into the air, the foot of each cross falling into a hole prepared for it in the ground. The crosses were planted in a row, about four feet asunder, and each martyr had an executioner near him with a spear ready to pierce his side; for such is the Japanese manner of crucifixion. As soon as all the crosses were planted, the executioners lifted up their lances, and at a signal given, all pierced the martyrs almost in the same instant; upon which they expired, and went to receive the reward of their sufferings. Their blood and garments were procured by Christians, and miracles were wrought by them. Urban VIII ranked them among the martyrs, and they are honoured on the 5th of February, the day of their triumph.
SOURCE:
http://www.ewtn.com/saintsHoly/saints/P/stpaulmiki.asp#ixzz1lf4AWK00