Vatican Radio REPORT/IMAGE SHARE Pope Benedict XVI celebrated Mass on Sunday at the parish church of St. Patrick at Colle Prenestino, on the eastern outskirts of Rome. In his homily, the Holy Father spoke of the certainty we have in faith that the Lord is present, regardless of how circumstance might appear to give cause for mistrust, sadness, and even despair. The presence of the Lord is by itself enough to brighten and gladden hearts. He reminded the faithful that it is Jesus, who brings salvation to humanity: a new relationship with God that triumphs over evil and death, and that is the true joy, "for this presence of the Lord who comes to enlighten our path, though this is often overwhelmed at present by the darkness of selfishness." The Pope also reminded the gathered parishoners that the Lord always listens to us, even when we turn away from Him through sin - He never rejects our prayers. "Although He does not always respond as we might want," said Pope Benedict, "God nevertheless responds." Pope Benedict spoke of God not as distant, but as Emmanuel - God with us - a God with us in the Holy Eucharist, with us in the living Church. We must be carriers of this presence of God, and we must respond to His gifts with grateful love. Pope Benedict went on to say, "[The one who] welcomes the gifts of God in a selfish way, does not find true joy. Rather, it is the one who takes occasion by the gifts received from God to love Him with sincere gratitude and to communicate to others his love, who has a heart full of joy." He concluded, "Let us remember this!"
SHARED FROM RADIO VATICANA
As the images of the 26 victims of the Friday, Dec. 14, shooting appear we keep the families in prayer. Let us remove hatred, violence, and anger from our own lives and thus promote peace in the world. As we near Christmas Day let us make own hearts a peaceful home for the Baby Jesus.
(IMAGE - SHARE - FACEBOOK- MEMORIAL PAGE)
One victim's father offered condolences to the shooter's family;
Parker: "I can't imagine how hard this experience must be for you, and I want you to know that our family and our love and our support goes out to you as well."
The Lanza family released this statement:
"The family of Nancy Lanza share the grief of a community and a nation as we struggle to comprehend the tremendous loss that we all share. Our hearts and prayers are with those who share in this loss. On behalf of Nancy's mother and siblings we reach out to the community of Newtown and express our heartfelt sorrow for the incomprehensible and profound loss of innocence that has affected so many."
The 26 children and adults killed in Fri

day's attack on a school in Connecticut have been named:
Charlotte Bacon, Feb. 22, 2006
Daniel Barden, Sept. 25, 2005
Rachel Davino, July 17, 1983
Olivia Engel, July 18, 2006
Josephine Gay, Dec. 11, 2005
Ana M. Marquez-Greene, April 4, 2006
Dylan Hockley, March 8, 2006
Dawn Hochsprung, June 28, 1965
Madeleine F. Hsu, July 10, 2006
Catherine V. Hubbard, June 8, 2006
Chase Kowalski, Oct. 31, 2005
Jesse Lewis, June 30, 2006
James Mattioli, March 22, 2006
Grace McDonnell, Nov. 4, 2005
Anne Marie Murphy, July 25, 1960
Emilie Parker, May 12, 2006
Noah Pozner, Nov. 20, 2006
Caroline Previdi, Sept. 7, 2006
Jessica Rekos, May 10, 2006
Avielle Richman, Oct. 17, 2006
Lauren Rousseau, June of 1982
Mary Sherlach, Feb. 11, 1956
Victoria Soto, Nov. 4, 1985
Benjamin Wheeler, Sept. 12, 2006
Allison N. Wyatt, July 3, 2006
STATEMENT FROM THE BISHOPS CONFERENCE OF USA
Violence shatters peace of all
Prays that peace that passes understanding is with them
All called to work for peace in homes, streets, world
WASHINGTON—Cardinal Timothy Dolan of New York, president of the U.S. Conference of Catholic Bishops, offered prayers and sympathy for the victims of the shooting in the Sandy Hook Elementary School in Newtown, Connecticut, Dec. 14.
The shooting tragedy at the Sandy Hook Elementary School in Newtown, Connecticut wrenches the hearts of all people. The tragedy of innocent people dying through violence shatters the peace of all.
At this time, we pledge especially our prayerful support to the Diocese of Bridgeport and the community of Newtown as they cope with this almost unbearable sorrow. We pray that the peace that passes understanding be with them as they deal with the injuries they have sustained and with the deaths of their beautiful children.
Once again we speak against the culture of violence infecting our country even as we prepare to welcome the Prince of Peace at Christmas. All of us are called to work for peace in our homes, our streets and our world, now more than ever.
Agenzia Fides REPORT - The Catholic Church has committed herself so that the March 2013 elections are conducted peacefully and rejects being accused of having taken sides in the 2007-2008 post-election confrontation. This was stated by Fr. Vincent Wambugu, Secretary of the Episcopal Conference of Kenya, in a speech in front of the leaders of the Kenyan section of the Catholic Relief Service (CRS). "There is no doubt that Kenyans are anxious over the state of the nation as we approach the March 4, 2013 date pocket of violence in parts of the country like Tana River Delta and Garissa are an indication of the precarious state of the nation," said Fr. Wambugu.
"Kenya is still on the road to recovery from the 2007/2008 post-election violence. After the promulgation of the New Constitution, the Country is still divided along tribal lines," he added. "It is our duty as people who are working in Church institutions to lead the way in the re-birth of a peaceful Kenya." Fr. Wambugu says that it is not by chance that the 2012 Lenten Campaign Theme was "a united and peaceful Kenya ... the Change I want to see. "
The Secretary of the Episcopal Conference stresses in this respect that "As Kenyans we must Accept, Appreciate and Respect the social, cultural and religious individuals, groups and peoples." "This is the first step towards reconciliation, since respect for differences is an inherently necessary condition for genuine relationships between individuals and between groups. The suppression of differences can result in apparent peace, but it creates a volatile situation which is in fact the prelude to fresh outbreaks of violence," he said. (L.M.) (Agenzia Fides 14/12/2012)
Catholic Communications, Sydney Archdiocese,
14 Dec 2012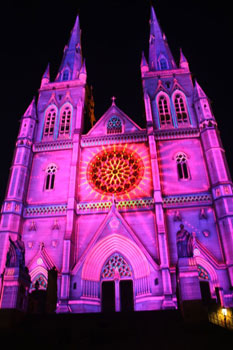 With the theme of "Unity" the spectacular Lights of Christmas 2012 was launched at St Mary's Cathedral with light projections that marvelled and enthralled.
The 75 metre high and 33 metre wide sandstone facade of the Cathedral was transformed by the stunning illuminations, delighting the hundreds who gathered in Cathedral square.
The massive display features brightly coloured floral projections, stars and Christmas tree along with subtle scenes highlighting all of Australia's cultures and backgrounds coming together to wish peace and harmony.
In celebration of the 500th Anniversary of the artworks adorning the ceiling of the Sistine Chapel by Italian Renaissance artist Michelangelo, the iconic image of the Creation of Man appears. This shows God reaching out to Adam, breathing life into Adam, the first man.
Chronologically the fourth in the series of panels depicting episodes from Genesis on the Sistine ceiling, this fresco was among the last to be completed. It is the probably most well-known of the Sistine Chapel fresco panels.
In a sequence depicting Madonna and Child, a number of magnificent artworks are also displayed on the Cathedral, with permission of
The Accademia Carrara, Bergamo Italy.
One o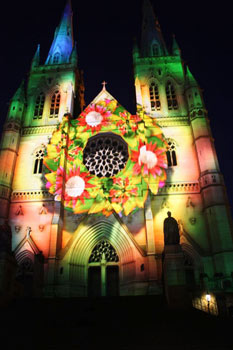 Presented by the Archdiocese of Sydney with Australian Catholic University the major sponsor, the Lights of Christmas has quickly become a highlight of the Christmas calendar popular with young people, families and tourists to Sydney.
Many people also gather together and travel from parishes to the north, south and west of Sydney to visit the display.
Auxiliary Bishop of Sydney, Most Rev Julian Bishop opened the display on Thursday night which was also webcast live by the Archdiocese social network xt3.com - allowing thousands of people around the world to see the beautiful display and reflect on the true meaning of Christmas.
Produced by Creative Designer Anthony Bastic of AGB Events, the display will be on every night from 8.30 pm until at least midnight through to and including Christmas Day night.
On some nights there will be choirs beforehand and next Monday evening, 17th December, it will be one of the first stops for Cardinal George Pell following his return from Rome. He will be joined at the Cathedral by the Vice-Chancellor of Australian Catholic University, Prof Greg Craven as well as many students and people from parishes through the Archdiocese.
SHARED FROM ARCHDIOCESE OF SYDNEY
ASIA NEWS REPORT
by Kalpit Parajuli
Shiwa Hasami died yesterday in a Kathmandu hospital from her injuries. Police arrested her would-be groom but eventually focused on the young woman's family because it could not pay the huge dowry (US$ 2,300) demanded by the future groom's family.
Kathmandu (AsiaNews) - Violence against women continues in Nepal. A 16-year-old Muslim woman was set on fire over dowry. Rushed to a Kathmandu hospital, Shiwa Hasami died from her injuries. When Nepali media reported the event yesterday, it sent shockwaves across the country. Human rights activists and associations organised demonstrations against violence against women, who are often victimised in the name of religious and ethnic traditions.
At present, little is known about the case. Initially, police arrested her groom-to-be, Babu Khan, 23, on suspicious that he tried to kill her because she refused to run away with him. Now police are turning their attention to the young woman' brother, Tanbir Ahmed, and other family members as the main culprits in the murder.
"Her brother Tanbir Ahmed had warned Shiwa not to marry Babu Khan because his father had demanded a 200,000 rupee dowry, something huge for the Hasami family, which is poor," said Police Superintendent Ramkripal Sah, who is investigating the case.
Refusing to pay dowry is something dishonourable among Muslims and Hindus. For the police officer, the brother or another member of the family decided to punish the young woman for wanting to get married even without a dowry, placing the family in a difficult situation.
Dowry-related murders are widespread in South Asia. According to India's National Crime Records Bureau, 8,391 people died in dowry-related cases in 2010. In at least another 90,000 additional cases, husbands and the in-law family have tortured or otherwise abused women.
In predominantly Muslim Bangladesh, at least 325 women were tortured and killed over dowry disputes in 2011 alone.
Nepal is no exception. Here police have recorded hundreds of cases of domestic violence due to dissatisfaction by husbands and their families over dowries, the highest number of cases among Muslims and Madeshi.
Superintendent Ramkripal Sah noted however, that Shiwa's case was the first in which the victim's family was responsible for the violence.
Muslim leader Nazrul Hussan Falahi said that Islam has nothing to do with the problem, which is mostly due to sick minds and poverty.
SHARED FROM ASIA NEWS IT
IN HONOR OF THE YEAR OF FAITH - JCE NEWS WILL BE SHOWING SOME OF THE TOP CATHOLIC MOVIES OF ALL TIME. TUNE IN FOR THE NEXT PART OF ST. JOHN BOSCO- TOMORROW
Dec 16, 2012 - 3rd Sun of Advent
Zephaniah 3: 14 - 18
---
14Sing aloud, O daughter of Zion; shout, O Israel! Rejoice and exult with all your heart, O daughter of Jerusalem!15The LORD has taken away the judgments against you, he has cast out your enemies. The King of Israel, the LORD, is in your midst; you shall fear evil no more.16On that day it shall be said to Jerusalem: "Do not fear, O Zion; let not your hands grow weak.17The LORD, your God, is in your midst, a warrior who gives victory; he will rejoice over you with gladness, he will renew you in his love; he will exult over you with loud singing18as on a day of festival. "I will remove disaster from you, so that you will not bear reproach for it.
Isaiah 12: 2 - 6


---

2

"Behold, God is my salvation; I will trust, and will not be afraid; for the LORD GOD is my strength and my song, and he has become my salvation."

3

With joy you will draw water from the wells of salvation.

4

And you will say in that day: "Give thanks to the LORD, call upon his name; make known his deeds among the nations, proclaim that his name is exalted.

5

"Sing praises to the LORD, for he has done gloriously; let this be known in all the earth.

6

Shout, and sing for joy, O inhabitant of Zion, for great in your midst is the Holy One of Israel."




Philippians 4: 4 - 7


---

4

Rejoice in the Lord always; again I will say, Rejoice.

5

Let all men know your forbearance. The Lord is at hand.

6

Have no anxiety about anything, but in everything by prayer and supplication with thanksgiving let your requests be made known to God.

7

And the peace of God, which passes all understanding, will keep your hearts and your minds in Christ Jesus.
Luke 3: 10 - 18


---

10And the multitudes asked him, "What then shall we do?"11And he answered them, "He who has two coats, let him share with him who has none; and he who has food, let him do likewise."12Tax collectors also came to be baptized, and said to him, "Teacher, what shall we do?"13And he said to them, "Collect no more than is appointed you."14Soldiers also asked him, "And we, what shall we do?" And he said to them, "Rob no one by violence or by false accusation, and be content with your wages."15As the people were in expectation, and all men questioned in their hearts concerning John, whether perhaps he were the Christ,16John answered them all, "I baptize you with water; but he who is mightier than I is coming, the thong of whose sandals I am not worthy to untie; he will baptize you with the Holy Spirit and with fire.17His winnowing fork is in his hand, to clear his threshing floor, and to gather the wheat into his granary, but the chaff he will burn with unquenchable fire."18So, with many other exhortations, he preached good news to the people.
St. Haggai the Prophet
PROPHET
Feast: December 16


Information:

Commemoration of the Prophet Haggai, one of the twelve minor prophets, who prophesied during the time of King Darius of Persia and Zerubbabel, Governor of Judah (c. 520 BC). The Book of Haggai preserves his oracles to the returnees from the Babylonian Exile, in which he exhorts them to finish the rebuilding of the Temple, whose glory foretells the glory of the messianic temple to come.

N.B. The Martyrologium Romanum (Vatican Press, 2004), the Church's official list of holy men and women, lists the saints of the Old Law alongside those of the New.