(RADIO Vaticana IMAGE)
VATICAN : POPE : NEW SPRINGTIME FOR CHRISTIANITY AND OTHER NEWS
TODAY'S MASS ONLINE : TUES. OCT. 16, 2012
AMERICA : BISHOPS NAME 10 SAINTS FOR YEAR OF FAITH
AUSTRALIA : STUDENT GIVES ROSARY TO POPE - FOR YOUTH OF THE WORLD
TODAY'S SAINT: OCT. 16: ST. HEDWIG
BELLS OF EUROPE: REASONS FOR THE HOLY FATHER'S HOPE
Vatican City, 16 October 2012 (VIS) - At the end of yesterday afternoon's session of the Synod of Bishops, a film entitled "Bells of Euorpe - Campane d'Europa" was shown in a special screening for the Synod Fathers. The film, which deals with the relationship between Christianity, European culture and the future of the continent, includes extracts from a series of interviews with important religious leaders from the main Christian confessions: Pope Benedict XVI, Ecumenical Patriarch Bartholomew I, Patriarch Kirill I of Moscow, Archbishop Rowan Williams of Canterbury and Lutheran Bishop Huber; and with leading figures from the world of politics and culture.
The thread binding their reflections together is the sound of bells ringing out from various parts of the continent, the casting of a bell in the ancient foundry of Agnone, and the music of the Estonian composer Arvo Part.
The film, based on an idea by Fr. Germano Marani, has been produced by the Vatican Television Centre with the support of a number of different institutions including the Gregorian Foundation. The distribution rights, both as a television transmission and as a home video, belong to RAI Cinema.
The full text of the interview with Benedict XVI is given below.
Question – Your Holiness, your Encyclicals present a compelling view of man: a man inhabited by God's charity, a man whose reason is broadened by the experience of faith, a man who possesses social responsibility thanks to the dynamism of charity received and given in truth. Holiness, it is from this anthropological standpoint - in which the evangelical message exalts all the laudable aspects of humankind, purifying the grime that covers the authentic countenance of man created in the image and likeness of God - that you have repeatedly stated that this rediscovery of the human countenance, of evangelical values, of the deepest roots of Europe, is a cause of great hope for the European continent and not only for the European continent. Can you explain to us the reasons for your hope?
Answer – The first reason for my hope consists in the fact that the desire for God, the search for God, is profoundly inscribed into each human soul and cannot disappear. Certainly we can forget God for a time, lay Him aside and concern ourselves with other things, but God never disappears. St. Augustine's words are true: we men are restless until we have found God. This restlessness also exists today, and is an expression of the hope that man may, ever and anew, even today, start to journey towards this God.
The second reason for my hope lies in the fact that the Gospel of Jesus Christ, faith in Jesus Christ, is quite simply true; and the truth never ages. It too may be forgotten for a time, it may be laid aside and attention may turn to other things, but the truth as such does not disappear. Ideologies have their days numbered. They appear powerful and irresistible but, after a certain period, they wear out and lose their energy because they lack profound truth. They are particles of truth, but in the end they are consumed. The Gospel, on the other hand, is true and can therefore never wear out. In each period of history it reveals new dimensions, it emerges in all its novelty as it responds to the needs of the heart and mind of human beings, who can walk in this truth and so discover themselves. It is for this reason, therefore, that I am convinced there will also be a new springtime for Christianity.
A third reason, an empirical reason, is evident in the fact that this sense of restlessness today exists among the young. Young people have seen much - the proposals of the various ideologies and of consumerism - and they have become aware of the emptiness and insufficiency of those things. Man was created for the infinite, the finite is too little. Thus, among the new generations we are seeing the reawakening of this restlessness, and they too begin their journey making new discoveries of the beauty of Christianity; not a cut-price or watered-down version, but Christianity in all its radicalism and profundity. Thus I believe that anthropology, as such, is showing us that there will always be a new reawakening of Christianity. The facts confirm this in a single phrase: Deep foundations. That is Christianity; it is true and the truth always has a future.
Q. – Your Holiness, you have repeatedly said that Europe has had, and continues to have, a cultural influence on the entire human race, and it cannot but feel a particular sense of responsibility, not only for its own future, but also for that of humankind as a whole. Looking ahead, is it possible to discern the contours of the visible witness Catholics, Orthodox and Protestants in Europe from the Atlantic to the Urals must show as, living the Gospel values in which they believe, they contribute to the building of a Europe faithful to Christ, more welcoming and united, not merely safeguarding their cultural and spiritual heritage but also committed to finding new ways to face the great challenges that characterise the post-modern and multicultural age?
A. – This is an important question. It is clear that Europe has great weight in today's world, in terms of economic, cultural and intellectual importance; as a consequence of this it also has great responsibility. But Europe, as you said, still has to find its true identity in order to be able to speak and act in keeping with her responsibility. In my opinion, the problem today does not consist in national differences which, thank God, are differences not divisions. In their cultural, human and temperamental differences, nations are a rich asset which together give rise to a great symphony of cultures. Basically, they are a shared culture. The problem Europe has in finding its own identity consists, I believe, in the fact that in Europe today we see two souls: one is abstract anti-historical reason, which seeks to dominate all else because it considers itself above all cultures; it is like a reason which has finally discovered itself and intends to liberate itself from all traditions and cultural values in favour of an abstract rationality. Strasburg's first verdict on the crucifix was an example of such abstract reason which seeks emancipation from all traditions, even from history itself. Yet we cannot live like that and, moreover, even "pure reason" is conditioned by a certain historical context, and only in that context can it exist. We could call Europe's other soul the Christian one. It is a soul open to all that is reasonable, a soul which itself created the audaciousness of reason and the freedom of critical reasoning, but which remains anchored to the roots from which this Europe was born, the roots which created the continent's fundamental values and great institutions, in the vision of the Christian faith. As you said, this soul has to find a shared expression in ecumenical dialogue between the Catholic, Orthodox and Protestant Churches. It must then encounter this abstract reason; in other words, it must accept and maintain the freedom of reason to criticise everything it can do and has done, but to practise this and give it concrete form on the foundations and in the context of the great values that Christianity has given us. Only by blending these elements can Europe have weight in the intercultural dialogue of mankind today and tomorrow. Only when reason has a historical and moral identity can it speak to others, search for an "interculturality" in which everyone can enter and find a fundamental unity in the values that open the way to the future, to a new humanism. This must be our aim. For us this humanism arises directly from the view of man created in the image and likeness of God.
THE CATHOLIC CHURCH SUPPORTS AGRICULTURAL COOPERATIVES
Vatican City, 16 October 2012 (VIS) - The Holy Father has sent a Message to Jose Graziano da Silva, director general of the United Nation's Rome-based Food and Agricultural Organisation (FAO), for the occasion of World Food Day 2012.
"This year World Food Day is being celebrated while the effects of the economic crisis are increasingly affecting primary needs, including the fundamental right of every person to sufficient and healthy nutrition. In particular, the position of people who live in situations of poverty and underdevelopment is worsening. The current state of affairs is similar to that which led to the establishment of FAO, and it calls on national and international institutions to work to free humankind from hunger through agricultural development and the growth of rural communities. Malnutrition is, in fact, being worsened by gradual disengagement and excessive competitiveness, factors which could make us forget that only shared solutions can adequately respond to the expectations of individuals and peoples".
In this context, the Holy Father expresses his satisfaction at the decision to dedicate this year's World Food Day to the theme "Agricultural cooperatives - key to feeding the world". This, he writes, "does not only mean supporting cooperatives as a different form of economic and social organisation, but also seeing them as a real tool for international action. The experience of many countries shows, in fact, that cooperatives, apart from stimulating agricultural activities, are a way to enable farmers and rural populations to participate in decision making, and an efficient means to achieve an integral development which has human beings as its foundation and goal".
"As is well known, the Catholic Church considers work and cooperative enterprises as ways to enjoy an experience of unity and solidarity capable of overcoming differences and even social conflicts between people from different groups. For this reason, with her teaching and actions the Church has always supported cooperatives, in the conviction that their activity is not limited only to the economic sphere, but contributes to the human, social, cultural and moral development of those who belong to them, and of the community of which they are part".
Benedict XVI goes on to recall that, when conflicts or natural disasters impede agricultural work, consideration must always be given "to the vital role played by women, who are often called to administer the activity of cooperatives, to maintain family ties and to safeguard the precious heritage of rural knowledge and techniques".
"It is indispensable", the Pope concludes his message, "that national and international authorities provide the necessary legislation and financing to ensure that, in rural areas, cooperatives may become effective instruments of agricultural production, food security, social change and a wider improvement in living conditions. In this new context it is to be hoped that the young may look to their future with renewed confidence, while maintaining their link with agricultural work, the rural world and its traditional values".
MESSAGE OF THE INTERNATIONAL THEOLOGICAL COMMISSION FOR THE YEAR OF FAITH
Vatican City, 16 October 2012 (VIS) - The International Theological Commission has issued a message for the Year of Faith. Extracts from the English-language version are given below.
"As a community of faith, the International Theological Commission wishes to heed the message of conversion which is central to the Year of Faith and to renew its commitment to the service of the Church. In order to do so, on 6 December the International Theological Commission, led by its president Archbishop Gerhard Muller, prefect of the Congregation for the Doctrine of the Faith, will make a pilgrimage to the Papal Basilica of St. Mary Major during its annual plenary meeting, and will entrust there its activities and those of all Catholic theologians to the intercession of the faithful Virgin Mary, model for believers, bulwark of the true faith, who is proclaimed 'blessed' because she believed.
"In connection with the Year of Faith, the International Theological Commission is committed to providing - 'in medio Ecclesiae' - its own specific contribution to the new evangelisation promoted by the Apostolic See, by plumbing the revealed mystery for the benefit of believers, using all the resources of reason enlightened by faith, so as to promote the reception of that faith in the world of today".
"The recent document of the International Theological Commission, entitled 'Theology Today: Perspectives, Principles and Criteria', develops the understanding that theology is entirely derived from faith, and that it is practised in constant dependence on the faith that is lived by the people of God under the guidance of its pastors. In fact, only faith allows the theologian to reach really the object of theological enquiry: the truth of God that bathes the whole of reality in the light of a new day - 'sub ratione Dei'".
"The theologian works to 'inculturate' in human intelligence, in the form of an authentic science, the intelligible content of 'the faith that was once and for all entrusted to the saints'. But the theologian also pays particular attention to the act of faith itself. ... 'In fact, there exists a profound unity between the act by which we believe and the content to which we give our assent'. The theologian highlights the great human significance of that act, investigating how God's prevenient grace draws out from the very heart of human freedom the 'yes' of faith, and showing how faith is the 'foundation of the entire spiritual edifice', in that it informs all the various dimensions of Christian life, personal, familial and communitarian.
"Not only is the work of the theologian dependant on the living faith of the Christian people, attentive to 'what the Spirit is saying to the churches', but its whole purpose is to foster the growth in faith of the people of God and the evangelising mission of the Church. ... Indeed, the vocation of the theologian, in responsible collaboration with the Magisterium, is to serve the faith of God's people.
"In the same way, the theologian is the servant of Christian joy which is 'the joy of truth'. ... In this sense, faith - and theology as the science of faith and wisdom - offers to all 'lovers of spiritual beauty' a full-flavoured foretaste of eternal joy.
NOTE OF CLARIFICATION FROM THE SECRETARIAT OF STATE
Vatican City, 16 October 2012 (VIS) - In response to frequent requests for information concerning the recognition by the Holy See of Equestrian Orders dedicated to the saints or to holy places, the Secretariat of State considers it opportune to reiterate what has already been published, namely that, other than its own Equestrian Orders (the Supreme Order of Christ, the Order of the Golden Spur, the Pian Order, the Order of Saint Gregory the Great, and the Order of Pope Saint Sylvester), the Holy See recognises and supports only the Sovereign Military Order of Malta - also known as the Sovereign Military Hospitaller Order of Saint John of Jerusalem of Rhodes and of Malta - and the Equestrian Order of the Holy Sepulchre of Jerusalem. The Holy See foresees no additions or innovations in this regard.
All other orders, whether of recent origin or mediaeval foundation, are not recognised by the Holy See. Furthermore, the Holy See does not guarantee their historical or juridical legitimacy, their ends or organisational structures.
To avoid any possible doubts, even owing to illicit issuing of documents or the inappropriate use of sacred places, and to prevent the continuation of abuses which may result in harm to people of good faith, the Holy See confirms that it attributes absolutely no value whatsoever to certificates of membership or insignia issued by these groups, and it considers inappropriate the use of churches or chapels for their so-called "ceremonies of investiture".
USCCB REPORT
To honor the fiftieth anniversary of the Second Vatican Council and the twentieth anniversary of the
Catechism of the Catholic Church
, Pope Benedict XVI has announced a Year of Faith, starting October 11 and ending November 24, 2013, meant to strengthen the faith of Catholics and draw the world to faith by their example. Pope Benedict has encouraged Catholics to study the lives of the saints as part of the Year of Faith in order to follow their example. (IMAGE SOURCE: MONASTERY ICONS)
Jeannine Marino, program specialist for the Secretariat of Evangelization and Catechesis of the U.S. Conference of Catholic Bishops (USCCB) offers "10 American Saints for the Year of Faith" to help Catholics learn about the lives of the saints and to appreciate the history of the Catholic faith in America. Marino is a canon lawyer who has served as a postulator and advisor to several canonization causes. A postulator conducts research into the life of a proposed saint.
Two saint from the list, Marianne Cope, OSF and Kateri Tekakwitha, will be canonized by Pope Benedict XVI on October 21. Here is the full list:
1.
St. Isaac Jogues, SJ
, a missionary and one of the North American martyrs, traveled from France to the new world shortly after his ordination. In 1641, he and his companions were captured by the Iroquois, who tortured and killed most of them. He was killed with a tomahawk in 1646 and canonized in 1930.
2.
St. Frances Xavier Cabrini, MSC
, the first U.S. citizen to be canonized, came to the United States as a missionary from Italy. She founded the Missionary Sisters of the Sacred Heart of Jesus and, over 35 years, started six institutions for the poor, the abandoned, the uneducated and the sick. She died in 1917 and is the patron saint of immigrants.
3.
St. Elizabeth Ann Seton, SC
, the first native-born U.S. citizen to be canonized, was left poor and widowed with five children. She converted to Catholicism and founded the first order of religious women in America, the Sisters of Charity of St. Joseph. She was cofounder of the first free Catholic school in America and is considered the founder of the Catholic school system in the United States. She died in 1821.
4.
St. John Neumann, CSsR
, a Redemptorist priest, was the fourth bishop of Philadelphia from 1852 till his death in 1860. A native of Bohemia, he followed his vocation to New York City and, at the time of his ordination, was one of only 36 priests serving 200,000 Catholics. He founded the first diocesan Catholic school system in the United States, growing the number of schools in his diocese from two to 100.
5.
St. Katharine Drexel, SBS
, a wealthy, educated young woman from Philadelphia with a deep sympathy for the poor, gave up everything to become a missionary to the Indians and African Americans. She founded the Sisters of the Blessed Sacrament and started numerous schools and missions for Native and African Americans. She died at the age of 96 in 1955 and was canonized in 2000.
6.
St. Mother Théodore Guérin, SP
, founder of the Sisters of Providence of St. Mary-of-the-Woods, was asked to leave France and lead a small band of missionary sisters to Indiana. When the sisters arrived, there was only a log cabin with a porch that served as a chapel. By the time she died in 1856, she and her community had opened schools in Illinois and throughout Indiana. She was canonized in 2006.
7.
St. Rose Philippine Duchesne, RSCJ
, a missionary to Native Americans, traveled to the Louisiana Territory from France in 1818, where she and other members of the Society of the Sacred Heart carried out their missionary work. She opened the first free school for girls west of the Mississippi River, as well as the first Catholic school for Native Americans. She was known among the Pottowami Indians as the "Woman Who Prays Always."
8.
St. Damien de Veuster of Molokai, SSCC
, missionary to the lepers of Molokai, Hawaii, was born in Belgium in 1840 to a poor farmer and his wife. At 19, he entered the Congregation of the Sacred Hearts of Jesus and Mary. His older brother, also a priest in the congregation, had offered to minister to the lepers on the island of Molokai but fell ill and couldn't go. Damien volunteered to take his place and offered to stay in the leper colony permanently, building schools, churches, hospitals and coffins. He contracted leprosy himself but continued to serve the mission until his death in 1889.
9.
St. Marianne Cope, OSF
, another missionary to the lepers of Molokai, joined the Sisters of the Third Order of Saint Francis in her teens and served in leadership roles including novice mistress of her congregation and superior of St. Joseph's Hospital in Syracuse. She became a leader in the field of health care, often caring for those considered outcasts, which led her to volunteer in Hawaii. In Hawaii she cared for women and girls suffering from leprosy, providing them with an education. She died in 1918.
10.
St. Kateri Tekakwitha
, also known as the Lily of the Mohawks, converted at the age of 19, heedless of the anger of her relatives. Because she refused to work on Sundays, she was denied meals that day in the Mohawk village. Finally, a missionary encouraged her to run away to Montreal, where she practiced her faith freely and lived a life of extreme prayer and penance, taking a vow of virginity. She died in 1680.
More information on American saints and holy men and women for the Year of Faith is available online:
www.usccb.org/beliefs-and-teachings/how-we-teach/new-evangelization/year-of-faith/saints-for-the-year-of-faith.cfm
SHARED FROM BISHOPS CONFERENCE OF USA
Catholic Communications, Sydney Archdiocese,
16 Oct 2012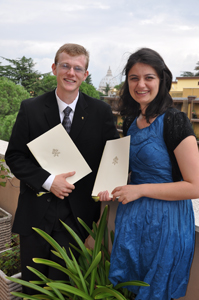 University of Sydney graduate, Anna Fsadni who represented the youth of Australia at the Opening Mass for the Year of Faith at St Peter's Basilica in Rome on 11 October, describes her meeting with Pope Benedict XVI as "an amazing privilege."
"My encounter with the Holy Father was interesting and beautiful," she says and explains that the "interesting" part was due to much of what was said between the two was lost in translation. But despite this she says every moment of her time during their encounter she felt "loved and important."
"The Holy Father spoke to me in a language I do not speak, which I assume was Italian. I replied in English but perhaps my Australian accent was unusual to his ears," she says. However she insists the language barrier proved no impediment to the joyful love the Holy Father radiated.
"The meeting lasted only about 60 seconds but each moment was a beautiful blessing. I know that what the Holy Father was sharing with me was the love and joy in his heart. In the end it's not about the fanfare, it's about our relationship with Christ and giving to others the love we have received so beautifully from the greatest lover of our souls."
Supported by the Archdiocese of Sydney University Chaplaincies as well as her parish in Sutherland and her family, Anna is currently studying at the Emmanuel School of Mission, and was chosen to represent the Youth of Australia at the Opening Mass of the Year of Faith at St Peter's Basilica which was held on Thursday, 11 October.
During this important mass Anna and five other young people, each representing the continents of Europe, Asia, Africa, the United States, South America and Australia, were personally given a copy of documents from the Second Vatican Council by the Holy Father, Pope Benedict XVI.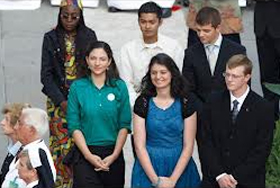 "To say this was an amazing experience would be an understatement," she writes in a long detailed email about what she describes as an unforgettable experience.
"Sunday's Gospel contained the words: 'Jesus looked upon him (and) and loved him. He with full attention upon the rich young man, not out of politeness, but because He loved him.' And that was how I felt as I walked up the steps of St Peter's Basilica to meet the Pope. He did not look at me out of politeness or duty, but out of love for the Church, for young people everywhere and for me," she says.
Anna describes the Holy Father as a great example of his actions supporting the message he speaks.
"I remember after World Youth Day in Sydney in 2008 I picked up a small bookmark that had the words: 'My dear young friends, I want to invite you to 'dare to love.' Do not desire anything less in your life than a love that is strong and beautiful and that is capable of making the whole of your existence a joyful undertaking of giving yourselves as a gift to God and your brothers and sisters.'"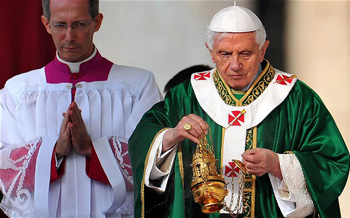 She says those words were spoken by Pope Benedict XVI and she keeps them in her heart to inspire and challenge in her daily Christian life and as she lives and speaks to others in the world, and in the Christian community.
"The words challenge me to treat people around me, even when I am not acquainted with them fully, with self-giving and sincere love. I could see this joyful love in the Holy Father on Sunday as he met each person individually and presented them with copies of the Vatican II documents."
Anna says anyone who has had the privilege of seeing Pope Benedict at large gatherings will have witnessed this love for the people of God.
"As I approached the Holy Father I felt a gentle, sincere, joyous and truly genuine love, as if I were the only person in the world."
Despite Anna being at sea with the Holy Father's Italian and Pope Benedict having difficulty with Anna's Australian vowels, she insists it did not matter.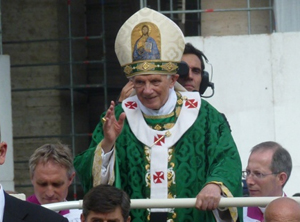 "I was privileged to be able to give him a small missionary rosary ring as a gift from the youth of the world. Although the gift was only small, the Holy Father's face beamed with a joyful smile I will never forget. He was full of thanks. I know enough Italian to know that 'Grazie" means 'thank you' and he said it twice!"
Returning to her seat for the mass, which was also attended by the Archbishop of Sydney, Cardinal Pell, Anna admits her heart was so filled with joy she felt like dancing.
"Except I was in St Peter's and at Mass so I had to let the joy sit in my heart instead."
Anna, who is a member of the Archdiocese of Sydney's parish at Sutherland, was awarded her Bachelor of Science (Advanced) degree with a major in geology in July this year, shortly before she left for Rome. Well known to other young Catholics, throughout her years of study at the University of Sydney she was an active committed member of the University's Catholic Society of St Peter.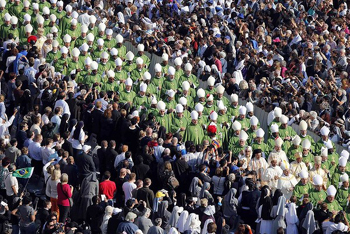 Now studying at the Emmanuel School of Mission (ESM) she is undertaking a nine month program which trains young Catholics to be missionaries in their daily lives. Themes relating to the Year of Faith and the New Evangelisation have been incorporated into this year's program and throughout the next 12 months Anna and other students from ESM will accompany the original World Youth Day Cross to St Peter's Square each Friday to say the rosary, evangelise and invite people to attend evening Mass at the nearby Centro San Lorenzo International Youth Centre.
SHARED FROM ARCHDIOCESE OF SYDNEY
IND. CATH. NEWS REPORT



Children in Turkana, Kenya - pic New Ways

Every year around this time, 16 October, UN World Food Day reminds us to pay attention to the multitude of people who suffer from not having enough to eat. The hunger statistics are overwhelming. According to the World Food Programme 870 million people are hungry – that's greater than the combined populations of the United States, Canada and the European Union. Every day approximately 16,000 children die because they are too poor to live.
Malnutrition and hunger-related diseases claim their short lives. Iodine deficiency is the greatest single cause of mental retardation and brain damage, affecting 1.9 billion people worldwide. It can very easily be prevented by adding iodine to salt.
The international alliance of Catholic development agencies, CIDSE, has demanded "urgent solutions to the structural problems of hunger". The alliance states: "governments must guarantee the right to food for all human beings as a priority in national and international policies".
In a statement for World Food Day Bernd Nilles, Secretary General of CIDSE said: "Our food system is a leaky bucket. It makes no sense to continue pouring water in it without plugging the holes first."
A report published by CIDSE, finds that unstable food prices, caused by war, climate change and economic swings are severely affecting the world's poorest people – both consumers and producers.
Mr Nilles continued: "We must all eat. But millions of people around the world are unable to pay more for food as prices increase. For a poor family which spends most of its household budget on food, price volatility is a matter of life and death. To stabilise prices we need coherent trade and agriculture policies, tighter rules on food speculation and the establishment of food reserves to deal with emergencies and to stabilise markets,
To read the CIDSE report see:

http://www.cidse.org/content/publications/just-food/food-and-climate/agriculture_from_problem_to_solution.html


In the US, according to the Christian anti-poverty advocacy organization Bread for the World, more than 48 million Americans, including 16.2 million children, live in households that struggle to put enough food on the table. More than one in five children is at risk of hunger. And among Latinos and African-Americans, almost one in three children is at risk of hunger. Persons living in these homes frequently skip meals, eat too little, or sometimes eat nothing all day.
In 1979 Blessed Pope John Paul II said in New York City homily: "The poor of the United States and of the world are your brothers and sisters in Christ. Never be content to leave them just the crumbs of the feast. Take of your substance, and not just of your abundance, in order to help them. Treat them like guests at your family table!"
But how well is America measuring up to this challenge? The US ranks last among the 22 industrialized countries in percentage of national income allotted for poverty-focused foreign assistance. Only 0.5 percent of the federal budget goes to help the world's poor. Tiny Denmark contributes approximately twice as much of its income.
To make matters worse, the US Congress is poised to cut from the 2013 federal budget billions of additional dollars in aid to the poor. Everything from WIC – an important food supplemental program that aids poor women, infants and children in the US, to life-saving international aid is again on the congressional chopping block.
American readers are being asked to lobby their government representatives to significantly increase poverty-focused domestic and international assistance.
Two UK-based Catholic charities whose work includes emergency food programmes and agricultural development, are:

Thai Children's Trust

and

New Ways


Tony Magliano is an American journalist based in US who specialises in justice and peace issues.
SHARED FROM IND. CATH. NEWS
CISA NEWS REPORT
NAIROBI, October 12, 2012 (CISA) –The Panel of Eminent African Personalities on Thursday October 11 urged Kenya to deal with the rising cases of violence in parts of the country before elections are held in March next year. Former UN Secretary General Kofi Annan who heads the panel told a news conference in Nairobi it was worrying that the violence was occurring a few months before the elections and cautioned the government to contain the situation in order to avoid a repeat of the 2008 violence. "The panel is deeply concerned by an increase in tensions and violence..."
ASIA NEWS REPORT
by Nirmala Carvalho
The official is helped by Hindu nationalists. He said the action was necessary because the structure impeded the proper flow of traffic. Local pastor calls on Labour minister to remove him. Local Christians say the action was deliberate and mischievous, designed to stir communal tensions. In Tamil Nadu, a judge rules that home prayers do not need any permit.
Mumbai (AsiaNews) - Hindu nationalists in Karnataka continue to mistreat Christians, violate the privacy of their homes and disrupt their prayers services with the complicity of local officials, this according to Sajan George, president of Global Council of Indian Christians (GCIC).
On 8 October, Ramesh Pattedar, the chief municipal officer in the city of Wady, Gulbarga District, had the wall of a church compound torn down without prior notice or municipal order. He took the action in the late evening with men possibly from local nationalist groups.
The next day, Rev Devkumar Anand wrote a letter to Union Labour Minister Mallikarjun Kharge. In it, he explained the incident, calling for the official to be removed from his post.
Last Friday, the Christian community staged a protest. In a confrontation with the official, protesters accused him of acting deliberately and mischievously to disturb communal harmony.
In his defence, Pattedar said the wall was located at the intersection of five roads and that it had to go.
For Sajan George, "the rising tide of religious intolerance by administrative officials and police" is "truly worrisome," especially "in Karnataka, where anti-Christian incidents are increasing at a fast pace."
By contrast, a recent decision by the Madras High Court in Tamil Nadu is raising hopes. On 26 September, the court ruled that home-based prayers (which are typical of Pentecostal Churches) do not require permits.
According to Judge S. Manikumar, people, whatever their religion, be they Hindu, Christians or Muslims, cannot be prevented from meeting in any place of worship, and that they do not need any permit from any authority.
SHARED FROM ASIA NEWS
St. Hedwig
WIDOW, DUCHESS OF POLAND
Feast: October 16
Information:
Feast Day:
October 16
Born:
1174 in Bavaria
Died:
October 1243 at Trebnitz
Canonized:
1266 by Pope Clement IV
Patron of:
Bavaria; Berlin, Germany; brides; duchesses; death of children; difficult marriages; Görlitz, Germany, diocese of; Silesia; victims of jealousy; widows
The father of this saint was Bertold III of Andechs, Marquis of Meran, Count of Tirol, and Prince (or Duke) of Carinthia and Istria, as he is styled in the Chronicle of Andechs and in the life of St. Elizabeth of Hungary. Her mother was Agnes, daughter of the Count of Rotletchs. St. Hedwiges, by a distinguishing effect of the divine mercy in her favour, was from her cradle formed to virtue by the example and lessons of her devout mother and of those that were placed about her. In her infancy she discovered no marks of levity, and all her inclinations were turned to piety and devotion. She was placed very young in the monastery of Lutzingen, in Franconia, and only taken thence when twelve years old to marry Henry, Duke of Silesia, descended of the Dukes of Glogau, in that country; to which match she only consented out of compliance with the will of her parents. In this state, by the fidelity with which she acquitted herself of all her respective duties towards God, her husband, her children, and her family, she was truly the courageous woman described by the wise men, who is to be sought from the utmost boundaries of the earth; making it her study in all things only to please God, and to sanctify her own soul and her household, she directed all her views and actions to this great end. With her husband's free consent she always passed holydays, fast-days, and all seasons of devotion in continence. She bore her husband three sons, Henry, Conrad, and Boleslas; and three daughters, Agnes, Sophia, and Gertrude. After the birth of her sixth child, she engaged her husband to agree to a mutual vow of perpetual continence, which they made in presence of the bishop of the place; from which time they never met but in public places. Her husband faithfully kept this vow for thirty years that he lived afterwards; during which time he never wore any gold, silver, or purple, and never shaved his beard; from which circumstance he was surnamed Henry the Bearded.
Whether in prosperity or adversity, her whole comfort was in God and in the exercises of religion. The duke, at her persuasion and upon her yielding into his hands her whole dower for this purpose, founded the great monastery of Cistercian nuns at Trebnitz, three miles from Breslau, the capital of Silesia; upon which he settled the town of Trebnitz and other estates, endowing it for the maintenance of one thousand persons, of which, in the first foundation, one hundred were nuns; the rest were young ladies of reduced families, who were to be here educated in piety and afterwards provided with competent portions to marry advantageously in the world; or, if they were inclined to a monastic state, they were at liberty to profess it in this or in any other nunnery. This building was begun in 1203, and was carried on fifteen years without interruption, during which time all malefactors in Silesia, instead of other punishments, were condemned to work at it, and the severity of their servitude was proportioned to their crimes. The monastery was finished and the church dedicated in 1219. The duchess practiced in her palace greater austerities than those of the most rigid monks, fasted and watched in prayer, and wherever she travelled had always thirteen poor persons with her, whom she maintained, in honour of Christ and his apostles, waiting upon them herself upon her knees at table, where they were served with good meat before she took her own coarse refection. She often washed the feet and kissed the ulcers of lepers, and having an extreme desire to hear that amiable sentence from Christ at the last day, "I was in prison and you visited me," &c., she exhausted her revenues in relieving the necessitous. The simplicity which she observed in her dress whilst she lived with her husband showed that, if respect to him and his court obliged her to wear decent apparel, she was yet an enemy to vain or gaudy ornaments, which amuse a great part of her sex, and much more to all decorations and artifices of dress with which many ladies study to set themselves off to advantage; a certain mark of vanity, or a pleasure they take in themselves, and a dangerous desire of pleasing others. This passion, which banishes from the breast where it reigns the spirit of Christ and his gospel, cherishes the root of many vices, and without design spreads snares to entangle and destroy unwary souls, cannot find place in one whose conduct is regulated by, and whose heart is penetrated with, the spirit of Christian modesty.
St. Hedwiges, after her separation from her husband, carried her love of humility and penance much further in this respect, and wore only clothes of plain grey stuff. Her desire of advancing in perfection put her upon leaving the palace with her husband's consent, and fixing altogether at Trebnitz, near the monastery, often retiring for some days into that austere house, where she lay in the dormitory, and complied with all the penitential exercises of the community. She wore the same cloak and tunic summer and winter; and underneath a rough hair shift, with sleeves of white serge, that it might not be discovered. She fasted every day except Sundays and great festivals, on which she allowed herself two small refections. For forty years she never ate any flesh, though subject to frequent violent illnesses; except that once, under a grievous distemper in Poland, she took a little, in obedience to the precept of the pope's legate. On Wednesdays and Fridays her refection was only bread and water. With going to churches barefoot, sometimes over ice and snow, her feet were often blistered and left the ground stained with traces of her
blood; but she carried shoes under her arms, to put on if she met anyone. Her maids that attended her to church, though well clad, were not able to bear the cold, which she never seemed to feel. She had a good bed in her chamber, but never made use of it, taking her rest on the bare ground; she watched great part of the night in prayer and tears, and never returned to rest after matins. After compline she prolonged her prayers in the church till very late: and from matins till break of day. At her work, or other employments, she never ceased to sigh to God in her heart as a stranger banished from him on earth, and returned often in the day to the church, where she usually retired into a secret corner, that her tears might not be perceived. The Princess Anne, her daughter-in-law, who usually knelt next to her, admired the abundance of tears she saw her frequently shed at her devotions, the interior joy and delights with which she was often overwhelmed during her communications with heaven, and the sublime raptures with which she was sometimes favoured. The same was testified by Herbold, her confessor, and by several servant maids. At her prayers she frequently kissed the ground, watering it with her tears, and in private often prayed a long time together prostrate on the floor. She continued in prayer during all the time it thundered, remembering the terrors of the last day. Her tears and devotion were extraordinary when she approached the holy communion. She always heard mass either kneeling or prostrate with a devotion which astonished all that saw her; nor could she be satisfied without hearing every morning all the masses that were said in the church where she was.
That devotion is false or imperfect which is not founded in humility and the subjection of the passions. St. Hedwiges always sincerely looked upon herself as the last and most ungrateful to God of all creatures, and she was often seen to kiss the ground where some virtuous person had knelt in the church. No provocation was observed to make her ever show the least sign of emotion or anger. Whilst she lived in the world, the manner in which she reprimanded servants for faults showed how perfectly she was mistress of herself, and how unalterable the peace of her mind was. This also appeared in the heroic constancy with which she bore afflictions. Upon receiving the news of her husband being wounded in battle and taken prisoner by the Duke of Kirne, she said, without the least disturbance of mind, that she hoped to see him in a short time at liberty and in good health. The conqueror rejected all terms that could be offered for his freedom; which obliged Henry, our saint's eldest son, to raise a powerful army to attempt his father's rescue by force of arms. Hedwiges, whose tender soul could never hear of the effusion of Christian blood without doing all in her power to prevent it, went in person to Conrad, and the very sight of her disarmed him of all his rage, so that she easily obtained what she demanded. The example of our saint had so powerful an influence over her husband that he not only allowed her an entire liberty as to her manner of living and exercises of piety, but began at length in some degree to copy her virtues; observed the modesty and recollection of a monk in the midst of a court; and became the father of his people and the support of the poor and weak. All his thoughts were directed to administering justice to his subjects, and making piety and religion flourish in his dominions. He died happily in 1238, upon which melancholy occasion all the nuns at Trebnitz expressed their sense of so great a loss by many tears and other marks of grief. From that time she put on the religious habit at Trebnitz, and lived in obedience to her daughter Gertrude, who, having made her religious profession in that house when it was first founded, had been before that time chosen abbess. Nevertheless, St. Hedwiges never made any monastic vows, that she might continue to succour the necessitous by her bountiful charities.
One instance will suffice to show with what humility and meekness she conversed with her religious sisters. Out of a spirit of sincere poverty and humility, she never wore any other than some old threadbare castaway habit. One of the nuns happened once to say to her, "Why do you wear these tattered rags? They ought rather to be given to the poor." The saint meekly answered, "If this habit gives any offence, I am ready to correct my fault." And she instantly laid it aside and got another, though she would not have a new one. Three years after the death of her husband, she sustained a grievous trial in the loss of her eldest, most virtuous, and most beloved son Henry, surnamed the Pious, who had succeeded his father in the duchies both of Greater and Lesser Poland and of Silesia. The Tartars, with a numberless army, poured out of Asia by the north, proposing nothing less to themselves than to swallow up all Europe. Having plundered all the country that lay in their way through Russia and Bulgaria, they arrived at Cracow, in Poland. Finding that city abandoned by its inhabitants, who carried off their treasures, they burnt it to the ground, so that nothing was left standing except the Church of St. Andrew, without the walls. Continuing their march into Silesia, they laid siege to the citadel of Breslau, which was protected by the prayers of St. Ceslas, or Cieslas, prior of the Dominicans there, and the barbarians, terrified by a globe of fire which fell from the heavens upon their camp, retired towards Legnitz. Duke Henry assembled his forces at Legnitz, sad, every soldier having been at confession, he caused mass to be said, at which he and all his army received the holy communion. From this sacred action he courageously led his little army to fall upon the enemy, having with him Miceslas, Duke of Oppolen in Higher Silesia, Boleslas, Marquis of Monravia, and other princes. He gave wonderful proofs both of his courage and conduct in this memorable battle, and for some time drove the barbarians before him; but at last, his horse being killed under him, he was himself slain not far from Legnitz, in 1241. His corpse was carried to the Princess Anne, his wife, and by her sent to Breslau, to be interred in the convent of Franciscans which he had begun to found there, and which she finished after his death. The grandchildren of our saint were preserved from the swords of these infidels, being shut up in the impregnable castle of Legnitz. St. Hedwiges herself had retired, with her nuns and her daughter-in-law, Anne, to the fortress of Chrosne. Upon the news of this disaster she comforted her daughter the abbess, and her daughter-in-law the princess, who seemed almost dead with grief. Without letting fall a single tear, or discovering the least trouble of mind, she said, "God hath disposed of my son as it hath pleased him. We ought to have no other will than his." Then, lifting up her eyes to heaven, she prayed as follows: "I thank you, my God, for having given me such a son, who always loved and honoured me, and never gave me the least occasion of displeasure. To see him alive was my great joy; yet I feel a still greater pleasure in seeing him, by such a death, deserve to be for ever united to you in the kingdom of your glory. Oh, my God, with my whole heart I commend to you his dear soul." The example of this saint's lively faith and hope most powerfully and sweetly dispelled the grief of those that were in affliction, and her whole conduct was the strongest exhortation to every virtue. This gave an irresistible force to the holy advice she sometimes gave others. Being a true and faithful lover of the cross, she was wont to exhort all with whom she conversed to arm themselves against the prosperity of the world with still more diligence than against its adversities, the former being fraught with more snares and greater dangers. Nothing seemed to surpass the lessons on humility which she gave to her daughter-in-law Anne, which were the dictates of her own feeling and experimental sentiments of that virtue. Her humility was honoured by God with the gift of miracles. A nun of Trebnitz who was blind recovered her sight by the blessing of the saint with the sign of the cross. In her last sickness she insisted on receiving extreme unction before any others could be persuaded that she was in danger. The passion of Christ, which she had always made a principal part of her most tender devotion, was the chief entertainment by which she prepared herself for her last passage. God was pleased to put a happy end to her labours by calling her to himself on the 15th of October 1243. Her mortal remains were deposited at Trebnitz. She was canonized in 1266 by Clement IV, and her relics were enshrined the year following. Pope Innocent XI appointed the 17th of this month for the celebration of her office.