Leaders Urge Govt to Increase Dole by $50 pw
Catholic Communications, Sydney Archdiocese,
27 Aug 2012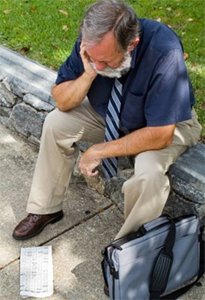 Australian households where unemployed benefits are the only income are being forced into poverty with single mothers and those living alone suffering the greatest financial hardship, a report commissioned by Catholic Social Services (CSS) and other major church providers, has found.
Entitled "Going Without: Financial Hardship in Australia" the report prepared by Ben Philips, Principal Research Fellow and Dr Binod Nepal, Senior Research Fellow at the National Centre for Social and Economic Modelling (NATSEM) was released at Parliament House and urges the Government to increase unemployment benefits by a minimum of $50 per week.
The Newstart Allowance has not been increased by the Government since 1994 and today represents just 40% of Australia's minimum wage.
The 2009 Henry Review recommended job seeker allowances be raised. There have also been frequent recommendations and submissions from church welfare agencies such as CSS, the Salvation Army, the Uniting Church and Anglicare, for unemployment benefits for Newstart and job seeker Youth Allowances to be urgently increased. All of the agencies came together to commission today's NATSEM Report. However the Government has refused to increase these benefits, arguing that low payments are a powerful incentive for people to get a job and get back into the workforce.
But for many of those struggling to survive it is not that simple or that easy.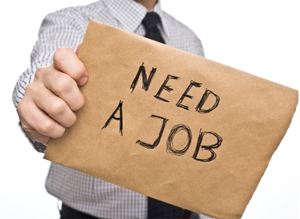 The Report found that households relying on unemployment benefits as their main or only source of income were five times more likely to be living in poverty. The researchers also found that once basic expenditure items such as shelter, food, electricity and health costs were taken into account, they are left with just $22 a day to cover travel, job hunting and other expenses such as suitable clothes for an interview.
"While it is important such payments provide an incentive to return to work, it is also important recipients have enough resources to fund their job search activities and to make a decent living," the Report said.
For many the struggle to keep their heads above water means cutting costs anyway they can, even if this means forgoing heating, letting their insurance payments lapse and when times are really tough, going without food.
As of June 2012, Australia had 663,000 people either on Newstart Allowances or job seeker Youth Allowances.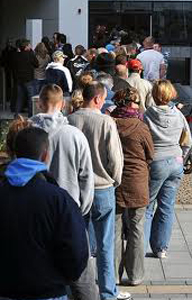 According to the Report, a single person without children on a Newstart Allowance receives a benefit of $244.95 per week which equates to $12,766 pa while an away from home Youth Allowance job seeker receives even less at $201.35 a week or $10,500 pa.
Both payments are considerably less than the single aged pension of $377.75 per week or the average weekly earnings for an Australian male which currently averages $1298 per week.
"There is an urgent need to increase the basic allowance by at least $50 per week and for realistic indexation," Paul O'Callaghan, Executive Director of CSS said today. "Far from providing an incentive to find work, the current inadequate level of payment prevents many people from seeking work and is adding to long term and intergenerational disadvantage."
While the Australian economy has prospered in recent years, the unemployed had fallen behind, he said.
At the launch of the NATSEM Report into Financial Hardship, Major Brad Halse of the Salvation Army pointed out that in an environment of close to full employment most of those who did not have jobs were living with long term and complex barriers to unemployment.
"There is a need for intensive support at a very basic level for long periods of time," he said.

Lin Hatfield Dodds, National Director of United Care agreed, adding that today's unemployed were facing an environment that was inaccessible and even hostile.
"Work is increasingly part-time and causal, and employers are looking for skills and experience these people don't have."
However the four church groups at today's launch at Parliament House agreed that with the right support, along with commitment from Federal and State governments, business and communities, and individuals, employment was still an achievable goal.
SHARED FROM ARCHDIOCESE OF SYDNEY
St. Monica
WIDOWED MOTHER OF ST. AUGUSTINE OF HIPPO
Feast: August 27
Information: Feast Day: August 27
Born: 322 at Tagaste (Souk Ahrus), Algeria
Died: 387 at Ostia, Italy
Major Shrine: Sant'Agostino, Rome
Patron of: patience, married women, homemakers and housewives, mothers, wives, widows, alcoholics, difficult marriages, disappointing children, victims of adultery or unfaithfulness, and victims of (verbal) abuse
Widow; born of Christian parents at Tagaste, North Africa, in 333; died at Ostia, near Rome, in 387. We are told but little of her childhood. She was married early in life to Patritius who held an official position in Tagaste. He was a pagan, though like so many at that period, his religion was no more than a name; his temper was violent and he appears to have been of dissolute habits. Consequently Monica's married life was far from being a happy one, more especially as Patritius's mother seems to have been of a like disposition with himself. There was of course a gulf between husband and wife; her almsdeeds and her habits of prayer annoyed him, but it is said that he always held her in a sort of reverence. Monica was not the only matron of Tagaste whose married life was unhappy, but, by her sweetness and patience, she was able to exercise a veritable apostolate amongst the wives and mothers of her native town; they knew that she suffered as they did, and her words and example had a proportionate effect.
Three children were born of this marriage, Augustine the eldest, Navigius the second, and a daughter, Perpetua. Monica had been unable to secure baptism for her children, and her grief was great when Augustine fell ill; in her distress she besought Patritius to allow him to be baptized; he agreed, but on the boy's recovery withdrew his consent. All Monica s anxiety now centred in Augustine; he was wayward and, as he himself tells us, lazy. He was sent to Madaura to school and Monica seems to have literally wrestled with God for the soul of her son. A great consolation was vouchsafed her -- in compensation perhaps for all that she was to experience through Augustine -- Patritius became a Christian. Meanwhile, Augustine had been sent to Carthage, to prosecute his studies, and here he fell into grievous sin. Patritius died very shortly after his reception into the Church and Monica resolved not to marry again. At Carthage Augustine had become a Manichean and when on his return home he ventilated certain heretical propositions she drove him away from her table, but a strange vision which she had urged her to recall him. It was at this time that she went to see a certain holy bishop, whose name is not given, but who consoled her with the now famous words, "the child of those tears shall never perish." There is no more pathetic story in the annals of the Saints than that of Monica pursuing her wayward son to Rome, wither he had gone by stealth; when she arrived he had already gone to Milan, but she followed him. Here she found St. Ambrose and through him she ultimately had the joy of seeing Augustine yield, after seventeen years of resistance. Mother and son spent six months of true peace at Cassiacum, after which time Augustine was baptized in the church of St. John the Baptist at Milan. Africa claimed them however, and they set out on their journey, stopping at Civit' Vecchia and at Ostia. Here death overtook Monica and the finest pages of his "Confessions" were penned as the result of the emotion Augustine then experienced.
St. Monica was buried at Ostia, and at first seems to have been almost forgotten, though her body was removed during the sixth century to a hidden crypt in the church of St. Aureus. About the thirteenth century, however, the cult of St. Monica began to spread and a feast in her honour was kept on 4 May. In 1430 Martin V ordered the relics to be brought to Rome. Many miracles occurred on the way, and the cultus of St. Monica was definitely established. Later the Archbishop of Rouen, Cardinal d'Estouteville, built a church at Rome in honour of St. Augustine and deposited the relics of St. Monica in a chapel to the left of the high altar. The Office of St. Monica however does not seem to have found a place in the Roman Breviary before the sixteenth century. In 1850 there was established at Notre Dame de Sion at Paris an Association of Christian mothers under the patronage of St. Monica; its object was mutual prayer for sons and husbands who had gone astray. This Association was in 1856 raised to the rank of an archconfraternity and spread rapidly over all the Catholic world, branches being established in Dublin, London, Liverpool, Sidney, and Buenos Ayres. Eugenius IV had established a similar Confraternity long before.
http://www.ewtn.com/saintsHoly/saints/M/stmonica.asp