Vatican Radio REPORT On the dot of twelve midday Pope Benedict XVI greeted the many faithful in the courtyard of the Papal Summer residence at Castelgandolfo in the Roman Hills. Before reciting the Marian prayer, the Holy Father took time to reflect on Sunday's Gospel featuring the speech made by Jesus in the synagogue at Capernaum.

Setting the scene, the Holy Father explained that the previous day Jesus had fed thousands of people with just five loaves and two fishes . At Capernaum, said the Pope, Jesus reveals the meaning of this miracle, namely, that the time for promises is fulfilled.

"In the Gospel of today's liturgy, Jesus presents himself as the living bread come down from heaven. May we always hunger for the gift of his presence in the Eucharistic sacrifice, wherein Jesus gives us his very self as food and drink to sustain us on our pilgrim journey to the Father."

Pope Benedict described the pronouncement of Jesus being the bread of life, as being a critical moment and a turning point in his public mission.

Jesus, said the Holy Father explains himself the image of the bread saying, that he was sent to offer his own life, and those who want to follow him are asked to join him in a deep and personal way, participating in his sacrifice of love.

The Pope went on to say that this is why Jesus will go on to establish the Sacrament of the Eucharist at the Last Supper.

Listening to this speech at Capernaum, said Pope Benedict the crowd understood that Jesus was not a Messiah who aspired to an earthly throne. Jesus was hinting at the sacrifice of the Cross, in which he would become the Bread broken for the masses.

Concluding his address the Pope expressed the hope that people would once again be amazed by the words of Christ and rediscover the beauty of the Eucharist.
Following the Angelus prayer the Pope sent greetings in Polish to His Holiness Kirill I, Patriarch of Moscow who is in Poland as a guest of the Orthodox Church there.

The program of the visit also includes meetings with Catholic bishops and the common declaration of desire to grow the fraternal union and to collaborate in spreading the Gospel values ​​in the contemporary world, in the spirit of faith in Christ Jesus
SHARED FROM RADIO VATICANA
PLEASE DONATE TODAY THANK-YOU. GOD BLESS.Jesus Caritas Est, Catholic Daily News, celebrates its 3RD anniversary.

http://jesuscaritasest.org

was established in 2009. This DAILY service began in response to the universal call for charity in Pope Benedict XVI´s encyclical "Deus Caritas Est." Now it is reaching out globally. We are read in over 200 countries worldwide. Its motto is "Jesus Caritas Est"

; Jesus

is love.
DONATE NOW VIA PAYPAL
JCE News provides a DAILY digest of many stories impacting your world today.
Through the news service, many are provided with information on the Catholic Christian World. We provide:
*DAILY News from every continent
*BREAKING NEWS COVERAGE
*Vatican coverage (Vatican Information Service, Radio Vatican, Vatican.va)
*Daily Gospel readings - DAILY MASS VIDEO
*Daily Saint stories
*Archives and Search engine at Blog
If you would like to help this apostolate contribute to the glorification of God through this service, please consider supporting the JCE. We keep you in our prayers please remember us.
Thank-you dear readers for your support and God bless,
jesuscaritasest
IF YOU HAVE A NEWS STORY TO PUBLISH PLEASE CONTACT US AT
e-mail :
jesuscaritasest@gmail.com
DONATE NOW VIA PAYPAL-
CLICK THE PAYPAL BUTTON ON OUR WEBSITE OR BLOGS.
WE NEED YOUR HELP DONATE NOW VIA PAYPAL
CATHOLIC HERALD REPORT:
The English leader of a breakaway traditionalist group has said that he wishes to be reconciled with the Catholic Church.
Bishop David Bell, 41, is head of the
Society of Pope Leo XIII
, which upholds the pre-Vatican II teachings of the Church, particularly the older form of the Tridentine Mass. The society claims to have 73 bishops and 500 priests, and to be responsible for congregations totalling 8.5 million people.
In the eyes of the Church Bishop Bell's ordination as a bishop is valid but illicit; he was ordained by bishops with the Apostolic Succession and has passed this on to other bishops he has ordained, but all of this is without the sanction of the Catholic Church.
A report in the Italian newspaper La Stampa last week said that Bishop Bell, who calls himself Archbishop of London, had prepared a "curse" against Bishop Mario Meini of the Diocese of Fiesole, Italy, but he said that this was incorrect.
"I issued a decree of anathema because he said I wasn't a bishop. Only the Holy See can make such a declaration," he said.
Bishop Bell met Pope Benedict XVI at a Wednesday audience in June 2011 and kissed his hand. "How did I meet the Holy Father? I asked," he said, stressing that he applied to meet him as head of the Society of Pope Leo XIII.
He said that he accepts the infallibility of the Pope. "We don't speak out against the Holy See," he said, emphasising that doctrinally they are close to the Church. "As far as we are concerned there's very little difference at all," he said. The one important point is the Tridentine Mass, which Pope Benedict has brought to greater prominence in the Church.
Bishop Bell confirmed that the Society of Pope Leo XIII is "in talks" with the Congregation for the Doctrine of the Faith. "The Holy See has held private talks with illicit bishops for hundreds of years," he said.
He accepted that if they were to come back into full communion they would have to accept the authority of the Church. "We intend to bend, to work more closely with Rome," he said. He said that talks had already been held with officials at the Congregation for the Doctrine of the Faith.
He said that if and when he would accepted back he will be a titular bishop only, without any episcopal power within the Church, and accepts that "my hands will be tied unless or until the Holy See decides otherwise".
"It is a long journey and will take a long time," he said.
SHARED FROM CATHOLIC HERALD
USCCB REPORT
August 16, 2012
WASHINGTON—Catholics can learn about the state of poverty in the United States and concrete ways they can make a difference at a new website from the the U.S. Conference of Catholic Bishops (USCCB). The site,
www.povertyusa.org
, was launched August 15 and offers tools and resources to spread the word about poverty in America. Resources include an interactive poverty map with state and county level poverty statistics, a Poverty Tour video which gives viewers a sense of what it is like to live at the federal poverty line, videos and links to PovertyUSA's social media sites, including
www.facebook.com/povertyusa
.
The website, which is an initiative of the Catholic Campaign for Human Development (CCHD) and USCCB's Department of Justice, Peace and Human Development, will feature selected news stories related to the state of poverty in the United States. Also, on the county-level view of poverty statistics, visitors will be able to find examples of local organizations working to alleviate poverty in their communities.
We are committed to providing educational content related to poverty as well as hopeful examples of what we can do to make the state of poverty better," said Ralph McCloud, national director of CCHD. "We welcome comments regarding the new site or suggestions for future feature articles or guest editorials."
Comments and suggestions may be sent to the Justice, Peace and Human Development
main email
. Those wishing to receive additional resources on a regular basis can
sign up for the email newsletter
. . .
, Notes for Neighbors.
CCHD is the domestic anti-poverty program of the USCCB and works to break the cycle of poverty by helping low-income people participate in decisions that affect their lives, families and communities. It has a complementary mission of educating on poverty and its causes. This dual pastoral strategy of education for justice and helping people who are poor speak and act for themselves reflects the mandate of the Scriptures and the principles of Catholic social teaching.
CCHD is made possible by the generous support of Catholics in the United States, especially through an annual parish collection. CCHD's grants to local anti-poverty efforts are screened, awarded and monitored in close partnership with local Catholic dioceses. CCHD grants to groups in a local community require the explicit approval of the bishop of that diocese.
SHARED FROM USCCB
ASIA NEWS REPORT
by Nirmala Carvalho
For the first time, the Capuchin Fathers in Vazhavanthan Kottai refugee camp (Tamil Nadu) organized the festival in honor of the Virgin Mary, venerated by Catholics and Sri Lankans. India "hosts" thousands of refugees from the civil war in 118 camps. A priest denounces the plight of Sri Lankan refugees in India.
Chennai (AsiaNews) - A "miracle of unity and peace" capable of gathering "Hindus and Christians together" is how Fr. Nithiya OFM, Executive Secretary of the Office for Human Development of the Federation of Asian Bishop Conferences (FABC), described the feast in honor of Our Lady of Madhu, honored in Sri Lanka and for the first time celebrated in India to
AsiaNews
. For 11 days, the Sri Lankan refugee camp in Vazhavanthan Kottai, near Trichy (Tamil Nadu), hosted the statue of Our Lady of Madhu, welcoming Catholics and not only from the 118 refugee camps in the Indian state.
The Shrine of Our Lady of Madhu (diocese of Mannar, Sri Lanka) is a place of great devotion for the Catholic Tamil and Sinhalese, and a symbol of unity between them and the faithful of all religions. Every year, on the occasion of the Solemnity of the Assumption, hundreds of thousands of pilgrims come to Madhu.
The Capuchins have run the camp at Vazhavanthan Kottai for 22 years, devoted to social development and pastoral care of refugees. Education, basic health services, courses in tailoring and computer science are the main activities. However, given the difficulties of going to Sri Lanka for the pilgrimage and the harsh conditions in which the Tamil refugees live, led the priests to create a sanctuary in India. For the occasion, Fr. Nithiya and Fr. Selva brought the statue of Our Lady to Trichy.
During and after the civil war in Sri Lanka, thousands of Tamils ​​ fled to India, "welcomed" to 118 refugee camps in Tamil Nadu. "Here - explains Fr. Nithiya - there is no transparency or clarity. Nobody takes responsibility for what happens in the camps and in police stations. There are no controls, and I do not know if there is procedure to appeal and report abuse. No country has the right to torture men and women just because they are citizens of another State. This is a symptom of a lack of human consciousness and social thought. No democracy should tolerate such a condition of the human being. When it comes to torture, India is no different from other countries. "
In Sri Lanka, meanwhile, the Christian Solidarity Movement (CSM) has dedicated the prayers of the Solemnity of the Assumption to all IDPs (internally displaced people, IDPs) of the civil war, in particular Mullikulam refugees.
SHARED FROM ASIA NEWS IT
Catholic Communications, Sydney Archdiocese REPORT
20 Aug 2012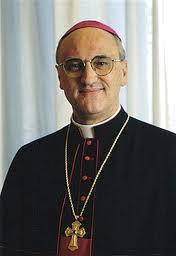 Pope Benedict XVI has appointed Archbishop Giuseppe Lazzarotto, Apostolic Nuncio to Australia as Apostolic Nuncio to Israel and Apostolic Delegate in Jerusalem and Palestine.
Archbishop Lazzarotto was appointed Nuncio to Australia by His Holiness Pope Benedict XVI in January 2008. After serving as Nuncio for the past four and a half years, he will leave shortly to take up his new position.
"I am aware it is a major challenge," the 70-year old Italian prelate told Vatican Radio at the weekend, adding it was a challenge he accepted with joy.
"It is important to carry on the work of the past few years accomplished by the hard work and graciousness by my predecessors, and I will move in their wake offering my best efforts in the cause of dialogue and peace."
He said it was only through dialogue a just solution could be found to meet the varied and often conflicting aspirations of the different people of the region.
"There are many men and women of good will who live in the Holy Land," he said and praised the small Christian community in the Middle East, including their witness to their faith through what he described as "small gestures of understanding, dialogue and friendship.
Archbishop Lazzarotto is no stranger to the region was Apostolic Nuncio to Jordan and Iraq from 1994 until 2000 and prior to this, served in Jerusalem from 1982 until 1984.
The replacement for Archbishop Lazzarotto as Nuncio to Australia as not yet been announced.
SHARED FROM ARCHDIOCESE OF SYDNEY
Matthew 19: 16 - 22

---

16

And behold, one came up to him, saying, "Teacher, what good deed must I do, to have eternal life?"

17

And he said to him, "Why do you ask me about what is good? One there is who is good. If you would enter life, keep the commandments."

18

He said to him, "Which?" And Jesus said, "You shall not kill, You shall not commit adultery, You shall not steal, You shall not bear false witness,

19

Honor your father and mother, and, You shall love your neighbor as yourself."

20

The young man said to him, "All these I have observed; what do I still lack?"

21

Jesus said to him, "If you would be perfect, go, sell what you possess and give to the poor, and you will have treasure in heaven; and come, follow me."

22

When the young man heard this he went away sorrowful; for he had great possessions.


Information:

| | |
| --- | --- |
| | |
| | |
| | August 20, 1153, Clairvaux, France |
| | January 18, 1174, Rome by Pope Alexander III |
| | |
| | Cistercians, Burgundy, beekeepers, candlemakers, climbers |

Born in 1090, at Fontaines, near Dijon. France; died at Clairvaux, 21 August, 1153. His parents were Tescelin, lord of Fontaines, and Aleth of Montbard, both belonging to the highest nobility of Burgundy. Bernard, the third of a family of seven children, six of whom were sons, was educated with particular care, because, while yet unborn, a devout man had foretold his great destiny. At the age of nine years, Bernard was sent to a much renowned school at Chatillon-sur-Seine, kept by the secular canons of Saint-Vorles. He had a great taste for literature and devoted himself for some time to poetry. His success in his studies won the admiration of his masters, and his growth in virtue was no less marked. Bernard's great desire was to excel in literature in order to take up the study of Sacred Scripture, which later on became, as it were, his own tongue. "Piety was his all," says Bossuet. He had a special devotion to the Blessed Virgin, and there is no one who speaks more sublimely of the Queen of Heaven. Bernard was scarcely nineteen years of age when his mother died. During his youth, he did not escape trying temptations, but his virtue triumphed over them, in many instances in a heroic manner, and from this time he thought of retiring from the world and living a life of solitude and prayer.

St. Robert, Abbot of Molesmes, had founded, in 1098, the monastery of Citeaux, about four leagues from Dijon, with the purpose of restoring the Rule of St. Benedict in all its rigour. Returning to Molesmes, he left the government of the new abbey to St. Alberic, who died in the year 1109. St. Stephen had just succeeded him (1113) as third Abbot of Citeaux, when Bernard with thirty young noblemen of Burgundy, sought admission into the order. Three years later, St. Stephen sent the young Bernard, at the head of a band of monks, the third to leave Citeaux, to found a new house at Vallee d'Absinthe, or Valley of Bitterness, in the Diocese of Langres. This Bernard named Claire Vallee, of Clairvaux, on the 25th of June, 1115, and the names of Bernard and Clairvaux thence became inseparable. During the absence of the Bishop of Langres, Bernard was blessed as abbot by William of Champeaux, Bishop of Chalons-sur-Marne, who saw in him the predestined man, servum Dei. From that moment a strong friendship sprang up between the abbot and the bishop, who was professor of theology at Notre Dame of Paris, and the founder of the cloister of St. Victor.

The beginnings of Clairvaux were trying and painful. The regime was so austere that Bernard's health was impaired by it, and only the influence of his friend William of Champeaux, and the authority of the General Chapter could make him mitigate his austerities. The monastery, however, made rapid progress. Disciples flocked to it in great numbers, desirous of putting themselves under the direction of Bernard. His father, the aged Tescelin, and all his brothers entered Clairvaux as religious, leaving only Humbeline, his sister, in the world and she, with the consent of her husband, soon took the veil in the Benedictine Convent of Jully. Clairvaux becoming too small for the religious who crowded there, it was necessary to send out bands to found new houses. In 1118, the Monastery of the Three Fountains was founded in the Diocese of Chalons; in 1119, that of Fontenay in the Diocese of Auton (now Dijon) and in 1121, that of Foigny, near Veirins, in the Diocese of Lain (now Soisson), Notwithstanding this prosperity, the Abbot of Clairvaux had his trials. During an absence from Clairvaux, the Grand Prior of Cluny, Bernard of Uxells, sent by the Prince of Priors, to use the expression of Bernard, went to Clairvaux and enticed away the abbot's cousin, Robert of Chatillon. This was the occasion of the longest, and most touching of Bernard's letters.

In the year 1119, Bernard was present at the first general chapter of the order convoked by Stephen of Citeaux. Though not yet thirty years old, Bernard was listened to with the greatest attention and respect, especially when he developed his thoughts upon the revival of the primitive spirit of regularity and fervour in all the monastic orders. It was this general chapter that gave definitive form to the constitutions of the order and the regulations of the "Charter of Charity" which Pope Callixtus II confirmed 23 December, 1119. In 1120 Bernard composed his first work "De Gradibus Superbiae et Humilitatis" and his homilies which he entitles "De Laudibus Mariae". The monks of Cluny had not seen, with satisfaction, those of Citeaux take the first place among the religious orders for regularity and fervour. For this reason there was a temptation on the part of the "Black Monks" to make it appear that the rules of the new order were impracticable. At the solicitation of William of St. Thierry, Bernard defended himself by publishing his "Apology" which is divided into two parts. In the first part he proves himself innocent of the invectives against Cluny, which had been attributed to him, and in the second he gives his reasons for his attack upon averred abuses. He protests his profound esteem for the Benedictines of Cluny whom he declares he loves equally as well as the other religious orders. Peter the Venerable, Abbot of Cluny, answered the Abbot of Clairvaux without wounding charity in the least, and assured him of his great admiration and sincere friendship. In the meantime Cluny established a reform, and Suger himself, the minister of Louis le Gros, and Abbot of St. Denis, was converted by the apology of Bernard. He hastened to terminate his worldly life and restore discipline in his monastery. The zeal of Bernard did not stop here; it extended to the bishops, the clergy, and the faithful, and remarkable conversions of persons engaged in worldly pursuits were among the fruits of his labours. Bernard's letter to the Archbishop of Sens is a real treatise "De Officiis Episcoporum". About the same time he wrote his work on "Grace and Free Will".

In the year 1128, Bernard assisted at the Council of Troyes, which had been convoked by Pope Honorius II, and was presided over by Cardinal Matthew, Bishop of Albano. The purpose of this council was to settle certain disputes of the bishops of Paris, and regulate other matters of the Church of France. The bishops made Bernard secretary of the council, and charged him with drawing up the synodal statutes. After the council, the Bishop of Verdun was deposed. There then arose against Bernard unjust reproaches and he was denounced even in Rome, as a monk who meddled with matters that did not concern him. Cardinal Harmeric, on behalf of the pope, wrote Bernard a sharp letter of remonstrance. "It is not fitting" he said "that noisy and troublesome frogs should come out of their marshes to trouble the Holy See and the cardinals". Bernard answered the letter by saying that, if he had assisted at the council, it was because he had been dragged to it, as it were, by force. "Now illustrious Harmeric", he added, "if you so wished, who would have been more capable of freeing me from the necessity of assisting at the council than yourself? Forbid those noisy troublesome frogs to come out of their holes, to leave their marshes . . . Then your friend will no longer be exposed to the accusations of pride and presumption". This letter made a great impression upon the cardinal, and justified its author both in his eyes and before the Holy See. It was at this council that Bernard traced the outlines of the Rule of the Knights Templars who soon became the ideal of the French nobility. Bernard praises it in his "De Laudibus Novae Militiae".

The influence of the Abbot of Clairvaux was soon felt in provincial affairs. He defended the rights of the Church against the encroachments of kings and princes, and recalled to their duty Henry Archbishop of Sense, and Stephen de Senlis, Bishop of Paris. On the death of Honorius II, which occurred on the 14th of February, 1130, a schism broke out in the Church by the election of two popes, Innocent II and Anacletus II. Innocent II having been banished from Rome by Anacletus took refuge in France. King Louis le Gros convened a national council of the French bishops at Etampes, and Bernard, summoned thither by consent of the bishops, was chosen to judge between the rival popes. He decided in favour of Innocent II, caused him to be recognized by all the great Catholic powers, went with him into Italy, calmed the troubles that agitated the country, reconciled Pisa with Genoa, and Milan with the pope and Lothaire. According to the desire of the latter, the pope went to Liege to consult with the emperor upon the best means to be taken for his return to Rome, for it was there that Lothaire was to receive the imperial crown from the hands of the pope. From Liege, the pope returned to France, paid a visit to the Abbey of St. Denis, and then to Clairvaux where his reception was of a simple and purely religious character. The whole pontifical court was touched by the saintly demeanor of this band of monks. In the refectory only a few common fishes were found for the pope, and instead of wine, the juice of herbs was served for drink, says an annalist of Citeaux. It was not a table feast that was served to the pope and his followers, but a feast of virtues. The same year Bernard was again at the Council of Reims at the side of Innocent II, whose oracle he was; and then in Aquitaine where he succeeded for the time in detaching William, Count of Poitiers, from the cause of Anacletus.

In 1132, Bernard accompanied Innocent II into Italy, and at Cluny the pope abolished the dues which Clairvaux used to pay to this celebrated abbey—an action which gave rise to a quarrel between the "White Monks" and the "Black Monks" which lasted twenty years. In the month of May, the pope supported by the army of Lothaire, entered Rome, but Lothaire, feeling himself too weak to resist the partisans of Anacletus, retired beyond the Alps, and Innocent sought refuge in Pisa in September, 1133. In the meantime the abbot had returned to France in June, and was continuing the work of peacemaking which he had commenced in 1130. Towards the end of 1134, he made a second journey into Aquitaine, where William X had relapsed into schism. This would have died out of itself if William could have been detached from the cause of Gerard, who had usurped the See of Bordeaux and retained that of Angoul EAme. Bernard invited William to the Mass which he celebrated in the Church of La Couldre. At the moment of the Communion, placing the Sacred Host upon the paten, he went to the door of the church where William was, and pointing to the Host, he adjured the Duke not to despise God as he did His servants. William yielded and the schism ended. Bernard went again to Italy, where Roger of Sicily was endeavouring to withdraw the Pisans from their allegiance to Innocent. He recalled the city of Milan, which had been deceived and misled by the ambitious prelate Anselm, Archbishop of Milan, to obedience to the pose, refused the Archbishopric of Milan, and returned finally to Clairvaux. Believing himself at last secure in his cloister Bernard devoted himself with renewed vigour to the composition of those pious and learned works which have won for him the title of "Doctor of the Church". He wrote at this time his sermons on the "Canticle of Canticles".

In 1137 he was again forced to leave his solitude by order of the pope to put an end to the quarrel between Lothaire and Roger of Sicily. At the conference held at Palermo, Bernard succeeded in convincing Roger of the rights of Innocent II and in silencing Peter of Pisa who sustained Anacletus. The latter died of grief and disappointment in 1138, and with him the schism. Returning to Clairvaux, Bernard occupied himself in sending bands of monks from his too-crowded monastery into Germany, Sweden, England, Ireland, Portugal, Switzerland, and Italy. Some of these, at the command of Innocent II, took possession of Three Fountains Abbey, near the Salvian Waters in Rome, from which Pope Eugenius III was chosen. Bernard resumed his commentary on the "Canticle of Canticles", assisted in 1139, at the Second General Lateran Council and the Tenth Oecumenical, in which the surviving adherents of the schism were definitively condemned. About the same time, Bernard was visited at Clairvaux by St. Malachi, metropolitan of the Church in Ireland, and a very close friendship was formed between them. St. Malachi would gladly have taken the Cistercian habit, but the sovereign pontiff would not give his permission. He died, however, at Clairvaux in 1148.

In the year 1140, we find Bernard engaged in other matters which disturbed the peace of the Church. Towards the close of the eleventh century, the schools of philosophy and theology, dominated by the passion for discussion and a spirit of independence which had introduced itself into political and religious questions, became a veritable public arena, with no other motive than that of ambition. This exaltation of human reason and rationalism found an ardent and powerful adherent in Abelard, the most eloquent and learned man of the age after Bernard. "The history of the calamities and the refutation of his doctrine by St. Bernard", says Ratisbonne, "form the greatest episode of the twelfth century". Abelard's treatise on the Trinity had been condemned in 1121, and he himself had thrown his book into the fire. But in 1139 he advocated new errors. Bernard, informed of this by William of St. Thierry, wrote to Abelard who answered in an insulting manner. Bernard then denounced him to the pope who caused a general council to be held at Sens. Abelard asked for a public discussion with Bernard; the latter showed his opponent's errors with such clearness and force of logic that he was unable to make any reply, and was obliged, after being condemned, to retire. he pope confirmed the judgment of the council, Abelard submitted without resistance, and retired to Cluny to live under Peter the Venerable, where he died two years later.

Innocent II died in 1143. His two successors, Celestin II and Lucius, reigned only a short time, and then Bernard saw one of his disciples, Bernard of Pisa, Abbott of Three Fountains, and known thereafter as Eugenius III, raised to the Chair of St. Peter. Bernard sent him, at his own request, various instructions which compose the "Book of Consideration", the predominating idea of which is that the reformation of the Church ought to commence with the sanctity of the head. Temporal matters are merely accessories; the principal are piety, meditation, or consideration, which ought to precede action. The book contains a most beautiful page on the papacy, and has always been greatly esteemed by the sovereign pontiffs, many of whom used it for their ordinary reading.

Alarming news came at this time from the East. Edessa had fallen into the hands of the Turks, and Jerusalem and Antioch were threatened with similar disaster. Deputations of the bishops of Armenia solicited aid from the pope, and the King of France also sent ambassadors. The pope commissioned Bernard to preach a new Crusade and granted the same indulgences for it which Urban II had accorded to the first. A parliament was convoked at Vezelay in Burgundy in 1134, and Bernard preached before the assembly. The King, Louis le Jeune, Queen Eleanor, and the princes and lords present prostrated themselves at the feet of the Abbot of Clairvaux to receive the cross. The saint was obliged to use portions of his habit to make crosses to satisfy the zeal and ardour of the multitude who wished to take part in the Crusade. Bernard passed into Germany, and the miracles which multiplied almost at his every step undoubtedly contributed to the success of his mission. The Emperor Conrad and his nephew Frederick Barbarossa, received the pilgrims' cross from the hand of Bernard, and Pope Eugenius, to encourage the enterprise, came in person to France. It was on the occasion of this visit, 1147, that a council was held at Paris, at which the errors of Gilbert de la Poree, Bishop of Poitiers, were examined. He advanced among other absurdities that the essence and the attributes of God are not God, that the properties of the Persons of the Trinity are not the persons themselves in fine that the Divine Nature did not become incarnate. The discussion was warm on both sides. The decision was left for the council which was held at Reims the following year (1148), and in which Eon de l'Etoile was one of the judges. Bernard was chosen by the council to draw up a profession of faith directly opposed to that of Gilbert, who concluding by stating to the Fathers: "If you believe and assert differently than I have done I am willing to believe and speak as you do". The consequence of this declaration was that the pope condemned the assertions of Gilbert without denouncing him personally. After the council the pope paid a visit to Clairvaux, where he held a general chapter of the order and was able to realize the prosperity of which Bernard was the soul.

The last years of Bernard's life were saddened by the failure of the Crusade he had preached, the entire responsibility for which was thrown upon him. He had accredited the enterprise by miracles, but he had not guaranteed its success against the misconduct and perfidy of those who participated in it. Lack of discipline and the over-confidence of the German troops, the intrigues of the Prince of Antioch and Queen Eleanor, and finally the avarice and evident treason of the Christian nobles of Syria, who prevented the capture of Damascus, appear to have been the cause of disaster. Bernard considered it his duty to send an apology to the pope and it is inserted in the second part of his "Book of Consideration". There he explains how, with the crusaders as with the Hebrew people, in whose favour the Lord had multiplies his prodigies, their sins were the cause of their misfortune and miseries. The death of his contemporaries served as a warning to Bernard of his own approaching end The first to die was Suger (1152), of whom the Abbot wrote to Eugenius III: "If there is any precious vase adorning the palace of the King of Kings it is the soul of the venerable Suger". Thibaud, Count of Champagne, Conrad, Emperor of Germany, and his son Henry died the same year. From the beginning of the year 1153 Bernard felt his death approaching. The passing of Pope Eugenius had struck the fatal blow by taking from him one whom he considered his greatest friend and consoler. Bernard died in the sixty-third year of his age, after forty years spent in the cloister. He founded one hundred and sixty-three monasteries in different parts of Europe; at his death they numbered three hundred and forty-three. He was the first Cistercian monk placed on the calendar of saints and was canonized by Alexander III, 18 January 1174. Pope Pius VIII bestowed on him the title of Doctor of the Church. The Cistercians honour him as only the founders of orders are honoured, because of the wonderful and widespread activity which he gave to the Order of Citeaux.

The works of St. Bernard are as follows:

"De Gradibus Superbiae", his first treatise; "Homilies on the Gospel 'Missus est'" (1120); "Apology to William of St. Thierry" against the claims of the monks of Cluny; "On the Conversion of Clerics", a book addressed to the young ecclesiastics of Paris (1122); "De Laudibus Novae Militiae", addressed to Hughes de Payns, first Grand Master and Prior of Jerusalem (1129). This is a eulogy of the military order instituted in 1118, and an exhortation to the knights to conduct themselves with courage in their several stations.

"De amore Dei" wherein St. Bernard shows that the manner of loving God is to love Him without measure and gives the different degree of this love; "Book of Precepts and Dispensations" (1131), which contains answers to questions upon certain points of the Rule of St. Benedict from which the abbot can, or cannot, dispense; "De Gratia et Libero Arbitrio" in which the Catholic dogma of grace and free will is proved according to the principles of St. Augustine; "Book of Considerations", addressed to Pope Eugenius III; "De Officiis Episcoporum", addressed to Henry, Archbishop of Sens.

His sermons are also numerous: "On Psalm 90, 'Qui habitat'" (about 1125); "On the Canticle of Canticles". St. Bernard explained in eighty-six sermons only the first two chapters of the Canticle of Canticles and the first verse of the third chapter.

There are also eighty-six "Sermons for the Whole Year"; his "Letters" number 530. Many other letters, treatises, etc., falsely attributed to him are found among his works, such as the "l'Echelle du Cloitre", which is the work of Guigues, Prior of La Grande Chartreuse, les Meditations, l'Edification de la Maison interieure, etc. SOURCE: EWTN