Matthew 5: 33 - 37


---

33

"Again you have heard that it was said to the men of old, `You shall not swear falsely, but shall perform to the Lord what you have sworn.'

34

But I say to you, Do not swear at all, either by heaven, for it is the throne of God,

35

or by the earth, for it is his footstool, or by Jerusalem, for it is the city of the great King.

36

And do not swear by your head, for you cannot make one hair white or black.

37

Let what you say be simply `Yes' or `No'; anything more than this comes from evil.
ARCHDIOCESE OF SYDNEY RELEASE:
Catholic Communications, Sydney Archdiocese,
14 Jun 2012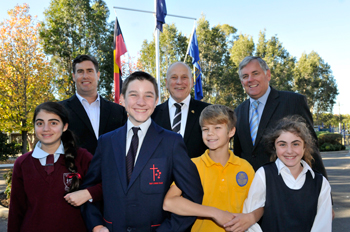 Thanks to a $34,000 grant from Dooley's Catholic Club at Lidcombe, 15 local Catholic schools will be able to offer bursaries to families battling to meet the cost of a Catholic education for their children.
"While the cost of an education at a Catholic school is kept as low as possible, for some families it can still be a struggle to meet these costs," explains Kevin Greene, Director of the Archdiocese of Sydney's Catholic Education Foundation.
Established a year ago, the Foundation was created to support those whose lives might be transformed by the gift of education and to make a Catholic education accessible to all Catholics, regardless of their financial position.
Kevin Greene, the former member of the NSW Legislative Assembly and for many years state MP for Oatley, had a long and distinguished career as a Parliamentarian and is well known as a champion of social justice and a tireless worker on behalf of the disadvantaged and those on the margins.
"The very generous donation from Dooley's is a reflection of the club's continuing commitment to the local Lidcombe area as well as the broader Catholic community," he says.
The Lidcombe Catholic Club or Dooleys as it is affectionately known, is one of the oldest social clubs in NSW - and one of the most generous. In the past year alone, Dooley's has donated more than $1.4 million in support of the immediate area. Above and beyond this, the Club donates to many other causes. These include its ongoing support of the Archdiocese of Sydney's Charitable Works Fund which helps fund the Seminary of the Good Shepherd, Homebush; provide pastoral care for Sydney's deaf community at the Ephpheta Centre, Punchbowl; the Aboriginal Catholic Ministry and the Reconciliation Church at La Perouse; as well as the Archdiocese's chaplaincies operating at the city's hospitals, universities, prisons and ports.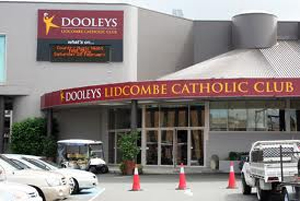 Donations to the Charitable Works Fund also support several important welfare programs and the Confraternity of Christian Doctrine which provides training and resources for the more than 1700 catechists giving religious instruction at Sydney's public primary and secondary schools.
In addition to its annual donation to the Works Fund earlier this year Dooleys gave a direct gift of $15,950 to the Ephpheta Centre for the many services offered to the deaf, and on 17 March this year was one of the biggest donors at a St Patrick's Day fundraiser, presenting CatholicCare with a cheque for $5000 towards the agency's Early Childhood Intervention Program.
"We are always delighted that we are able to give to the communities where our members live and to genuinely make a difference," says John Munce, current president and long time member of Dooleys. "We are here to serve our members as well as the community and are proud to do so."
Giving back to the community and offering a financial hand to local parishes, schools, sporting groups and organisations, as well as the areas hospitals and aged care homes has long been a tradition at Dooleys.
In 2011 the list of those who received help and sizeable financial donations from the Club included more than 14 local area primary and secondary schools as well as the University of Sydney's Refugee Language Program, St Vincent de Paul Society, the Australian Catholic University, the Leukaemia Foundation, Queensland Flood Relief Appeal, Barnardo's and the Sydney Breast Cancer Foundation.
Other donations made by Dooleys included the Auburn Diversity Services, the Community of Southern Sudan and Other Marginalised Area Associations and the Kateb Hazara Association.
"It is a good feeling to have the Club able to step in and do something concrete to help the community That's why clubs like ours were established in the first place," Mr Munce explains. "Together with providing a social centre for an area, clubs were formed to give back to the community and to help them thrive and grow. This is what Dooleys has always done and as far as the club industry is concerned, we are up there with the best."
Now the club which is regarded as among the top 10 clubs in NSW is stepping in to help give children a Catholic education and help parents who are struggling to pay their school fees.
"We all know that education is the key to giving children the very best start in life and know that Sydney's Catholic schools provide great learning experiences for their students," Mr Munce says adding that Dooleys is very proud to be associated with the work of the Catholic Education Foundation.
A $2000 donation to the Foundation provides a Catholic primary school student with an education bursary for a year while a $4000 donation will support a secondary school student's education for one year.
Donations are fully tax deductible. To find out how to apply for a bursary and help with education costs or to find out how to donate to the Foundation so more families can be given support to ensure their children receive the valuable gift of a Catholic education, log on to
www.ceosyd.catholic.edu.au
or contact the Foundation Director direct on 02 9568 8205.
SHARED FROM ARCHDIOCESE OF SYDNEY
CISA NEWS REPORT:
NAIROBI, June 15, 2012 (CISA)
–John Cardinal Njue has said that it is his prayer and hope that investigations as to what caused the crash that killed Internal Security Minister George Saitoti, his deputy Orwa Ojode and four others last Sunday will be uncovered.
The six died last Sunday June 10 in a police helicopter that crashed in Kibiko, Ngong Forest. They were travelling to late Ojode's Ndhiwa Constituency for a fundraiser at a catholic church.
Speaking at the Holy Family Basilica in Nairobi while presiding over the requiem mass of the late Minister Saitoti, Cardinal Njue said, "…We pray and hope that the reality as to what really happened to the helicopter that crashed will be uncovered."
He added, "Our brother the late Minister Saitoti will be remembered for the great work that he did for this nation in his various capacities as minister of finance, as vice-president, in education and in security. There is no doubt that he will be deeply missed in this country."
"Lets us thank God for whom Saitoti had been to his family, constituency and the world. It is our duty and responsibility to make use of the legacy he has left behind…." Said Cardinal Njue.
The mass was attended by several bishops, priests, nuns, diplomatic corps and a large number of citizens. Others were President Mwai Kibaki, Vice-President Kalonzo Musyoka, Prime Minister Raila Odinga, ministers, Members of Parliament and the former president of Ghana Jerry Rawlings.
Meanwhile on Wednesday June 13 a delegation led by His Eminence John Cardinal Njue paid a visit to the wife of the late minister. Cardinal Njue read a message of condolence from all the bishops and the catholic fraternity. The delegation included Msgr Javier Herrera Corona, secretary of the apostolic nunciature to Kenya and Bishop of Kakamega Rt Rev Philip Sulumeti. Also present was former president Daniel Moi.
Mrs Margaret Saitoti told them of her last moments with her husband "George woke up early and said his prayers. Then we had breakfast at eight and then he left for the airport. I knew a plane had crashed in Ngong' but I never thought George was involved. I came to know when people started streaming in. They already knew before me. Later I went to Lee Funeral Home and I touched and knew it was him."
Prof Saitoti was the longest serving vice-president under retired President Moi.
SHARED FROM CISA NEWS
ASIA NEWS REPORT:
by Henry D'Souza*
For Mgr D'Souza, the Diocese of Bellary bases its apostolate on education, health care, and human dignity. Bishop bears witness on the occasion of the celebration of the Sacred Heart of Jesus.
Bellary (AsiaNews) -
The Catholic Church today celebrates the Solemnity of the Sacred Heart of Jesus. For the occasion, Mgr Henry D'Souza, bishop of the Diocese of Bellary (Karnataka), spoke to
AsiaNews
about the "love and compassion of Christ" the local Church shows through its apostolate of education and health care, especially to women and children.
The love and compassion of Christ entreat us to serve the poorest of the poor, Dalits, the illiterate, the jobless and the homeless, abused women and girls, who live in the Diocese of Bellary. All of them are close to the Sacred Heart of Jesus.
The latter's love helped the diocese make great stride towards the empowerment and development of people who are mostly Dalits. Three of our districts (Bellary, Koppal and Raichur) are among the poorest in Karnataka.
The Church has many challenges. Its actions seek to promote the health of women and children, eliminate child labour, empower women, raise awareness about HIV/AIDS, eliminate poverty and promote education.
Our sisters are especially involved with women living with HIV-AIDS, helping them in their medical treatment and social reintegration.
The local population is extremely backward from and an economic standpoint. Women and children are the most vulnerable groups, from a social point of view as well.
The expansion of mining,** often in violation of the law, has made matters worse.
More recently, a drought has hit the region, creating even more dangerous health conditions.
The apostolate of education is the most important thing for the Church in Bellary. It helps empower the poor, especially children, and brings changes to their live. As part of its action, the diocese offers vocational training and skill development courses. This increases self-esteem and the helps youth find dignity and courage.
Families have always been close to the Sacred Heart of Christ. Last month, in the parish of Hirenaganoor, 21 couples got married in a mass ceremony. When the families are poor, the diocese pays for the cost.
This was the parish's second mass wedding. More than 5,000 people joined in the celebration and banquet. The generous contribution by some donors helped meet the expenses.
In these districts, the need for interreligious dialogue is felt very much. As religious leaders, we must work together to promote respect for one another's beliefs and places of worship.
There is no place for violence in the name of religion. Only an India that is at peace with itself can guarantee dignity and prosperity to all its citizens. Violence and hatred can only drain our energy and reduce our resources.
Our efforts must therefore go to sustain the country's religious pluralism, its unity in diversity. May God, the Father of all, bless this great nation and its people!
(
Nirmala Carvalho contributed to this article
)
*Bishop of the Diocese of Bellary.
---
**A Human Rights Watch report found that mining companies have a poor tract record when it comes to respect for environmental laws, indifferent to water pollution and labour exploitation. The situation is especially bad in Karnataka and Goa.
SHARED FROM ASIA NEWS
IEC RELEASE
Healing Stone at RDS
Opening Remarks:
A phobail dhil Dé, cuirim fíorchaoin fáilte romhaibh chuig an Aifreann seo ina ndéanaimid macnamh ar an Eocairist agus ar athmhuintearas.
My sisters and brothers in Jesus Christ, it is a great joy to gather for this celebration of the Eucharist with all of you who are here in the Congress Arena in Dublin and all of you who are watching on television and the internet, or who are listening on radio. Here in the Congress Arena thousands of pilgrims have come together from over 100 countries across the world. This is the fifth day of the 50th International Eucharistic Congress. It is the day when we reflect on the relationship between the Eucharist and Reconciliation. It is also the day when we celebrate the Eucharist in the language and music of the Irish tradition. I want to welcome you all, especially those of you for whom this is the first time to hear the Mass celebrated in the original language of the Irish people. We hope that through the universal language of sign, symbol and gesture of our Catholic liturgy, which is itself a source of our communion with Christ and with one another, you will enter with us in to these sacred mysteries.
Homily
My sisters and brothers in Jesus Christ,
What a great joy it is to come together to listen to God's Word and to experience the beautiful, peaceful presence of the Lord in this Eucharist and in our communion with one another. As I have been walking around the Congress Campus, as I meet you on the streets nearby, I am moved by the great spirit of joy and peace and helpfulness to one another that are so present among us.
We should not be surprised. These are the fruits of the Blessed Eucharist. They are the simple, practical gifts of goodness, kindness, neighbourliness and joy that flow from the presence of Christ himself among us. They really do change the world. They are the fruits of the Eucharist that, every day, help us to become active citizens in building up the civilisation of love that Jesus our Lord calls us to be.
Each time we have gathered to celebrate the Eucharist here at the Congress, I am sure like me, your eyes were drawn to this beautiful icon of Jesus just behind me. You will have noticed the four words that radiate out towards us from the book of the Gospels – Ego sum, pastor bonus – I am the Good Shepherd. These are incredible words! The depth of love and devotion for each one of us that they convey is without equal. I am the Good Shepherd. I know my own sheep and they know me. I know each one by name. I lay down my life for my sheep, so that they might have life and have it to the full.
My dear friends, there are few of us in whom the story of the lost sheep does not find an echo. Who among us has not gone astray at some moment in our lives? Who among us has not chosen our own path rather than the Lord's? Who among us has not experienced the pain of separation or loneliness? Who among us does not know what it is to be afraid? Who among us does not carry the burden of regret for past wrongs?
Today we turn our attention to what Blessed Pope John Paul II called on his visit to Dublin in 1979, 'that other sacrament of God's love, the sacrament of reconciliation'. It is here that the parable of the lost sheep becomes real for us. In our Gospel reading, St Matthew tells us that Jesus, the Good Shepherd will always seek us out when we have gone astray. He is constantly searching for us. If we are open to his help, he will always lead us home to the place where we really belong. He will heal our wounds. He will calm our fears. He will restore our lost innocence. He will bring us here, to the Eucharist, to the perfect sacrifice of reconciliation. In it, through his infinite mercy and love, we are restored to communion with him and with one another.
When we sin, we not only disrupt our innermost self, we also disrupt our relationship with Christ and with one another. The work of reconciliation embraces all these dimensions of the consequences of sin – the personal, the social and the impact on the Body of Christ, which is the Church.
This is why, in the Sacrament of Reconciliation, the effect ofpersonal sin on us and on the whole Church is considered. In the Sacrament of Reconciliation, the priest acts in the name of Christ. He also acts in the name of the Church.
It is through the power of Christ that the Sacrament of Penance mends the broken bonds between individuals and God and between individuals and the body of Christ, the Church. It also helps to restore the bonds of mutual affection, peace and accord within society. In the words of the Eucharistic Prayer for Reconciliation which we are about to pray, it is the Lord who changes our hearts 'to prepare them for reconciliation': it is the Holy Spirit who moves human hearts so that 'enemies speak to each other again, adversaries join hands… hatred is overcome by love, revenge gives way to forgiveness, and discord is changed to mutual respect'.
Jesus has willed that his Church should continue this work – his work of healing and forgiveness, and shepherding - especially among her own members.
He knew well that the life he came to give – life as a child of God - can be weakened and even lost by sin. That is why he left us the Sacrament of Confession where we can get pardon from God's mercy for the sins we have committed.
My brothers and sisters, in our First Reading Saint James warns us of the danger of deceiving ourselves, of knowing God's word and not putting it in to practice. He compares this to looking at ourselves in a mirror and then quickly forgetting what we look like. How easy it can be to forget God's commandments and to live as though God does not exist. When we sin, we distort God's image within us, the image and likeness in which we are made. Sin is not a very popular word in our culture. Evil is often thought of as something rare and extreme, if it is believed to exist at all. Yet history tells us time and time again, that a loss of a sense of sin, or the belief that evil is just an extreme to which I have no connection, can have serious consequences.
Jesus spoke of sin as something that causes us to stumble, something that trips us up on the journey of life. It suggests the image of a loose stone on a path, or a jagged rock on a mountain climb. It reminds me of this stone which I have in my hand. It is a small stone. Yet if this stone could speak it would tell a story of the most incredible and dramatic evil. It would tell of how it felt the cold, weary feet of frightened children, women and men of every age as they were walked to their death at Auschwitz, where this stone was found. This stone reminds me of how the simple idea, that 'God is dead', had enormous and profoundly evil consequences. It was put forward by the philosopher Nietzsche. It later gave rise to the evil idea that a whole race of people should be eliminated, the consequences of which were one of the most tragic events in human history.
There is a much larger stone that sits in a place of honour here before this altar. It will serve as a reminder of those children and young people who were hurt by a Church that first betrayed their trust and then failed to respond adequately to their pain. The words of the Gospel echo in my mind: 'It is not the will of your Father that any of these little ones should be lost'. May God forgive us for the times when we as individuals and as a Church failed to seek out and care for those little ones who were frightened, alone and in pain because someone was abusing them. That we did not always respond to your cries with the concern of the Good Shepherd is a matter of deep shame. We lament the burdens of the painful memories you carry. We pray for healing and peace for those whose suffering continues.
I want to take this opportunity of the 50th International Eucharistic Congress to apologise for the times when some of us were blind to your fear, deaf to your cries and silent in response to your pain. My prayer is that one day this stone might become a symbol of conversion, healing and hope. I hope it will become a symbol of a Church that has learned from the mistakes of the past and strives to become a model for the care and well-being of children. What this stone represents, what has happened in the Church in Ireland and in other places in the world, is a stark warning to all that there can be no passing by on the other side, no room for half-heartedness in our care for the vulnerable and the young.
Every moral choice we make, no matter how small, has consequences. The smallest act of kindness can bring good far beyond our expectations. The smallest act of selfishness can contribute to a wider culture of evil and death that has harmful consequences far beyond our intentions. So every time I choose good, instead of evil, 'I somehow raise up the whole world' (RP, n.16). As Pope Benedict said, 'Our lives are involved with one another, through innumerable interactions they are linked together. No one lives alone. No one sins alone. No one is saved alone' (Spe Salvi, n.48).
The human heart is a place of great beauty and compassion. It is a place from which the greatest acts of human love can flow. Yet, disturbed by sin, the heart can also be a place of turbulence and darkness. It is a place where the smallest and the most terrible acts of evil can also be born.
The importance of conversion as a journey has a long and honoured place in the Irish Christian tradition. The inner journey of conversion has often been symbolised by undertaking a difficult, penitential walk with others. Many of you here will be familiar with the Camino in Spain.
On Tuesday and Wednesday past, our Papal Legate, Cardinal Ouellet visited Saint Patrick's Purgatory on Lough Derg. It is there that thousands of people every year fast and pray and walk around the island and penitential beds, often barefoot. The Congress Bell down beside the lectern, was carried by a group of young people from the Diocese of Tuam to the top of Croagh Patrick. Over 100,000 people every year make this two and a half thousand feet rocky climb, sometimes in their bare feet, as an outward sign of an inward spiritual journey of repentance and reconciliation.
Various groups have walked around Dublin and frm outside Dublin in penitential pilgrimage in preparation for and during this Congress. I am thinking of the inter-denominational pilgrimage to the seven Churches around Dublin.
I am thinking too of the pilgrimage that set out two weeks ago from Bangor, Co Down: Bangor, a place renowned for its association with Saint Columbanus and Saint Gall. I am thinking also of another pilgrimage that set out from Old Mellifont at 4am this morning: Mellifont associated with Saint Bernard and Saint Malachy. These penitential pilgrimages symbolise the journey which we all must make from the place where we deceive ourselves in to thinking we have no sin, to the place of conversion. This conversion is the journey of a contrite heart, drawn and moved by God's grace, a journey to respond to the merciful love of God who has loved us first.
We give thanks for the reconciliation that has already taken place in so many hearts here today. One of my hops for this Congress is that more and more enemies will begin to speak to one another, more and more adversaries may shake hands and more and more opponents may try and meet and simply talk. Another and great hope is that more and more people will meet Jesus the Good Shepherd in Confession, for he is the Word that makes peace, the hand that is extended to all, the way by which the Father shows his mercy to the world.
For in every Mass the body and blood of the Lord is given to us, that we may live like him in our time and place, bringing his compassionate love to all those we meet. A supreme example of this is the story of a British soldier who was involved in the liberation of a concentration camp. He tells of how, walking through the camp, his attention was drawn to two packing cases covered by a worn red curtain. A young Polish priest was clinging to this makeshift altar with one hand, while celebrating Mass. Between his feet lay the body of another priest, who had died during the night. No one had the energy to move the body.
Although an Anglican, the soldier had a working knowledge of the rituals of the Mass. Telling the story in his own words, he said: 'Still supporting himself against the altar, the young priest did his best to distribute the consecrated elements. Some recipients were able to stumble over the rough, scrubby ground of the camp. Others crawled forward to receive communion and then crawled back to share it with others unable to move. Some almost certainly passed on to another - probably better - world before sunset. Whatever one's race or religion – the solider said - one can only be uplifted and impressed by that truly remarkable proof of the ultimate triumph of good over evil.'
Every celebration of the Eucharist is indeed a 'truly remarkable proof of the ultimate triumph of good over evil'. Every Eucharist rolls away that heaviest of all stones, the stone in our heart that keeps us back from friendship with Christ and with one another. Every Eucharist proclaims 'Christ is risen – Our God is alive!' He lives in you and in me. Through His Holy Eucharist he continues to reconcile us to one another. In the memorial of his passion and death, made present in every Eucharist, he continues to reconcile the whole world to himself. Let us therefore be reconciled with God. Let us bring that reconciliation to others. For in this is our peace; in this lies the greatest hope for our world.
In ainm an Athair…
source IEC IRELAND 2012
TODAY IS THE FEAST OF THE IMMACULATE HEART OF MARY: Devotion to the Immaculate heart of Mary has existed for centuries. However, St. Jean Eudes (d. 1681) propagated the devotion, and tried to make it public, and to have a feast celebrated in honor of the Heart of Mary, first at Autun in 1648 and afterwards in a number of French dioceses.
In 1799 Pius VI, then in captivity at Florence, granted the Bishop of Palermo the feast of the Most Pure Heart of Mary for some of the churches in his diocese. In 1805 Pius VII made a new concession, thanks to which the feast was soon widely observed. On 21 July 1855, the Congregation of Rites finally approved the Office and Mass of the Most Pure Heart of Mary without, however, imposing them upon the Universal Church. [Excerpted from
Catholic Encyclopedia
, 1913 edition.]
The feast of the Immaculate Heart of Mary was transferred by Pope Paul VI to the Saturday immediately following the feast of the Sacred Heart of Jesus.
CONSECRATION
I, . . ., a faithless sinner, renew and ratify today in thy Heart, O Immaculate Mother, the vows of my Baptism; I renounce forever Satan, his pomps and works; and I give myself entirely to Jesus Christ, the Incarnate Wisdom, to carry my cross after Him all the days of my life, and to be more faithful to Him than I have ever been before.
Queen of the Most Holy Rosary, in the presence of all the heavenly court, I choose thee this day for my Mother and Mistress. I deliver and consecrate to thee, and to thy Immaculate Heart, as thy child and slave of love, my body and soul, my goods, both interior and exterior, and even the value of all my good actions, past, present and future; leaving to thee the entire and full right of disposing of me, and all that belongs to me, without exception, according to thy good pleasure, for the greater glory of God, in time and in eternity. Amen
NOVENA
Immaculate Heart of Mary, full of love for God and mankind, and of compassion for sinners, I consecrate myself entirely to you. I entrust to you the salvation of my soul. May my heart be ever united with yours, so that I may hate sin, love God and my neighbor, and reach eternal life together with those whom I love.
Mediatrix of All Graces and Mother of Mercy, remember the infinite treasure which your Divine Son has merited by His suffering and which he has confided to you for us, your children. Filled with confidence in your motherly heart, and for the sake of the Sacred Heart of Jesus, obtain for me the favor I ask:
[Mention your request here]
.
Dearest Mother, if what I ask for should not be according to God's will, pray that I may receive that which will be of greater benefit to my soul. May I experience the kindness of your intercession with Jesus during life and at the hour of my death? Amen.