ARCHDIOCESE OF SYDNEY REPORT:
Catholic Communications, Sydney Archdiocese,
25 May 2012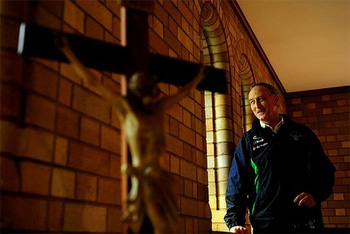 Monsignor John Woods, long time chaplain for the Canberra Raiders has been appointed Administrator of the Archdiocese of Canberra-Goulburn.
For many years Vicar-General of the Archdiocese, the sports-loving priest became Administrator after former Archbishop Mark Coleridge was installed as Archbishop of Brisbane earlier this month.
As a young priest, Msgr Woods studied at Ottawa's St Paul's University in Canada and on his return to Australia in 1985 was appointed full-time Director of the Archdiocese of Canberra-Goulburn's Marriage Tribunal but took on an additional role as chaplain to the Raiders, ACT's beloved rugby league team.
"Back then only two NRL teams had chaplains. The first was the Penrith Panthers and the Raiders was the second," he says explaining the position is an ecumenical appointment under the auspices of Sports Chaplaincy Australia. "The Raiders' first chaplain was an Anglican priest, but after serving a year he was transferred and he asked me if I'd be interested in taking over."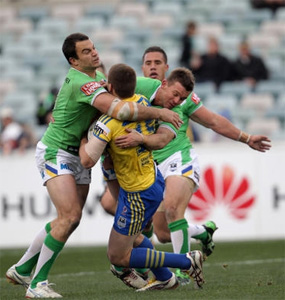 Msgr Woods knew Raiders' (then) coach, Don Furner and his family from his time as assistant priest in the Queanbeayan parish back in 1978. "In fact, Don's sons, David who is the current coach of the Raiders and his brother, also Don who is the Club's present CEO, were among my altar servers," he says, adding that he was also keen to take up this new role as it offered him a chance to be a priest to the wider community.
"Being chaplain to the Raiders is not an official position, there's no pay involved and I have nothing to do with team selections. It's more about relationships and being someone who is a constant, someone who's always around and willing to listen and have a yarn," he says. "I'm, the 'go to person', the one players or support staff might turn to for a friendly chat or when something is bothering them and they need a bit of counselling and advice."
Msgr Woods says: "God comes to you disguised as your life" and is convinced openness to matters of faith and the yearning for "something more of life" can emerge from within the easy-going friendly setting established between himself and members of the Raiders.
An enthusiastic follower of the NRL, AFL as well as being a rugby union player in his youth, Msgr Woods laughs as he explains that where rugby was concerned his "build and ambition didn't coincide."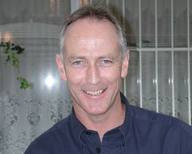 This did not affect his passion for football in all its forms and in the almost three decades he has been Chaplain to the Raiders he has seldom missed a home game or weekly training session. Although these days he says he no longer joins the player workouts of laps and sprints.
Although still a keen jogger who keeps fit with a few runs each week, he insists that he can no longer keep up with players half his age at the training sessions and laughs as he remembers Sam Backo, one of the NRL greats and member of the Raiders, who glanced across at the priest running with the team and told him: "you must be bloody mad," pointing out that "at least we get paid to do this!"
Msgr Woods mightn't be on the field anymore but each week he is on the sidelines at Raiders' training sessions. While some of the support staff and team call him Father, to others he's affectionately called: "Rev" or "Woodsy."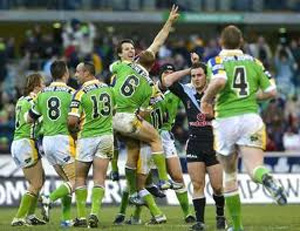 "I'm at ease with whatever they want to call me. This is their turf and whatever makes them comfortable is fine with me," he insists. "As chaplain to a football club, whether in the change room or on the field, you are in a completely different environment and the way you are viewed and any standing you might have, comes from who you are, what you stand for and the relationships you have built up."
While Msgr Woods might barrack for the team, he makes it very clear that being a chaplain never involves praying for a win. Instead any prayers offered are simply that the team will play to the best of their God-given talents and developed potential.
"If they do they will win more often than not. But I don't ask God to take sides," he insists.
John 21: 20 - 25

---

20

Peter turned and saw following them the disciple whom Jesus loved, who had lain close to his breast at the supper and had said, "Lord, who is it that is going to betray you?"

21

When Peter saw him, he said to Jesus, "Lord, what about this man?"

22

Jesus said to him, "If it is my will that he remain until I come, what is that to you? Follow me!"

23

The saying spread abroad among the brethren that this disciple was not to die; yet Jesus did not say to him that he was not to die, but, "If it is my will that he remain until I come, what is that to you?"

24

This is the disciple who is bearing witness to these things, and who has written these things; and we know that his testimony is true.

25

But there are also many other things which Jesus did; were every one of them to be written, I suppose that the world itself could not contain the books that would be written.
ACT OF CONSECRATION TO THE HOLY GHOST

On my knees before the great multitude of heavenly witnesses I offer myself, soul and body to You, Eternal Spirit of God. / I adore the brightness of Your purity the unerring keenness of Your justice and the might of Your love. You are the Strength / and Light of my soul. In You I live and move and am. I desire never to grieve You by unfaithfulness to grace and I pray with all my heart! To be kept from the smallest sin against You. Mercifully guard my every thought and grant that I may always watch for Your light: and listen to Your voice and follow Your gracious inspirations. I cling to You and give myself to You and ask You / by Your compassion to watch over me in my weakness. Holding the pierced Feet of Jesus and looking at His Five Wounds / and trusting in His Precious Blood and adoring His opened Side and stricken Heart / I implore You / Adorable Spirit I Helper of my infirmity, so to keep me in Your grace that I may never sin against You. Give me grace O Holy Ghost, Spirit of the Father and the Son to say to You always and everywhere / "Speak Lord for Your servant heareth." Amen.


PRAYER FOR THE SEVEN GIFTS OF THE HOLY GHOST

O Lord Jesus Christ Who, before ascending into heaven did promise to send the Holy Ghost to finish Your work in the souls of Your Apostles and Disciples deign to grant the same Holy Spirit to me that He may perfect in my soul / the work of Your grace and Your love. Grant me the Spirit of Wisdom that I may despise the perishable things of this world and aspire only after the things that are eternal the Spirit of Understanding to enlighten my mind with the light of Your divine truth / the Spirit on Counsel that I may ever choose the surest way of pleasing God and gaining heaven, the Spirit of Fortitude, that I may bear my cross with You I and that I may overcome with courage all the obstacles that oppose my salvation the Spirit of Knowledge that I may know God find know myself and grow perfect in the science of the Saints the Spirit of Piety that I may find the service of God sweet and amiable / the Spirit of Fear that I may be filled with a loving reverence towards God and may dread in any way to displease Him. Mark me, dear Lord with the sign of Your true disciples / and animate me in all things with Your Spirit. Amen.



9th

DAY OF THE NOVENA
T
hou, on those who evermore Thee confess and Thee Adore, in Thy sevenfold gift, Descend; Give Them Comfort when they die; Give them Life with Thee on high; Give them joys which never end. Amen
The Fruits of the Holy Spirit
The gifts of the Holy Spirit perfect the supernatural virtues by enabling us to practice them with greater docility to divine inspiration. As we grow in the knowledge and love of God under the direction of the Holy Spirit, our service becomes more sincere and generous, the practice of virtue more perfect. Such acts of virtue leave the heart filled with joy and consolation and are known as Fruits of the Holy Spirit. These Fruits in turn render the practice of virtue more attractive and become a powerful incentive for still greater efforts in the service of God, to serve Whom is to reign.
Prayer
Come, O Divine Spirit, fill my heart with Thy heavenly fruits, Thy charity, joy, peace, patience, benignity, goodness, faith, mildness, and temperance, that I may never weary in the service of God, but by continued faithful submission to Thy inspiration may merit to be united eternally with Thee in the love of the Father and the Son. Amen.
(Our Father and Hail Mary ONCE. Glory be to the Father 7 TIMES. Act of Consecration, Prayer for the Seven Gifts)