VATICAN : POPE WHEN WE PRAY EARTH UNITES WITH HEAVEN AND OTHER NEWS
AMERICA : IN THE FOOTSTEPS OF CHRIST A PILGRIMAGE
NOVENA TO HOLY SPIRIT DAY 4 FOR PENTECOST
ASIA : INDONESIA : CHURCH ATTACKED WITH STONES
AUSTRALIA : RIP ANGEL OF THE GAP - NEWTON
EUROPE : RUSSIA : PRO-LIFE PARADE OF CARS IN CAPITAL
AFRICA : GUINEA BISSAU : SOLDIERS ARRIVE FOR GOVERNMENT TRANSITION
TODAY'S SAINT : MAY 21 : ST. GODRIC OF FINCHALE
TODAY'S MASS ONLINE : MON. MAY 21, 2012
VATICAN : POPE WHEN WE PRAY EARTH UNITES WITH HEAVEN AND OTHER NEWS

BENEDICT XVI HAS LUNCH WITH CARDINALS
Vatican City, 21 May 2012 (VIS) - At 1 p.m. today in the Sala Ducale of the Vatican Apostolic Palace, the Holy Father had lunch with members of the College of Cardinals, as a sign of his thanks to them for their felicitations for his eighty-fifth birthday, on 16 April, and for the seventh anniversary of his election to the pontificate, on 19 April.
(IMAGE SOURCE; RADIO VATICANA)

THE ASCENSION: THE LAST ACT OF LIBERATION FROM THE YOKE OF SIN
Vatican City, 20 May 2012 (VIS) - Benedict XVI dedicated his remarks before praying the Regina Coeli this morning to the Ascension of the Lord, which in many countries is celebrated today, the Sunday following the feast.
"The Ascension of the Lord", the Pope explained to faithful gathered in St. Peter's Square, "marks the fulfilment of the salvation which began with the Incarnation. Having instructed His disciples for the last time, Jesus ascended into heaven. Nevertheless, He 'did not separate Himself from our condition' because, in His humanity, he drew mankind into intimacy with the Father and thus revealed the final destination of our earthly pilgrimage. Just as, for us, He descended from heaven and suffered death on the cross, so too, for us, He arose and returned to God, Who is thus no longer distant, but is 'our God', 'our Father'. The Ascension is the last act of our liberation from the yoke of sin".
The Holy Father recalled St. Leo the Great's explanation that "this mystery proclaims not only the immortality of the soul, but also that of the flesh. ... For this reason, when the disciples saw the Master arise from the earth and ascend towards heaven, they were not discouraged but experienced great joy and felt impelled to proclaim Christ's victory over death".
"The Ascension", the Holy Father concluded, "tells us that in Christ our humanity is raised to the heights of God and so, each time we pray, earth unites with heaven".


THE POPE RECALLS ATTACK AT AN ITALIAN SCHOOL AND EARTHQUAKE IN EMILIA ROMAGNA
Vatican City, 20 May 2012 (VIS) - After praying the Regina Coeli this morning, the Pope expressed his outrage at the "cowardly attack" against a school in the Italian town of Brindisi on Saturday morning, which killed a sixteen-year-old girl and wounded six others.
"Let us pray together for the wounded, some very seriously, and especially for young Melissa, an innocent victim of brutal violence and for her family, who are suffering", he said.
The Holy Father then turned his attention to the earthquake which struck the Italian region of Emilia Romagna early this morning leaving seven dead, around fifty injured and more than 4,000 people homeless. "I am spiritually close to those who are suffering from this calamity. We implore God's mercy for those who are dead and relief from suffering for the wounded".
The Pope also mentioned the World Day of Social Communications, which is being celebrated today on the theme of "Silence and Word: Path of Evangelisation". He said: "Silence is an integral part of communication, it is a privileged place of encounter with the Word of God and our brothers and sisters. I invite everyone to pray that communications, in all its forms, may always serve to establish a genuine dialogue with others, founded on mutual respect, listening and sharing".
Benedict XVI went on: "Thursday 24 May is a day dedicated to the liturgical memorial of the Blessed Virgin Mary Help of Christians, venerated with great devotion at the Shrine of Sheshan in Shanghai. We join in prayer with all Catholics who are in China, that they may announce with humility and joy the Risen Christ, remain faithful to His Church and the Successor of Peter, and live their daily lives in a manner consistent with the faith we profess. May Mary, Virgin most faithful, support the path of Chinese Catholics, render their prayer ever more intense and precious in the eyes of the Lord, and advance the affection and the participation of the universal Church in the journey of the Church in China".
The Pope also had greetings for members of the Italian Movement for Life who are meeting today in the Paul VI Hall. "Your movement", he told them, "has always been committed to defending human life according to the teachings of the Church. In this context you have announced a new initiative entitled "One of us," to uphold the dignity and rights of every human being from conception. I encourage and urge you always to be witnesses and builders of a culture of life".

THERE CAN BE NO JUSTICE TODAY WITHOUT SOLIDARITY
Vatican City, 19 May 2010 (VIS) - "'Solidarity is first and foremost a sense of responsibility on the part of everyone with regard to everyone, and it cannot therefore be merely delegated to the State. While in the past it was possible to argue that justice had to come first and gratuitousness could follow afterwards, as a complement, today it is clear that without gratuitousness, there can be no justice in the first place'. Gratuitousness cannot be bought on the market, or established by law. Nonetheless, both economics and politics need gratuitousness and individuals who are open to reciprocal giving". With these words, taken from his Encyclical "Caritas in veritate", Benedict XVI addressed more than 8,000 members of three Catholic associations whom he received this morning in the Paul VI Hall.
The associations present were the Federation of Christian Organisations for International Volunteer Service (FOCSIV) which brings together sixty-five Italian groups; the Ecclesial Movement for Cultural Commitment which operates in the world of Italian culture, and the Christian Workers Movement, a social organisation dedicated to solidarity and volunteer work which promotes Christian principles in life, culture and legislation.
"Culture, volunteering and work are three inseparable elements of the daily commitment of Catholic lay people", said the Pope in his address. "The lay faithful become involved when they touch one or more of these aspects and, through cultural service, solidarity with those in need and work, strive to promote human dignity. These three aspects are linked by a common denominator: the giving of self. ... Your activity must be animated by charity. This means learning to see with the eyes of Christ and giving others much more than what is externally necessary; giving them ... the gesture of love they need. This arises from the love that comes from God, Who first loved us; it arises from intimate contact with Him".
The activity of Catholic volunteers bears witness to "the logic of giving", the Holy Father explained, "the giving of one's time, abilities, knowledge, and professionalism; in a word, attention to others without expecting a return in this world. By doing so, not only do people do good for others, but they also discover profound happiness, according the the logic of Christ Who gave all of Himself".
Our first experience of this gratuitous love is in the family and, when this does not happen, the family enters into crisis. "Everything we experience in the family, the unreserved giving of self for the good of others, is a fundamental educational experience for us to live as Christians in our relationship with culture, volunteering and work", Benedict XVI said.
At this point in his address he referred to his Encyclical "Caritas in veritate" in which he argues for an extension of the family model of gratuitousness to a universal dimension, because "justice alone is insufficient. In order for there to be true justice we need that 'extra' which only gratuitousness and solidarity can bring".
Concluding his remarks, the Holy Father encouraged the volunteers "to continue in their commitment towards their brother and sisters. Part of this is the task of highlighting injustices and bearing witness to the values which underpin human dignity, promoting forms of solidarity which favour the common good".


PUBLICATION OF RESERVED HOLY SEE AND PAPAL DOCUMENTS IS CRIMINAL
Vatican City, 19 May 2010 (VIS) - "The fresh publication of Holy See documents and of private documents of the Holy Father no longer appears as a questionable - though obviously defamatory - journalistic initiative, but clearly assumes the characteristics of a criminal act", reads a communique released today by the Holy See Press Office.
"The Holy Father and a number of his collaborators, as well as the senders of messages addressed to him, have had their individual rights to privacy and freedom of correspondence violated.
"The Holy See will continue to investigate the various aspects of these violations of the privacy and dignity of the Holy Father - both as an individual an as the supreme authority of the Church and of Vatican City State - and will take the steps necessary to ensure that those responsible for the theft, handling and release of secret information, and the commercial use of private documentation, illegitimately acquired and held, answer to justice for their acts. To this end it will, if necessary, request international collaboration".


AUDIENCES
Vatican City, 19 May 2010 (VIS) - The Holy Father today received in audience:
- Fifteen prelates of the United States Conference of Catholic Bishops (Eastern Rite), on their "ad limina" visit:
- Bishop Nicholas James Samra of Newton of the Greek-Melkites.
- Bishop Barnaba Yousif Habash of Our Lady of Deliverance of Newark of the Syrians.
- Bishop Mikael Mouradian of Our Lady of Nareg in New York of the Armenians.
- Bishop John Michael Botean of St. George's in Canton of the Romanians.
- Bishop Gregory John Mansour of Saint Maron of Brooklyn of the Maronites.
- Bishop Bishop Paul Patrick Chomnycky, O.S.B.M. of Stamford of the Ukrainians.
- Bishop Ibrahim Namo Ibrahim of Saint Thomas the Apostle of Detroit of the Chaldeans.
- Archbishop William Charles Skurla of Pittsburgh of the Byzantines
- Bishop Richard Stephen Seminack of Saint Nicholas of Chicago of the Ukrainians.
- Bishop Gerald Nicholas Dino of Holy Protection of Mary Byzantine Catholic Eparchy of Phoenix.
- Bishop John M. Kudrick of Parma of the Ruthenians.
- Archbishop Stefan Soroka of Philadelphia of the Ukrainians, accompanied by Auxiliary Bishop John Bura, apostolic administrator "sede vacante" of Saint Josephat in Parma of the Ruthenians.
- Bishop Sarhad Yawsip Jammo of Saint Peter the Apostle of San Diego of the Chaldeans.
- Fr. Edward G. Cimbala, apostolic administrator of Passiac of the Ruthenians.
- Cardinal Marc Ouellet P.S.S., prefect of the Congregation for Bishops.

OTHER PONTIFICAL ACTS
Vatican City, 21 May 2012 (VIS) - The Holy Father:
- Appointed Archbishop Alessandro D'Errico, apostolic nuncio to Bosnia and Herzegovina and to Montenegro, also as apostolic nuncio to Croatia.
- Removed Bishop Francesco Micciche from the pastoral care of the diocese of Trapani, Italy, and appointed Archbishop emeritus Alessandro Plotti of Pisa, Italy, as apostolic administrator "ad nutum Sanctae Sedis" of that diocese.
On Saturday 19 May it was made public that he:
- Appointed Fr. Zeferino Zeca Martins S.V.D., provincial superior of the Divine Word Missionaries and professor of law at the Catholic University of Luanda, Angola, as auxiliary of the archdiocese of Luanda (area 342, population 3,486,000, Catholics 2,573,000, priests 120, religious 517). The bishop-elect was born in Cacolo, Angola in 1966 and ordained a priest in 1995. He studied in Angola and in Spain and has worked in pastoral care in Madrid and as rector of the central house of his congregation in Angola.
- Appointed Bishop Benedito Roberto C.S.Sp. of Sumbe, Angola, as archbishop of Malanje (area 107,000, population 1,187,000, Catholics 543,000, priests 36, religious 186), Angola. He succeeds Archbishop Luis Maria Perez de Onraita Aguirre, whose resignation from the pastoral care of the same archdiocese the Holy Father accepted, upon having reached the age limit.
SPECIAL TO JESUSCARITASEST.ORG
BY : JOHN PAUL MEENAN
I have always desired to pilgrimage to the Holy Land, and an opportunity arose early this year, when a priest friend asked if I would join a journey he was leading in the middle of February.

Normally, as a teacher at a liberal arts college, I could not take a week off, but the dates overlapped with our reading week, just before Lent.

Divine providence seemed to be at work, so I said yes, and, after a very early icy drive to Kingston to meet up with the group, mostly Queen's University students, off we went to the airport on a cold Canadian morning.
Much could be said about our pilgrimage:

We saw the primary sites, Galilee and the Mount of Beatitudes, where we spent a tranquil first few days, Caesarea Philippi, the Sea of Galilee, Capernaum, before journeying south to the Jordan River, Jericho and, for the last few days of our ten-day pilgrimage, the holy city of Jerusalem, a winding maze of narrow streets, leading to the Church of the Holy Sepulchre.
People speak of the beauty of Israel, and it is a picturesque country, made more so by its ancient and colourful history.

The land does have a profound scenic charm, lush and green in the north, barren desert in the south, but this, for me, is not its main charm.

On a purely scenic level, I prefer my adopted home of Ontario, with its unspoiled wilderness, lakes, rivers, and forests.

I did not travel thousands of miles to see hills and deserts.

Nor did I travel to ooh and aah over historical sites, as interesting as these were.

No, rather, the primarily beauty of Israel, and primary purpose of my pilgrimage, is and was spiritual.

Following in the footsteps of the God made man, the land where the Holy One chose to live, is a profound experience.
How does one encapsulate this in words?

To walk in the very places where Christ also walked , to kneel and pray where He died, was buried, and rose from the dead is, in a word, ineffable.

At the time, one does not fully appreciate the spiritual depth of such an experience.

Tourists or, if you will, pilgrims, are ubiquitous.

Each site is often crowded with immense buses jockeying for parking spots, out of which descend uncounted people of all races and creeds taking photographs, crushing forward to see the sites, talking, yelling, with a leader of some sort commenting, often through some kind of sound system.

Lineups are common.

Baubles and mementos are for sale everywhere, in stores and street corners, and one is bombarded with the cries of vendors hawking postcards and rosaries.

Yes, it is difficult at times to put oneself into a spiritual frame of mind.
I say difficult, but not impossible.

Standing on the shores of Galilee, where Our Lord cooked breakfast for this disciples on a brisk Easter morning, or kneeling a few feet from Golgotha, one cannot help but be put into some spiritual frame of mind, to block out the noise, and imagining what is was like in the time of Christ.
Of course, one cannot take the spiritual depth of such an experience in at once.

I see a pilgrimage to the Holy Land like planting seeds in the soul:

The fruits of such a journey are only known and seen in time.

Like Our Lord's own life, one will only realize what such a pilgrimage means afterwards, perhaps even years later, in hidden ways.

That to me is the key to the Holy Land:

It is a geographical reminder, nay, more, a relic, of the Incarnation.

We walk on holy ground in that land, and it is incumbent on us to keep and guard those sites hallowed by God Himself during His time on earth.
I feel very blessed to have had the opportunity to have made such a pilgrimage, and I hope I brought many graces back for those with whom I live and work, and for my own spiritual journey.

God be praised, now and forever.
2012
ACT OF CONSECRATION TO THE HOLY GHOST
On my knees before the great multitude of heavenly witnesses I offer myself, soul and body to You, Eternal Spirit of God. / I adore the brightness of Your purity the unerring keenness of Your justice and the might of Your love. You are the Strength / and Light of my soul. In You I live and move and am. I desire never to grieve You by unfaithfulness to grace and I pray with all my heart! To be kept from the smallest sin against You. Mercifully guard my every thought and grant that I may always watch for Your light: and listen to Your voice and follow Your gracious inspirations. I cling to You and give myself to You and ask You / by Your compassion to watch over me in my weakness. Holding the pierced Feet of Jesus and looking at His Five Wounds / and trusting in His Precious Blood and adoring His opened Side and stricken Heart / I implore You / Adorable Spirit I Helper of my infirmity, so to keep me in Your grace that I may never sin against You. Give me grace O Holy Ghost, Spirit of the Father and the Son to say to You always and everywhere / "Speak Lord for Your servant heareth." Amen.
PRAYER FOR THE SEVEN GIFTS OF THE HOLY GHOST
O Lord Jesus Christ Who, before ascending into heaven did promise to send the Holy Ghost to finish Your work in the souls of Your Apostles and Disciples deign to grant the same Holy Spirit to me that He may perfect in my soul / the work of Your grace and Your love. Grant me the Spirit of Wisdom that I may despise the perishable things of this world and aspire only after the things that are eternal the Spirit of Understanding to enlighten my mind with the light of Your divine truth / the Spirit on Counsel that I may ever choose the surest way of pleasing God and gaining heaven, the Spirit of Fortitude, that I may bear my cross with You I and that I may overcome with courage all the obstacles that oppose my salvation the Spirit of Knowledge that I may know God find know myself and grow perfect in the science of the Saints the Spirit of Piety that I may find the service of God sweet and amiable / the Spirit of Fear that I may be filled with a loving reverence towards God and may dread in any way to displease Him. Mark me, dear Lord with the sign of Your true disciples / and animate me in all things with Your Spirit. Amen.
DAY 4 OF NOVENA
Thou in toil art comfort sweet, Pleasant coolness in the heat, solace in the midst of woe.
The Gift of Fortitude
The Gift of Fortitude By the gift of Fortitude the soul is strengthened against natural fear, and supported to the end in the performance of duty. Fortitude imparts to the will an impulse and energy which move it to under take without hesitancy the most arduous tasks, to face dangers, to trample under foot human respect, and to endure without complaint the slow martyrdom of even lifelong tribulation. "He that shall persevere unto the end, he shall be saved."
Prayer
Come, O Blessed Spirit of Fortitude, uphold my soul in time of trouble and adversity, sustain my efforts after holiness, strengthen my weakness, give me courage against all the assaults of my enemies, that I may never be overcome and separated from Thee, my God and greatest Good. Amen

(Our Father and Hail Mary ONCE. Glory be to the Father 7 TIMES. Act of Consecration, Prayer for the Seven Gifts)
UCAN REPORT:
Leader calls for president to take action on religious discrimination
Ryan Dagur, Jakarta
Indonesia
May 21, 2012
Batak Society Christian Church of Philadelphia members hold a Sunday service in front of the Presidential Palace in Jakarta on May 6 (Photo by Ryan Dagur)
A leader of the Batak Society Christian Church (HKBP) of Philadelphia in West Java has urged President Susilo Bambang Yudhoyono to take action against religious intolerance after radical Muslims were accused of throwing stones and urine at a church congregation.
Reverend Palti Panjaitan said almost 100 Protestants were subjected to hate speeches and murder threats on Thursday during a service to celebrate Ascension Day at a half-built church in Bekasi district.
More than 400 police and military personnel deployed to secure the service had asked church-goers to worship at a government-designated building 10 kilometers from the site to avoid a standoff with a crowd of 300 Muslim protestors.
"That was the time when the group threw stones, bags of urine and ditchwater at us," said Rev Panjaitan, adding that the congregation had to halt the service because of the incident.
He warned the authorities that hatred between religious communities would escalate "if such religious intolerance is not resolved immediately."
Rev Andreas Anangguru Yewangoe, chairman of the Communion of Churches in Indonesia, accused President Yudhoyono of failing to address the problem.
"It is inhumane. We are tired of facing such incidents," he said. "If we want this state to be united, the only way is to maintain religious freedom."
HKBP Philadelphia has been waiting for five years to gain permission to build a church in Bekasi district after submitting an application in 2007.
In December 2009, the district administration issued a letter banning congregations from worshiping on the site but in July last year the Supreme Court overruled the decision, saying the church was eligible for a permit.
HKBP Philadelphia says this has still not been issued, however.
Catholic Communications, Sydney Archdiocese REPORT
21 May 2012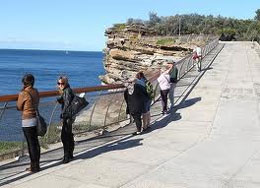 For three days during the past week, Father Paul Newton has spent several hours at The Gap at Watson's Bay in prayer and as he puts it: "trying to be a friendly presence there."
Inspired by Don Ritchie, the 85-year-old known as the "Angel of the Gap" who died on Sunday, 13 May, Fr Paul believes it is important not only that the man credited with convincing more than 500 people from jumping off Watson's Bay's notorious cliff face in a bid to end their lives, be remembered but that the personal presence and gentle compassion he offered is continued.
"Along with the signs and phone numbers for Lifeline and the fences and phones now posted at the Gap, it is vital there is also a human presence at the Gap," he says. "We all want to be loved and needed and wanted, and Don was someone who really cared. For almost five decades he brought a human presence to the place and his genius was that once he realised someone was in trouble, he opened his heart and offered them friendship and a bridge back into the world," he explains.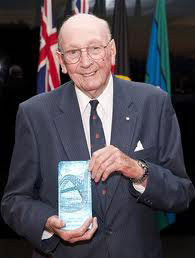 Fr Paul is not yet sure how a co-ordinated program can be set up so there is always someone keeping an eye out at the Gap to help those in despair who see the notorious South Head escarpment and the rocks below as a way out from their pain and their misery. But he is making inquiries and has already had preliminary discussions with Don Ritchie's family, Watson's Bay locals, the police, suicide prevention organisations and other interested parties.
Although Fr Paul is with the Archdiocese of Melbourne, he is temporarily in Sydney to help out at St Mary's Cathedral and the surrounding parish.
"I had never been to the Gap when I arrived here just over three weeks ago, but I learned about Don Ritchie through a family whose teenage daughter recently attempted suicide. She is being treated at St Vincent's Hospital and when I offered her and her family pastoral care and support, I became thrust into the world of the Gap," he says. Inspired by the stories he kept hearing about Don Ritchie, he made a point of driving to Watson's Bay hoping to meet him.
"I went to his house which overlooks Gap Park to introduce myself just a couple of days before he died. By then he was in hospital but I met with Moya, his wife who recounted how she and Don were married at St Mary's Cathedral just over 60 years ago and how they had celebrated this milestone anniversary just six months before."
When Don Ritchie died less than a week later, Fr Paul travelled to Watson's Bay to offer his respects to Moya and the couple's three daughters, Jan, Donna and Sue who were delighted at his visit and shared many stories of Don's selfless compassion and his belief in helping others.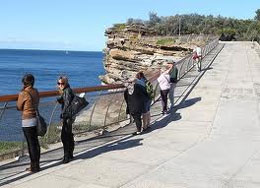 "Don was Anglican and Moya is Catholic and she was certainly part of the picture as well and when Don brought those who needed help away from the fence at the Gap and into their home, she was the one who quietly made them cups of tea, cooked them breakfast and made them feel welcome," he says.
For sixty years Sydneysiders knew the "Angel of the Gap" however when he passed away his story was recounted in newspapers around the world. Don's funeral was held last Friday at the HMAS Watson Naval Chapel, near to the home he shared with Moya for 48 years.
"Don was originally in the Navy and the small chapel was filled to overflowing. It was standing room only and I am sure among the many of those present were many of the people he helped save," says Fr Paul who describes Don as his "role model."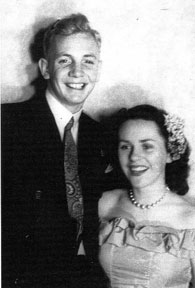 "Suicide is the number one cause of death among teenagers through to young adults under 25. These are horrific statistics. It is always a tragedy to attend the funerals of those who have ended their lives this way. I have worked quite a bit with people tempted or threatening to take their own lives, and who have convinced themselves they world would be better off without them. There are always underlying causes including family breakdown, mental health issues, bullying and other factors that have so overwhelmed them that they go against all natural instincts and believe death is the best scenario to stop the pain they are going through."
But in a world where the strength found from a trust and belief in God increasingly takes a back seat and where modern technology has created a world of virtual friends rather than real ones, Fr Paul says a human presence and someone to talk to has become more important than ever.
"We can talk about all the causes of attempted suicide but deep down there is no real mystery to it. Like everyone they want to be loved, cherished and to belong. Don always understood this. But he never forced himself on people. Instead he would watch them through his window and keep an eye on them, a bit like the Prodigal Father at the door. But after awhile, believing the person might be contemplating suicide, he would take his dog for a walk which would help him spark up a casual conversation with them, which more often than not ended up with him taking them back home for a chat and a cuppa."
According to his daughter Sue Ritchie Bereny as often as not Don would open the conversation with "is there something I can do to help?"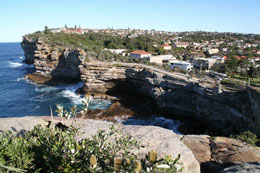 "And that was all that was often needed he said to turn people around," she said saying her father said one should never under estimate the power of a kind word and a smile.
"My ambition always was to just get them away from the edge, to buy them time; to give them an opportunity to reflect and give them the chance to realise things might look better in the morning," he confided last year when he was named Australia's Local hero in the 2011 Australian of the Year Awards. "You can't look at someone in trouble and not do something," he said.
While Fr Paul will return to the Archdiocese of Melbourne and his Victorian home within the next few weeks, Don Ritchie has further fostered his determination to help those in such despair that they have lost the will to live.
"I keep thinking if my niece or nephew or relative became so unwell that they were beyond caring for themselves, I would know that in their right minds they would expect me to do what I could to help them. To do what they seem unable to do mired in confusion and illness," he says and quotes Don Ritchie's explanation for doing what he did.
"After leaving the Navy Don worked in the insurance industry and would later tell friends of those he helped that he'd been a salesman for most of his life, and what he did at the Gap was to sell them life."
ASIA NEWS REPORT:
by Nina Achmatova
Alongside anti-Putin demonstrations, the Orthodox community continues its street protests. Approximately 300 cars paraded through the centre of the capital calling for a "Russia without abortions."
Moscow (AsiaNews) - Street demonstrations in support of the Russian Orthodox Church continue. After the motorcade in favour of Patriarch Kirill of Moscow, under attack for a series of scandals that have emerged in the national media, on May 20 in the Russian capital took place another motorcade through the city centre took place, this time in favour of the "orthodox family and against abortion."
According to the
Interfax
news agency, it was attended by about 300 vehicles, many waving banners reading "Russia without abortions" - a variation of the slogans used by the opposition "Russia without Putin" - "Hands up for Patriarch Kirill" or "Build the 200 promised churches" referring to the project - approved last year by the Moscow but going slowly - for the construction of new places of worship in the city. "If the head of any government bans the construction of a church, ask for his resignation," motorcade organiser and leader of the Guild of the Orthodox Church, Kirill Frolov, told Interfax.
The renewed civic activism of Russian society, evident in the last months of unprecedented anti-government protests, is finding its counterpart also in the Orthodox community. The same Patriarchate of Moscow has promoted demonstrations such as the day in defence of the faith, which April 22 brought at least 40 thousand people to the front courtyard of the Cathedral of Christ the Savior "to protect orthodoxy from anti-Russians" as Kirill himself explained.
Agenzia Fides report – "The arrival of the small vanguard of the contingent of the CEDEAO did not stir up particular sentiments among the population", Fr. Davis Sciocco, PIME missionary, and director of Radio Sol Mansa, of Bissau, told the Fides Agency, where yesterday, May 17, the first 70 soldiers from Burkina Faso of the 600 who will be sent from the countries of the Economic Community of the States of West Africa (CEDEAO) to accompany the transition period towards the civil government of the country.
The soldiers from Burkina Faso have been given accommodation in Cumere, 35 Km north- east of Bissau. Soon they will follow other soldiers sent from Nigeria and Senegal. The forces of CEDEAO will take the place of the military mission sent from Angola a year ago. And it is precisely the presence of the Angolan contingent which, according to the soldiers who took over power in the uprising of 12 April, caused the coup d'état.
"We are now waiting for the nomination of the ministers", Padre Sciocco said. The arrival of the first group of African soldiers took place on the day of the investiture of the new Prime Minister of the transition period, Rui Duarte Barros. Manuel Serifo Mhamadjo was named Head of State on 16 May for the transition period. (L.M.)
John 16: 29 - 33


---

29

His disciples said, "Ah, now you are speaking plainly, not in any figure!

30

Now we know that you know all things, and need none to question you; by this we believe that you came from God."

31

Jesus answered them, "Do you now believe?

32

The hour is coming, indeed it has come, when you will be scattered, every man to his home, and will leave me alone; yet I am not alone, for the Father is with me.

33

I have said this to you, that in me you may have peace. In the world you have tribulation; but be of good cheer, I have overcome the world."
St. Godric of Finchale
HERMIT
Feast: May 21


Information:

| | |
| --- | --- |
| Feast Day: | May 21 |
| Born: | 1069 at Walpole, Norfolk, England |
| Died: | 1170 at Finchale, County Durham, England |

He was born of very mean parents at Walpole, in Norfolk, and in his youth carried about little peddling wares which he sold in villages. Having by degrees improved his stock, he frequented cities and fairs, and made several voyages by sea to traffic in Scotland. In one of these he called at Holy Island, or Lindisfarne, where he was charmed and exceedingly edified with the retirement and religious deportment of the monks, and especially with the account which they gave him of the wonderful life of St. Cuthbert. He inquired of them every particular relating to him, visited every corner of that holy solitude and of the neighboring isle of Fame, and falling on his knees, prayed with many tears for grace to imitate the fervor of that saint in serving God, resolving for that purpose to give up all earthly pretensions. He entered upon a new course of life by a penitential devout pilgrimage to Jerusalem, and visited Compostella in his way home. After his return into Norfolk, he accepted the charge of house-steward in the family of a very rich man. The servants were not very regular, and for their private junketings often trespassed upon their neighbors. Godrick finding he was not able to prevent these injustices, and that the nobleman took no notice of his complaints about them, being easy so long as he was no sufferer himself, left his place for fear of being involved in the guilt of such an injustice.

After making a pilgrimage to St. Giles in France, and to Rome, he went to the north of England in order the better to carry into execution his design of devoting himself wholly to a retired life. A fervent servant of God, named Godwin, who had passed a considerable time in the monastery of Durham, and by conversing with the most holy monks and exercising himself in the interior and exterior practices of all virtues, was well qualified to be a director to an inexperienced novice, joined our saint, and they led together an austere anchoretical life in a wilderness situated on the north to Carlisle, serving one another, and spending both the days and nights in the praises of God. After two years God called Godwin to himself by a happy death after a short sickness. St. Godrick having lost his companion, made a second painful pilgrimage to Jerusalem. After his return he passed some time in the solitude of Streneshalch, now Whitby; but after a year and some months went to Durham to offer up his prayers before the shrine of St. Cuthbert, and from thence retired into the desert of Finchal, or Finkley, three miles from Durham, near the river Wear. St. John Baptist and St. Cuthbert he chose for his principal patrons and models. The austerities which he practiced are rather to be admired than imitated. He had his regular tasks of devotion, consisting of psalms and other prayers which he had learned by heart, and which he constantly recited at midnight, break of day, and the other canonical hours, besides a great number of other devotions. Though he was ignorant of the very elements of learning, he was too well experienced in the happy art of conversing with God and his own soul ever to be at a loss how to employ his time in solitude. Whole days and nights seemed too short for his rapturous contemplations, one of which he often wished with St. Bruno he could have continued without interruption for eternity, in inflamed acts of adoration, compunction, love, or praise. His patience under the sharpest pains of sicknesses or ulcers, and all manner of trials, was admirable; but his humility was vet more astonishing. His conversation was meek, humble, and simple. He concealed as much as possible from the sight and knowledge of all men whatever might procure their esteem, and he was even unwilling any one should see or speak with him. Yet this he saw himself obliged to allow on certain days every week to such as came with the leave of the prior of Durham, under whose care and obedience he died. A monk of that house was his confessor, said mass for him, and administered him the sacraments in a chapel adjoining to his cell, which the holy man had built in honor of St. John Baptist. He was most averse from all pride and vanity, and never spoke of himself but as of the most sinful of creatures, a counterfeit hermit, an empty phantom of a religious man: lazy, slothful, proud, and imperious, abusing the charity of good people who assisted him with their alms. But the more the saint humbled himself, the more did God exalt him by his grace, and by wonderful miraculous gifts. For several years before his death he was confined to his bed by sickness and old age. William of Newbridge, who visited him during that time, tells us that though his body appeared in a manner dead, his tongue was ever repeating the sacred names of the three divine Persons, and in his countenance there appeared a wonderful dignity, accompanied with an unusual grace and sweetness. Having remained in the desert sixty-three years, he was seized with his last illness, and happily departed to his Lord on the 21st of May, 1170, in the reign of Henry II. His body was buried in the chapel of St. John Baptist. Many miracles confirmed the opinion of his sanctity, and a little chapel was built in his memory by Richard, brother to Hugh Pidsey, bishop of Durham. See William of Newbridge, 1. 2, c. 20; Matthew Paris, Matthew of Westminster, his life written by Nicholas of Durham his confessarius, and abridged by Harpsfield, Saec. 12, c. 45.
source:
http://www.ewtn.com/saintsHoly/saints/G/stgodricoffinchale.asp#ixzz1vXZDqSVu