WE NEED YOUR HELP DONATE NOW VIA PAYPAL
The
Message of the Holy Father, signed by Cardinal Bertone, for the 35th National Convocation of the Renewal in the Spirit

On the occasion of the 35
th National Convocation of groups and communities of the Renewal in the Holy Spirit, 40 years after the beginning of the Movement in Italy, the Pope addressed his cordial greetings to all of the many attendees. Assuring them of his spiritual closeness, he hopes that the voice of the Holy Spirit who cries out "Jesus is Lord" will resonate loud and clear, in order to be able to offer in their parish and diocesan communities, and in the situation of their lives, the service of a generous presence, a courageous witness and a valuable contribution to the New Evangelization. To this end, the Holy Father, calls upon the heavenly intercession of the Blessed Virgin Mary, and willingly imparts to you, to the leaders of the conference, and to all the participants, the requested Apostolic Blessing. SHARED FROM:
http://www.radiovaticana.org/en1/Articolo.asp?c=583777
Pamela McGee was scheduled for an abortion in 1987. McGee was a single, 24-year-old professional basketball player, and could not take maternity leave. She prayed for guidance, "I prayed and prayed and prayed and felt like I heard a voice from God," McGee said. "He was telling me, 'This is your gift.' " Then she went to a Church in and the pastor delivered a sermon about not aborting one's blessings.
O.K., God,
McGee thought. She cancelled the abortion and on Jan. 19, 1988, gave birth to a boy with extraordinary abilities.
JaVale McGee, her son, is 7 feet, with a 7'6½" wingspan and a 31½-inch vertical leap.
Basketball was in JaVale's family—his father, George Montgomery, was a player in Illinois; and Pamela starred at USC alongside her twin sister, Paula, and Cheryl Miller.
She told her son when at church together; "For me," she told her son, "you've been such a blessing." (Pictured Pamela and Javale)
Agenzia Fides REPORT - The Jesuits have been present in Macao for 450 years and continue today to carry out precious work of evangelization, human and Christian formation, social commitment and in the field of education. The "Society of Jesus" in 2012 celebrates 450 years of its presence in Macao.
On August 24, 1562, Fr. Luís Fróis SJ and Fr. Giovanni Battista Del Monte SJ arrived and settled here in Macao and started the work of the apostolate. The two Portuguese Jesuits arrived to help two diocesan priests engaged in pastoral service to 5,000 residents in Macao at the time, 600 were Portuguese. They arrived with Diego Pereira, a successful merchant, who was appointed Portuguese Ambassador to the Court of Peking. In 1565, the Provincial of the Jesuits, António de Quadros, gave instructions to build a permanent residence of the Society of Jesus in Macao. The first Bishop of Macao (1568 to 1581) was the Portuguese Jesuit Melchior M Carneiro, who founded a leper-house and the "Santa Casa de Misericordia".
Today, after the return of Macao to China in 1999, Catholics have the opportunity to weave fruitful relations with the Church in China and the Jesuits are committed to "building bridges" of dialogue and reconciliation. The territory of Macao (Special Administrative Region of the Chinese Popular Republic, with a regime of partial autonomy from China) constitutes the diocese of Macao, immediately subject to the Holy See. The Catholic population has about 20,000 people out of a total of 400,000 inhabitants. (PA) (Agenzia Fides 28/4/2012)
CATHOLIC Communications, Sydney Archdiocese, REPORT
27 Apr 2012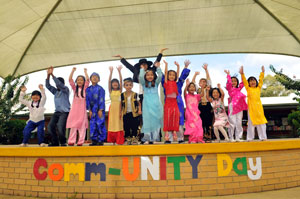 Catholic Schools Week 2012 which begins on Sunday, 29 April, will be a celebration of faith-based education and the outstanding achievements of Catholic primary and secondary schools across NSW and the ACT.
For six days, 20,000 staff and teachers from 615 schools and more than 260,000 students will strut their stuff to show exactly why Catholic education has such an acclaimed reputation.
In Australia today one in five or 20 percent of all school children receive their education at Catholic schools. One of the reasons is the consistently high academic standards, where students continue to achieve marks well above the state average in HSC examinations and the recently-introduced NAPLAN numeracy and literacy tests for primary school children.
But along with outstanding teachers and academic, arts, cultural and sporting programs, Catholic schools also imbue students with strong moral and spiritual values.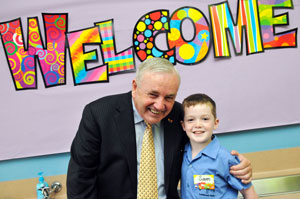 Taking the theme: "Catholic Schools: Faith in Every Student" for this year's Catholic Schools Week, parents and local communities will be able to observe teaching and learning excellence, as well as witness how students are encouraged to celebrate their faith and live out the values of love, compassion, tolerance and acceptance.
"As a father of six children myself, I know first-hand that there are few more important decisions for parents than choosing the right school for their precious child, where they can be sure that child will receive the best possible educational experiences," says Dr Dan White, the Archdiocese of Sydney's Director of Schools.
"In an increasingly secularised world, Catholic schools unashamedly proclaim the love and presence of God in a rapidly-changing and often turbulent society," he explains and emphasises how Catholic Schools Week serves as a strong reminder that, true to Gospel messages, we have a responsibility to reach out to all sections of society, especially to the disadvantaged and the marginalised.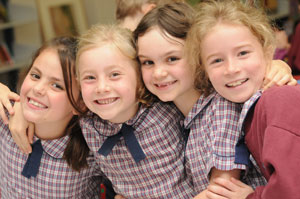 "Our Catholic schools do this magnificently," he says.
But he warns that we must not become complacent over recent achievements at Sydney and Catholic schools throughout the State, including the outstanding HSC and NAPLAN scores.
"The Catholic Education Office remains committed to focussing on learning and striving for excellence, and is committed to meeting the learning needs of every child regardless of his or her background or natural capacity to learn," he says.
Catholic Schools are inclusive welcoming students with disabilities, from disadvantaged backgrounds as well as those from ethnic minorities.
Throughout the week starting Sunday 29 April and ending Saturday, 5 May, parents and local communities are invited to join in the seventh annual Catholic Schools Week celebrations. Not only will parents and others be able to obtain a firsthand look inside classrooms to see students and teachers in action, but they will also be invited to participate.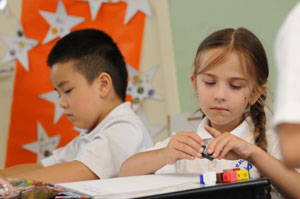 At some schools, tables will be turned with parents and teachers becoming the pupils and students taking the classes. At others school gardens will be on display. Other students will present short plays or screen movies they have made or interview parents and visitors to their schools for a tv or radio project.
Parents will also be given an insight into modern learning where smart boards, computers, blogs, podcasts and live streaming have revolutionised teaching and the way children learn.
"Catholic Schools Week gives us an opportunity to acknowledge our successes and achievements and to show parents what their children are up to and why we do what we do," says Dr White.
To join in the fun and to find out more about Catholic Schools Week, log on to
www.catholicschools.nsw.edu.au
SOURCE: ARCHDIOCESE OF SYDNEY
CATHOLIC HERALD REPORT:
By
Ed West
on Friday, 27 April 2012
The National Office for Vocations has announced the start of an "ambitious" three-year National Vocations Framework.
Fr Christopher Jamison, Director of the National Office for Vocations, made the announcement today at a press conference at the Bishops' Conference of England and Wales headquarters in London.
He said that the framework would be inspired by the question Pope Benedict XVI asked young people at the Big Assembly in September 2010: "What sort of person would you like to be?"
Fr Jamison said that the aim of the three-year project would be "to help every community" ensure that "every young Catholic person in their area has access to a discernment group and discernment guide".
Discernment groups, which meet in parishes in one Sunday of every month, give people a chance to talk about their vocation, and many people feel them useful. The number of discernment groups in London has recently increased fourfold.
Fr Jamison added that they would be training a national network of vocations guides so that they could move "from local good practice to national good practice".
The Bishops of England and Wales adopted the framework at their April 2012 plenary meeting, and Fr Jamison said it would "relate to other work in the pipeline".
Archbishop Peter Smith of Southwark also praised the young people of the Church, who were far more numerous than was sometimes reported. He also said that young people got a bad deal from the media.
"The media too often [it] criticises youngsters, use the worst possible cases," he says. "Young people feel they are not appreciated. There are a lot of good, valued members of society."
SOURCE: CATHOLIC HERALD
CISA) -A Catholic Priest, Rev Father Nwika Gbinu, has been abducted by a yet to be identified gunmen in Onne, Eleme local government area of Rivers State, Daily Trust has reported.
The catholic priest was reported to have been taken hostage from his residence in the early hours of Tuesday, and his whereabouts is still unknown two days after the incident.
The victim's brother Gbinu Samuel while confirming the incident to newsmen on telephone wondered why a reverent father will be a target of kidnappers.
"I don't know the reason for his abduction; he is a servant of God and I know that he did not have any problem with anyone", he said.
Confirming the incident, the state commissioner of police, Mohammed Indabawa, said the police are investigating the incident and assured that soon they will rescue him and apprehend the suspects
St. Gianna Beretta Molla
MOTHER
Feast: April 28
Information:

| | |
| --- | --- |
| Feast Day: | April 28 |
| Born: | October 4, 1922, Magenta, Italy |
| Died: | April 28, 1962, Monza, Italy |
| Canonized: | May 16, 2004 by Pope John Paul II |
| Patron of: | mothers, physicians, preborn children |

Saint Gianna Beretta Molla was born in Magenta (Milan), Italy, on 4 October 1922, the 10th of 13 children. Already as a young girl she willingly accepted the gift of faith and the clearly Christian education that she received from her excellent parents. As a result, she experienced life as a marvellous gift from God, had a strong faith in Providence and was convinced of the necessity and effectivneess of prayer.

She diligently dedicated herself to studies during the years of her secondary and university education, while, at the same time, applying her faith in generous apostolic service among the elderly and needy as a member of the St. Vincent de Paul Society. After earning degrees in medicine and surgery from the University of Pavia in 1949, she opened a medical clinic in Mesero (near Magenta) in 1950. She specialized in pediatrics at the University of Milan in 1952 and thereafter gave special attention to mothers, babies, the elderly and the poor.

While working in the field of medicine—which she considered a "mission" and practiced as such—she increased her generous service to Catholic Action, especially among the "very young" and, at the same time, expressed her joie de vivre and love of creation through skiing and mountaineering. Through her prayers and those of others, she reflected on her vocation, which she also considered a gift from God. Having chosen the vocation of marriage, she embraced it with complete enthusiasm and wholly dedicated herself "to forming a truly Christian family."

She became engaged to Pietro Molla and was radiant with joy and happiness during the time of their engagement, for which she thanked and praised the Lord. They were married on 24 September 1955 in St. Martin's Basilica in Magenta, and she became a happy wife. In November 1956, to her great joy, she became the mother of Pierluigi; in December 1957 of Mariolina; in July 1959 of Laura. With simplicity and equilibrium she harmonized the demands of mother, wife, doctor and her passion for life.

In September 1961, towards the end of the second month of pregnancy, she was touched by suffering and the mystery of pain; she had developed a fibroma in her uterus. Before the required surgical operation, and conscious of the risk that her continued pregnancy brought, she pleaded with the surgeon to save the life of the child she was carrying, and entrusted herself to prayer and Providence. The life was saved, for which she thanked the Lord. She spent the seven months remaining until the birth of the child in incomparable strength of spirit and unrelenting dedication to her tasks as mother and doctor. She worried that the baby in her womb might be born in pain, and she asked God to prevent that.

A few days before the child was due, although trusting as always in Providence, she was ready to give her life in order to save that of her child: "If you must decide between me and the child, do not hesitate: choose the child—I insist on it. Save the baby." On the morning of 21 April 1962 Gianna Emanuela was born. Despite all efforts and treatments to save both of them, on the morning of 28 April, amid unspeakable pain and after repeated exclamations of "Jesus, I love you. Jesus, I love you," the mother died. She was 39 years old. Her funeral was an occasion of profound grief, faith and prayer. The body of the new blessed lies in the cemetary of Mesero (4 km. from Magenta).

Gianna was beatified by Pope John Paul II on April 24, 1994, and officially canonized as a saint on May 16, 2004. Gianna's husband Pietro and their last child, Gianna, were present at the canonization ceremony.

St. Gianna is a patron saint for mothers, physicians, and unborn children.
SOURCE:
http://www.ewtn.com/saintsHoly/saints/G/stgiannaberettamolla.asp#ixzz1tKuFczLr
St. Louis de Montfort
CONFESSOR, MARIAN DEVOTEE, FOUNDER
Feast: April 28
Information:

| | |
| --- | --- |
| Feast Day: | April 28 |
| Born: | 31 January 1673 at Montfort-La-Cane, Brittany, France |
| Died: | 1716 at Saint-Laurent-sur-Sovre, France |
| Canonized: | 1947 by Pope Pius XII |

Missionary in Brittany and Vendee; born at Montfort, 31 January, 1673; died at Saint Laurent sur Sevre, 28 April, 1716.

From his childhood, he was indefatigably devoted to prayer before the Blessed Sacrament, and, when from his twelfth year he was sent as a day pupil to the Jesuit college at Rennes, he never failed to visit the church before and after class. He joined a society of young men who during holidays ministered to the poor and to the incurables in the hospitals, and read for them edifying books during their meals. At the age of nineteen, he went on foot to Paris to follow the course in theology, gave away on the journey all his money to the poor, exchanged clothing with them, and made a vow to subsist thenceforth only on alms. He was ordained priest at the age of twenty-seven, and for some time fulfilled the duties of chaplain in a hospital. In 1705, when he was thirty-two, he found his true vocation, and thereafter devoted himself to preaching to the people. During seventeen years he preached the Gospel in countless towns and villages. As an orator he was highly gifted, his language being simple but replete with fire and divine love. His whole life was conspicuous for virtues difficult for modern degeneracy to comprehend: constant prayer, love of the poor, poverty carried to an unheard-of degree, joy in humiliations and persecutions.

The following two instances will illustrate his success. He once gave a mission for the soldiers of the garrison at La Rochelle, and moved by his words, the men wept, and cried aloud for the forgiveness of their sins. In the procession which terminated this mission, an officer walked at the head, barefooted and carrying a banner, and the soldiers, also barefooted, followed, carrying in one hand a crucifix, in the other a rosary, and singing hymns.

Grignion's extraordinary influence was especially apparent in the matter of the calvary at Pontchateau. When he announced his determination of building a monumental calvary on a neighbouring hill, the idea was enthusiastically received by the inhabitants. For fifteen months between two and four hundred peasants worked daily without recompense, and the task had just been completed, when the king commanded that the whole should be demolished, and the land restored to its former condition. The Jansenists had convinced the Governor of Brittany that a fortress capable of affording aid to persons in revolt was being erected, and for several months five hundred peasants, watched by a company of soldiers, were compelled to carry out the work of destruction. Father de Montfort was not disturbed on receiving this humiliating news, exclaiming only: "Blessed be God!"

This was by no means the only trial to which Grignion was subjected. It often happened that the Jansenists, irritated by his success, secure by their intrigues his banishment form the district, in which he was giving a mission. At La Rochelle some wretches put poison into his cup of broth, and, despite the antidote which he swallowed, his health was always impaired. On another occasion, some malefactors hid in a narrow street with the intention of assassinating him, but he had a presentiment of danger and escaped by going by another street. A year before his death, Father de Montfort founded two congregations -- the Sisters of Wisdom, who were to devote themselves to hospital work and the instruction of poor girls, and the Company of Mary, composed of missionaries. He had long cherished these projects but circumstances had hindered their execution, and, humanly speaking, the work appeared to have failed at his death, since these congregations numbered respectively only four sisters and two priests with a few brothers. But the blessed founder, who had on several occasions shown himself possessed of the gift of prophecy, knew that the tree would grow. At the beginning of the twentieth century the Sisters of Wisdom numbered five thousand, and were spread throughout every country; they possessed forty-four houses, and gave instruction to 60,000 children. After the death of its founder, the Company of Mary was governed for 39 years by Father Mulot. He had at first refused to join de Montfort in his missionary labours. "I cannot become a missionary", said he, "for I have been paralysed on one side for years; I have an affection of the lungs which scarcely allows me to breathe, and am indeed so ill that I have no rest day or night." But the holy man, impelled by a sudden inspiration, replied, "As soon as you begin to preach you will be completely cured." And the event justified the prediction. Grignion de Montfort was beatified by Leo XIII in 1888.



SOURCE:
http://www.ewtn.com/saintsHoly/saints/L/stlouisdemontfort.asp#ixzz1tKu4bKSd
2012
John 6: 60 - 69


---

60
Many of his disciples, when they heard it, said, "This is a hard saying; who can listen to it?"
61
But Jesus, knowing in himself that his disciples murmured at it, said to them, "Do you take offense at this?
62
Then what if you were to see the Son of man ascending where he was before?
63
It is the spirit that gives life, the flesh is of no avail; the words that I have spoken to you are spirit and life.
64
But there are some of you that do not believe." For Jesus knew from the first who those were that did not believe, and who it was that would betray him.
65
And he said, "This is why I told you that no one can come to me unless it is granted him by the Father."
66
After this many of his disciples drew back and no longer went about with him.
67
Jesus said to the twelve, "Do you also wish to go away?"
68
Simon Peter answered him, "Lord, to whom shall we go? You have the words of eternal life;
69
and we have believed, and have come to know, that you are the Holy One of God."