VIS REPORTS:
MESSAGE FOR WORLD DAY OF PRAYER FOR VOCATIONS: "THE GIFT OF THE LOVE OF GOD" (IMAGE SOURCE: RADIO VATICANA)
Vatican City, 13 February 2012 (VIS) - The Pope's Message for the forth-ninth World Day of Prayer for Vocations was made public today. The Day is due to be celebrated on 29 April, fourth Sunday of Easter, and the theme of Benedict XVI's reflections this year is: "Vocations, the Gift of the Love of God". Ample extracts of the English-language version of the document are given below:
'The source of every perfect gift is God who is Love – Deus caritas est: 'Whoever remains in love remains in God and God in him'. Sacred Scripture tells the story of this original bond between God and man, which precedes creation itself. ... We are loved by God even 'before' we come into existence! Moved solely by His unconditional love, He created us 'not out of existing things', to bring us into full communion with Him".
"The profound truth of our existence is thus contained in this surprising mystery: every creature, and in particular every human person, is the fruit of God's thought and an act of His love, a love that is boundless, faithful and everlasting. The discovery of this reality is what truly and profoundly changes our lives".
"It is a love that is limitless and that precedes us, sustains us and calls us along the path of life, a love rooted in an absolutely free gift of God. Speaking particularly of the ministerial priesthood, my predecessor, Blessed John Paul II, stated that 'every ministerial action ... provides an incentive to grow in ever greater love and service of Jesus Christ, ... a love which is always a response to the free and unsolicited love of God in Christ'. Every specific vocation is in fact born of the initiative of God; it is a gift of the Love of God! He is the One Who takes the 'first step', ... because of the presence of His own love 'poured out into our hearts through the Holy Spirit'.
"In every age, the source of the divine call is to be found in the initiative of the infinite love of God, Who reveals Himself fully in Jesus Christ. As I wrote in my first Encyclical, Deus Caritas Est, 'God is indeed visible in a number of ways. In the love-story recounted by the Bible, He comes towards us, He seeks to win our hearts, all the way to the Last Supper, to the piercing of His heart on the Cross, to His appearances after the Resurrection and to the great deeds by which, through the activity of the Apostles, He guided the nascent Church along its path'".
"The love of God is everlasting; He is faithful to Himself. ... Yet the appealing beauty of this divine love, which precedes and accompanies us, needs to be proclaimed ever anew, especially to younger generations. This divine love is the hidden impulse, the motivation which never fails, even in the most difficult circumstances. ... We need to open our lives to this love. It is to the perfection of the Father's love that Jesus Christ calls us every day! The high standard of the Christian life consists in loving 'as' God loves; with a love that is shown in the total, faithful and fruitful gift of self".
"It is in this soil of self-offering and openness to the love of God, and as the fruit of that love, that all vocations are born and grow. By drawing from this wellspring through prayer, constant recourse to God's word and to the Sacraments, especially the Eucharist, it becomes possible to live a life of love for our neighbours, in whom we come to perceive the face of Christ the Lord".
"These two expressions of the one divine love must be lived with a particular intensity and purity of heart by those who have decided to set out on the path of vocation discernment towards the ministerial priesthood and the consecrated life; they are its distinguishing mark. Love of God, which priests and consecrated persons are called to mirror, however imperfectly, is the motivation for answering the Lord's call to special consecration through priestly ordination or the profession of the evangelical counsels. St. Peter's vehement reply to the Divine Master: 'Yes, Lord, you know that I love you' contains the secret of a life fully given and lived out, and thus one which is deeply joyful.
"The other practical expression of love, that towards our neighbour, and especially those who suffer and are in greatest need, is the decisive impulse that leads the priest and the consecrated person to be a builder of communion between people and a sower of hope. The relationship of consecrated persons, and especially of the priest, to the Christian community is vital and becomes a fundamental dimension of their affectivity".
"Dear brother bishops, dear priests, deacons, consecrated men and women, catechists, pastoral workers and all of you who are engaged in the field of educating young people: I fervently exhort you to pay close attention to those members of parish communities, associations and ecclesial movements who sense a call to the priesthood or to a special consecration. It is important for the Church to create the conditions that will permit many young people to say 'yes' in generous response to God's loving call.
"The task of fostering vocations will be to provide helpful guidance and direction along the way. Central to this should be love of God's word nourished by a growing familiarity with Sacred Scripture, and attentive and unceasing prayer, both personal and in community; this will make it possible to hear God's call amid all the voices of daily life. But above all, the Eucharist should be the heart of every vocational journey: it is here that the love of God touches us in Christ's sacrifice. ... Scripture, prayer and the Eucharist are the precious treasure enabling us to grasp the beauty of a life spent fully in service of the Kingdom.
"It is my hope that the local Churches ... will become places where vocations are carefully discerned and their authenticity tested, places where young men and women are offered wise and strong spiritual direction. ... As a response to the demands of the new commandment of Jesus, this can find eloquent and particular realisation in Christian families, whose love is an expression of the love of Christ Who gave himself for His Church. Within the family ... young people can have a wonderful experience of this self-giving love. Indeed, families are not only the privileged place for human and Christian formation; they can also be 'the primary and most excellent seed-bed of vocations to a life of consecration to the Kingdom of God', by helping their members to see, precisely within the family, the beauty and the importance of the priesthood and the consecrated life. May pastors and all the lay faithful always cooperate so that in the Church these'homes and schools of communion' may multiply, modelled on the Holy Family of Nazareth, the harmonious reflection on earth of the life of the Most Holy Trinity".
"I cordially impart my Apostolic Blessing to all of you, ... and especially those young men and women who strive to listen with a docile heart to God's voice and are ready to respond generously and faithfully".
GOD'S LOVE IS STRONGER THAT ANY EVIL
Vatican City, 12 February 2012 (VIS) - At midday today the Holy Father appeared at the window of his study in the Vatican Apostolic Palace to pray the Angelus with faithful gathered in St. Peter's Square below. Benedict XVI introduced the Marian prayer by recalling how "Jesus, in His public life, healed many sick people, thus revealing that what God wants for man is life, life in abundance".
Today's Gospel reading shows us Jesus "in contact with a form of sickness considered at that time to be the most serious", leprosy, which made the sufferer "unclean" and excluded him from social life. While Jesus was preaching in Galilee a leper came up to Him asking to be healed. "Jesus did not seek to avoid contact with the man. Quite the contrary, moved by intimate concern for his condition, He stretched out His hand - breaking the legal proscription - and said: 'I do choose. Be made clean'. Christ's gesture and words encapsulate the entire history of salvation, they incarnate God's will to heal us, to purify us from the evil which disfigures us and blights our relationships.
"That contact between Jesus' hand and the leper broke down all barriers between God and human impurity; between the sacred and its opposite, certainly not in order to deny evil and its negative power but to demonstrate that the love of God is stronger than all evil, even the most contagious and terrible. Jesus took our infirmities upon Himself. He became a 'leper' that we might be purified. ... The victory of Christ is our profound healing and our resurrection to a new life".
In closing, Benedict XVI encouraged the faithful to pray to the Virgin Mary. "Through His Mother, it is always Jesus Who comes to us, to free us from all sickness of body and soul. Let us allow ourselves to be touched and purified by Him, and let us show mercy to our fellows".
APPEAL FOR AN END TO VIOLENCE IN SYRIA
Vatican City, 12 February 2012 (VIS) - "It is with great concern that I am following the dramatic and increasing violence in Syria", said the Pope this morning after praying the Angelus. "In recent days there have been many victims, some of them children. I recall them all in my prayers, just as I do the wounded and those who are suffering the consequences of an increasingly worrying conflict. I also renew my urgent appeal to put an end to the violence and bloodshed and, finally, invite everyone - particularly the Syrian authorities - to favour the paths of dialogue, reconciliation and commitment to peace. It is vital to respond to the legitimate aspirations of the various components of the nation, and to the hopes of the international community, which is concerned for the common good of society as a whole, and of the region".
OTHER PONTIFICAL ACTS
Vatican City, 11 February 2012 (VIS) - The Holy Father:
- Appointed Archbishop Romulo G. Valles of Zamboanga, Philippines, as metropolitan archbishop of Davao (area 2,443, population 1,477,000, Catholics 1,185,000, priests 157,religious 809), Philippines. He succeeds Archbishop Fernando R. Capalla, whose resignation from the pastoral care of the same archdiocese the Holy Father accepted, upon having reached the age limit.
- Appointed Bishop Nicolas Brouwet, auxiliary of Nanterre, France, as bishop of Tarbes et Lourdes (area 4,535, population 229,000, Catholics 151,000, priests 168, permanent deacons 14, religious 520), France. He succeeds Bishop Jacques Perrier, whose resignation from the pastoral care of the same diocese the Holy Father accepted, upon having reached the age limit.
- Appointed Bishop Jonas Ivanauskas, auxiliary of the archdiocese of Kaunas, Lithuania, as bishop of Kaisiadorys (area 6,557, population 174,000, Catholics 141,200, priests 61, religious 27), Lithuania. He succeeds Bishop Juozas Matulaitis, whose resignation from the pastoral care of the same diocese the Holy Father accepted, upon having reached the age limit.
- Appointed Fr. Linas Vodopjanovas O.F.M., pastor of Kretinga in the diocese of Telsiai, Lithuania, and vice provincial for the Lithuanian Province of "St. Casimir" of the Friars Minor, as auxiliary of Telsiai (area 13,373, population 725,900, Catholics 581,000, priests 157, religious 52). The bishop-elect was born in Neringa, Lithuania in 1973 and ordained a priest in 2000. He studied in Italy and has held a number of positions in his order, including that of master of novices.
- Appointed Fr. Pierre Claver Malgo, former rector of the major interdiocesan seminary of "Saint-Jean-Baptist" in Ouagadougou, Burkina Faso, as bishop of Fada-N'Gourma (area 47,681, population 1,274,000, Catholics 96,891, priests 49, religious 99), Burkina Faso. The bishop-elect was born in Dimistenga, Burkina Faso in 1954 and ordained a priest in 1984. He studied in his own country and in Cote d'Ivoire and, among other duties, has served as a pastor in France.
- Erected the new diocese of Tenkodogo (area 10,777, population 954,377, Catholics 138,212, priests 50, religious 26) Burkina Faso, with territory taken from the diocese of Fada-N'Gourma and the archdiocese of Koupela, making it a suffragan of the metropolitan church of Koupela. He appointed Fr. Prosper Kontiebo M.I., vice provincial of the Camillian Fathers in Burkina Faso, as first bishop of the new diocese. The bishop-elect was born in Boassa, Burkina Faso in 1960 and ordained a priest in 1990. He studied professional nursing and has worked in his order as formator and bursar.
- Erected the new apostolic prefecture of Robe (area 116,221, population 2,737,512, Catholics 2,000, priests 5, religious 13) Ethiopia, with territory taken from the apostolic vicariate of Meki. He appointed Fr. Angelo Antolini O.F.M. Cap., episcopal vicar for the region of Robe and national director of the Pontifical Missionary Works in Ethiopia, as first apostolic prefect of the new prefecture.
USCCB REPORT:
WASHINGTON – The United States Conference of Catholic Bishops (USCCB) has issued the following statement:
The Catholic bishops have long supported access to life-affirming healthcare for all, and the conscience rights of everyone involved in the complex process of providing that healthcare. That is why we raised
two serious objections
to the "preventive services" regulation issued by the U.S. Department of Health and Human Services (HHS) in August 2011.
First
, we objected to the rule
forcing
private health plans — nationwide, by the stroke of a bureaucrat's pen—to cover sterilization and contraception, including drugs that may cause abortion. All the other mandated "preventive services" prevent disease, and
pregnancy is not a disease
. Moreover, forcing plans to cover abortifacients violates existing federal conscience laws. Therefore, we called for the rescission of the mandate altogether.
Second
, we explained that the mandate would impose a burden of unprecedented reach and severity on the consciences of those who consider such "services" immoral:
insurers forced
to write policies including this coverage;
employers and schools forced
to sponsor and subsidize the coverage; and individual
employees and students forced
to pay premiums for the coverage. We therefore urged HHS, if it insisted on keeping the mandate, to provide a conscience exemption for
all
of these stakeholders—not just the extremely small subset of "religious employers" that HHS proposed to exempt initially.
Today, the President has done two things.
First
, he has decided to
retain HHS's nationwide mandate
of insurance coverage of sterilization and contraception, including some abortifacients. This is both unsupported in the law and remains a grave moral concern.
We cannot fail to reiterate this
, even as so many would focus exclusively on the question of religious liberty.
Second
, the President has announced
some changes
in how that mandate will be administered, which is
still unclear in its details
. As far as we can tell at this point, the change appears to have the following basic contours:
It would
still mandate that all insurers must include coverage
for the objectionable services in all the policies they would write. At this point, it would appear that self-insuring religious employers, and religious insurance companies, are not exempt from this mandate.
It would allow non-profit, religious employers to
declare
that they do not offer such coverage. But the employee and insurer may separately agree to add that coverage. The employee would not have to pay any additional amount to obtain this coverage, and the coverage would be provided as a part of the employer's policy, not as a separate rider.
Finally, we are told that the one-year extension on the effective date (from August 1, 2012 to August 1, 2013) is available to any non-profit religious employer who desires it, without any government application or approval process.
These changes require
careful moral analysis
, and moreover, appear subject to some measure of change. But we note at the outset that the
lack of clear protection
for key stakeholders—for self-insured religious employers; for religious and secular for-profit employers; for secular non-profit employers; for religious insurers; and for individuals
—is unacceptable and must be corrected
. And in the case where the employee and insurer agree to add the objectionable coverage, that coverage is still provided as a
part of the objecting employer's plan
, financed in the
same way
as the rest of the coverage offered by the objecting employer. This, too, raises
serious moral concerns
.
We just received information about this proposal for the first time this morning; we were not consulted in advance. Some information we have is in writing and some is oral. We will, of course, continue to press for the greatest conscience protection we can secure from the Executive Branch. But stepping away from the particulars, we note that today's proposal continues to involve needless government intrusion in the internal governance of religious institutions, and to threaten government coercion of religious people and groups to violate their most deeply held convictions. In a nation dedicated to religious liberty as its first and founding principle, we should not be limited to negotiating within these parameters. The only complete solution to this religious liberty problem is for HHS to rescind the mandate of these objectionable services.
We will therefore continue—with no less vigor, no less sense of urgency—our efforts to correct this problem through the other two branches of government. For example, we renew our call on Congress to pass, and the Administration to sign, the Respect for Rights of Conscience Act. And we renew our call to the Catholic faithful, and to all our fellow Americans, to join together in this effort to protect religious liberty and freedom of conscience for all.
http://usccb.org/news/2012/12-026.cfm
Catholic Communications, Sydney Archdiocese REPORT9 Feb 2012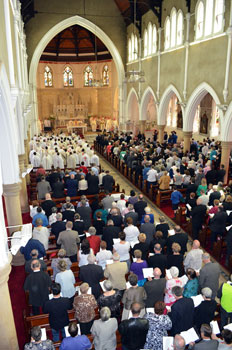 Roads were cut off. The airport closed. The town under water. But this wasn't going to stop Wee Waa parish priest, Fr Paul Anthony Aguilar.
Determined to reach Armidale to attend the installation of the 10th Bishop of Armidale at New England's Cathedral of St Mary and St Joseph, the intrepid priest boarded a small boat and putt-putted his way out of the flooded region. Then he managed to catch a lift by road and made it to Armidale in time.
The Episcopal Ordination and Installation of Bishop Michael Kennedy as the 10th Bishop of Armidale took place at 10.30 in Armidale this morning, 9 February.
The retired former Bishop of Armidale, the Most Rev Luc Matthys officiated with the Archbishop of Sydney, Cardinal George Pell and Bishop Gerard Hanna of Wagga Wagga both co-consecrators at the all important ceremony.
More than 800 attended the installation including dignitaries and clergy from across Australia as well as many parishioners not only from Armidale but from across the sprawling 91,500 sq km Diocese and its 23 parishes.
With floods inundating much of the western region of NSW, triggering road closures, washing out bridges and isolating towns as well as properties in the area, some of the faithful who had been eager to attend and had booked special buses, found themselves instead stranded by fast rising rivers in what has become a vast inland sea.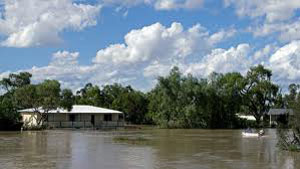 Mud, slush, flooded roads and swollen billabongs and creeks was not going to stop Walgett parish priest, Fr James Poovathinkal. As soon warning came the fast-rising Barwon River would threaten the town, he grabbed a lift out of the region on a small plane. That was two days ago and since that time, the Barwon has continued to rise, isolating the entire community and stranding more than 2300 of the town's residents.
The SES is now forecasting the Barwon River will not peak at Walgett until Monday, 13 February when it is expected to reach a record 13.4 metres, and means Fr Paul will be unable to return home for almost a week.
Two other priests who were equally resolute in their determination to participate in today's Episcopal Ordination of the Armidale Diocese's new Bishop were Moree's Fr Paul McCabe and Fr John Macdonald.
Fr Paul is the long time priest of the St Francis Xavier Parish while newly-ordained assistant parish priest, Fr John Macdonald is the popular former teacher and coach in charge of track and field at Sydney's St Ignatius College, Riverview where he was known as "Mr Athletics."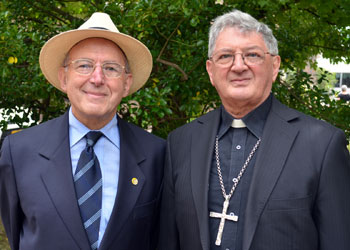 Moree was one of the first towns in the New England-Darling Downs area to battle major flooding after the swollen Mehi River overflowed its banks, cutting the town in two and surging through the main shopping streets and business area. By the weekend, the river had finally peaked. But not until after it had reached levels not seen since the 1976. By now the entire town was cut off by road and RAAF Hercules aircraft had to be employed to drop supplies and bedding for thousands of residents, many of whom were sheltering in one of several of the town's evacuation centres.
Fr John and Fr Paul pitched in, doing what they could to help. But although the parish church of St Francis Xavier was on high ground and safe, with highways and roads in and out of Moree closed and reports of bridges being washed away, it seemed they would not be able to make it to Armidale for today's service.
From Monday the waters in Moree began to recede and although many roads were still closed, the priests managed to make it to the Gwydir Highway early this morning. They drove as far as the Gwydir Bridge at Gravesend but with the bridge flood-damaged and closed to all traffic, they made a detour to Elcombe and Bingara which added some 50 minutes to their journey.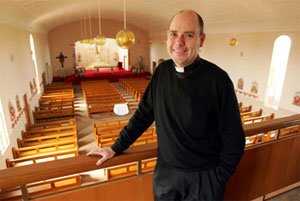 Nevertheless they made it into Armidale in time and were inside the Cathedral when the Episcopal Ordination and Installation ceremony began at 10.30 this morning.
"The installation of our new bishop is very much a landmark event and people from across the entire diocese wanted to attend. But with such widespread flooding, sadly not everyone who wanted to be there was able to," says Gabrielle Kelly from the Catholic Viewpoint, Armidale's official Diocese magazine.
Bishop Luc Matthys who at 75 has reached retirement age, has been Bishop of Armidale since May 1999.
His successor, Bishop Michael Kennedy was formerly a priest with the Wagga Wagga Diocese and at 43, becomes the youngest prelate in Australia.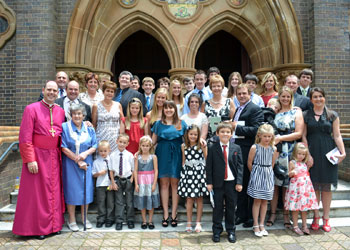 The youngest of nine children, he grew up in the small Riverina town of San Isidore and was educated by the Christian Brothers in Wagga and later at Xavier's Catholic High School in Albury.
Fr Michael who studied for the priesthood at Vianney College was ordained in 1999.
Last Sunday, he moved to Armidale to take up residence. "Geographically, the Armidale Diocese is much larger than Wagga. However, I am accustomed to long drives on country roads in the course of my duties. I am looking forward to seeing the New England North West region. When Bishop Matthys took office almost 13 years ago, he made it a priority to visit every Parish in the Diocese in his first year. Bishop Matthys has recommended that I should try to visit as many Parishes in as short a period of time as possible so people have the opportunity to meet me," he says and adds with so many people in the Diocese devastated by floods this is now his priority.
Credit "Images: Gary Fry/Danieli Studios, Armidale"
ASIA NEWS REPORT:
In the island's east coast city hundreds of people digging with their bare hands in search of hundreds still buried under rubble. Caritas Philippines warns that food supplies are running low. Landslides and mudslides block roads and make it impossible for the arrival of humanitarian aid. The local Catholic Church opens churches, chapels and schools to provide shelter to hundreds of displaced families.
Manila (AsiaNews) – The death toll from the 6.9 magnitude earthquake that struck the islands of Negros and Cebu (Central Philippines) on 6 February has risen to 48 dead and 92 missing. In the eastern part of the island the quake destroyed dozens of towns and villages. Hundreds of people are buried under the rubble. Alvin Futalan, head of the Guihulngan police (100 thousand inhabitants), explains that there are in the hundreds of collapsed buildings in the towns and people are digging with their bare hands. The National Disaster Risk Reduction Management Council (Ndrrmc) has recorded over 700 aftershocks, that two days after the earthquake are causing landslides, blocking rescue teams and the arrival of humanitarian aid.

Sister Mapet spokesperson for Caritas Philippines (National Secretariat of Social Action, Nassa), told AsiaNews that "to help the earthquake survivors, the parishes of the Diocese of Dumaguete and San Carlos (Negros Island, central Philippines) are using up stocks, that are running out. "

The nun says that the situation is dramatic. The earthquake has made roads impassable, five bridges have collapsed and another five can only carry light vehicles or on people foot. "The parishes - says Sr. Mapet - have opened churches, chapels and schools to accommodate the hundreds of displaced families and organized collections of food, blankets and clothes among the parishioners not affected by the earthquake. We are still waiting for the aid requested from Caritas International and the government. " (Sc)



James Parker with Sr Catherine Holum

More than 10,000 young people are getting ready to converge on Wembley Stadium next month, in what looks set to be the largest gathering of young Catholics ever to take place in England and Wales.

Plans for the Flame Congress were unveiled at a press conference at the Bishops Conference headquarters in London on Thursday.
The event has been inspired by the tremendous reception given to Pope Benedict during his 2010 visit - his welcome by thousands of young people in the Piazza outside Westminster Cathedral, the Big Assembly at St Mary's in Twickenham, and the huge gathering in Hyde Park.

The timing also chimes well with the London Olympics. Pope John Paul II – himself a keen sportsman – wrote about the relationship between sport and faith. Among the speakers giving testimony will be several Olympians and Paralympians.

James Parker, the Catholic Church's Executive Coordinator for the 2012 Games, who is currently organising hundreds of events in church communities around the country preparing for the Olympics, said: "this is once-in-a-lifetime global event which is really capturing the imagination of everyone and it has a special calling for young people. There will be opportunities to welcome the stranger, serve others, and be the hands of Christ during the 2012 Games."

Fr Dominic Howarth, Flame Congress coordinator said he hoped people would return to their communities after the Congress filled with fresh hope and inspiration. He added that young people from all denominations are welcome to take part.

The day-long event which will include music, animated by Edwin Fawcett, who has composed a special anthem for the day; drama, dance, and speakers - among them Paschal Uche, Barry and Margaret Mizen, Fr Timothy Radcliffe, on the theme of respect, Fr Christopher Jamison, Sr Catherine Holum from the Franciscan Sisters of the Renewal in Leeds, and David Wells. There will also be a time for testimony. The organisers did consider having a Mass, but in the end, recalling the stunning silence of a more than a miliion people in Hyde Park after Pope Benedict placed the Blessed Sacrament on the altar, it was decided to have a time of silent Adoration at the Flane Congress. This will be lead by Archbishop Vincent Nichols.

Organisers say that 8,000 young people have already booked. Hexham and Newcastle Diocese have hired a train - dubbed the 'Flame Train' to bring their young people to Wembley. It is already fully booked but more will be coming on the usual scheduled service. Many youth groups are making a weekend of it coming to London for the weekend and taking in some sightseeing and theatre.

One organiser said: "It's not always easy being a young Catholic in today's world. But at an event like this, young people can find strength, inspiration and the excitement of realising they are not alone - in fact there are some quite cool Christians out there."

We will be bringing more information about the Flame Congress in future reports. To book your seats now see:

http://www.cymfed.org/flame
Agenzia Fides report – On February 13 the Second Symposium of the European and African Bishops opens in Rome, which has the theme "Evangelization Today: Communion and pastoral cooperation between Africa and Europe. The human person and God: the Church's mission to proclaim the presence and love of God". The event will be jointly opened by Cardinal Polycarp Pengo and Angelo Bagnasco, respectively President of the Symposium of the Episcopal Conferences of Africa and Madagascar (SECAM) and Vice-President of the Council of the European Episcopal Conferences (CCEE). Followed by the presentation of a post-synodal Apostolic Exhortation Africae Munus on behalf of Cardinal Peter K. A. Turkson, President of the Pontifical Council for Justice and Peace.
During the opening session, the Cardinals Theodore-Adrien Sarr, Vice-President of SECAM, and Josip Bozanic, former Vice-President of the CCEE, who have followed the whole process of collaboration between the two continental bodies since 2004, will present the results of previous meetings and the challenges that have emerged, and will talk about what is expected from this Symposium.
Some experts Bishops of the two continental organizations will offer a presentation of the following sub-themes during the five days of the Symposium:
a) Who are the men and women in Africa and Europe that the Church was sent to evangelize? A theological and anthropological approach. The believer, the person in search, the person who claims not to believe.
b) The mission of the Church: to proclaim the Good News of Jesus Christ to men and women today in Africa and Europe. The personal encounter with Christ. Conversion.
c) Communion and pastoral cooperation between Africa and Europe - to promote concrete relations: between parishes and dioceses, youth, families, etc…
d) The way forward in view of the most fruitful collaborations between CCEE and SECAM.
The Symposium will conclude with a pilgrimage to the Shrine of the Holy Face in Manoppello, on February 17. (L.M.) (Agenzia Fides 10/02/2012)
Leviticus 13:

1 - 2, 44 - 46




---

1

The LORD said to Moses and Aaron,

2

"When a man has on the skin of his body a swelling or an eruption or a spot, and it turns into a leprous disease on the skin of his body, then he shall be brought to Aaron the priest or to one of his sons the priests,

44

he is a leprous man, he is unclean; the priest must pronounce him unclean; his disease is on his head.

45

"The leper who has the disease shall wear torn clothes and let the hair of his head hang loose, and he shall cover his upper lip and cry, `Unclean, unclean.'

46

He shall remain unclean as long as he has the disease; he is unclean; he shall dwell alone in a habitation outside the camp.




Psalms 32:

1 - 2, 5, 11




---

1

Blessed is he whose transgression is forgiven, whose sin is covered.

2

Blessed is the man to whom the LORD imputes no iniquity, and in whose spirit there is no deceit.

5

I acknowledged my sin to thee, and I did not hide my iniquity; I said, "I will confess my transgressions to the LORD"; then thou didst forgive the guilt of my sin. [Selah]

11

Be glad in the LORD, and rejoice, O righteous, and shout for joy, all you upright in heart!




1 Corinthians 10:

31 - 33




---

31

So, whether you eat or drink, or whatever you do, do all to the glory of God.

32

Give no offense to Jews or to Greeks or to the church of God,

33

just as I try to please all men in everything I do, not seeking my own advantage, but that of many, that they may be saved.




1 Corinthians 11:

1




---

1

Be imitators of me, as I am of Christ.




Mark 1:

40 - 45




---

40

And a leper came to him beseeching him, and kneeling said to him, "If you will, you can make me clean."

41

Moved with pity, he stretched out his hand and touched him, and said to him, "I will; be clean."

42

And immediately the leprosy left him, and he was made clean.

43

And he sternly charged him, and sent him away at once,

44

and said to him, "See that you say nothing to any one; but go, show yourself to the priest, and offer for your cleansing what Moses commanded, for a proof to the people."

45

But he went out and began to talk freely about it, and to spread the news, so that Jesus could no longer openly enter a town, but was out in the country; and people came to him from every quarter.
St. Saturninus & Companions
BISHOP, MARTYR
Feast: February 12
| | | |
| --- | --- | --- |
| Information: | | St. Saturninus was, says Tillemont, one of the most illustrious martyrs France has given to the Church. We possess only his Acts, which are very old, since they were utilized by St. Gregory of Tours. He was the first bishop of Toulouse, whither he went during the consulate of Decius and Gratus (250). Whether there were already Christians in the town or his preaching made numerous conversions, he soon had a little church. To reach it he had to pass before the capitol where there was a temple, and according to the Acts, the pagan priests ascribed to his frequent passings the silence of their oracles. One day they seized him and on his unshakable refusal to sacrifice to the idols they condemned him be tied by the feet to a bull which dragged him about the town until the rope broke. Two Christian women piously gathered up the remains and buried them in a deep ditch, that they might not be profaned by the pagans. His successors, Sts. Hilary and Exuperius, gave him more honourable burial. A church was erected where the bull stopped. It still exists, and is called the church of the (the bull). The body of the saint was transferred at an early date and is still preserved in the Church of St. Sernin (or Saturninus), one of the most ancient and beautiful of Southern France. His feast was entered on the Hieronymian Martyrology for 29 November; his cult spread abroad. The account of his Acts was embellished with several details, and legends linked his name with the beginning of the churches of Eauze, Auch, Pamplona, and Amiens, but these are without historic foundations. |
source:
http://www.ewtn.com/saintsHoly/saints/S/stsaturninusandcompanions.asp#ixzz1mRHkfXUC