RADIO VATICANA REPORT: During his Angelus reflections Pope Benedict focused on the Gospel this fourth Sunday of Advent which recounts the Angel's annunciation to Mary and in particular on the significance of her virginity in salvation history: "the virginity of Mary is unique and unrepeatable, but its spiritual significance concerns every Christian. It, in essence, is tied to faith: in fact, those who trust deeply in God, welcome Jesus and His divine life within them, through the action of the Holy Spirit. This is the mystery of Christmas".

Speaking from the window of his study overlooking St Peter's square, the Holy father spoke of his concern in the aftermath of the Typhoon Washi, which slammed ashore Mindanao island while people slept late on Friday and early Saturday. Rescuers are still searching for more than 800 people missing in the flash floods and landslides that swept houses into rivers and out to sea, killing more than 650 people.

The Pope said : "I want to assure the populations of the southern Philippines, hit by a violent tropical storm, of my closeness. I pray for the victims, mostly children, the homeless and the many missing".

Below a Vatican Radio translation of Pope Benedict XVI's Angelus reflections:

Dear brothers and sisters!

In this fourth and final Sunday of Advent, the liturgy presents this year, the annunciation to Mary. Contemplating the beautiful icon of the Blessed Virgin, when she receives the divine message and gives her answer, we are internally illuminated by the light of truth which shines, always new, from that mystery. In particular, I would like to dwell briefly on the importance of the virginity of Mary, that is, the fact that she conceived Jesus while remaining a virgin.

In the background of the event's at Nazareth is the prophecy of Isaiah. "Behold a virgin shall conceive and bear a son and call him Immanuel" (Isaiah 7:14). This age-old promise has found superabundant fulfillment in the Incarnation of the Son of God. In fact, not only did the Virgin Mary conceive, but she did so through the Holy Spirit, which is God himself. The human being that begins to live in her womb takes the flesh from Mary, but his existence is derived entirely from God 'fully human, made of earth - to use the biblical symbol - but he comes from above, from heaven. The fact that Mary conceived while remaining a virgin is, therefore, essential for the understanding of Jesus and our faith, because it witnesses that it was God's initiative and above all it reveals who is conceived. As the Gospel says: " Therefore the child to be born will be called holy, the Son of God." (Luke 1.35). In this sense, the virginity of Mary and the divinity of Jesus reciprocally guarantee one another.

This is why that one question that Mary, 'very upset', addresses to the Angel 'How can this be, since I have no relations with a man? '(Lk 1.34) is so important. In her simplicity, Mary is wise: She does not doubt the power of God, but wants to better understand his will, to fully comply with this will. Mary is infinitely surpassed by the mystery, yet perfectly occupies the place that, at the very heart of it, she was assigned. Her heart and mind are fully humble, and, because of her singular humility, God expects the "yes" of this young girl to achieve His purpose. He respects her dignity and freedom. Mary's "yes" means both motherhood and virginity, and her wish that her everything be for the glory of God and that the Son who will be born to Her may be a gift of grace for al.

Dear friends, the virginity of Mary is unique and unrepeatable, but its spiritual significance concerns every Christian. It, in essence, is tied to faith: in fact, those who trust deeply in God, welcomes Jesus and his divine life within, through the action of the Holy Spirit. This is the mystery of Christmas.

I greet all the English-speaking pilgrims and visitors present at this Angelus prayer. The Gospel of today's liturgy recounts the Archangel Gabriel's Annunciation to the Virgin Mary, That She Would conceive and bear a son To Be Called Jesus. Just as the Immaculate Virgin Brought God to us, May we be not afraid to let her bring us to God. In this final week of Advent, let us intensify our efforts to prepare for His coming. Upon you and your loved ones, I invoke the blessings of Almighty God!
SOURCE: RADIO VATICANA
ARCHDIOCESE OF WASHINGTON RELEASE:
Dear Friends,
Perhaps you have seen some of the yard signs, Facebook and newspaper ads, or television commercials or heard radio announcements calling us to "Find the Perfect Gift / Regalo Perfecto." These are visible reminders about the meaning of Christmas and an invitation to those who may have forgotten or never quite knew what Christmas is all about. These colorful signs are part of a much larger Church-wide effort to
share the Good News with those who may have drifted away. The overall effort is called the New Evangelization.
Our Holy Father, Pope Benedict XVI, has described the New Evangelization as an invitation to share the Good News that is Jesus, the Son of God. Like the angels who announced the birth of our Savior to the shepherds in the fields, we, too, are called to tell others of God's redeeming love, mercy and peace, given to us in the form of a holy child of humble birth.
Even as we are putting up Christmas trees, hanging out wreaths and placing Nativity scenes in our homes, parochial schools and churches, there is clearly in our society in recent years an effort to reduce this season to simply a winter festival, a generic holiday, a retail/commercial bonanza. What began as a recognition of the birth of Christ is now being disconnected from the Gospel proclamation that God sent his Son Jesus among us.
Too often do we hear in the entertainment/information industry that this is really the post-Christian, post-faith era. One might be tempted to accept this thesis if one judged by the indicators of commercial interest.
Yet, in reality — in the world where you and I live — in the world of our values, convictions and hopes — there is another perspective. We see, even if only dimly, with the eyes of faith. In this light, we see the story of the birth of Christ not as a myth, not as unreliable history, not as an outdated influence from the past. We recognize him for who he is — the Word of God who became one of us and, as the creed professes, died, rose and will come again in glory.
When asked "What is the New Evangelization?" I think one response includes three elements: a) renewing our own understanding of the faith, b) restoring a confidence in what we believe, and c) being willing to share our gift of faith.
If each one of us were to commit to sharing this gift with one person this Christmas, or reminding them of it, lives might be changed in profound ways. It could be something as simple as inviting a friend to attend Mass or a Christmas concert with you. Or, perhaps you might feel more comfortable suggesting an act of charity you could undertake together. Regardless of the event or occasion, your invitation might be the very reason your friend or loved one has been waiting for to come back to the Church or to explore it for the first time. This feast day of Saint Nicholas seems such
an appropriate time to think about offering the gift of Christ during this holy season to someone we care about.
In trying to answer the question "What does the New Evangelization have to do with Christmas?" we have to ask ourselves, how prepared are we to share the Good News of Christmas and perhaps even invite someone who should be with us to come back to Mass. Jesus beckons us to walk with him. "Come, follow me" (Mt 5:19). The joy we experience should compel us to share it with others. We are not only disciples, we are evangelists. Like those first disciples, we are called to envision ourselves walking alongside Jesus as the sower of the seeds of a new way of living, of a share in a kingdom that will last forever (cf Mt 13:1-9, 18-23; Mk 4:3; Lk 8:5).
It's not enough, though, for us simply to tell others about the love and mercy of Christ. We are called to be a living example of all he embodies, especially during this time of great economic difficulty for many in our area. This local Church, through Catholic Charities and other entities, offers abundant opportunities for us to serve our brothers and sisters in need — whether they are struggling to feed and clothe their families, pay utility bills or find a place to sleep on a cold night. Volunteers, as well as donations, are always needed. By serving others, particularly the poorest among us, we serve Jesus himself: "…I assure you, as often as you did it for one of my least
brothers, you did for me" (Mt 25:40).
In Seek First the Kingdom, I attempt to explain how we all can share in the joy of realizing God's kingdom in our daily lives. The Advent and Christmas season is a time to remember more clearly and thank God more sincerely for the perfect gift that is ours and for the grace to actually make real in our lives what we ask for when we pray "Thy kingdom come."
With prayerful best wishes for a joyous and peaceful Christmas for you and your family, I am
BISHOPS OF IRELAND RELEASE: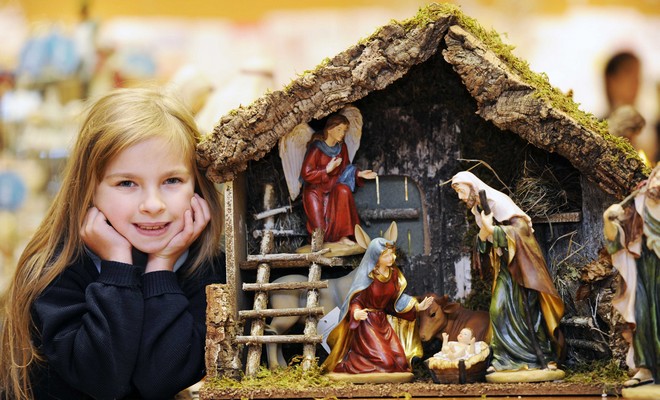 Irish Bishops Christmas 2011 reflection Hope in Challenging Times
And the angel said to them, "Fear not, for behold, I bring you good news of a great joy that will be for all the people. For unto you is born this day in the city of David a Saviour, who is Christ the Lord."
[
Luke 2:10-11
]
Christmas, in many homes, is the highlight of the year. It can be a time to get together with family and friends, to share food and exchange gifts. For many children it is a time of great wonder and joy, and the most treasured memories of many adults come from the family Christmas experience of their childhood. It is a moment of great significance for our lives as Christians, where we come together to celebrate the joy of 'God-with-us' in the birth of our Saviour, Jesus Christ.
Christmas is also a time when we reflect on the Holy Family, a family whose love for each other and faith in God helped them to overcome great trials and suffering. This year we are conscious of the many homes across Ireland where pressures on family life have never been greater because of worries about debt, financial insecurity, unemployment and heavy workloads just to make ends meet. All of these can easily become sources of tension and conflict, putting new strains on relationships within the home, even on otherwise stable relationships between parents. It is no coincidence that from the very beginning of the current economic crisis organisations such as ACCORD have reported significant increases in the number of couples coming to them for help. We would encourage any couple, experiencing pain or difficulties in their relationship at this time, to avail of the safe and confidential space offered by organisations such as ACCORD, where they can share their experiences with people who understand the joys and challenges of marriage. As pressures on families increase, it is important that all couples take time to think about how much of themselves and their time they give to nurturing their relationship, which is at the heart of family life.
In the Gospel of St. Matthew (2:2-12) we read of the journey of the Magi to present their gifts to the baby Jesus. These gifts had a special significance, acknowledging the identity and future mission of Jesus. In these financially straightened times it is important to ask how much meaning is really attached to some of the gifts we give to each other at Christmas today? An over-emphasis on the material aspect of giving can mean those in our society who are struggling financially experience a crisis of self-esteem, feeling that they have little to give to others and that the expectations of children in particular cannot be met. In reality, however, the greatest gift we can give is the gift of our time and attention. Impersonal, material gifts will soon be forgotten, but time spent with a person, showing that you value and care for them, means so much more and will leave them with memories to value forever.
This, after all, is very nature of the gift given to us in the incarnation of the Son of God at Christmas. In the words of the famous Christmas hymn,
O Holy Night,
we celebrate the 'The King of Kings, lay thus in lowly manger; in all our trials born to be our friend'.
This Christmas we encourage all to take the time to stop and reflect: are we so busy rushing around buying presents, stocking up on food and decorating our houses, that we don't have time to actually be present for those who need us? We also ask is there more each of us could do to reflect the original simplicity of the Christmas scene by wasting less food, packaging and energy?
We remember in a particular way this year all those who are suffering as a result of the crisis in East Africa. This hunger could be prevented through a fairer distribution of the world's resources. While it is good to celebrate with family and friends, it is important to consider how our behaviour as consumers impacts on the lives of people in the developing world. There are small changes we can all make on an individual basis, such as opting for Fair Trade products, that will help to make a difference. Organisations such as Trócaire, working to improve the lives of the poorest and most vulnerable people throughout the world, offer the opportunity for us to support their work at Christmas time through the purchase of 'global gifts'. Instead of giving unnecessary items to family and friends we can, in their name, give the gift of hope to a family in the developing world, helping them to feed themselves, protect their health and educate their children.
As Bishops we recognise that recent years in the Church in Ireland have been especially difficult. We are deeply sorry that so many people have felt hurt, betrayed and shaken in their faith. This is especially true for the victims of child abuse in the Church, for whom no expression of regret could ever suffice. As 2011 draws to a close, we renew our commitment to work to address the failings of the past in truth, justice and humility.
People sometimes express regret that the true meaning of Christmas has been lost amidst the consumerism and excess so often associated with it. Whatever our circumstances, the true meaning of Christmas is always available to us in reflection and prayer on the Christmas story itself. We take this opportunity to thank those in radio, television, printed media and new media who give space and resources at this time of year to making the Christmas story known in a reflective and respectful way. We thank those of other religious traditions and none who join us in celebrating the spirit of peace and goodwill to all heralded by the Angels on that first Christmas night. As Bishops, we make a particular appeal to members of our own Church, especially those who have become alienated or distant from regular participation in Mass, to rediscover the hope and strength that comes from the celebration of the Christmas story in their parish community gathered for the Eucharist.
Next June we will celebrate the 50
th
International Eucharistic Congress in Dublin, with the theme 'The Eucharist – Communion with Christ and with One Another'. This event and the months leading up to it offer an opportunity for renewal of our faith and strengthening of our hope. As we face into the many challenges that lie ahead for the Church and for our country we recall that our greatest hope is in our communion with Christ and with one another in prayer, in reflection on God's Word, in participation in the Eucharist and in our shared mission to bring the Good News to the world. This Good News, as the Christmas story reminds us, is 'news of great joy that will be for all people' (Lk 2:10). Our prayer is that this joy will touch the hearts of all this Christmas and strengthen our hope in challenging times.
http://www.catholicbishops.ie/2011/12/12/christmas-2011-reflection-hope-challenging-times/
Dec 18, 2011 - 4th Sun of Advent
2 Samuel 7: 1 - 5, 8 - 12, 14, 16

---

1

Now when the king dwelt in his house, and the LORD had given him rest from all his enemies round about,

2

the king said to Nathan the prophet, "See now, I dwell in a house of cedar, but the ark of God dwells in a tent."

3

And Nathan said to the king, "Go, do all that is in your heart; for the LORD is with you."

4

But that same night the word of the LORD came to Nathan,

5

"Go and tell my servant David, `Thus says the LORD: Would you build me a house to dwell in?

8

Now therefore thus you shall say to my servant David, `Thus says the LORD of hosts, I took you from the pasture, from following the sheep, that you should be prince over my people Israel;

9

and I have been with you wherever you went, and have cut off all your enemies from before you; and I will make for you a great name, like the name of the great ones of the earth.

10

And I will appoint a place for my people Israel, and will plant them, that they may dwell in their own place, and be disturbed no more; and violent men shall afflict them no more, as formerly,

11

from the time that I appointed judges over my people Israel; and I will give you rest from all your enemies. Moreover the LORD declares to you that the LORD will make you a house.

12

When your days are fulfilled and you lie down with your fathers, I will raise up your offspring after you, who shall come forth from your body, and I will establish his kingdom.

14

I will be his father, and he shall be my son. When he commits iniquity, I will chasten him with the rod of men, with the stripes of the sons of men;

16

And your house and your kingdom shall be made sure for ever before me; your throne shall be established for ever.'"

Psalms 89: 2 - 5, 27, 29




---

2

For thy steadfast love was established for ever, thy faithfulness is firm as the heavens.

3

Thou hast said, "I have made a covenant with my chosen one, I have sworn to David my servant:

4

`I will establish your descendants for ever, and build your throne for all generations.'" [Selah]

5

Let the heavens praise thy wonders, O LORD, thy faithfulness in the assembly of the holy ones!

27

And I will make him the first-born, the highest of the kings of the earth.

29

I will establish his line for ever and his throne as the days of the heavens.

Romans 16: 25 - 27

---

25

Now to him who is able to strengthen you according to my gospel and the preaching of Jesus Christ, according to the revelation of the mystery which was kept secret for long ages

26

but is now disclosed and through the prophetic writings is made known to all nations, according to the command of the eternal God, to bring about the obedience of faith --

27

to the only wise God be glory for evermore through Jesus Christ! Amen.

Luke 1:

26 - 38




---

26

In the sixth month the angel Gabriel was sent from God to a city of Galilee named Nazareth,

27

to a virgin betrothed to a man whose name was Joseph, of the house of David; and the virgin's name was Mary.

28

And he came to her and said, "Hail, full of grace, the Lord is with you!"

29

But she was greatly troubled at the saying, and considered in her mind what sort of greeting this might be.

30

And the angel said to her, "Do not be afraid, Mary, for you have found favor with God.

31

And behold, you will conceive in your womb and bear a son, and you shall call his name Jesus.

32

He will be great, and will be called the Son of the Most High; and the Lord God will give to him the throne of his father David,

33

and he will reign over the house of Jacob for ever; and of his kingdom there will be no end."

34

And Mary said to the angel, "How shall this be, since I have no husband?"

35

And the angel said to her, "The Holy Spirit will come upon you, and the power of the Most High will overshadow you; therefore the child to be born will be called holy, the Son of God.

36

And behold, your kinswoman Elizabeth in her old age has also conceived a son; and this is the sixth month with her who was called barren.

37

For with God nothing will be impossible."

38

And Mary said, "Behold, I am the handmaid of the Lord; let it be to me according to your word." And the angel departed from her.