REPORT OF Catholic Communications, Sydney Archdiocese
23 Dec 2011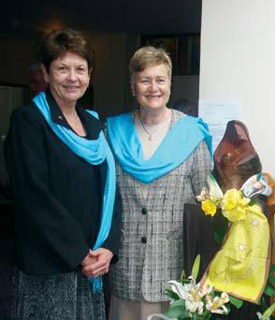 Sister Eleanor Capper, RSJ admits the three large quakes that struck Christchurch today have left her fearful and tense.
"One man was reported injured in the first quake and while I understand there have been a few other minor injuries, the main damage seems to be downed power and phone lines and liquefaction. But even though there is little real damage, after more than a year of continuous earthquakes and aftershocks, our nerves are frayed, and we're living in fear," she says.
Until a massive 7.1 earthquake hit the city in September 2010, Christchurch's 370,000 residents were unaware they lived on an active fault line. But from that moment on, the city has been hit by numerous aftershocks, the most severe of which occurred on 22 February this year.
At 6.3 the February quake was far less than the one the previous September, but in terms of damage and loss of life, far more severe. Not only was the quake responsible for taking the lives of 182, but it toppled buildings weakened by the September quake and destroyed much of the city's CBD along with the historic Anglican cathedral which had given Christchurch its name, and the iconic 100-year-old Catholic Cathedral of the Blessed Sacrament.
Sr Eleanor, speaking from her home in Christchurch where she works with the Catholic Education Office giving support and pastoral advice to teachers across the Christchurch Diocese, said the first of today's quakes measuring 5.8 struck at 1.58 pm (11.58 AEST). This was followed at 2.06 pm (12.06 ADST) by a 5.3 magnitude quake and an hour and a bit later, at 3.18 pm (1.18 pm ADST) by the biggest quake of the day measuring a magnitude 6.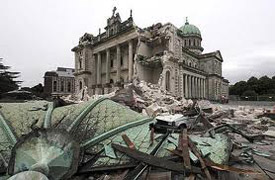 "I was outside when the first one hit and rushed over to see if my neighbours were alright. She lost some things off shelves and had some smashed glass and bottles but nothing much else, I'm pleased to say."
But before Sr Eleanor and her neighbour could catch their breath, another big quake hit. Then came the third quake.
Luckily injuries so far reported are all minor but police say the continued shaking has led to the collapse of one of the city's partly demolished buildings as well as a vacant house. The quakes have also led to a return of liquefaction with mud swamping homes for the third time in less than a year.
The last time liquefaction bubbled mud in some of the eastern suburbs of the city was in June when the city was hit by a 6.3 quake, the biggest since the massive destruction and loss of life as a result of the 22 February tremor.
Although Sr Eleanor is grateful that Christchurch has escaped with little damage or injury in today's cluster of powerful quakes, she says her heart goes out to the city's retailers.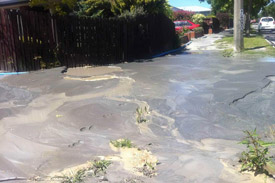 "Friday, 23 December, was the final big shopping day before Christmas and malls and shopping centres were filled with families buying last minute gifts and items for their Christmas and holiday feasts," she says. "Retailers have been doing it tough all year and they hoped for a bumper day. But after the quake most shoppers were too frightened to remain in stores and instead of continuing their shopping, they packed up and headed for home."
Christchurch retailers not only missed out on what should have been several hours of heavy trading, but with little or no customers, they had little choice but to close early.
"The quakes were certainly something we didn't need," one retailer confessed as he picked up broken items of food from the floor of his delicatessen.
Until the February earthquake which caused so much loss of life, heartache and terror, Christchurch's Cathedral of the Blessed Sacrament had been considered one of the most important examples of Romanesque architecture, and the only such example to be found in the Pacific.
But as a result of ongoing aftershocks, the Cathedral's massive copper-plated domes became irreparably damaged and the building itself was later deemed unsafe, and is now slowly being deconstructed with many of its treasures carefully removed. These will eventually form part of a new Cathedral yet to be built.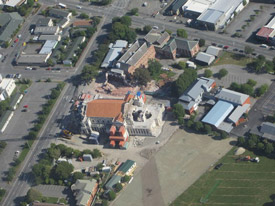 The years during which Christchurch's new cathedral will be designed and constructed, the Catholic Diocese will use St Mary's Pro-Cathedral as their home. Built in 1889, this is where this year's Christmas Midnight Mass will be celebrated along with Mass on Christmas Day.
While Christchurch has had a difficult year, one piece of positive news for the city's Catholics is the full recovery of the Bishop of Christchurch, the Most Reverend Barry Jones who suffered a stroke in April this year, just one month after the February quake.
Bishop Barry has resumed full duties and is full of his old energy and dedication. During the past nine months, the Bishop also battled a severe case of pneumonia. But he insists his health is back to normal.
"We are all thrilled to have him back and delighted he will preside over our Christmas Eve and Christmas Day Masses," says Sr Eleanor.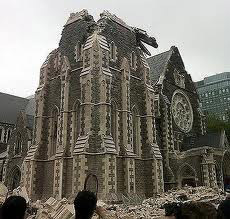 Although an estimated 30,000 residents have left Christchurch since February's earthquake, and headed to other cities in New Zealand, the majority of the city's inhabitants are like Sr Eleanor and can't imagine calling anywhere else home.
"I was born and grew up here," she says. But admits that after the cluster of quakes today, her nerves are frayed and she is once again filled with fear.
"Each quake comes without warning and you never know how long it will last or how severe it will be," she says.
With school holidays underway, Sr Eleanor had planned to spend Christmas in Christchurch, then on 28 December to fly to Sydney to spend time with her fellow Sisters of St Joseph at the Mother House in North Sydney.
"Now with these latest quakes, I'm completely on edge and must admit that 28 December cannot come soon enough!" she says laughing.
http://www.sydneycatholic.org/news/latest_news/2011/20111223_201.shtml