VATICAN: POPE: 9/11 MESSAGE FOR 10TH ANNIVERSARY- FULL TEXT
VATICAN: POPE: 9/11 MESSAGE FOR 10TH ANNIVERSARY- FULL TEXT
RADIO VATICANA REPORT: On the eve of September 11th, Pope Benedict XVI has written a letter to the Archbishop of the city where 10 years ago an unprecedented act of terror cost the lives of nearly 3,000 people and changed the world forever.

In the letter addressed to Archbishop Timothy Dolan od New York, Pope Benedict said he was praying for the thousands of innocent victims of the ``brutal assault'' on the iconic Twin Towers of the World Trade Center and the further attacks in Washington D.C. and Pennsylvania and said he hoped their families find some consolation.

He said the tragedy of 9/11 was compounded by the attackers' claim to be acting in God's name. ``Once again", writes the Pope "it must be unequivocally stated that no circumstances can ever justify acts of terrorism".

He called for a greater commitment to justice and a ``global culture of solidarity'' to rid the world of the types of grievances that spark such acts of violence. And he commended the people of America for the courage and generosity that they showed in the rescue operations and for their resilience in moving forward with hope and confidence.

Full text of letter:

To my Venerable Brother, The Most Reverend Timothy M. Dolan, President United States Conference of Catholic Bishops

Grace to you and peace from God our Father and the Lord Jesus Christ!

On this day my thoughts turn to the somber events of September 11, 2001, when so many innocent lives were lost in the brutal assault on the twin towers of the World Trade Center and the further attacks in Washington D.C. and Pennsylvania. I join you in commending the thousands of victims to the infinite mercy of Almighty God and in asking our heavenly Father to continue to console those who mourn the loss of loved ones.

The tragedy of that day is compounded by the perpetrators' claim to be acting in God's name. Once again, it must be unequivocally stated that no circumstances can ever justify acts of terrorism. Every human life is precious in God's sight and no effort should be spared in the attempt to promote throughout the world a genuine respect for the inalienable rights and dignity of individuals and peoples everywhere.

The American people are to be commended for the courage and generosity that they showed in the rescue operations and for their resilience in moving forward with hope and confidence. It is my fervent prayer that a firm commitment to justice and a global culture of solidarity will help rid the world of the grievances that so often give rise to acts of violence and will create the conditions for greater peace and prosperity, offering a brighter and more secure future.

With these sentiments, I extend my most affectionate greetings to you, your brother Bishops and all those entrusted to your pastoral care, and I gladly impart my Apostolic Blessing as a pledge of peace and serenity in the Lord.

From the Vatican, September 11, 2011

In order to promote Catholic Education Jesuscaritasest.org, Daily News, will feature a Catholic Educational Institution every week. The following information was taken from the Franciscan University Website:
In just over 60 years, Franciscan University of Steubenville has emerged as a leader in academically excellent and passionately Catholic education. By integrating faith and reason in the pursuit of truth and right living, the University has grown from a small facility serving local veterans of World War II to a beautiful hillside campus and an educational institution recognized nationally and internationally for its programs, faculty, and graduates. Learn more >>
ACADEMICALLY EXCELLENT
For nine years in a row, U.S. News & World Report's guidebook on "America's Best Colleges" has ranked Franciscan University of Steubenville in the elite "top tier" of Midwestern universities, and the academic excellence of our incoming students continues to rise. In 2009, the average ACT score of new freshman students was 26, which is 5 points higher than the national average. Their average SAT score was 1161, almost 150 points higher than the national average. For our excellent academics and conservative environment, Young America's Foundation rates Franciscan one of the top 10 conservative colleges in the nation. And The Templeton Honor Roll for Education in a Free Society considers Franciscan one of the 13 colleges that are "best in liberal arts education." Learn more>>
PASSIONATELY CATHOLIC
One of 21 "faithfully Catholic universities" cited by theCardinal Newman Society,
Franciscan University follows the example of St. Francis of Assisi in finding its identity at the heart of the Catholic Church. We embrace the teachings of Sacred Scripture, Sacred Tradition, and the Magisterium with a spirit of Christian humanism that relates all learning to Jesus Christ. At Franciscan University, you'll grow in mind, body, and spirit through the integration of faith and reason. Learn more>>
CARING SCHOLARS, PROFESSIONAL LEADERS
With a student/faculty ratio of 15 to 1, Franciscan's faculty members know you by name and care about your success. Nearly three out of four professors hold the highest degrees in their fields, and our faculty includes four Fulbright Scholars, who teach around the world and return to share their wisdom with you. From the classroom to the laboratory and beyond, Franciscan faculty members lead their professions, challenge you in the pursuit of truth, and guide you to success. Learn more>>
WHY FRANCISCAN? GET THE FACTS
Our 42 undergraduate majors and 32 minors, as well as seven graduate programs, offer a variety of academic challenges within the spirit of Christian humanism that educates you as a whole person. Inside and outside the classroom, you'll experience the joy-filled Franciscan spirituality that enables you to answer the call of the Holy Father to evangelize the culture through volunteer work, mission trips, and community service. Our dynamic campus life, where unique faith "households" create a family away from home and lifelong connections, encourages your participation in everything from intramural sports and NCAA Division III athletics to Chapel Ministries, student government, clubs, and organizations for faith, fun, and friendship. Learn more>>
SCHEDULE A VISIT
Visit our beautiful campus on the hill in Steubenville and experience our dynamic and transformative community for yourself. Why wait? Contact Franciscan today!
Founded 1946
Chairman of the Board of Trustees:
Very Rev. Christian Oravec, TOR
President:
Rev. Terence Henry, TOR
Chancellor:
Rev. Michael Scanlan, TOR
Number of Associate Degree Majors offered:
5
Number of Bachelor Degree Majors offered:
36
Number of Master Degree Programs offered:
7
ACADEMIC YEAR 2010-2011 TUITION:
Undergraduate Full-time
$20,320 (year)


FALL 2010 ENROLLMENTS:
Undergraduate
2,088
Graduate
403
Total
2,491
Full-time Undergraduate
1,956
Freshman Class
437
Austrian Campus
175
FALL 2010 FACULTY:
Full-time
113
Part-time
111
Total
224
STUDENT-TO-FACULTY RATIO
15:1
TOTAL LIVING ALUMNI:
14,997
UNDERGRADUATE ALUMNI GIVING PERCENTAGE:
17%
ASIA NEWS REPORT: by Nirmala Carvalho
Hindu nationalists have denounced Bhasker and Hemanth Naik of practicing forced conversions, because the refused to return to Hinduism. Sajan K George, president of the Global Council of Indian Christians: "The authorities' political survival depends on the fundamentalist forces, the situation is increasingly worrying."

Mumbai (AsiaNews) - It is a cause "serious concern" to see how Christians are "regularly" attacked in Karnataka by Hindu nationalists, while the authorities "turn a blind eye, because their political survival depends on these forces", denounces Sajan K George, president of theGlobal Council of Indian Christians(GCIC), in the face of yet another case of violence and abuse against two Christians held responsible for forced conversions.

Bhasker Naik, 20 years, and Hemanth Naik, 22, from the village Mank (North Kanara district), worked for over a year in the town of Udupi, employed in a private company. About six months ago, the boys began to follow the sermons of Pastor Sadananda, of the Church of Christ Fellowship in Hirebettu, and converted to Christianity. On 7 September the two returned to their village, but some activists of the Bajrang Dal (ultra-nationalist Hindu youth wing), learned of their conversion, started beating them and insulting them, telling them to return to Hinduism.

Faced with the refusal of Bhasker and Hemanth to deny Christ, Hindu activists reported them to Honnavar police for forced conversions. The inspector Venkatappa conducted a brief investigation, and arrested them. The two Christians are still in prison.

"From May 2008 - accuses Sajan George - when the BJP came to power in Karnataka, freedom of worship for the Christian community is under threat, even in private homes. Our places of worship are under constant control of fundamentalist forces, who systematically stop prayer services and beat pastors and faithful. While the police are increasingly available and hasty in arresting and imprisoning Christians. "
http://www.asianews.it/news-en/Karnataka-boys-beaten-and-arrested-for-having-converted-to-Christianity-22591.html
THENEWS.PL REPORT: A Papal Train travels for 3 weeks across Poland, Slovakia, and Czech Republic. A spokesperson for the local regional train company, Małopolskie Zakłady Przewozów Regionalnych, in Kraków says that the journey will allow the faithful from the Visegrad Group countries to get acquainted with the life and pastoral service of the Blessed Pope John Paul II.
A photo exhibition on board the train documents the Pope's life from his childhood, youth, university studies, his work as an actor and a worker, to his pastoral work in Poland and the Vatican.
Religious services will be held during the stop-overs in Slovakia and the Czech Republic.
In Hungary the papal train will take part in a parade of steam engines in the Railway Museum in Budapest. The train returns to Kraków on 28 September.
The papal train is a gift of Polish railwaymen to commemorate the pontificate of John Paul II.
It was blessed by Pope Benedict XVI during his visit to Kraków in May 2006. It seats 181 passengers and is equipped with the facilities for the handicapped people. (mk)
http://www.thenews.pl/1/10/Artykul/54795,Papal-train-across-Central-Europe
ISIOLO, September 9, 2011 CISA REPORT –Four people were killed and livestock lost in an attack in Samburu East. They were killed as they waited to cross the flooded Ewasonyiro River.
Police have recovered some of the livestock that were stolen during the attack. In an interview with CISA Chief Inspector (CI) Fredrick Ochola, district Administration Police commander in Isiolo said that the situation has been contained.
"Overall security situation is good despite pockets of insecurity in far-flung and remote areas. Cattle rustling is the leading cause of insecurity in this district." said CI Ochola.
"The new road has also helped. There are fewer attacks and ambushes to travellers as the road is smooth and clear," he added
CI Ochola appealed to the Borana and the Samburu to remain calm and avoid attacks over pasture and retaliations.
Fr James Mathenge of Isiolo Vicariate said that "the government should add security personnel in the area and improve infrastructure to prevent further attacks."
Meanwhile eight people drowned after the lorry they were travelling in was swept away by the flooded Ewasonyiro River. According to CI Ochola the dead included a Chief Inspector Mwangi, head of Administration police in Merti district and two police officers. The rest were civilians. Their bodies have not been recovered.
The road leading to Merti from Isiolo is in bad state and several bridges have been swept away.
Sydney Archdiocese REPORT:
9 Sep 2011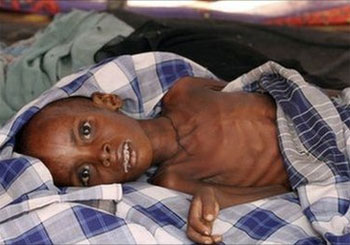 Sydney-born Franciscan missionary, Sister Maureen Elliott began working in Ethiopia back in 1995 and knows firsthand the ongoing problem of malnutrition and the terrible toll the current drought is taking on the people not only of Ethiopia but across the Horn of Africa.
More than 29,000 children have already died of starvation and malnutrition in the worst crisis of hunger the world has seen this century and thousands are more expected to die over the next few months.
It is estimated that 12.5 million men, women and children now at risk and in urgent need of humanitarian aid in Ethiopia, Somalia, Eritrea, Djibouti, Southern Sudan and northern Kenya.
Each day hundreds of thousands battle to survive as weak but determined they walk hundreds of kilometres in blazing hit, fleeing civil war, trigger-happy Al Qaeda-inspired militias and a drought that has destroyed crops, stock and livelihoods, to try and reach the ever-expanding refugee camps near the borders of Ethiopia and Kenya or Kenya and Somalia.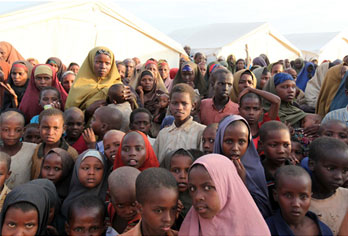 In Somalia more than half the population is now in crisis with at least five children per 10,000 dying each day. These terrible statistics however are quickly becoming the norm for those in nearby nations as the toll continues to rise and aid workers battle to cope.
This week, in addition to declaring six regions of Somalia under famine, large areas of southern Ethiopia were also listed as under famine by the United Nations.
The definition of famine for the UN is for at least 20% of a population experiencing acute food shortages and at least one in three of that population suffering malnutrition and malnourishment with two or more deaths per 10,000 being recorded each day.
"The view on the ground is heartbreaking," says Sister Maureen. "So much is still needed on the healthcare and medical side, as well as food, water and shelter."
Although many of the world's governments have responded to the plight of the millions in dire need across the Horn of Africa, the amounts pledged have fallen far short of the $2.3 billion needed.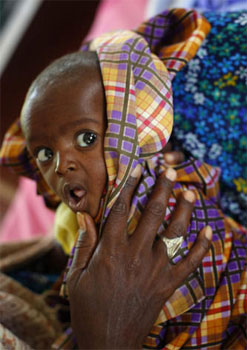 "We really need direct help," says Sister Maureen and in a bid to raise desperately needed funds to help the Dhaddiim Health Clinic Centre in the midst of the famine declared area that borders Somalia and North Western Kenya she has made a personal appeal via video.
The video, which can be seen on Catholic Mission Australia's website, gives a very personal, powerful and vivid account of the tragedy that continues to unfold across Africa.
"As a little girl I remember my mother telling me to eat everything on my plate because children in other parts of the world were starving. I couldn't understand why I couldn't give whatever I was eating to the starving children and I remember lying awake at night and crying for children who didn't have enough to eat," she says.

Now though, Sister Maureen understands the plight of a huge proportion of the world's population who even where there is no drought, face hunger and malnourishment.
From the time she first began working at the Busholo Health Centre in Hawassa Vicariate in Ethiopia, before the failure of the rains and the subsequent drought we see today, Sister Maureen says almost all the cases treated were almost all due to malnourishment and malnutrition.
"Even the eye diseases in children were due to malnutrition," she says. "Most health problems are a result of lack of nourishment."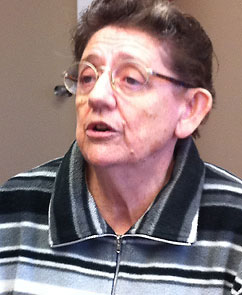 "We need a long term solution to malnutrition which affects countries across the Horn of Africa, she says and admits she is frustrated the problem of malnutrition over the longterm is not being addressed.
But her main energies at present are with those in desperate need.
While t he Dhaddiim Health Clinic concentrates on feeding programs for malnourished nursing mothers and treats 28,500, it now finds itself in the centre of the famine area, with more than 54,000 needing medical, health and nourishment at the nearby refugee camp.
"I am making this video appeal to resupply the Dhaddiim clinic and will make sure all donations received by Catholic Mission directly go to help this important cause," she says.
Catholic Mission Australia's director, Martin Tuelan says Sister Maureen's personal appeal via video which is posted on the Mission's websitehttp://www.catholicmission.org.au/media_releases.asp?id=302and has received more hits than any other and in just a few short weeks has made a difference in the number of donations now coming in to help the Ethiopian clinic and the starving millions across the Horn of Africa.
"Hearing an Australian voice describe the situation has had a very powerful effect and we believe Sister Maureen's appeal for funds has had a significant effect," he says.
http://www.sydney.catholic.org.au/news/latest_news/2011/201199_1518.shtml
St. Nicholas of Tolentino

CONFESSOR
Feast: September 10
Information: Feast Day: September 10

Born: 1246 AD
Died: 1305 AD
Canonized: 5 June (Pentecost) 1446 by Pope Eugene IV
Patron of: animals; babies; boatmen; dying people; mariners; sailors; sick animals; souls in purgatory; watermen
This Nicholas was born in answer to his mother's prayers. Childless and in middle age, she had made a pilgrimage with her husband to the shrine of St. Nicholas of Bari to ask for a son whom she promised to dedicate to God's service. When her wish was granted, she named the boy Nicholas and he soon gave unusual signs of saintliness. Already at seven he would hide away in a nearby cave and pray there like the hermits whom he had observed in the mountains. As soon as he was old enough he was received into the Order of Augustinian friars. On account of his kind and gentle manner his superiors entrusted him with the daily feeding of the poor at the monastery gates, but at times he was so free with the friary's provisions that the procurator begged the superior to check his generosity. He was ordained in 1271 and said his first Mass with exceptional fervor; thereafter, whenever he celebrated the holy Mystery he seemed aglow with the fire of his love. His preaching, instructions and work in the confessional brought about numerous conversions, and his many miracles were responsible for more, yet he was careful not to take any credit for these miracles. "Say nothing of this," he would insist, "give thanks to God, not to me. I am only a vessel of clay, a poor sinner." He spent the last thirty years of his life in Tolentino, where the Guelfs and the Ghibellines were in constant strife. Nicholas saw only one remedy to the violence: street preaching, and the success of this apostolic work was astounding. "He spoke of the things of heaven," says his biographer St. Antonine. "Sweetly he preached the divine word, and the words that came from his lips fell like flames of fire. Among his hearers could be seen the tears and heard the sighs of people detesting their sins and repenting of their past lives." During the last years of his life St. Nicholas was bedridden and suffered grievously. He died surrounded by his community. In 1345 a lay Brother cut off the arms of his body intending to take them to Germany as relics, and the friars then hid his body to prevent further attempts of this kind. It has not been found to this day, but the arms have been preserved. It is recorded that they have bled on several occasions, usually, it is said, before some calamity that befell the Church or the world
http://www.ewtn.com/saintsHoly/saints/N/stnicholasoftolentino.asp
Luke 6: 43 - 49
---
43
"For no good tree bears bad fruit, nor again does a bad tree bear good fruit;
44
for each tree is known by its own fruit. For figs are not gathered from thorns, nor are grapes picked from a bramble bush.
45
The good man out of the good treasure of his heart produces good, and the evil man out of his evil treasure produces evil; for out of the abundance of the heart his mouth speaks.
46
"Why do you call me `Lord, Lord,' and not do what I tell you?
47
Every one who comes to me and hears my words and does them, I will show you what he is like:
48
he is like a man building a house, who dug deep, and laid the foundation upon rock; and when a flood arose, the stream broke against that house, and could not shake it, because it had been well built.
49
But he who hears and does not do them is like a man who built a house on the ground without a foundation; against which the stream broke, and immediately it fell, and the ruin of that house was great."