JESUSCARITASEST.ORG REPORT:
Sister Olga Yaqob, 44, has been chosen by Cardinal O'Malley of Boston to start a new order of Nuns. She converted six years ago from the Assyrian Church in Iraq. She started a women's order there in 1995. Sister Olga had been an enthusiastic Chaplain at the University of Boston for the past 10 years. The new order will be called

Daughters of Mary, Our Lady of Nazareth.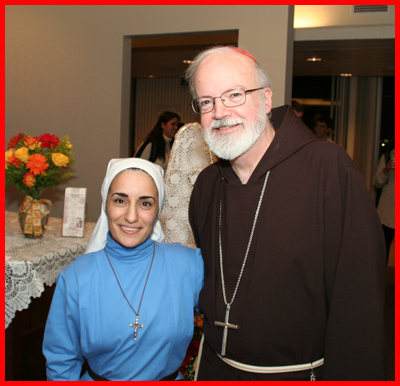 It hoped that the new order will be opened by the end of the year. (Image source: connect.in.com) She has begun the process of writing a constitution and finding a place for a convent. According to CNA, Sister has said that,
"We will be a very Eucharistic and Marian order – Eucharistic communion, daily adoration, and Marian devotion," "These will be the two lungs we will be breathing out of as religious women." They
"will be a contemplative and apostolic community," The Sister noted that the habit will be blue with a veil and a rosary. Already, some have shown interest in joining Sister Olga.
The Sister expressed that "presence of a religious sister wearing a habit, bringing a smile and that motherly face of the Church".