CATHOLIC NEWS WORLD: WED. MAR. 16, 2011: Headlines-
2011
MESSAGE FOR THE 150TH ANNIVERSARY OF ITALIAN UNIFICATION
VATICAN CITY, 16 MAR 2011 (VIS reports) - Made public today was a Message from the Holy Father addressed to Giorgio Napolitano, president of the Italian Republic, for the 150th anniversary of the political unity of Italy, which falls tomorrow 17 March. (IMAGE SOURCE: RADIO VATICANA)
In the Message, which Cardinal Secretary of State Tarcisio Bertone S.D.B. delivered to President Napolitano during a visit to the Quirinal Palace this morning, Benedict XVI highlights Christianity's contribution to building Italian identity "through the efforts of the Church and of her educational and care institutions, which established rules of behaviour, institutional structures and social relationships; but also through her vast artistic activity". In this context he also mentions the influence of such saints as Francis of Assisi and Catherine of Siena.
"For complex historical, cultural and political reasons, the Italian 'Risorgimento' has been seen as a movement against the Church, against Catholicism and sometimes even against religion in general", the Holy Father says. However he also mentions the contribution to the formation of the unified State made by Catholic figures such as Gioberti, Rosmini and Manzoni.
Going on then to refer to the so-called "Roman Question" and "the divisive effects it had on the individual and collective conscience of Italian Catholics", Benedict XVI nonetheless notes that "no conflict took place in society, which was marked by a profound friendship between the civil and ecclesial communities. The national identity of the Italians, so strongly rooted in Catholic traditions, constituted, in effect, the most solid foundation for the political unity that had been achieved".
"The fundamental contribution of Italian Catholics to the republican Constitution of 1947 is well known", Pope Benedict writes. "This was the starting point for the highly significant involvement of Italian Catholics in politics, ... and in civil society, offering their fundamental contribution to the growth of the country, demonstrating their absolute faithfulness to the State and dedication to the common good, and projecting Italy towards Europe".
"For her part the Church, thanks also to the broad-ranging freedom she was guaranteed by the Lateran Pacts of 1929, has continued to make an effective contribution to the common good through her institutions and activities. ... The conclusion of an agreement revising the Lateran Pacts, signed on 18 February 1984, marked the move to a new stage in relations between the Church and the State of Italy. ... The agreement, which contributed greatly to defining the healthy secularism that characterises the Italian State and its juridical system, highlighted two overriding principles which must regulate relations between the Church and the political community: the separation of spheres and collaboration. ... The Church is aware not only of the contribution she makes to civil society for the common good, but also of what she herself receives from civil society".
"Contemplating the long course of history", the Pope concludes his Letter, "we must recognise that the Italian nation has always had a sense of the duty, but at the same time the unique privilege, arising from the fact that the See of Peter's Successor, and therefore the centre of Catholicism, is in Italy, in Rome. And the national community has always responded to this awareness by expressing is affectionate closeness, solidarity and assistance towards the Apostolic See, so as to foster its freedom and help create the conditions favourable for the exercise of spiritual ministry in the world by Peter's Successor, who is Bishop of Rome and Primate of Italy".
MESS/ VIS 20110316 (580)
VATICAN CITY, 16 MAR 2011 (VIS) - The Holy Father appointed Fr. Thomas A. Daly of the clergy of the archdiocese of San Francisco, U.S.A., director of priestly vocations and president of the Marin Catholic High School in Kentfield, as auxiliary of San Jose in California (area 3,367, population 1,837,075, Catholics 667,474, priests 343, permanent deacons 20, religious 583), U.S.A. The bishop-elect was born in San Francisco in 1960 and ordained a priest in 1987.
TorontoSun.com report: – After losing one of their own, the 10 missionaries from the Quebec-based Foreign Mission who are stationed in Japan are mobilizing to help those affected by Friday's devastating earthquake and tsunami in the country's northeast.
Andre Lachapelle. (HO)
Priest Andre Lachapelle, 76, had been in Japan with the Foreign Mission for the last 50 years.
After the earthquake, Lachapelle wanted to help people from the parish of Shiogama, which is about a 30-minute drive from Sendai, one of the towns heavily hit by the disaster.
He died of a heart attack a few moments before arriving at his destination.
"It was probably due to all the panic and everything he was seeing," said priest Guy Charbonneau of the Mission.
Lachapelle was found in the middle of the road. It is not known if he was touched by the tsunami.
"What happened, no one knows," said Charbonneau.
In Japan, father Charles-Aime Bolduc, the head missionary, is living in a state of emergency.
"He's organizing funerals," said Charbonneau. "They are having a hard time coming to terms with the immensity of the disaster. They have lived through earthquakes before, but never this bad. They are all very tense and nervous. Thankfully, none of their buildings were destroyed."
According to Florent Vincent, another member of the Mission, father Lachapelle was a devout man who enjoyed helping others.
"He is a man of duty," Vincent said. "He's very frank, honest and 200% devout. We always told him to tone down his zeal a little bit."
Lachapelle was born in 1934 in Saint-Jacques-de-Montcalm, Que., a town about 65 km north of Montreal.
The Foreign Mission is active in 14 countries and has been in Japan for 60 years.
http://www.torontosun.com/news/canada/2011/03/13/17598516.html
ASIA NEWS REPORT: This is the rate is 60 per month. In one madrassa in Lahore alone, 678 Christians embraced Islam in 2009. Last year they were almost 700. These are "dangerous days" minorities, activists say as the blasphemy law is used to force them to change religion.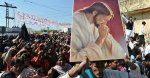 Lahore (AsiaNews/TNS) – On a sunny afternoon in the second week of February 2011, 45-year-old Azra Bibi, clad in black shawl, entered the reception of Jamia Naeemia with her ten year old son, a leading Sunni-Barelvi madrassa situated in a congested area of Lahore. Accompanied by a 45-year-old Muslim witness Chaudhry Muhammad Islam, Azra a recent convert to Islam along with her six children asked for the imam of the Jamia. She has come here to get proper documents to prove in the court that she was no longer a Christian.
The young receptionist at Jamia Naeemia talks to the principal on telephone opens the side drawer of his dented metal table and pulls out a two-inch-thick book wrapped in a blue cover. He finds a blank page and starts writing her details.
The book is a registry used to keep record of religious conversions to Islam. One book is enough to record 100 cases of conversions. A newly built wooden cabinet brimming with many such books is used to store the record. Officials at the Madrassa say the number of people converting from other religions, especially Christianity, to Islam is on the rise here. At least 50 to 60 Christians embrace Islam each month by signing a white and green paper on the book declaring that they accept Islam without any greed or pressure and promise to 'remain in the religion of Islam for the rest of the life', and will try to spend life according to the principles of Islam.
Raghib Naeemi, Principal Jamia Naeemia, says that his institute has no department for preaching. "All those who convert to Islam come to Jamia on their own, accompanied by some Muslims of their locality as witnesses. We have made it a prerequisite for the aspirant converts to submit an affidavit declaring that they are embracing Islam without greed or force." He says that all Christians who convert to Islam do not do so because they like this religion. "Some of them convert to Islam because they want to end their marriage which is not easy in Christianity, or they want to marry a cousin or a Muslim girl or boy. Over 90 per cent of the converts are illiterate."
The record at Jamia Naeemia reveals that 678 Christians converted to Islam in 2009, the number reached 693 in 2010 while 95 Christians have so far embraced Islam this year.
Badshahi Mosque is another institution that issues certificate to those who convert to Islam. Muhammad Yousuf, assistant protocol officer at the mosque, says rarely a day goes without some cases of conversion. "Sometimes dozens of people convert to Islam during a day. Overwhelming, majority of them come from Christian minority," he tells TNS.
Peter Jacob, Executive Director of National Commission for Justice and Peace (NCJP), an advocacy organisation funded by the Catholic Church, says it is no surprise some of Pakistan's three millions Christians are adopting Islam nowadays. "These are troublesome and dangerous days for the country's religious minorities. People have no faith in the police or the justice system and the kind of fear that exists now was never there before," he says.
Legally, there is no bar on religious conversion. "But in Pakistan only one-way conversion to Islam is allowed that can be very fatal to religious diversity in the country. It is not only Christians in Pakistan who are scared. All minorities are under pressure."
Jacob thinks that security has become a major reason for marginalised and discriminated Christian community to convert to Islam. "Blasphemy laws are also being misused to pressurise Christians to convert to Islam."
Last month Shahbaz Bhatti, the only minister in federal cabinet belonging to a minority religion, was assassinated in Islamabad. Taliban reportedly claimed responsibility for the killing, saying the minister had been "punished" for being a blasphemer.
Azra Bibi—whose husband remains Christian and lives separately from his wife and children—says that she has converted to Islam only because she feels it is the most beautiful religion. "Now, it feels great and I have moved to a Muslim neighbourhood. I feel safer." A woman from the neighbourhood comes to them daily after dinner to teach her and her children Islam and its practices.
That day at the Madrassa, as Azra Bibi collected her certificate declaring her a Muslim and prepared to leave, a young couple entered the reception. Parvaiz Masih, a 23-year-old auto rickshaw driver and his 22-year-old cousin Nasreen seemed in a hurry to convert to Islam. But the officials at Jamia were hesitant, as they did not have two Muslim witnesses accompanying them. "I like Islam and want to embrace it. I want to be known as Muhammad Parvaiz. I will be secure now and will take decisions of my choice after converting to Islam".
Masih's reference was her marriage to his cousin, Nasreen—who had slipped away from her home to come to Jamia with him. She was hesitant to elaborate why she wanted to convert to Islam. "I like Islam," was all she said.
Joseph Francis, National Director, Centre for Legal Aid Assistance and Settlement (CLAAS), believes that all these conversions are forced. "Jamia Naeemia or Badshahi Mosque officials do not look into the reasons why people have been converting to Islam. We have also found that in many cases young Christian girls are abducted and married off to Muslim men. They are also forced to change their religion and there is no process available to get them released as once they are declared Muslims, they cannot come back to Christianity." He says his organisation had received seven such cases in 2008, four in 2009 and six in 2010.
The preamble to the constitution of Pakistan guarantees that adequate provision shall be made for minorities to freely profess and practice their religions and develop their culture. The Enforcement of Shariah Act 1991 was promulgated on June 18, 1991 whereby the Islamic Shariah was enforced as the supreme law of the land. But under clause 4 of Section 1, it was provided that "Nothing contained in this Act shall affect the personal laws, religious freedom, traditions, customs and way of life of the non-Muslims."
But the situation on ground is altogether different. For instance, Tahir Iqbal, a Muslim who converted to Christianity was accused of committing blasphemy in 1990 in Lahore. Then additional session judge of Lahore dismissed his bail application on July 7, 1991, and passed the following order:
"Learned counsel for the petitioner has conceded before me that the petitioner has converted to Christianity. With this admission on the part of the petitioner's counsel there is no need to probe further into allegations. Since conversion is in itself a cognizable offence involving serious implications, I do not consider the petitioner is entitled to bail at this stage". Interestingly, there is no law in Pakistan that makes conversion from Islam to any other religion an offence.
Human Right activists say there is no mechanism to gauge whether the Christians converting to Islam have been doing it under their own free will or duress. "We receive many cases every year in which Christian girls are abducted and forced to marry Muslim men," I.A. Rehman, Director Human Rights Commission of Pakistan, tells TNS. "Security is a major reason these days for minorities to convert to Islam. We have registered cases in which people are deprived of their jobs on the basis of their faith, admissions to colleges and schools are denied and then there are social taboos that result in discrimination. All these factors can lead to religious conversion."
http://www.asianews.it/news-en/Pakistani-Christians-convert-to-Islam-because-of-threats-and-intimidations-21041.html
ROMEREPORTS: Seven tons of prayer beads will arrive in Madrid in late April. The rosaries will be one of the gifts distributed in the souvenir packs WYD pilgrims will receive. The 600,000 rosaries are being donated by "Family Rosary Apostolate," an organization that promotes this devotion.

Fr. James Phalen
Family Rosary International
"For us, this donation is a means to highlight the importance of the rosary, to emphasize the importance of prayer."

The organization donates over one million rosaries each year worldwide. Father James Phalen emphasized that their manufactoring arm employs families with low incomes.

Fr. James Phalen
Family Rosary International
"The rosaries are made in a factory in Quito. They aren't made in China, they are beads made in a Christian country, for Catholic families, in a city with many poor people, and in a factory that employs 150 families."

The Family Rosary Apostolate will launch a global campaign in May for WYD to promote the praying of the Rosary every Saturday, the day that the Church dedicates to the Virgin Mary.

CATH NEWS REPORT: Sister Julianne Murphy of the Sisters of St Joseph will be channelling the spirit of Saint Mary MacKillop when she embarks on a national road trip this week, said an AAP report on 9News.
Sister Julianne says she will be following the example set by her order's founder, who devoted her life to improving the lives of those in need.
"This is very much what she would have done," Sister Julianne said, remarking on the Australian tour aiming to raise funds for the Mary MacKillop Foundation - to help the nation's disaster-affected regions.
"We're really quite excited about the project and feel we will touch many people's lives."

The seven-month road trip launches on Friday in Melbourne, with a gala fundraising dinner, before Sister Julianne and Victorian Sister Sharon Teresa embark on the first leg of the tour.Sister Julianne, who hails from South Australia where she taught rural primary and secondary school students, will be joined by another St Joseph nun in each state.
The sisters will commandeer a brightly coloured, modified seven-seater van featuring the image of Mary MacKillop and the words, "Travelling Sisters Roadshow - Disaster Recovery Project".
The sisters will be dressed in red polo shirts.
"You'll certainly see us coming," Sister Julianne says.
The Mary MacKillop Foundation will this year offer 40 extra grants, on top of the existing 40, for projects that focus on disaster recovery. The roadshow will raise money as well as encourage communities to apply for grants, which range from $500 to $10,000.
ALL AFRICA REPORT: The Catholic Church in Nigeria will on Sunday in Benin flagged-off the 2011 Lenten Campaign with the theme, "Sustaining Our Environment for Integral Human Development".
The Benin Province Coordinator, Justice Development and Peace/Caritas Commission (JDPC), Rev. Father Fidelis Arhedo, who disclosed this yesterday in the Edo state capital, said the Church has chosen the environment as the focus of this year Lenten Campaign so as to prevent further damage to the earth, particularly in Nigeria.
"In our focus on the environment and climate change, we scrutinize our government about our natural resources. We critically examined the different natural resources for the integral human development. The emphasis on Nigeria especially in the area of oil and gas and how this has impacted on the people, particularly on the lives of the people in the production line of Nigerians in the Niger Delta region".

Saying that there must be a conscious effort to promote and preserve food production in the country, Rev. Father Arhedo attention should be given to the effect of forest degradation and forest migration as a result of climate change , adding that, "we must pay attention to dangers inherent in deforestation and proper effect should be made to prevent them"."For your information, there is no state in this country that has no natural resources but the attention of government is on oil and gas. The people in the zone of production have been impoverished and abandoned. The officers of the govern. Besides, he disclosed that the issue of Agriculture and Food scarcity will also be focused upon during the campaign and lamented that Nigeria has neglected Agriculture following the discovering of oil in the seventies.
He further disclosed that the Campaign will address the issue of water scarcity in the country as its wastage or misuse has resulted in the spread of common diseases such as dysentery, cholera among others.
St. Heribert of Cologne
ARCHBISHOP OF COLOGNE, CHANCELLOR OF EMPEROR OTTO III
Feast: March 16



Information:


| | |
| --- | --- |
| Feast Day: | March 16 |
| Born: | 970 at Worms, Germany |
| Died: | 16 March 1021 at Cologne, Germany |
| Canonized: | 1075 by Pope Saint Gregory VII |
| Major Shrine: | Deutz |
| Patron of: | rain |

Archbishop of Cologne; born at Worms, c. 970; died at Cologne, 16 March, 1021. His father was Duke Hugo of Worms. After receiving his education at the cathedral school of Worms, he spent some time as guest at the monastery of Gorze, after which he became provost at the cathedral of Worms. In 994 he was ordained priest; in the same year King Otto III appointed him chancellor for Italy and four years later also for Germany, a position which he held until the death of Otto III on 23 January, 1002. As chancellor he was the most influential adviser of Otto III, whom he accompanied to Rome in 906 and again in 997. He was still in Italy when, in 999, he was elected Archbishop of Cologne. At Benevento he received ecclesiastical investiture and the pallium from Pope Sylvester II on 9 July, 999, and on the following Christmas Day he was consecrated at Cologne. In 1002 he was present at the death-bed of the youthful emperor at Paterno. While returning to Germany with the emperor's remains and the imperial insignia, he was held captive for some time by the future King Henry II, whose candidacy he first opposed. As soon as Henry II was elected king, on 7 June, 1002, Heribert acknowledged him as such, accompanied him to Rome in 1004, mediated between him and the House of Luxemburg, and served him faithfully in many other ways; but he never won his entire confidence until the year 1021, when the king saw his mistake and humbly begged pardon on the archbishop. Heribert founded and richly endowed the Benedictine monastery and church of Deutz, where he lies buried. He was already honoured as a saint during his lifetime. Between 1073 and 1075 he was canonized by Pope Gregory VII. His feast is celebrated on 16 March.


SOURCE: http://www.ewtn.com/saintsHoly/saints/H/stheribertofcologne.asp#ixzz1Gm7s2SOW
Luke 11: 29 - 32

---

29

When the crowds were increasing, he began to say, "This generation is an evil generation; it seeks a sign, but no sign shall be given to it except the sign of Jonah.

30

For as Jonah became a sign to the men of Nin'eveh, so will the Son of man be to this generation.

31

The queen of the South will arise at the judgment with the men of this generation and condemn them; for she came from the ends of the earth to hear the wisdom of Solomon, and behold, something greater than Solomon is here.

32

The men of Nin'eveh will arise at the judgment with this generation and condemn it; for they repented at the preaching of Jonah, and behold, something greater than Jonah is here.