CATHOLIC NEWS WORLD: WED. JAN. 12, 2011: HEADLINES-
VATICAN CITY, 12 JAN 2011 (VIS REPORT) - During this morning's general audience, held in the Paul VI Hall in the presence of 9,000 faithful, Benedict XVI focused his catechesis on St. Catherine of Genoa (1447-1510), author of two books: "Treatise on Purgatory" and "Dialogues on the Soul and the Body".
Catherine received a good Christian education in the home before marrying at the age of sixteen, although her married life was not an easy one. At first she led a worldly existence which caused her a profound sense of emptiness and bitterness however, following a unique spiritual experience which made her aware of her own misery and defects and, at the same time, of the goodness of God, she decided to change her life and to begin a journey of purification and mystical communion with the Lord. "The place of her ascent to the mystical heights was the hospital of Pammatone, the largest in Genoa, of which she was director", said the Pope.
"The period between her conversion and her death was not marked by extraordinary events", said the Holy Father, "but two elements characterised her entire life: on the one hand, mystical experience, profound union with God and, ... on the other, service to others, especially the most needy and abandoned".
"We must never forget", he went on, "that the more we love God and remain constant in our prayers, the more we will truly manage to love those around us, because in each individual we will see the face of the Lord, Who loves without limit or distinction".
Benedict XVI then went on to refer to the works of the saint, recalling how, "in her mystical experiences, Catherine never received specific revelations on Purgatory or on the souls being purified there". She did not see Purgatory "as a place of transit in the depths of the earth: it is not an exterior fire, but an interior fire". She did not use the hereafter as a basis "to recount the torments of purgatory and then show the way to purification and conversion; rather, she began from the interior experience of man on his journey towards eternity".
Thus, for Catherine, "the soul is aware of God's immense love and perfect justice; as a consequence, it suffers for not having responded to that love perfectly, and it is precisely the love of God Himself which purifies the soul from the ravages of sin".
This mystical saint from Genoa used an image typical of Dionysus the Areopagite: the thread of gold linking the human heart to God, said the Pope. "In this way the heart of man is inundated with the love of God, which becomes his only guide, the only driving force in his life. This situation of elevation towards God and abandonment to His will, as expressed in the image of the thread, is used by Catherine to express the action of divine light on the souls in Purgatory, a light which purifies and raises them towards the splendour of the dazzling rays of God".
"In their experience of union with God, saints achieve so profound an 'understanding' of the divine mysteries, in which love and knowledge almost become one, that they can even help theologians in their studies", said the Pope.
"St. Catherine's life teaches us that the more we love God and enter into intimate contact with Him through prayer, the more He makes Himself known and enflames our hearts with His love. By writing about Purgatory, the saint reminds us of a fundamental truth of the faith which becomes an invitation for us to pray for the dead, that they may achieve the blessed vision of God in the communion of the saints".
And Benedict XVI concluded: "The saint's lifelong humble, faithful and generous service in the hospital of Pammatone is a shining example of charity towards everyone, and a special encouragement for women who make a fundamental contribution to society and the Church with their precious efforts, enriched by their sensitivity and the care they show towards the poorest and those most in need".
AG/ VIS 20110112 (690)
IMAGE RADIO VATICANA
EGYPTIAN AMBASSADOR RECEIVED IN THE VATICAN
VATICAN CITY, 12 JAN 2011 (VIS) - Holy See Press Office Director Fr. Federico Lombardi S.J. released the following declaration yesterday evening:
"This evening Lamia Aly Hamada Mekhemar, the ambassador of the Arab Republic of Egypt to the Holy See, was received in the Vatican by Archbishop Dominique Mamberti, secretary for Relations with States.
"During the meeting the ambassador, who is to return to Cairo for consultations with the Egyptian foreign ministry, described the concerns of her government at this present difficult time. She was also able to receive information and gather the elements necessary in order to report adequately on the Holy Father's recent remarks concerning, in particular, religious freedom and the protection of Christians in the Middle East.
"Highlighting how the Holy See shares the emotions of all the people of Egypt, struck by the attack in Alexandria, Archbishop Mamberti gave assurances that the it also fully shares the Egyptian government's concern 'to avoid the escalation of religiously motivated conflict and tensions', and appreciates the efforts being made to that end".
OP/ VIS 20110112 (180)
PAPAL MESSAGE FOR FIRST ANNIVERSARY OF HAITI EARTHQUAKE
VATICAN CITY, 12 JAN 2011 (VIS) - The Holy Father has written the following Message to mark today's first anniversary of the earthquake in Haiti. The Message was read out by Cardinal Robert Sarah, president of the Pontifical Council "Cor Unum", during a commemorative Mass held in Haiti today.
"In order to mark the first anniversary of the terrible earthquake which struck your country, I join you all, dear Haitians, to assure you of my prayers, particularly for the dead", the Pope writes.
"I also wish to pronounce a word of hope in the current particularly difficult circumstances. The time has come to rebuild, not only material structures but, and above all, civil, social and religious coexistence. I hope that the Haitian people will become the main actors in their own present and future, also with the support of international aid which has already demonstrated great generosity with economic support and volunteers coming from all parts of the world.
"I am present among you through Cardinal Robert Sarah, president of the Pontifical Council 'Cor Unum'. With his presence and his voice, he brings you my encouragement and affection,. I entrust you to the intercession of Our Lady of Perpetual Help, patroness of Haiti who, I am sure, in heaven, is not indifferent to your prayers. May God bless all Haitians!"
MESS/ VIS 20110112 (230)
VATICAN CITY, 12 JAN 2011 (VIS) - Yesterday afternoon the Holy Father received in audience Cardinal Joachim Meisner, archbishop of Cologne, Germany.
AP/ VIS 20110112 (30)
VATICAN CITY, 12 JAN 2011 (VIS) - The Holy Father:
- Appointed Archbishop Murilo Sebastiao Ramos Krieger S.C.I. of Florianopolis, Brazil, as metropolitan archbishop of Sao Salvador da Bahia (area 6,241, population 3,879,000, Catholics 2,737,000, priests 295, permanent deacons 78, religious 1,106), Brazil. He succeeds Cardinal Geraldo Majella Agnelo, whose resignation from the pastoral care of the same archdiocese the Holy Father accepted, upon having reached the age limit.
- Appointed Bishop Guire Poulard of Les Cayes, Haiti, as archbishop of Port-au-Prince (area 5,500, population 4,044,000, Catholics 2,912,000, priests 284, permanent deacons 2, religious 1,708), Haiti. The archbishop-elect was born in Delatte, Haiti in 1942, he was ordained a priest in 1972 and consecrated a bishop in 1988.
- Appointed Msgr. Glandas Marie Erick Toussaint of the clergy of the archdiocese of Port-au-Prince, Haiti, pastor of the cathedral and director of Caritas in Port-au-Prince, as auxiliary of Port-au-Prince. The bishop-elect was born in Grande Savane in 1965 and ordained a priest in 1994.
CNS REPORT: Mass of remembrance, healing celebrated for victims of Tucson shooting

People pray during the Mass at St. Odilia Church in Tucson, Ariz. (CNS/David Sanders, pool via Arizona Daily Star)



By Bern Zovistoski
TUCSON, Ariz. (CNS) -- More than 800 people filled St. Odilia Church and its nearby parish hall Jan. 11 to pray for the victims of the shooting spree outside a Tucson supermarket Jan. 8.

Roxanna Green, the mother of slain 9-year-old Christina Taylor Green, a member of the parish, looked on as Tucson Bishop Gerald F. Kicanas spoke at a special Mass to heal the community, remember those who died and console the victims and their families.

President Barack Obama and members of his Cabinet and Congress were expected to attend a much larger memorial service the following day at the University of Arizona's basketball arena, McKale Center.

But the St. Odilia Mass, televised locally, was the first of the formal religious services to memorialize the victims.

Many of the people who attended were St. Odilia's parishioners, but others had no connection to the church. Law enforcement officers, many in civilian clothes, could be seen throughout the congregation.

The opening song, "Amazing Grace," was led by the parish children's choir, of which Christina was an enthusiastic member.

"The memory of that Saturday morning will haunt all of us for a long time," Bishop Kicanas said in his homily. "May it also prod us to treasure each moment with loved ones, to find ways to work together, despite our differences, to enhance our community.

"May it also move us to commit our efforts to rid our communities of violence and all that causes and encourages it," the bishop said.

Citing the "many thoughtful, kind, supportive words from people all over the world," Bishop Kicanas said many recognize "how this community in Tucson has pulled together so beautifully to face the tragedy that struck so unexpectedly."

The bishop said "we are grateful for the world's concern, their solidarity, and their love.

"Everyone takes pride in the bravery of Tucsonans subduing the suspect, the first responders who instantly reacted to assist those hurt, and the medical staff at University Medical Center."

Half a dozen priests and several deacons participated in the liturgy. United Methodist Bishop Minerva Carcano of Phoenix spoke at the end of the Mass. She had hosted an ecumenical prayer service at Catalina United Methodist Church earlier that day which Bishop Kicanas attended.

Twenty people were shot, six fatally. The most critically wounded survivor was Democratic U.S. Rep. Gabrielle Giffords. She was holding a meeting with constituents when she was apparently targeted by the gunman.

The suspect, Jared Lee Loughner, 22, was tackled and subdued by people at the scene after firing 31 shots and attempting to reload his Glock 9 mm handgun, Tucson police said.

Among the dead was U.S. District Judge John M. Roll, who had attended Mass at St. Thomas the Apostle Church just before stopping by to speak with Giffords, a longtime friend.

"We are a community in grief," said Bishop Kicanas, a longtime of both Roll and Giffords. "We are a community in tears. We are a community struggling, questioning, wondering how such a tragic event could happen.

"How could God allow such violence to be done to the innocent? How could God permit the pain and suffering felt by so many good people? Has God abandoned us? Has God looked the other way?" he asked.

"Our all-good God never wills evil, never inflicts harm, never injures or hurts," the bishop said. "Rather our gracious God comforts and consoles us when such tragedies strike. ... Our God stands by us, walks with us, holds us in the palm of his hand."

Listing the first names of the deceased victims, Bishop Kicanas said:

"(God) knows Christina, John, Gabe, Dorwin, Phyllis and Dorothy by name. They are God's sons and daughters, beloved in God's eyes. He receives them and welcomes them home."

Besides the judge and young Christina, the others killed were: Gabriel Zimmerman, 30, who was Giffords' community outreach director, and three retirees: Phyllis Schneck, 79, Dorwin Stoddard, 76, and Dorothy Morris, 76.

Referring to the injured, the bishop said God "loves and cares for each of them. He wills their full recovery."
http://www.catholicnews.com/data/stories/cns/1100129.htm

Bishop Kicanas said that God "wills not discord, not division, not destructive words or actions. Rather God desires that we be worthy of being called His sons and daughters by how we act and relate to one another. We are to resist evil, to live with integrity, to speak with civility and respect."
CNN REPORT-- A policeman fatally shot a Christian man and wounded five other Christians Tuesday in an attack on a train in Egypt, officials said.
The incident occurred at about 5 p.m. when a man walked onto the train, which was stopped in the station at Samalut, about 200 kilometers south of Cairo, said Maryanne Nabil Thaki, 29, one of the victims.
She said she was seated with her sister, Maggie Nabil Thaki, 25, their 52-year-old mother, Sabah Sinot Suleiman, and Maggie's fiance, 26-year-old Ehab Ashraf Kamal. They were en route to Cairo to buy an engagement ring, Maggie Thaki said.
Seated near them was an older Christian couple, Maryanne Nabil Thaki said.tensions
The man said in Arabic, "There is no God but God," and opened fire, she said.The gunman walked up and down the length of the train, then walked back to two groups of people who were seated near each other and were both Coptic Christians, she told a reporter at the Good Shepherd Hospital in Samalut, where she was being treated for gunshot wounds to the leg and the chest.
The shooter fled the train, but was captured later, a spokesman for the Interior Ministry said. The suspect, a deputy policeman, was identified as Amer Ashoor Abdel-Zaher Hassan. He boarded the train in Asiut and was en route to Bani Mazar, Menya province, where he works.
The older man, Fathi Saeed Ebaid, 71, of Cairo, was killed, a local security source told the state-run Egyptian news agency MENA. His wife, Emily Hannah Tedly, 61, was in critical condition, as was the mother of the two younger women, said Dr. Petra Kamal.
All five were to be flown to Cairo for further treatment, a hospital employee said.
In front of the hospital, about a dozen Copts demonstrated in support of the victims but were dispersed by police who fired a tear gas canister that broke through a fifth-floor hospital window, said hospital employee Mina Farouk.
The attack comes 10 days after a bombing killed 23 Coptic Christians outside the Church of the Two Saints in Alexandria, Egypt, an attack that unnerved Christians and led to increased security.
Relations between the Christian minority and Muslim majority within Egypt have been tense since that New Year's Day bombing.
Those troubles were evident last Friday -- the day Coptic Christians, who follow the Julian calendar, celebrate Christmas -- when police staged a large-scale security operation outside the same church.
In a show of solidarity, some Egyptian Muslims attended the Christmas services.
Still, protests have erupted almost nightly in many Christian areas of Egypt since the bombing.
Egyptian authorities have released a sketch of a man they think was the suicide bomber in the church attack. The Interior Ministry used forensic technology to re-create the face.
About 9 percent of Egypt's 80 million residents are Coptic Christians. They base their theology on the teachings of the Apostle Mark, who introduced Christianity to Egypt, according to St. Takla Church in Alexandria, the capital of Coptic Christianity.
http://www.cnn.com/2011/WORLD/africa/01/11/egypt.attack/index.html
ASIA NEWS REPORT-The arrest took place on January 4, during a prayer meeting - authorized by authorities - to celebrate the birth of Jesus Today, three Christian leaders are in jail on charges of having "organized a secret meeting." Families forced to sign papers to "renounce their faith."
Vientiane (AsiaNews / Agencies) – Three Christian leaders still in jail, arrested by Lao police during a raid last January 4 on charges of holding "a secret meeting", reports Human Rights Watch for Lao Religious Freedom(Hrwlrf). In fact, the faithful gathered in prayer had obtained the necessary permits from government authorities. At first the police detained 11 people, but eight of them were released in the days after the arrest.
Hrwlrf sources confirm that the three Protestant leaders - Pastors Wanna, Chanlai and Kan - they are charged with a "political crime". They are from the Hinboun district in the province of Khammouane (central Laos) and are leading figures of the Khammouan domestic church.
The arrest took place on January 4 in Wanna's house as faithful gathered to celebrate Christmas. In December, he had informed officials that would hold a vigil on Jan. 5. For the Lao Evangelical Church - Christian association linked to the Communist Party - the official Christmas celebrations run from December 5 to January 15. On the evening of January 4, a police raided Wanna's house and arrested the 11 people present for holding a "secret meeting". At that time of their arrest they were having their evening meal.
The arrests are just the latest in a series of violations of religious freedom in the Lao province of Khammouane. Last May, pastor Wanna and other Christians were subjected to imprisonment, death threats and pressures an were only released after they signed a document "renouncing their faith".Families who visited the house of prayer were forced to undergo days to "re-education" and were accused of "collusion with the enemy" (the U.S.).
CATHOLIC BISHOPS OF IRELAND-Statement by Monsignor Aidan Hamill, Vicar General of the Diocese of Dromore, on the death of Michaela wife of John McAreavey
"On behalf of the people and priests of the Diocese of Dromore, I would like to offer our sincere and heartfelt sympathy and prayers to John McAreavey on the tragic death today of his wife Michaela while on honeymoon.

"At this time our thoughts and prayers are also with John's uncle, Bishop John McAreavey, as well as with the wider Harte and McAreavey families.

"We share Bishop McAreavey's words expressed earlier, on hearing of the death of Michaela, that 'a light has gone out for her husband John; for her family and friends; for Michaela's teacher colleagues and students, and for the whole GAA community throughout Ireland.'"
Mgr Aidan Hamill, Parish Priest of Saint Peter's Lurgan and Vicar General of the Diocese of Dromore

http://www.catholicbishops.ie/index.php?option=com_content&view=article&id=2018:31-december-2010&catid=17:news
CATH. ARCHDIOCESE REPORT: The Archbishop of Sydney, Cardinal George Pell has given a generous donation to the Society of St Vincent de Paul's Flood Appeal, joining Pope Benedict XVI who has already instructed the Vatican to allocate $50,000 as a sign of his solidarity and concern for the victims of Queensland's devastating floods.
As always, everyday Australians have rallied to help those in need and early this afternoon the Queensland Government announced that more than $32 million has been donated to the Premier's Flood Appeal.
However the amount donated to Vinnies' national appeal will not be known for several days as the Society's head office in Brisbane, where the appeal is being administered and online donations received, is currently underwater.
"All staff were told to stay home today as our office is right in the centre of Brisbane's CBD," says Naomi Lindeberg from Vinnies Queensland. "Our office will very likely go under and none of us expect to be able to return to work until at least Friday."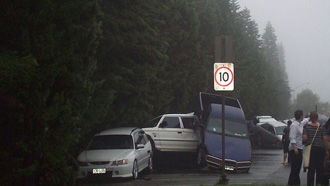 But if floodwaters are slow to recede after reaching their peak early tomorrow, staff at Vinnies may not be able to enter their offices and assess the damage as well as the online donations received over the past few days until Monday, at the earliest.
"This truly makes the logistics of our work extremely difficult, as we have had to shut down our servers and have therefore lost the ability to access emails. Unfortunately we also have no access to any donations and cannot process these," she says.
Yesterday, in a 12 hour period, it is conservatively estimated the Vinnies Flood Appeal in Queensland received more than 200 online donations from the public as well as from several Catholic parishes.
"But at this point we have no way to actually even begin to calculate how much money has been raised," Naomi says.
Australians are well known for their generosity in times of trouble and two years ago with the combined help of large corporations and industries, more than $300 million was raised to help the victims of Victoria's terrible bushfires. Now less than 23 months later, individuals as well as different charities, corporations and sporting bodies are once again digging deep to help out towns which have been completely wiped out by surging flood waters and what the Mayor of Toowoomba described as "an inland tsunami."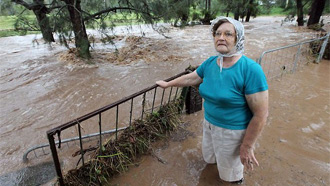 One of the worst hit areas is the Lockyer Valley to the west of Brisbane where nearly 70 people remain missing.
In the Valley towns of Dalby and Chinchilla yesterday's flash floods marked the second time their homes and businesses had been swamped by flood waters in the past two weeks. The township of Condamine has also been evacuated twice. At Grantham where some of the missing are feared to have lost their lives, the receding waters reveal a town that looks more like it has been hit by a cyclone than by rising waters. Homes were literally swept off their foundations as the small creek that runs alongside the town became a roaring torrent, sweeping everything in its path.
Today, Queensland Premier, Anna Blight said there are fears rising flood waters at Goondiwindi, near the NSW border, would breach levee banks, flooding the town of 5000, while in the nearby town of Texas, 600 residents have had to be evacuated.
At the Brisbane Valley town of Ferndale, a water-filled quarry has collapsed, flooding homes and leaving hundreds of people stranded in the Brisbane Valley.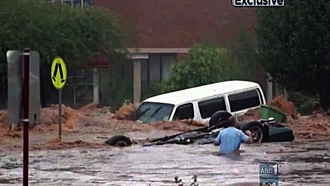 Currently, the Queensland State Coroner and a team of grief counsellors are heading for the Lockyer Valley where flash floods may have caused more than 20 deaths as well as widespread destruction.
All but one of the 10 deaths confirmed so far occurred in the valley and nearby Toowoomba when an inland tsunami swept through on Monday.

Donations can be made to the Premier's Flood Relief Appeal online or by calling 1800 219 028. Cash donations can also be made to this appeal in person at the Commonwealth Bank, NAB, Westpac, ANZ, Bank of Queensland, Suncorp, St George Bank and Bank of South Australia, and at Coles supermarkets.
Donations to St Vincent de Paul's Appeal can be made by logging on to Vinnies.org.au or by calling 13 18 12; or to PO Box 3351 South Brisbane, QLD 4101.
http://sydney.catholic.org.au/news/latest_news/2011/2011112_1346.shtml
St. Marguerite Bourgeoys
FOUNDRESS, SISTERS OF THE CONGREGATION OF NOTRE-DAME
Feast: January 12 (Canada)



Information:

Feast Day:
January 12
Born:
17 April 1620, Troyes, France
Died:
12 January 1700, Montreal,
Canada
Canonized:
31 October 1982, by Pope
John Paul II
Major Shrine:
Notre-Dame-de-Bon-Secours
Chapel, Montreal
Patron:

A

gainst poverty, loss of parents, people rejected by religious orders

MARGUERITE BOURGEOYS was born in Troyes, in the province of Champagne (France), on Good Friday, April 17, 1620. She was baptized on the same day in the church of Saint-Jean, a church that was located near her home. Marguerite was the sixth child in a family of twelve. Her parents were Abraham Bourgeoys and Guillemette Gamier, and she was privileged to grow up in a milieu that was middle class and thoroughly Christian.

Marguerite was nineteen years of age when she lost her mother. In the following year, 1640, in the course of a procession held on October 7 in honor of Our Lady of the Rosary, she had an unforgettable experience. Her eyes rested on a statue of the Blessed Virgin, and at that moment she felt inspired to withdraw from the world and to consecrate herself to the service of God. She registered, at once, as a member of the extern Congregation of Troyes, an association of young girls devoted to the charitable work of teaching children in the poor districts of the town. While engaged in this apostolate she learned about the foundation of Ville Marie (Montreal) in Canada. The year was 1642, and at that time she sensed a first call to missionary life. This call was rendered concrete in 1652 when she met Monsieur de Maisonneuve, founder and governor of the settlement begun in New France, who was in search of someone who would volunteer her services for the gratuitous instruction of the French and Indian children. Our Lady confirmed the call addressed to her: "Go, I will not forsake you", she said. Thus assured, Marguerite left Troyes in February, 1653, in a spirit of complete detachment. She arrived in Montreal on the following 16th of November, and without delay she set to work to promote the best interests of the colony. She is rightly considered co-foundress of Montreal, with the nurse, Jeanne Mance, and the master designer, Monsieur de Maisonneuve.

In order to encourage the colonists in their faith, she arranged for the restoration of the Cross on Mount Royal after it has been destroyed by hostile Indians, and she undertook the construction of a chapel dedicated to Notre-Dame de Bon Secours. Convinced of the importance of the family in the building of this new country, and perceiving the significance of the role to be exercised by women, she devoted herself to the task of preparing those whose vocation it would be to preside in a home. In 1658, in a stable which had been given to her by the governor for her use, she opened the first school in Montreal. She also organized an extern Congregation, patterned after the one which she had known in Troyes but adapted to the actual needs. In this way, she could respond to the needs of the women and young girls on whom much depended as far as the instruction of children was concerned. In 1659, she began receiving girls who were recommended by "les cures" in France, or endowed by the King, to come to establish homes in Montreal, and she became a real mother to them. Thus were initiated a school system and a network of social services which gradually extended through the whole country, and which led people to refer to Marguerite as "Mother of the Colony".

On three occasions, Marguerite Bourgeoys made a trip to France to obtain help. As of
1658, the group of teachers who associated themselves with her in her life of prayer, of heroic poverty, and of untiring devotedness to the service of others, presented the image of a religious institute. The Congregation de Notre-Dame received its civil charter from Louis XIV in 1671, and canonical approbation by decree of the Bishop of Quebec in 1676. The Constitutions of the Community were approved in 1698.

The foundation having been assured, Sister Bourgeoys could leave the work to others. She died in Montreal on January 12, 1700, acknowledged for her holiness of life. Her last generous act was to offer herself as a sacrifice of prayer for the return to health of a young Sister. Forty members of the Congregation de Notre-Dame were there to continue her work.

On November 12, 1950 Pope Pius XII beatified Marguerite Bourgeoys. Canonizing her on October 31, 1982, Pope John Paul II gave the Canadian Church its first woman saint.

SOURCE http://www.ewtn.com/saintsHoly/saints/M/stmarguerbourg.asp
St. Bernard of Corleone
RELIGIOUS
Feast: January 12



Information:

| | |
| --- | --- |
| Feast Day: | January 12 |
| Born: | 1605, Sicily |
| Died: | 12 January 1667, Palermo |
| Canonized: | 10 June 2001, by Pope John Paul II |

Saint Bernard was born on the island of Sicily in the year 1605. His father was a shoemaker and taught his son the ways of the trade. But it was difficult for the lively youth to interest himself in this work. Upon the death of his father, he immediately left the shop and, led by the love of adventure, he took up fencing. It was not long before he became quite adept at wielding the sword. His unusual vigor qualified him to challenge any comer to a contest.



As a youth and young adult he spent the greater part of his time in training and eagerly seized every opportunity to match swords with his countrymen.



Although this manner of life led him far away from God, nevertheless many noble characteristics were perceptible in St. Bernard. In taking up any quarrel he liked to defend old people and other helpless and defenseless persons against violence. He frequently made devout visits to a crucifix that was highly honored by the people, and provided that a lamp be kept burning before it. Moreover, he cherished great devotion towards Saint Francis of Assisi.



At one point, St. Bernard had been challenged to a duel, in the course of which he wounded his opponent mortally. In order to escape from his avengers, he sought refuge amongst the Capuchin Franciscans.



In order to atone for his sins, he begged for admission among the Capuchins as a lay brother, and on December 13, 1632 he entered the Franciscan novitiate. If in the past St. Bernard had yielded his bodily members to wayward purposes, he now used them as an atoning sacrifice unto salvation. It is reported that seven times a day he scourged himself to the blood. His sleep was limited to three hours on a narrow board, with a block of wood under his head. He fasted for the most part on bread and water. If anything delicious was placed before him, he would carry the food to his mouth so as to whet his appetite, and then lay it down without having tasted it. In spite of his austere life, he still undertook the most unpleasant and annoying tasks as being his due.



St. Bernard had an especially ardent devotion at prayer. St. Bernard cherished a special love for the Blessed Mary, and encouraged others to do the same. The Blessed Mother appeared to him and placed the Divine Child in his arms. Moreover, she gave him knowledge of the day of his death four months in advance. He died at Palermo on January 12, 1667.



His biographers stated that, attracted by the fame of his sanctity, there gathered for his burial so many people who raised their voices in praise of the deceased, that it was less a funeral cortège than a triumphal procession. Numerous miracles occurring at his grave promoted the cause of his beatification by pope Clement XIII in 1767 and subsequent canonization by pope John Paul II in 2001.

SOURCEhttp://www.ewtn.com/saintsHoly/saints/B/stbernardofcorleone.asp